Background
M344 is a potent inhibitor of HDAC with IC50 value of 100 nM and enable the induction of cell differentiation [1].
Treatment with M344 for 1 or 3 days induced a decreased relative p53 mRNA level and increased p21waf1/cip1 mRNA expression while no change in p53 protein. The result demonstrated the independent of p53 of inhibitory effects of M344 on MCF-7 cell growth. And the increased expression of the pro-apoptotic Puma, which can be induced by p53-independent pathways, is in accordance with the suppression of MCF-7 cell growth observed after the M344 treatment. On the other hand, M344 also show the ability in increasing the response to radiation in SCC-35 and SQ-20B human squamous carcinoma lines [2].
In MEL DS19 cells, M344 shows a much more significant effect on cell proliferation than the effect on cell differentiation. M344 exhibits toxic at concentrations of above 10 μM, when only 20% of the surviving cell population at most are induced to differentiate. M344 significantly inhibits proliferation of embryonic nervous system tumor cells, including medulloblastoma cells (D341 MED) with GI50 value of 0.65 μM and neuroblastoma cells (CH-LA 90) with GI50 value of 0.63 μM [1, 3].
M344 also plays an important role in the modification of histone and transcription factor of NF- kB in regulating HIV-1 LTR gene expression, showing the potential anti-latency therapies. Experiments were carried out in the cells, which latently infected Jurkat cells encoding the green fluorescence protein (GFP) under control of the HIV-1 LTR that act as a marker of expression of HIV-1 LTR, 72 hours after treatment with 200 nM M344, expression of HIV-1 activity was found, and the percentage of GFP-expressing cells was detected as high as 25.2% more than the cells which was subjected to mock treatment [4].
References:
[1]. Jung M, Brosch G , Kolle D, et al. Amide analogues of trichostatin A as inhibitors of histone deacetylase and inducers of terminal cell differentiation. JOURNAL OF MEDICINAL CHEMISTRY, 1999, 42 (22): 4669-4679.
[2]. Yeung A, Bhargava RK, Ahn, R, et al. HDAC inhibitor M344 suppresses MCF-7 breast cancer cell proliferation. BIOMEDICINE & PHARMACOTHERAPY, 2012, 66 (3): 232-236.
[3]. Furchert SE, Lanvers-Kaminsky C , Jurgens H , et al. Inhibitors of histone deacetylases as potential therapeutic tools for high-risk embryonal tumors of the nervous system of childhood. INTERNATIONAL JOURNAL OF CANCER, 2007, 120 (8): 1787-1794.
[4]. Ying H, Zhang YH , Zhou X , et al. Selective Histonedeacetylase Inhibitor M344 Intervenes in HIV-1 Latency through Increasing Histone Acetylation and Activation of NF-kappaB. PLOS ONE, 2012, 7 (11): e48832.
文献引用
Chemical Properties
| | |
| --- | --- |
| Physical Appearance | A solid |
| Storage | Store at -20°C |
| M.Wt | 307.39 |
| Cas No. | 251456-60-7 |
| Formula | C16H25N3O3 |
| Synonyms | Histone Deacetylase Inhibitor III,MS344 |
| Solubility | ≥14.75 mg/mL in DMSO, ≥12.88 mg/mL in EtOH with ultrasonic,insoluble in H2O |
| Chemical Name | 4-(dimethylamino)-N-[7-(hydroxyamino)-7-oxoheptyl]benzamide |
| SDF | Download SDF |
| Canonical SMILES | CN(C)C1=CC=C(C=C1)C(=O)NCCCCCCC(=O)NO |
| 运输条件 | 试用装:蓝冰运输。 其他可选规格:常温运输或根据您的要求用蓝冰运输。 |
| 一般建议 | 为了使其更好的溶解,请用37℃加热试管并在超声波水浴中震动片刻。不同厂家不同批次产品溶解度各有差异,仅做参考。若实验所需浓度过大至产品溶解极限,请添加助溶剂助溶或自行调整浓度。 |
试验操作
细胞实验 [1]:

细胞系

MCF-7乳腺癌细胞系

溶解方法

在DMSO中的溶解度> 14.75 mg/ml。为了获得更高浓度,可以将离心管在37℃加热10分钟和/或在超声波浴中震荡一段时间。原液可以在-20℃以下储存几个月。

反应条件

1~100μM孵育1~7天

应用

Bonferroni posthoc分析表明,MCF-7细胞用50μM的M344处理1天后其生长能被显著地抑制,而在处理3天后,10μM、50μM和100μM剂量均能显示出显著的抑制作用,最大抑制率为100μM剂量下的40%。 5天后,所有浓度的M344都可以引起MCF-7细胞生长的显著抑制,且在10μM时观察到最大抑制为60%。

离体动物实验 [2]:

动物模型

5日龄Wistar大鼠的脑切片

剂量

亚微摩尔水平

应用

研究发现辛二酰苯胺异羟肟酸(SAHA)能够在数个神经外胚层组织中增加运动神经元生存水平,包括大鼠海马区以及生理运动神经元丰富的细胞组分。SAHA能够激活运动神经元生存基因2(SMN2)并且在亚微摩尔浓度下抑制HDACs。与SAHA相比,M344显示出不利的毒副作用。

注意事项

请测试所有化合物在室内的溶解度,实际溶解度和理论值可能略有不同。这是由实验系统的误差引起的,属于正常现象。

References:

[1] Yeung A, Bhargava RK, Ahn, R, et al. HDAC inhibitor M344 suppresses MCF-7 breast cancer cell proliferation. BIOMEDICINE & PHARMACOTHERAPY, 2012, 66 (3): 232-236.

[2] Hahnen E et al. In vitro and ex vivo evaluation of second-generation histone deacetylase inhibitors for the treatment of spinal muscular atrophy. J Neurochem. 2006 Jul;98(1):193-202.
生物活性
描述
M344是一种有效的HDAC抑制剂,IC50值为100 nM,能够诱导细胞分化。
靶点
HDAC
IC50
100 nM
质量控制
化学结构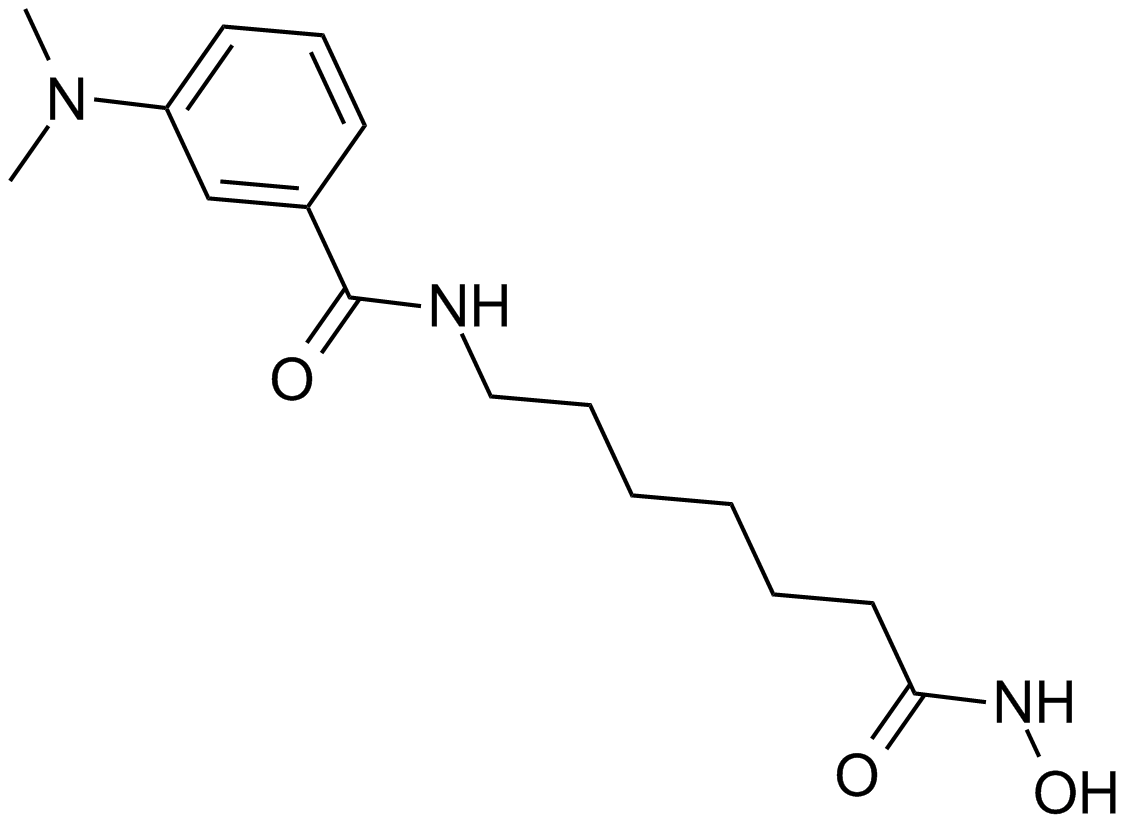 相关生物数据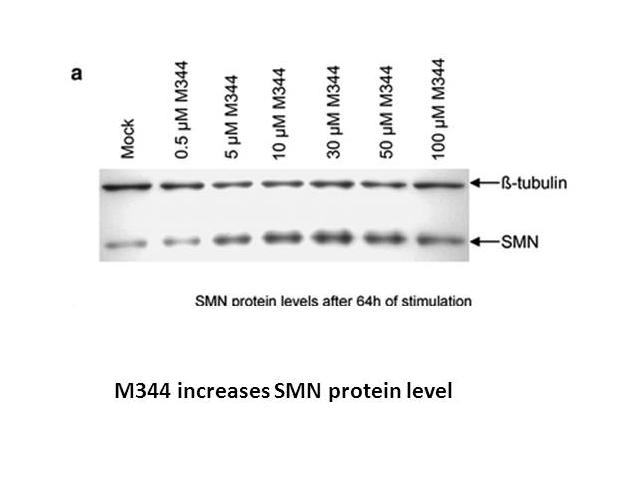 相关生物数据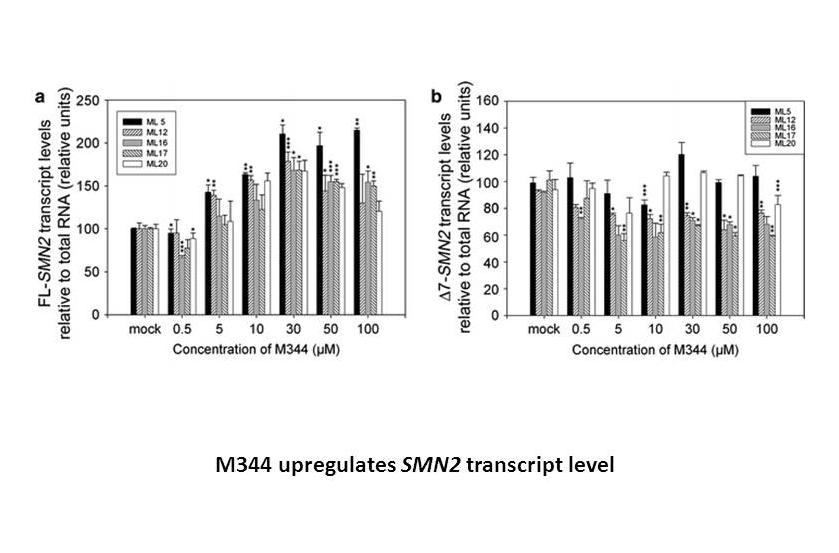 相关生物数据