Background
Z-DEVD-FMK is a tetrapeptide caspase inhibitor that is considered relatively selective for caspase-31, 2 and has been widely used in in vitro and in vivo models of acute injury to delineate roles for caspase 3 in neuronal cell death. Intracerebroventricular injections of Z-DEVD-FMK improved function after LFP3. Intraparenchymal infusion of Z-DEVD-FMK over several days after combined CCI and hypoxia reduced lesion size, although functional outcome was not significantly improved in this model4 (Clark et al., 2000).
Z-DEVD-FMK was a potent inhibitor of calpain and that improvement observed after treatment with Z-DEVD-FMK may reflect, at least in part, this action.
Early treatment with Z-DEVD-FMK improved neurologic function and reduced lesion volume. Z-DEVD-FMK reduces cell death and inhibits calpain in a model of in vitro necrosis and a cell free assay and Z-DEVD-FMK treatment inhibits calpain activity after TBI in vivo.
Z-DEVD-FMK improved neurologic function and reduced tissue damage at an injury severity that showed predominantly necrotic neuronal cell death with minimal evidence of caspase 3 activation. Moreover, effective treatment with Z-DEVD-FMK was associated with reduced calpain-mediated -spectrin degradation. Z-DEVD-FMK was also neuroprotective, at concentrations lower than those routinely used to inhibit caspase 3, in an in vitro model of necrotic neuronal cell death induced by maitotoxin.
The present data show that treatment with Z-DEVD-FMK improves behavioral recovery, reduces tissue damage and prevents accumulation of calpain-mediated α-spectrin breakdown products when administered not later than 1 hour after injury in a TBI model that primarily shows necrosis. Z-DEVD-FMK also reduces necrotic neuronal cell death in vitro, and such neuroprotection is associated with inhibition of calpain, but not caspase 3 or cathepsin B. In addition, Z-DEVD-FMK reduces calpainmediated hydrolysis of casein, which indicates that Z-DEVD-FMK can directly inhibit calpain. This nonspecificproperty of Z-DEVD-FMK may account, at least in part, for its neuroprotective actions5.
References:
1. Garcia-Calvo M, Peterson EP, Leiting B, Ruel R, Nicholson DW, Thornberry NA (1998) Inhibition of human caspases by peptidebased and macromolecular inhibitors. J Biol Chem 273:32608–32613
2. Thornberry NA, Rano TA, Peterson EP, Rasper DM, Timkey T, Garcia-Calvo M, Houtzager VM, Nordstrom PA, Roy S, Vaillancourt JP, Chapman KT, Nicholson DW (1997) A combinatorial approach defines specificities of members of the caspase family and granzyme B. Functional relationships established for key mediators of apoptosis. J Biol Chem 272:17907–17911
3. Yakovlev AG, Knoblach SM, Fan L, Fox GB, Goodnight R, Faden AI (1997) Activation of CPP32-like caspases contributes to neuronal apoptosis and neurological dysfunction after traumatic brain injury. J Neurosci 17:7415–7424
4. Clark RS, Kochanek PM, Watkins SC, Chen M, Dixon CE, Seidberg NA, Melick J, Loeffert JE, Nathaniel PD, Jin KL, Graham SH (2000) Caspase-3 mediated neuronal death after traumatic brain injury in rats. J Neurochem 74:740–753
5. S. M. Knoblach, D. A. Alroy et al, Caspase Inhibitor z-DEVD-fmk Attenuates Calpain and Necrotic Cell Death in Vitro and After Traumatic Brain Injury, Journal of Cerebral Blood Flow & Metabolism 24:1119–1132.
文献引用
Chemical Properties
| | |
| --- | --- |
| Physical Appearance | A solid |
| Storage | Store at -20°C |
| M.Wt | 668.66 |
| Cas No. | 210344-95-9 |
| Formula | C30H41N4O12F |
| Synonyms | Caspase-3 Inhibitor II,Z-Asp(OMe)-Glu(OMe)-Val-Asp(OMe)-FMK |
| Solubility | ≥60 mg/mL in DMSO |
| Chemical Name | methyl (4S)-5-[[(2S)-1-[[(3S)-5-fluoro-1-methoxy-1,4-dioxopentan-3-yl]amino]-3-methyl-1-oxobutan-2-yl]amino]-4-[[(2S)-4-methoxy-4-oxo-2-(phenylmethoxycarbonylamino)butanoyl]amino]-5-oxopentanoate |
| SDF | Download SDF |
| Canonical SMILES | CC(C)C(C(=O)NC(CC(=O)OC)C(=O)CF)NC(=O)C(CCC(=O)OC)NC(=O)C(CC(=O)OC)NC(=O)OCC1=CC=CC=C1 |
| 运输条件 | 试用装:蓝冰运输。 其他可选规格:常温运输或根据您的要求用蓝冰运输。 |
| 一般建议 | 为了使其更好的溶解,请用37℃加热试管并在超声波水浴中震动片刻。不同厂家不同批次产品溶解度各有差异,仅做参考。若实验所需浓度过大至产品溶解极限,请添加助溶剂助溶或自行调整浓度。 |
试验操作
细胞实验[1]:

细胞系

WM9、WM35、WM98-1和WM793细胞

溶解方法

在DMSO中的溶解度>10 mM。为了获得更高的浓度,可以将离心管在37℃加热10分钟和/或在超声波浴中震荡一段时间。原液可以在-20℃以下储存几个月。

反应条件

20 μM,24小时

应用

为了说明caspase激活在TRAIL诱导的细胞凋亡中的重要性,Z-DEVD-FMK连同TRAIL一起加入到黑色素瘤细胞中,Z-DEVD-FMK仅能部分抑制TRAIL的细胞毒性作用。Z-DEVD-FMK抑制细胞死亡能力的下降可能是由于该多肽进入细胞的能力。

动物实验[2]:

动物模型

可控皮层碰撞(CCI)损伤的雄性C57Bl/6小鼠

剂量

160 ng;脑室注射

应用

为了评估运动恢复,检测小鼠在超过21天的康复期间穿过狭窄挂梁的能力。在损伤后第7、14和21天,在CCI后1小时用Z-DEVD-FMK处理的小鼠表现比对照组显著更好。而在CCI后4小时用Z-DEVD-FMK处理的小鼠仅在损伤后第21天的表现比对照组显著更好。而在任何其它测试天中,它们并没有表现出比其它治疗组更好的趋势。

注意事项

请测试所有化合物在室内的溶解度,实际溶解度和理论值可能略有不同。这是由实验系统的误差引起的,属于正常现象。

References:

[1] Griffith T S, Chin W A, Jackson G C, et al. Intracellular regulation of TRAIL-induced apoptosis in human melanoma cells. The Journal of Immunology, 1998, 161(6): 2833-2840.

[2] Knoblach S M, Alroy D A, Nikolaeva M, et al. Caspase inhibitor z-DEVD-fmk attenuates calpain and necrotic cell death in vitro and after traumatic brain injury. Journal of Cerebral Blood Flow & Metabolism, 2004, 24(10): 1119-1132.
生物活性
Z-DEVD-FMK是一种细胞通透性的、不可逆的Caspase-3/CPP32抑制剂,也能不可逆的抑制Caspase-6、Caspase-7、caspase-8和Caspase-10。.
靶点
Caspase-3
Caspase-6
Caspase-7
Caspase-8
Caspase-10
IC50
质量控制
化学结构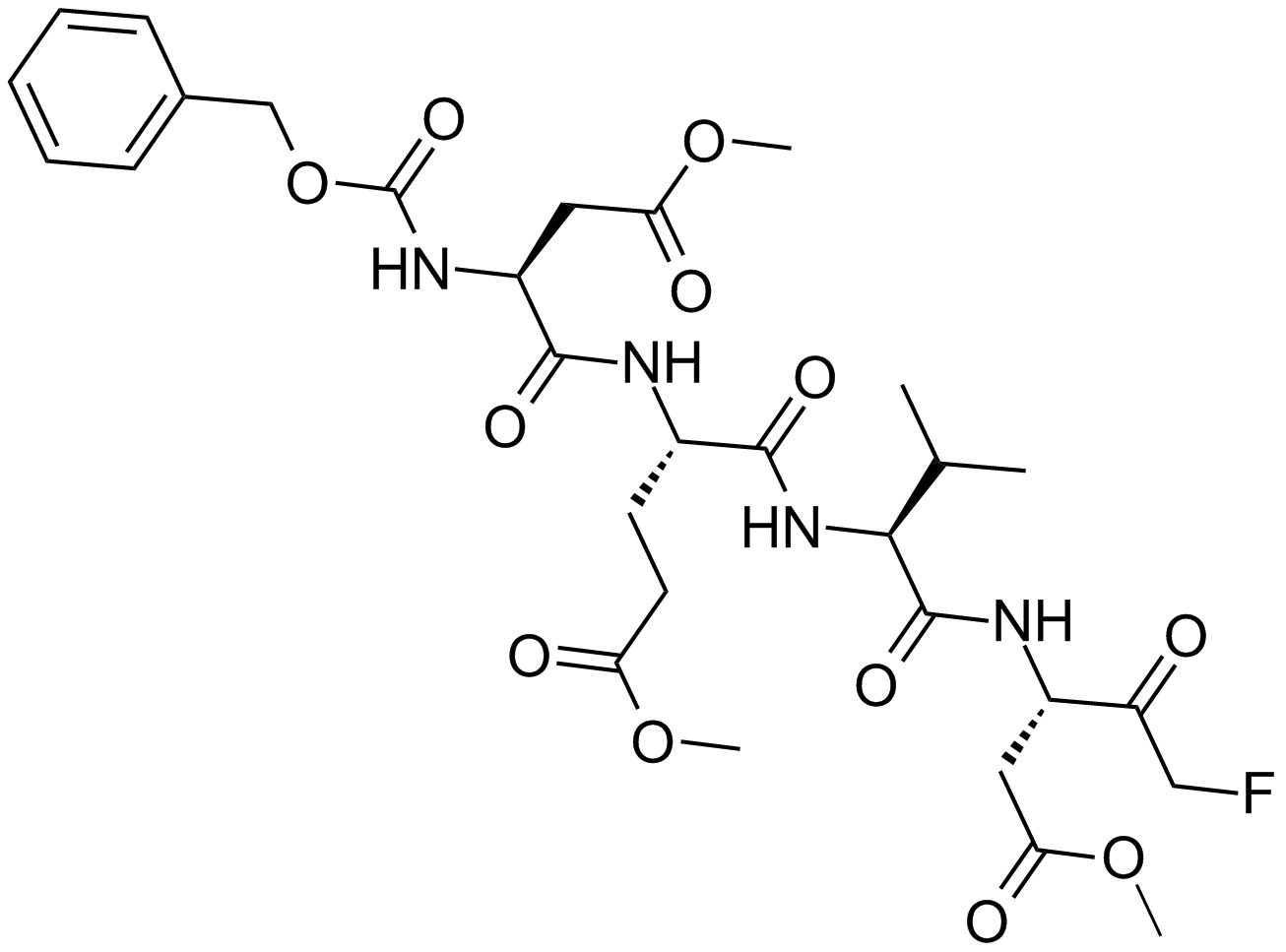 相关生物数据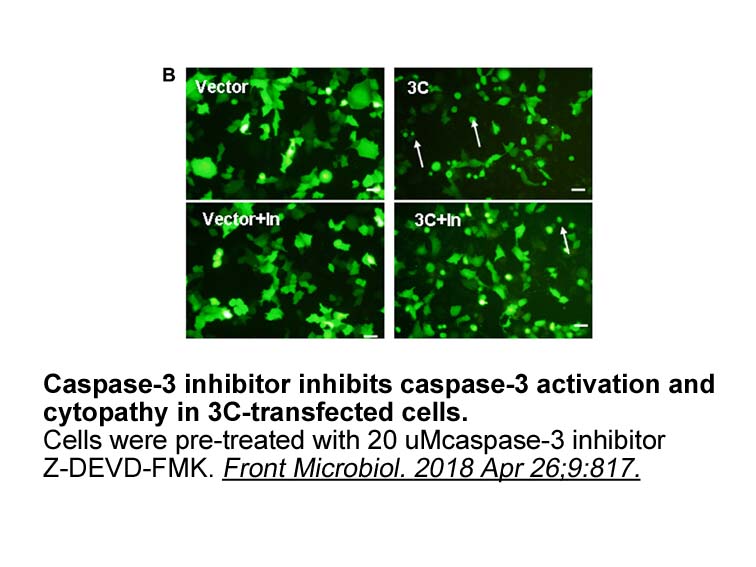 相关生物数据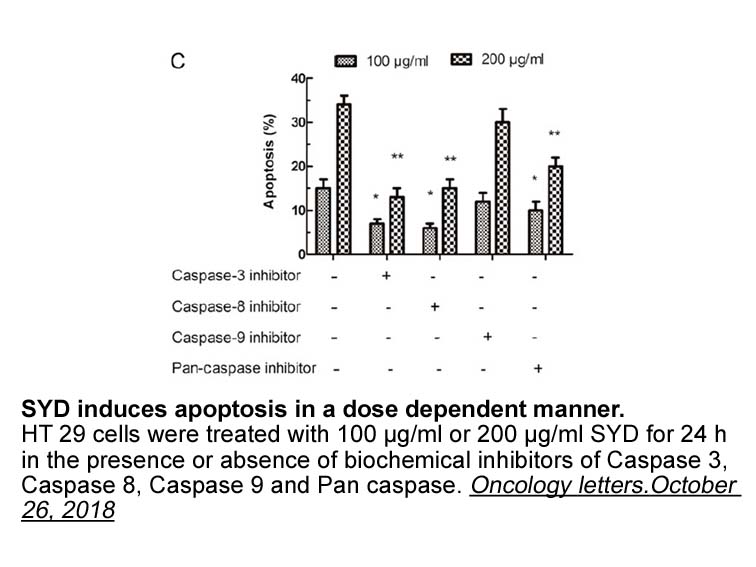 相关生物数据
相关生物数据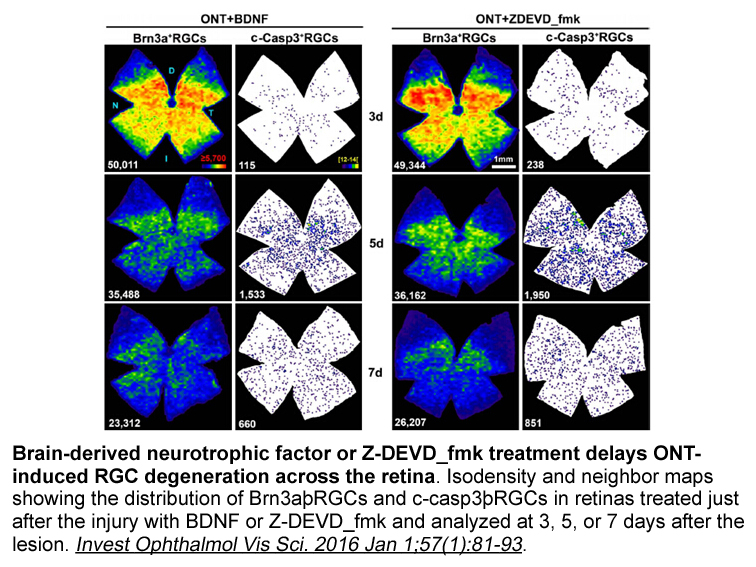 相关生物数据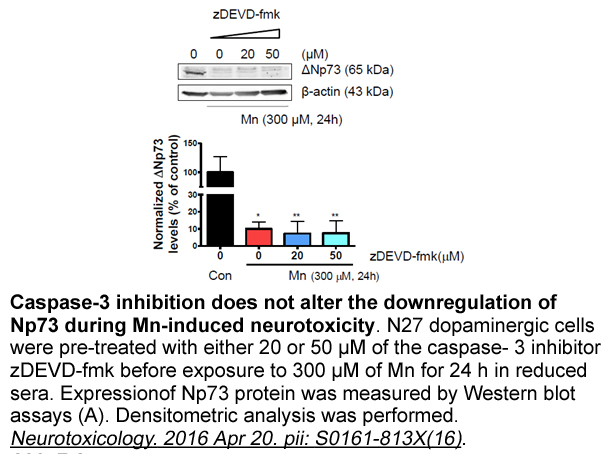 相关生物数据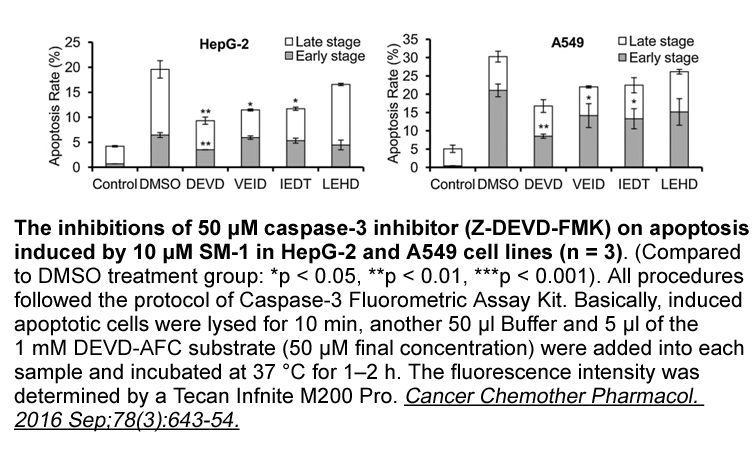 相关生物数据