Background
The broad spectrum caspase inhibitor, Q-VD-OPh hydrate, provides a cost effective, non toxic, and highly specific means of apoptotic inhibition and provides new insight into the design of new inhibitors1.
Actinomycin D rapidly induced apoptosis and this was dramatically inhibited by the caspase inhibitor, Q-VD-OPh hydrate (quinolyl-valyl-O-methylaspartyl-[-2, 6-difluorophenoxy]-methyl ketone). Q-VD-OPh hydrate was significantly more effective in preventing apoptosis than the widely used inhibitors, ZVAD-fmk and Boc-D-fmk. Q-VD-OPh hydrate was also equally effective in preventing apoptosis mediated by the three major apoptotic pathways, caspase 9/3, caspase 8/10, and caspase 12. In addition to the increased effectiveness, Q-VD-OPh hydrate was not toxic to cells, even at high concentrations.
Q-VD-OPh hydrate was equally effective at inhibiting the three major apoptotic pathways, was functional in different cell types and species (human, mouse, and rat) and prevented terminal caspase activation, substrate cleavage, and DNA ladder formation associated with apoptosis. Q-VD-OPh hydrate can inhibit recombinant caspases 1, 3, 8, and 9 with IC50 values ranging from 25 to 400 nM2. The effectiveness of Q-VD-OPh hydrate as an apoptotic inhibitor is evidenced by the complete suppression of an apoptotic inducer capable of inducing substantial cell death in less than 4 hours.
Q-VD-OPh hydrate protected against the substantial apoptosis induced by actinomycin D. In addition, Q-VD-OPh hydrate alone exhibited little or no toxicity, even at extremely high concentrations.
The effective concentration of Q-VD-OPh hydrate may provide a unique reagent when trying to revive hard to propagate cell lines from liquid nitrogen. The addition of this inhibitor to thawed cells would give the cells adequate time to recover, even in the presence of standard DMSO concentrations (10%), from the stress of thawing and begin to proliferate in the absence of toxicity. Q-VD-OPh hydrate is stable in solution for several months and is effective in culture for at least 2.5 days. This would provide an ideal time frame for cell recovery; whereas, the subsequent decrease in effectiveness over time would be fortuitous in that the cells would return to standard culture conditions with minimal manipulation1.
References:
1. T. M. Caserta, A. N. Smith, A. D. Gultice, M. A. Reedy and T. L. Brown, Q-VD-OPh, a broad spectrum caspase inhibitor with potent antiapoptotic properties, Apoptosis 2003; 8: 345–352
2. Yin XM. Signal transduction mediated by Bid, a pro-death Bcl-2 family proteins, connects the death receptor and mitochondria apoptosis pathways. Cell Res 2000; 10: 161–167
文献引用
Chemical Properties
| | |
| --- | --- |
| Storage | Store at -20°C |
| M.Wt | 513.49 |
| Cas No. | 1135695-98-5 |
| Formula | C26H25F2N3O6 |
| Solubility | ≥25.6745mg/mL in DMSO |
| Chemical Name | (S)-5-(2,6-difluorophenoxy)-3-((S)-3-methyl-2-(quinoline-2-carboxamido)butanamido)-4-oxopentanoic acid |
| SDF | Download SDF |
| Canonical SMILES | O=C(N[C@@H](C(C)C)C(N[C@@H](CC(O)=O)C(COC1=C(F)C=CC=C1F)=O)=O)C2=NC3=CC=CC=C3C=C2 |
| 运输条件 | 试用装:蓝冰运输。 其他可选规格:常温运输或根据您的要求用蓝冰运输。 |
| 一般建议 | 为了使其更好的溶解,请用37℃加热试管并在超声波水浴中震动片刻。不同厂家不同批次产品溶解度各有差异,仅做参考。若实验所需浓度过大至产品溶解极限,请添加助溶剂助溶或自行调整浓度。 |
试验操作
细胞实验[1]:

细胞系

JURL-MK1和HL60细胞

溶解方法

溶解于DMSO。为了获得更高的浓度,可以将离心管在37℃加热10分钟和/或在超声波浴中震荡一段时间。原液可以在-20℃以下储存几个月。

反应时间

N/A

应用

Q-VD-OPH在0.05 mM时可大幅度抑制caspase-3和caspase-7的活性,在低浓度时也可以抑制caspase-8。Q-VD-OPH在10 mM时抑制PARP-1的裂解,在2 mM时抑制DNA片段化,干扰细胞膜的功能。而药物诱导的细胞与纤连蛋白粘着性的丧失则需要10 mM Q-VD-OPh。

动物实验[2]:

动物模型

3个月大的TgCRND8小鼠

剂量

10 mg/kg,3次/周,3个月;腹腔注射

应用

在阿尔兹海默病的慢性治疗中,Q-VD-OPh抑制caspase-7的激活,限制tau和caspase裂解的病理变化。

注意事项

请测试所有化合物在室内的溶解度,实际溶解度和理论值可能略有不同。这是由实验系统的误差引起的,属于正常现象。

References:

1. Ku?elová K1, Grebeňová D, Brodská B.Dose-dependent effects of the caspase inhibitor Q-VD-OPh on different apoptosis-related processes. J Cell Biochem. 2011 Nov;112(11):3334-42.

2. Rohn TT, Kokoulina P, Eaton CR et al. Caspase activation in transgenic mice with Alzheimer-like pathology: results from a pilot study utilizing the caspase inhibitor, Q-VD-OPh. Int J Clin Exp Med. 2009 Nov 5;2(4):300-8.
生物活性
Q-VD-OPH是一种脑和细胞通透性的、高效的和不可逆的pan-caspase抑制剂。作用于caspase-3、caspase-1、caspase-8和caspase-9,IC50值分别为25 nM、50 nM、100 nM和430 nM。
靶点
caspase-1
caspase-3
caspase-8
caspase-9
IC50
50nM
25nm
100nM
430nM
质量控制
化学结构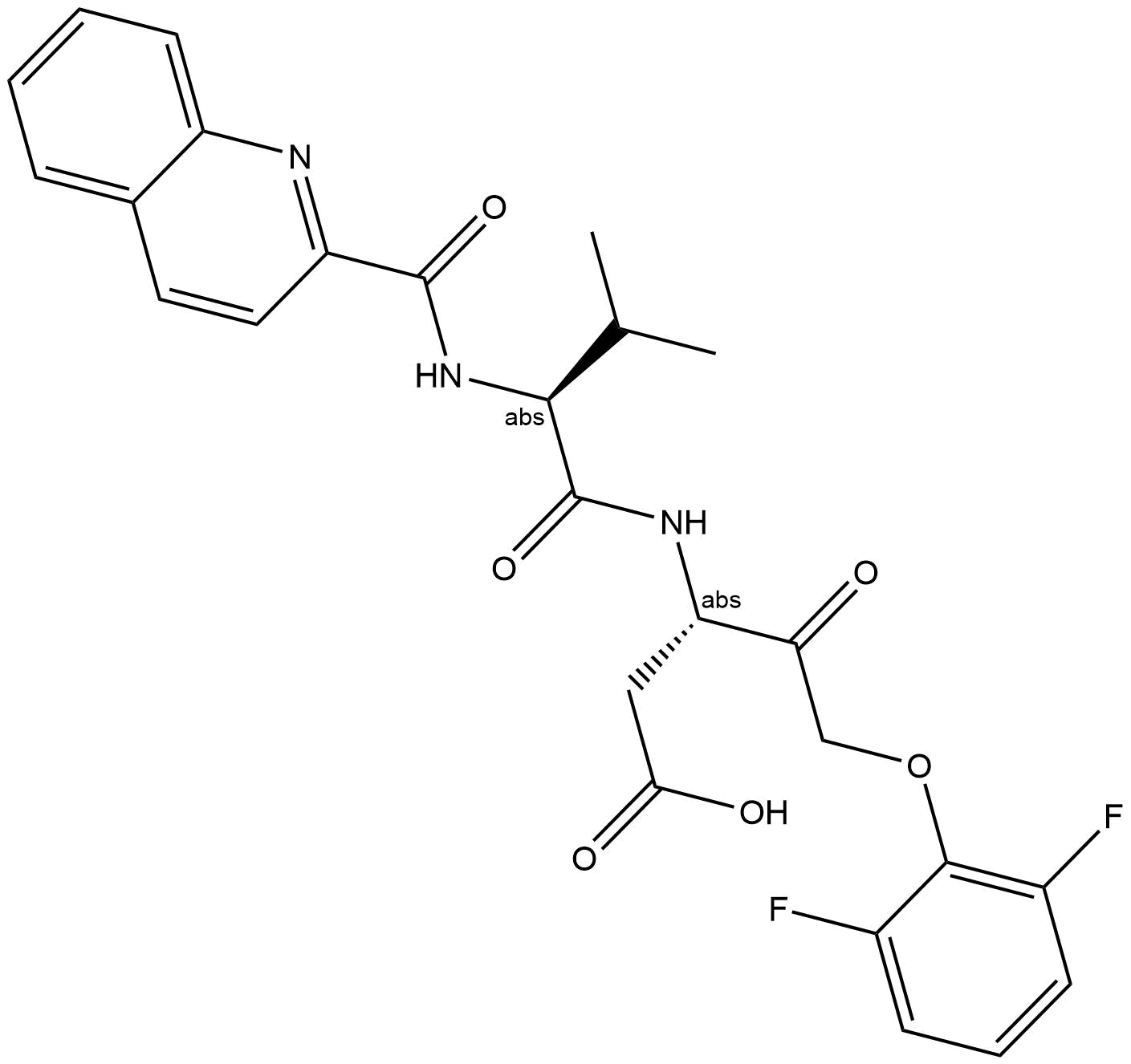 相关生物数据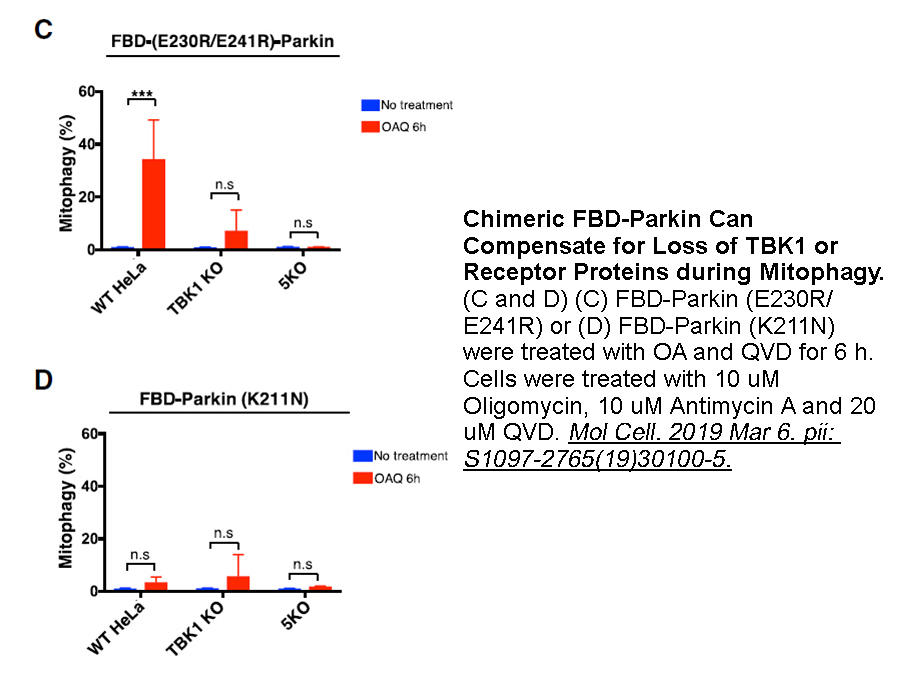 相关生物数据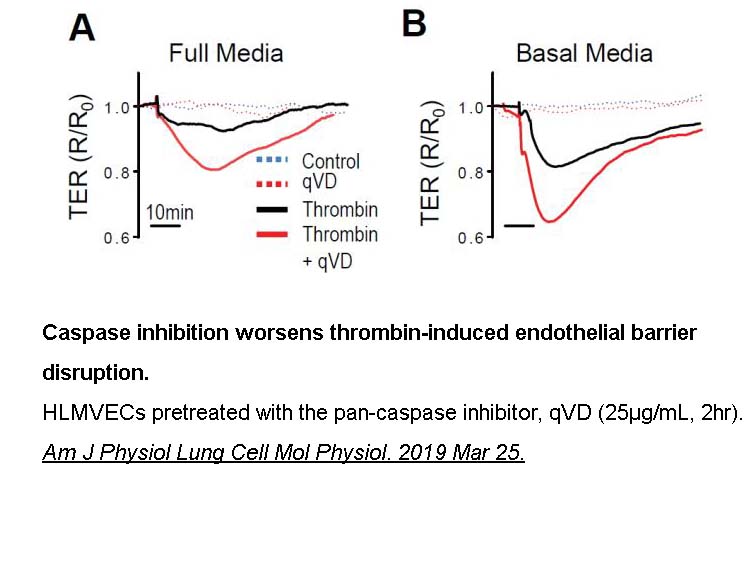 相关生物数据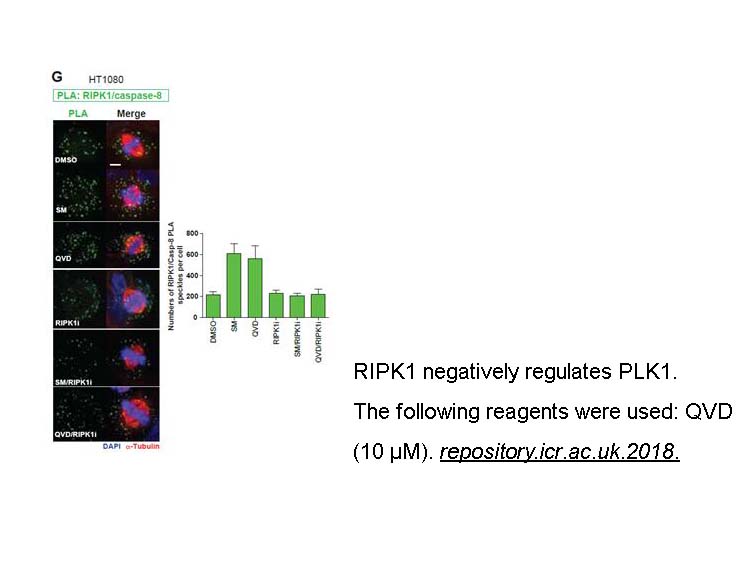 相关生物数据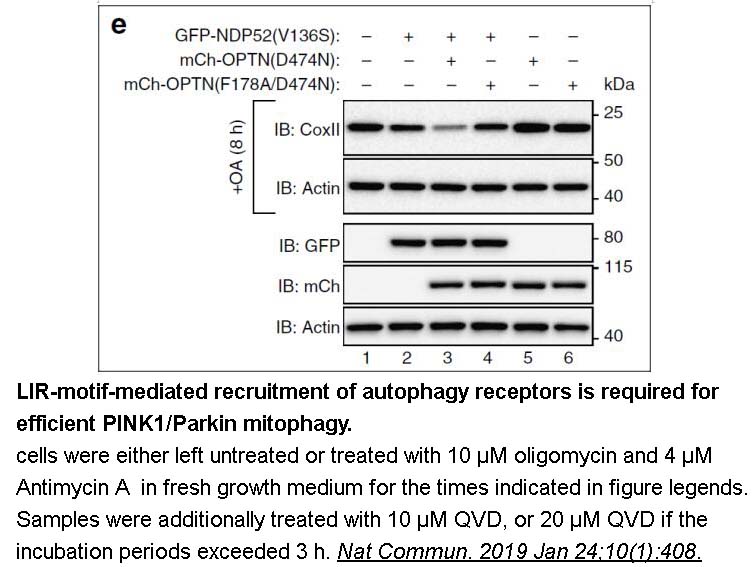 相关生物数据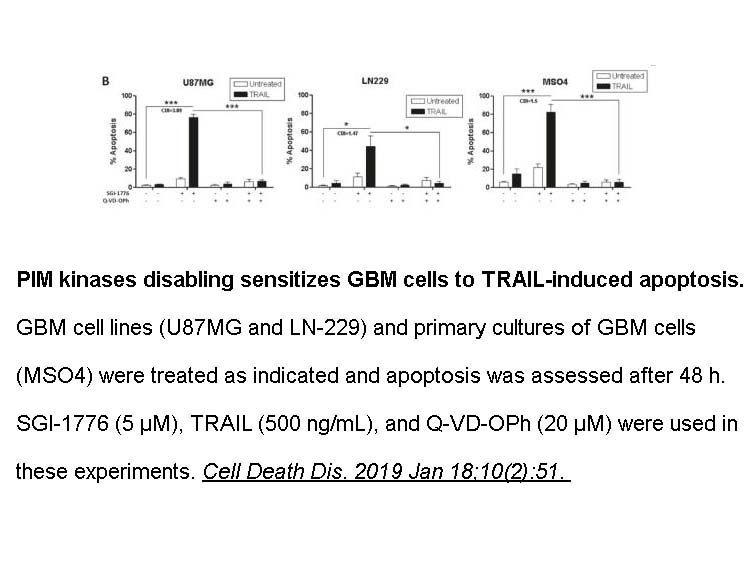 相关生物数据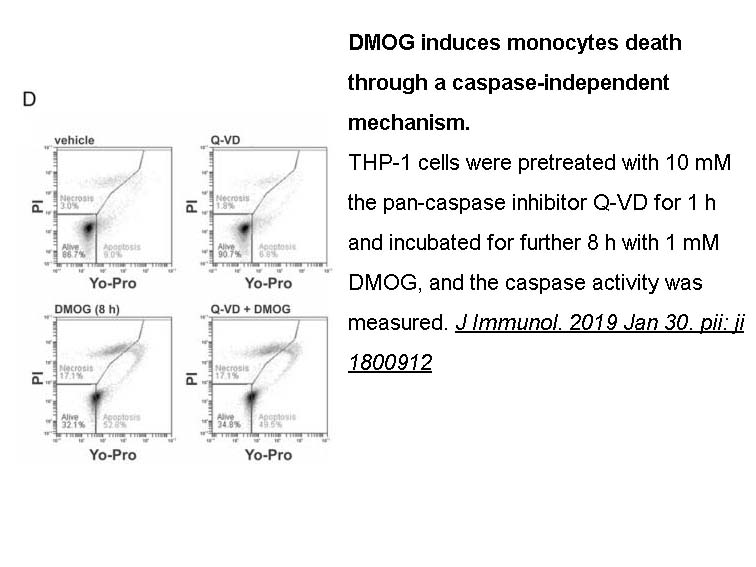 相关生物数据