Background
I-BET151 (GSK1210151A) is a selective inhibitor of BET with pIC50 value of 6.1 [1].
BET (bromo and extraterminal) is a member of bromodomain family and has been shown to be associated with a variety of diseases (human squamous cell carcinoma and other cancers). BET inhibitor has been implicated as a promising therapy for human cancer treatment [2].
I-BET151 is a selective BET inhibitor and has the similar inhibition function as TMZ. When tested with 6 myeloma cell lines, I-BET151 treatment decreased cells percent in S/G2 phase and increased cell apoptosis in a time- and dose- dependent manner [2]. In globlastoma cell line U87MG, administration of I-BET151 arrested cells in the G1 phase and reduced cell proliferation ability [3].
When treated with myeloma implanted mouse model with I-BET151, it reduced tumor volume in a four- or five- fold compared with control group [2]. In immunocompromised mouse model with U87MG cells xenograft, administration of I-BET151 in a concentration of 10 mg/kg i.p. daily significantly reduced tumor volume compared with saline treated group [3].
References:
[1].    Seal, J., et al., Identification of a novel series of BET family bromodomain inhibitors: binding mode and profile of I-BET151 (GSK1210151A). Bioorg Med Chem Lett, 2012. 22(8): p. 2968-72.
[2].    Chaidos, A., et al., Potent antimyeloma activity of the novel bromodomain inhibitors I-BET151 and I-BET762. Blood, 2014. 123(5): p. 697-705.
[3].    Chan, C.H., et al., BET bromodomain inhibition suppresses transcriptional responses to cytokine-Jak-STAT signaling in a gene-specific manner in human monocytes. Eur J Immunol, 2015. 45(1): p. 287-97.
文献引用
Chemical Properties
| | |
| --- | --- |
| Physical Appearance | A crystalline solid |
| Storage | Store at -20°C |
| M.Wt | 415.44 |
| Cas No. | 1300031-49-5 |
| Formula | C23H21N5O3 |
| Solubility | ≥41.5mg/mL in DMSO |
| Chemical Name | 7-(3,5-dimethyl-1,2-oxazol-4-yl)-8-methoxy-1-[(1R)-1-pyridin-2-ylethyl]-3H-imidazo[4,5-c]quinolin-2-one |
| SDF | Download SDF |
| Canonical SMILES | CC1=C(C(=NO1)C)C2=C(C=C3C(=C2)N=CC4=C3N(C(=O)N4)C(C)C5=CC=CC=N5)OC |
| 运输条件 | 试用装:蓝冰运输。 其他可选规格:常温运输或根据您的要求用蓝冰运输。 |
| 一般建议 | 为了使其更好的溶解,请用37℃加热试管并在超声波水浴中震动片刻。不同厂家不同批次产品溶解度各有差异,仅做参考。若实验所需浓度过大至产品溶解极限,请添加助溶剂助溶或自行调整浓度。 |
试验操作
激酶实验 [1]:

荧光各向异性(FP)配体置换试验

将所有组分溶解于由50 mM HEPES pH 7.4,150 mM NaCl和0.5 mM CHAPS组成的缓冲液中。BRD 2/3/4终浓度为75 nM,荧光配体终浓度为5 nM。采用Greiner 384孔黑色的低量微孔板。通过Micro Multidrop将10 μL反应混合物加入到含100 nL各种浓度I-BET151或DMSO空白对照(终浓度为1%)的孔中,并将其置于黑暗处于室温下平衡60分钟。使用Envision (lex = 485 nm, lEM = 530 nm; Dichroic = 505 nM) 读取荧光各向异性。

细胞实验 [1]:

细胞系

MV4;11、MOLM13、NOMO1、RS4;11、HEL、HL60和K562细胞

制备方法

在DMSO中的溶解度有限。若配制更高浓度的溶液,一般步骤如下:请将试管置于37 °C加热10分钟和/或将其置于超声波浴中震荡一段时间。原液于-20 °C可放置数月。

反应条件

24或72小时

实验结果

I-BET151有效抑制含不同MLL融合的细胞系,如MV4;11、RS4;11、MOLM13和NOMO1细胞, 其IC50值范围为15 ~ 192 nM。相似地,I-BET151完全抑制MLL融合诱导的白血病 (MOLM13) 的集落形成能力,对酪氨酸激酶激活诱导的白血病 (K562) 的集落形成能力无影响。

动物实验 [1]:

动物模型

携带MV4;11细胞的NOD-SCID小鼠;携带MLL-AF9细胞的C57BL/6小鼠

给药剂量

30 mg/kg;腹腔注射

实验结果

对于携带MV4;11细胞的NOD-SCID小鼠,在实验结束时,对照组中的小鼠已出现暴发性或进行性疾病,但治疗组中1/5的小鼠显示低水平的疾病证据。在携带MLL-AF9细胞的C57BL/6小鼠中,I-BET151也显著促进小鼠存活。

注意事项

请于室内测试所有化合物的溶解度。虽然化合物的实际溶解度可能与其理论值略有不同,但仍处于实验系统误差的允许范围内。

References:

[1]. Dawson MA, Prinjha RK, Dittmann A, Giotopoulos G, Bantscheff M, Chan WI, Robson SC, Chung CW, Hopf C, Savitski MM, Huthmacher C, Gudgin E, Lugo D, Beinke S, Chapman TD, Roberts EJ, Soden PE, Auger KR, Mirguet O, Doehner K, Delwel R, Burnett AK, Jeffrey P, Drewes G, Lee K, Huntly BJ, Kouzarides T. Inhibition of BET recruitment to chromatin as an effective treatment for MLL-fusion leukaemia. Nature. 2011 Oct 2;478(7370):529-33.
生物活性
描述
I-BET151是BET的选择性抑制剂,对BRD2、BRD3及BRD4的IC50值分别为0.5 μM、0.25 μM和0.79 μM。
靶点
BRD2
BRD3
BRD4
IC50
0.5 μM
0.25 μM
0.79 μM
质量控制
化学结构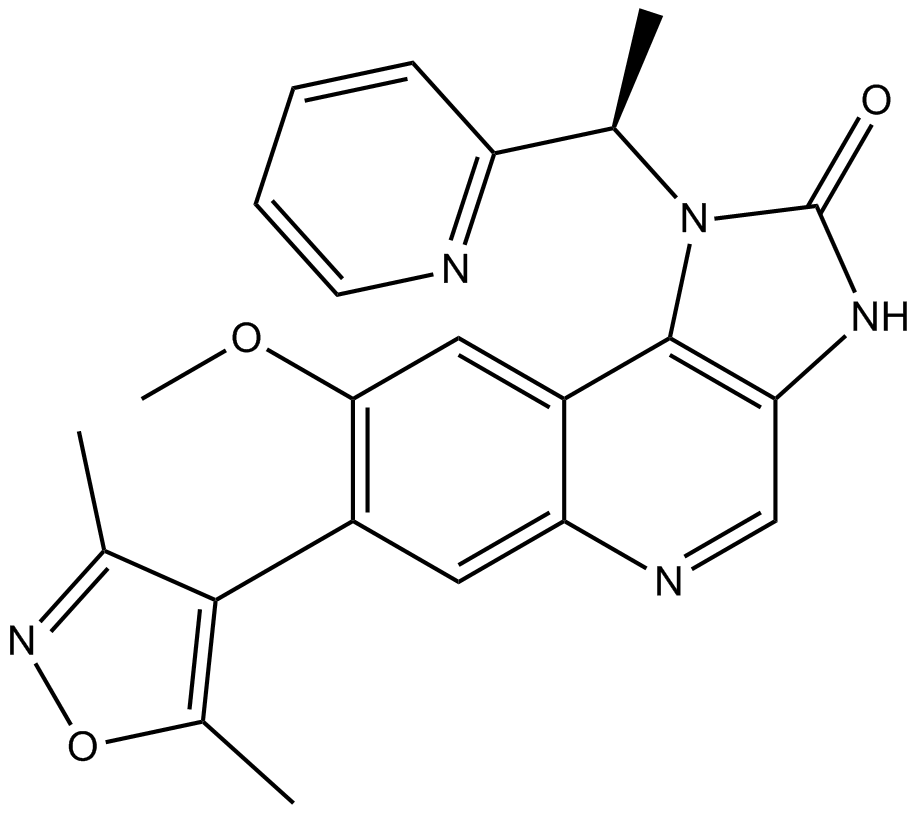 相关生物数据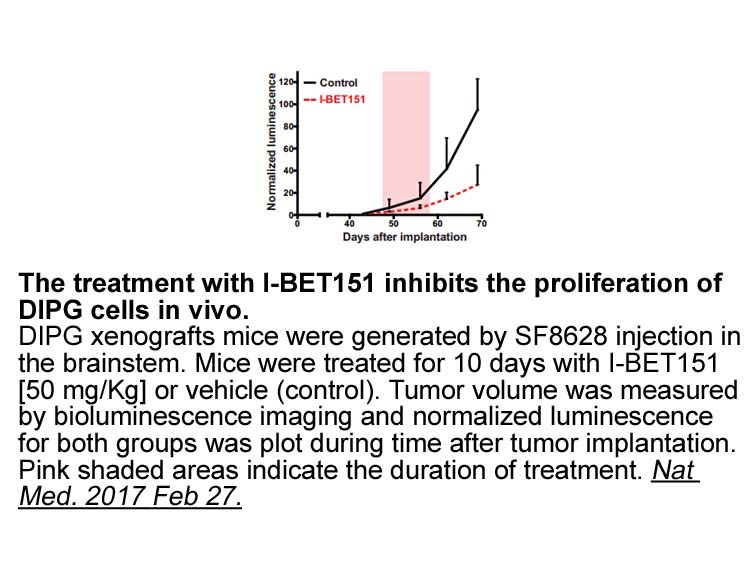 相关生物数据