Background
BKM120(NVP-BKM120, Buparlisib) is a selective PI3K inhibitor of p110α/β/δ/γ with IC50 of 52 nM/166 nM/116 nM/262 nM, respectively.
The intracellular phosphatidylinositol-3-kinase(PI3K) pathway regulates cellular functions incuding cell proliferation, growth, survival, apoptosis, protein synthesis, and glucose metabolism. BKM120, a biologic characterization of the 2-morpholino pyrimidine derivative, is a pan-PI3K inhibitor.
In vitro: NVP-BKM120 inhibits all four class I PI3K isoforms in biochemical assays with at least 50-fold selectivity against other protein kinases. NVP-BKM120 is also active against the most common somatic PI3Ka mutations but does not significantly inhibit the related class III (Vps34) and class IV (mTOR, DNA-PK) PI3K kinases. Consistent with its mechanism of action, NVP-BKM120 decreases the cellular p-Akt levels in mechanistic models and relevant tumor cell lines. In a panel of 353 cell lines test, NVP-BKM120 showed preferential inhibition of tumor cells with PIK3CA mutations, rather than either KRAS or PTEN mutant models [1].
In vivo: NVP-BKM120 shows dose-dependent in vivo pharmacodynamic activity as measured by significant inhibition of p-Akt and tumor growth inhibition in mechanistic xenograft models. In addition, NVP-BKM120 behaves synergistically when combined with either targeted agents such as MEK or HER2 inhibitors or with cytotoxic agents such as docetaxel or temozolomide [1].
Clinical trial: A phase I dose-escalation study investigated the maximum-tolerated dose (MTD), safety, preliminary activity, PK, and PD of BKM120. This study demonstrates feasibility and proof-of-concept of class I PI3K inhibition in cancer patients. BKM120 at the MTD of 100 mg d-1 is safe and well tolerated, with a good PK profile, clear evidence of target inhibition, and preliminary antitumor activity [2].
References:
[1] Maira SM, Pecchi S, Huang A, Burger M, Knapp M, Sterker D, Schnell C, Guthy D, Nagel T, Wiesmann M, Brachmann S, Fritsch C, Dorsch M, Chène P, Shoemaker K, De Pover A, Menezes D, Martiny-Baron G, Fabbro D, Wilson CJ, Schlegel R, Hofmann F, García-Echeverría C, Sellers WR, Voliva CF. Identification and characterization of NVP-BKM120, an orally available pan-class I PI3-kinase inhibitor. Mol Cancer Ther. 2012;11(2):317-28.
[2] Bendell JC, Rodon J, Burris HA, de Jonge M, Verweij J, Birle D, Demanse D, De Buck SS, Ru QC, Peters M, Goldbrunner M, Baselga J. Phase I, dose-escalation study of BKM120, an oral pan-Class I PI3K inhibitor, in patients with advanced solid tumors. J Clin Oncol. 2012;30(3):282-90.
文献引用
Chemical Properties
| | |
| --- | --- |
| Physical Appearance | A solid |
| Storage | Store at -20°C |
| M.Wt | 410.39 |
| Cas No. | 944396-07-0 |
| Formula | C18H21F3N6O2 |
| Synonyms | BKM-120,Buparlisib,BKM 120,NVP-BKM120,NVP-BKM-120 |
| Solubility | ≥20.52mg/mL in DMSO |
| Chemical Name | 5-(2,6-dimorpholin-4-ylpyrimidin-4-yl)-4-(trifluoromethyl)pyridin-2-amine |
| SDF | Download SDF |
| Canonical SMILES | C1COCCN1C2=NC(=NC(=C2)C3=CN=C(C=C3C(F)(F)F)N)N4CCOCC4 |
| 运输条件 | 试用装:蓝冰运输。 其他可选规格:常温运输或根据您的要求用蓝冰运输。 |
| 一般建议 | 为了使其更好的溶解,请用37℃加热试管并在超声波水浴中震动片刻。不同厂家不同批次产品溶解度各有差异,仅做参考。若实验所需浓度过大至产品溶解极限,请添加助溶剂助溶或自行调整浓度。 |
试验操作
细胞实验[1]:

细胞系

MM细胞系(RPMI-8226、OPM1、MM.1S、OPM2和H929)。

溶解方法

在DMSO中的溶解度>10 mM。为了获得更高的浓度,可以将离心管在37℃加热10分钟和/或在超声波浴中震荡一段时间。原液可以在-20℃以下储存几个月。

反应条件

48小时;IC50: 0.5-1 μM。

应用

用MTT实验检测逐渐增加浓度的buparlisib介导的pan-PI3K抑制对MM细胞存活的效应。在所有检测的MM细胞系中,buparlisib处理48小时后诱导细胞毒性,IC50值介于0.5-1 μM之间。此外,在MM.1S细胞中,buparlisib以剂量依赖的方式减少PI3K下游信号蛋白的激活,包括pAkt、pS6R、pP70S6K和p-mTOR。

动物实验[1]:

动物模型

注射MM.1S-GFP+/luc+细胞的雌性SCID-Bg小鼠

剂量

50 mg/kg,2次/天,5周;口服给药。

应用

与对照组相比,buparlisib治疗后显著减少小鼠中肿瘤发展的速率。该结果进一步通过荧光显微镜证实,与对照组相比,buparlisib治疗小鼠的骨髓(BM)中存在的MM.1S- GFP+/luc+细胞的数量显著减少。

注意事项

请测试所有化合物在室内的溶解度,实际溶解度和理论值可能略有不同。这是由实验系统的误差引起的,属于正常现象。

References:

[1] Sahin I, Azab F, Mishima Y, Moschetta M, Tsang B, Glavey SV, Manier S, Zhang Y, Sacco A, Roccaro AM, Azab AK, Ghobrial IM. Targeting survival and cell trafficking in multiple myeloma and Waldenstrom macroglobulinemia using pan-class I PI3K inhibitor, buparlisib. Am J Hematol. 2014 Jul 24.
生物活性
描述
BKM120是一种选择性的PI3K抑制剂,作用于p110α/β/δ/γ,IC50值分别为52 nM/166 nM/116 nM/262 nM。
靶点
p110α
p110β
p110δ
p110γ
IC50
52-99 nM
166 nM
116 nM
262 nM
质量控制
化学结构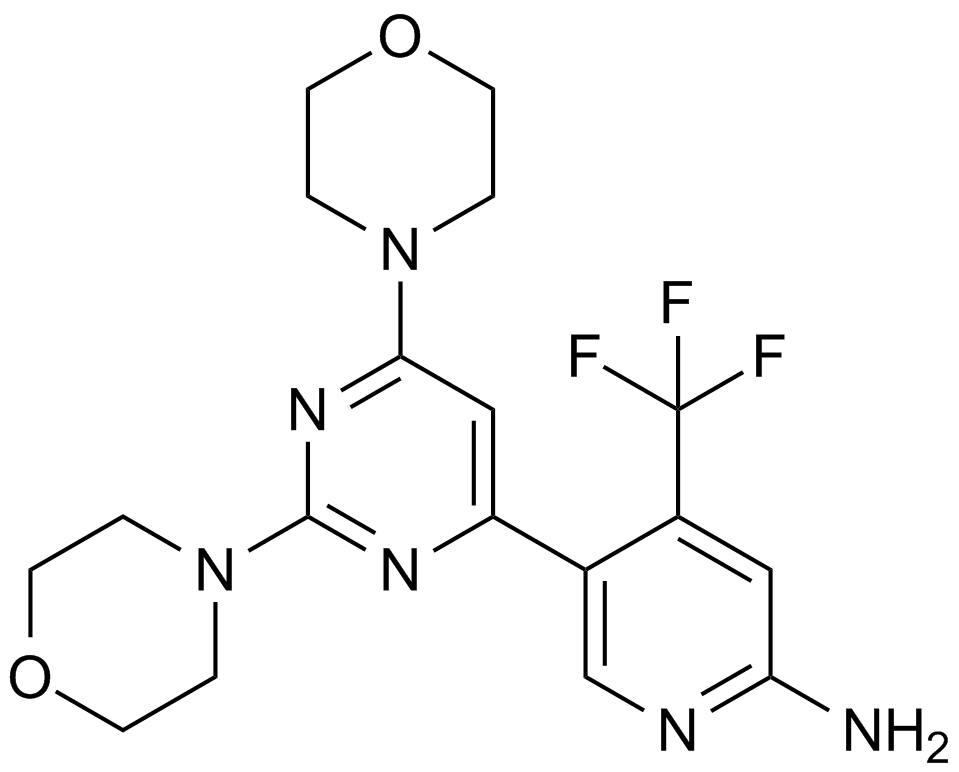 相关生物数据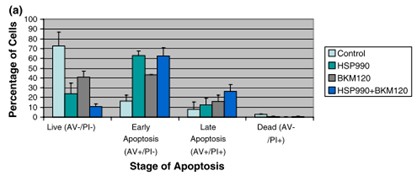 Annexin V assay analyzing stages of apoptosis 48 h following drug treatments [BKM120 (2 μM)] for U87Mg cells; Experiments were repeated 3 times. The mean ± SEM from at least 2–3 independent experiments containing 4 replicates each were obtained. Students t test was used to determine significance (p < 0.05) between groups. AV annexin V, PI propidium iodide.
相关生物数据

BKM120 almost completely blocked the phosphorylation of Akt at concentration of 2.5 μM. High concentrations of BKM120 such as 5 μM and 10 μM induced cell death.
Method:Western Blot; Cell Lines:Primary HUVECs; Concentrations:2.5 μM; Incubation Time:2 h.
相关生物数据