Background
ABT-888, also named as Veliparib, is poly (ADP-ribose) polymerase (PARP) inhibitor and has demonstrated excellent in vivo efficacy in a broad spectrum of preclinical tumor models in combination with a variety of cytotoxic agents. PARP is involved in DNA repair and elevated PARP levels can result in resistance to cytotoxic chemotherapy and radiation. So, PARP inhibitors hold promise as chemotherapy and radiation sensitizers. ABT-888 is also active on microsatellite instability (MSI) cell lines harboring mutations in both MRE11 and RAD50 genes compared to microsatellite stable (MSS) cell lines (wild-type for both genes).
Reference
Shivaani Kummar, Robert Kinders, Martin E. Gutierrez, Larry Rubinstein, Ralph E. Parchment, Lawrence R. Phillips, Jiuping Ji, Anne Monks, Jennifer A. Low, Alice Chen, Anthony J. Murgo, Jerry Collins, Seth M. Steinberg, Helen Eliopoulos, Vincent L. Giranda, Gary Gordon, Lee Helman, Robert Wiltrout, Joseph E. Tomaszewski and James H. Doroshow. Phase 0 Clinical Trial of the Poly (ADP-Ribose) Polymerase Inhibitor ABT-888 in Patients With Advanced Malignancies. Journal of Clinical Oncology. 2009; 27(16): 2705 – 11.
Xiaofeng Li, Juergen Delzer, Richard Voorman, Sonia M. de Morais and Yanbin Lao. Disposition and Drug-Drug Interaction Potential of Veliparib (ABT-888), a Novel and Potent Inhibitor of Poly (ADP-ribose) Polymerase. DRUG METABOLISM AND DISPOSITION. 2011; 39(7): 1161 – 69.
E. Vilar Sanchez, A. Chow, L. Raskin, M. D. Iniesta, B. Mukherjee and S. B. Gruber. Preclinical testing of the PARP inhibitor ABT-888 in microsatellite instable colorectal cancer. Journal of Clinical Oncology. 2009; 27(15S): 11028A.
文献引用
Chemical Properties
| | |
| --- | --- |
| Physical Appearance | A solid |
| Storage | Store at -20°C |
| M.Wt | 244.3 |
| Cas No. | 912444-00-9 |
| Formula | C13H16N4O |
| Synonyms | ABT-888,ABT 888,ABT888,Veliparib |
| Solubility | ≥6.1mg/mL in DMSO |
| Chemical Name | 1-[3-[4-amino-3-(4-phenoxyphenyl)pyrazolo[3,4-d]pyrimidin-1-yl]piperidin-1-yl]prop-2-en-1-one |
| SDF | Download SDF |
| Canonical SMILES | CC1(CCCN1)C2=NC3=C(C=CC=C3N2)C(=O)N |
| 运输条件 | 试用装:蓝冰运输。 其他可选规格:常温运输或根据您的要求用蓝冰运输。 |
| 一般建议 | 为了使其更好的溶解,请用37℃加热试管并在超声波水浴中震动片刻。不同厂家不同批次产品溶解度各有差异,仅做参考。若实验所需浓度过大至产品溶解极限,请添加助溶剂助溶或自行调整浓度。 |
试验操作
细胞实验:

细胞系

HCT-116和HT-29细胞系

溶解方法

在DMSO中的溶解度>10 mM。为了获得更高的浓度,可以将离心管在37℃加热10分钟和/或在超声波浴中震荡一段时间。原液可以在-20℃以下储存几个月。

反应条件

4 μM;24 h

应用

在HCT-116和HT-29细胞系中,用SRB实验检测ABT-888对抗癌剂SN38或oxaliplatin的协同作用。在SN38与ABT-888联合处理的样品中,PARP的活性显著减少(>4倍;24 h)。

动物实验:

动物模型

雌性无胸腺裸鼠

剂量

12.5 mg/kg;口服给药,2次/天,间隔6小时。

应用

在5-6周龄的雌性无胸腺裸鼠中,在每侧的皮下注射200 mL细胞悬浮液(5*106细胞)建立HCT116异种移植物。与RT和CPT-11,而非ABT-888治疗的肿瘤相比,三重疗法组(RT、CPT-11和ABT)具有显著更长的肿瘤生长延迟(TGD),其平均TGD为14.21天。

注意事项

请测试所有化合物在室内的溶解度,实际溶解度和理论值可能略有不同。这是由实验系统的误差引起的,属于正常现象。

References:

[1] Davidson D, Wang Y, Aloyz R, et al. The PARP inhibitor ABT-888 synergizes irinotecan treatment of colon cancer cell lines[J]. Investigational new drugs, 2013, 31(2): 461-468.

[2] Shelton J W, Waxweiler T V, Landry J, et al. In vitro and in vivo enhancement of chemoradiation using the oral parp inhibitor ABT-888 in colorectal cancer cells[J]. International Journal of Radiation Oncology* Biology* Physics, 2013, 86(3): 469-476.
生物活性
Veliparib (ABT-888)是一个有效的PARP1和PARP2抑制剂,Ki值分别为5.2 nM和2.9 nM。.
靶点
PARP1
PARP2
IC50
5.2 nM (Ki)
2.9 nM (Ki)
质量控制
化学结构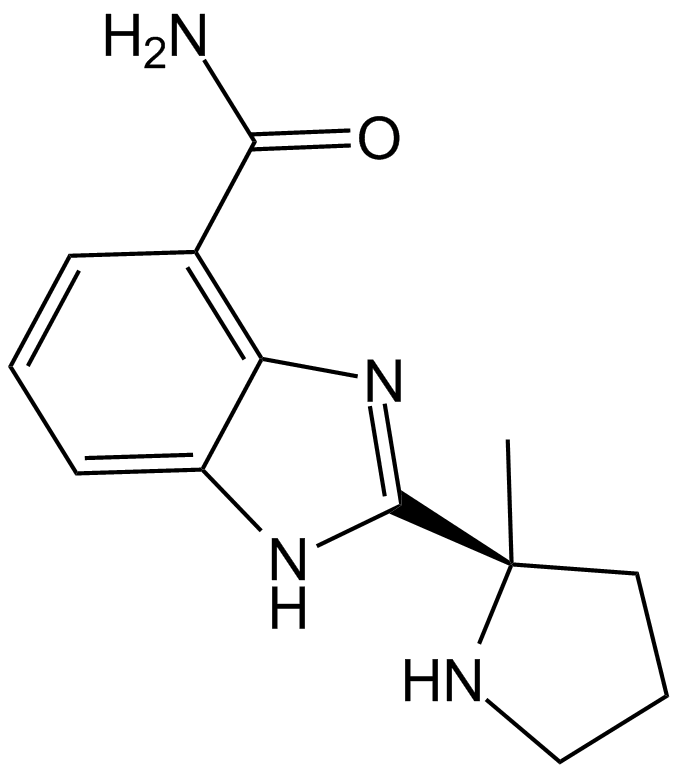 相关生物数据
ABT-888 enhances the antitumor activity of temozolomide in the rat 9L glioma orthotopic model. Tumor cells were inoculated into rat brain as described in Materials and Methods. The vehicle for the temozolomide and ABT-888 was saline. ABT-888 was administered at 25 mg/kg/dose, bd, orally, on days 2 to 17. Starting on day 4, temozolomide was administered at 17.5 mg/kg, qd, orally, on day 4 to 8 at 2 h post the morning dose of ABT-888.
相关生物数据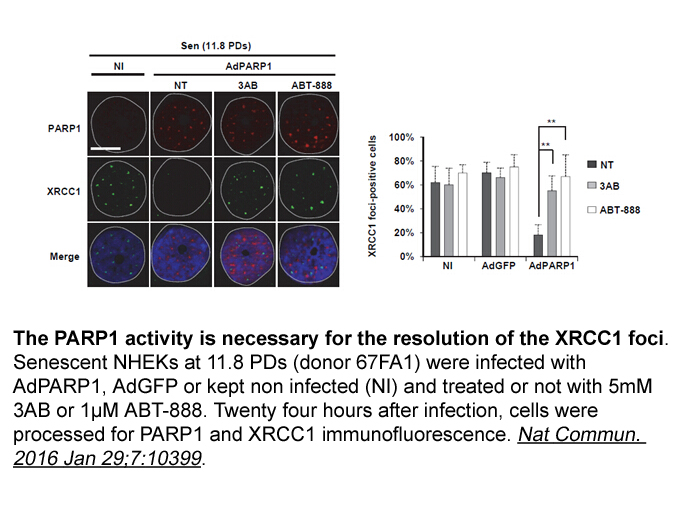 相关生物数据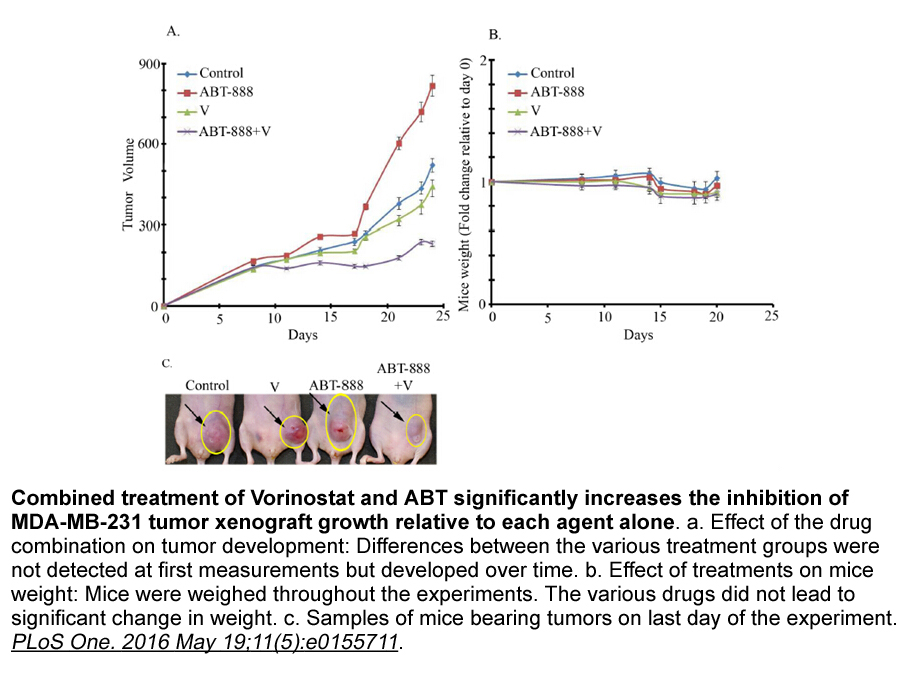 相关生物数据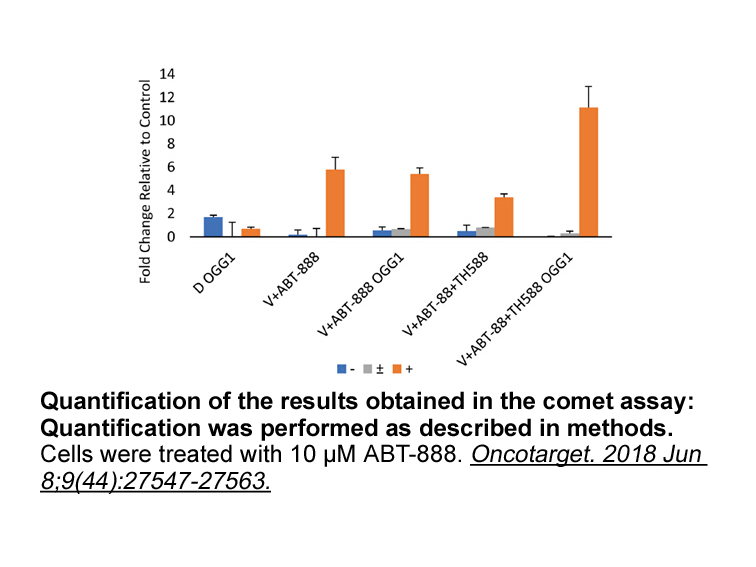 相关生物数据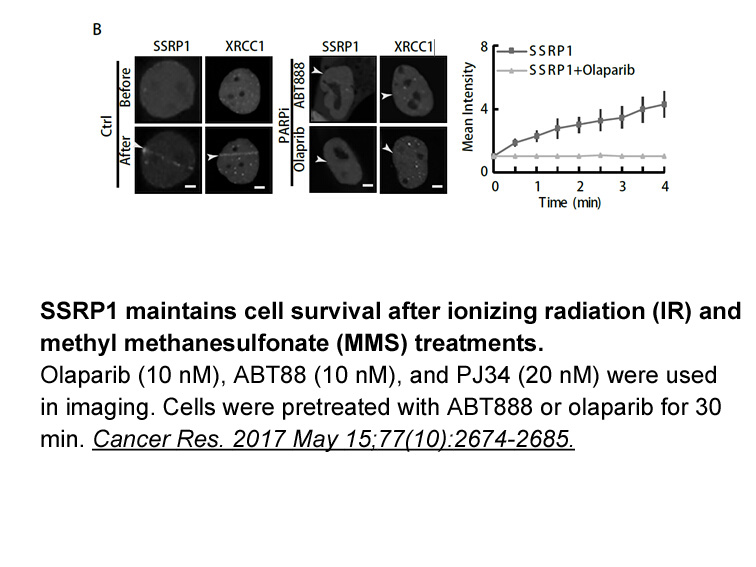 相关生物数据