Background
TG101348, also known as SAR302503, is a potent and selective inhibitor of janus kinase 2 (JAK2), one member of a family of 4 cytoplasmic tyrosine kinases including janus kinase 1(JAK1), JAK2, janus kinase 3 (JAK3) and tyrosine kinase 2 (Tyk2), with the inhibition constant IC50 of 3 nM. Comparing to other close related kinases, the selectivity of TG101348 for JAK2 is 35- and 334-fold stronger than that for JAK3 and JAK1 respectively.  TG10348 is capable of inducing apoptosis in HEL cells as well BaF/3 cells harboring JAK2V617 mutation and inhibiting hematopoietic progenitor colony formation and erythroid engraftment in samples from polycythemia vera (PV) patients.
Reference
Srdan Verstovsek. Therapeutic potential of JAK2 inhibitors. Hematology Am Soc Hematol Educ Program 2009:636-642
文献引用
Chemical Properties
| | |
| --- | --- |
| Physical Appearance | A solid |
| Storage | Store at -20°C |
| M.Wt | 524.68 |
| Cas No. | 936091-26-8 |
| Formula | C27H36N6O3S |
| Synonyms | Tg-101348,SAR-302503 |
| Solubility | ≥26.2 mg/mL in DMSO, ≥6.69 mg/mL in EtOH with ultrasonic and warming, <2.48 mg/mL in H2O |
| Chemical Name | N-tert-butyl-3-[[5-methyl-2-[4-(2-pyrrolidin-1-ylethoxy)anilino]pyrimidin-4-yl]amino]benzenesulfonamide |
| SDF | Download SDF |
| Canonical SMILES | CC1=CN=C(N=C1NC2=CC(=CC=C2)S(=O)(=O)NC(C)(C)C)NC3=CC=C(C=C3)OCCN4CCCC4 |
| 运输条件 | 试用装:蓝冰运输。 其他可选规格:常温运输或根据您的要求用蓝冰运输。 |
| 一般建议 | 为了使其更好的溶解,请用37℃加热试管并在超声波水浴中震动片刻。不同厂家不同批次产品溶解度各有差异,仅做参考。若实验所需浓度过大至产品溶解极限,请添加助溶剂助溶或自行调整浓度。 |
试验操作
激酶实验[1]:

抑制活性

使用InVitrogen激酶分析服务对223种激酶进行筛选,包含JAK2和JAK2V617F或用Carna Biosciences对包括JAK1和Tyk2在内的所有Janus激酶家族成员进行筛选,确定TG101348的IC50值。ATP浓度设置约为每种激酶的Km值。

细胞实验 [1]:

细胞系

含有JAK2V617F突变的人类红白血病细胞系(HEL),Ba/F3细胞

制备方法

该化合物在DMSO中的溶解度大于10 mM。若配制更高浓度的溶液,一般步骤如下:请将试管置于37℃加热10分钟和/或将其置于超声波浴中震荡一段时间。原液于-20℃可放置数月

反应条件

0.1、0.3、1、3和10 μM,72 h

实验结果

在具有JAK2V617F突变的HEL和Ba/F3细胞中,TG101348(SAR302503)抑制细胞增殖的IC50值分别为300 nM和420 nM。TG101348还以剂量依赖性的方式减少STAT5磷酸化,诱导细胞凋亡。

动物实验[1]:

动物模型

C57Bl/6小鼠,静脉内注射表达JAK2V617F的全骨髓的C57BL/6小鼠。

给药剂量

30、100和200 mg/kg,给药后0.5、1、3、5、7和24 hr,口服;60 mg/kg、120 mg/kg,口服,每天两次,从第28天到第42天.

实验结果

在C57Bl/6小鼠中,剂量为30、100和200 mg/kg给药后3小时,TG101348的最大血浆浓度(Cmax)分别为0.68、3.58和4.28 μM。 在由JAK2V617F诱导的真性红细胞增多症小鼠中,60 mg/kg和120 mg/kg剂量的TG101348分别将血细胞比容减少5.1%和17.9%。此外,TG101348以剂量依赖性方式抑制脾肿大和红细胞增多症。

注意事项

Please test the solubility of all compounds indoor, and the actual solubility may slightly differ with the theoretical value. This is caused by an experimental system error and it is normal.请测试所有化合物在室内的溶解度,实际溶解度和理论值可能略有不同。这是由实验系统的误差引起的,属于正常现象。

References:

[1]. Wernig G, Kharas MG, Okabe R, et al. Efficacy of TG101348, a selective JAK2 inhibitor, in treatment of a murine model of JAK2V617F-induced polycythemia vera. Cancer Cell, 2008, 13(4): 311-320.
生物活性
描述
TG-101348 (SAR302503)是一种选择性的JAK2抑制剂,IC50值为3 nM,比对JAK1和JAK3的选择性分别高35倍和334倍。
靶点
JAK2
IC50
3 nM
质量控制
化学结构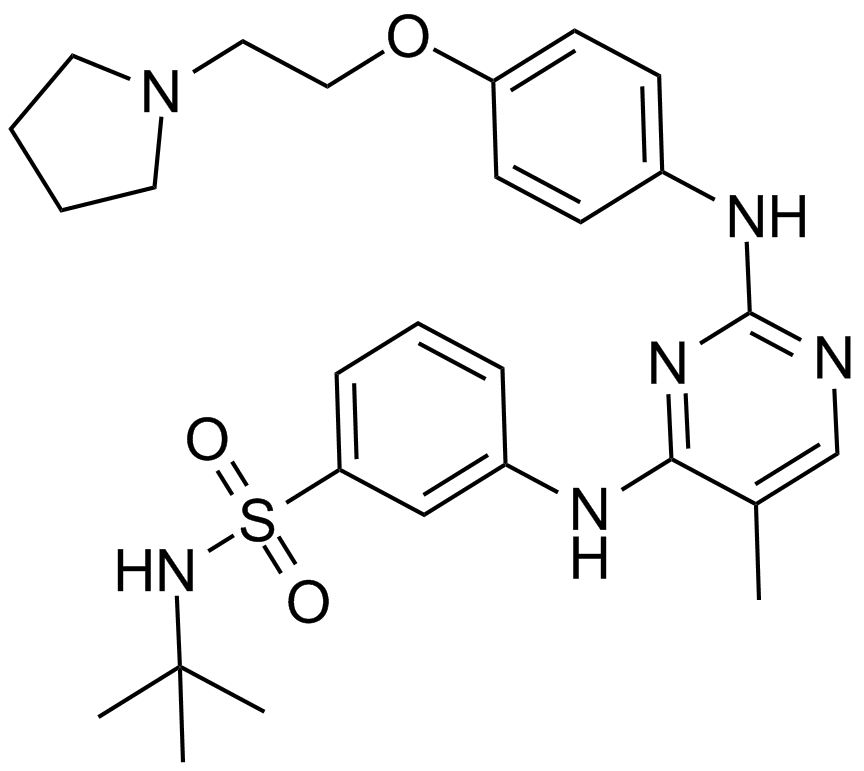 相关生物数据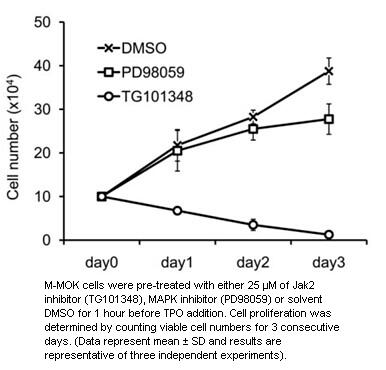 相关生物数据
相关生物数据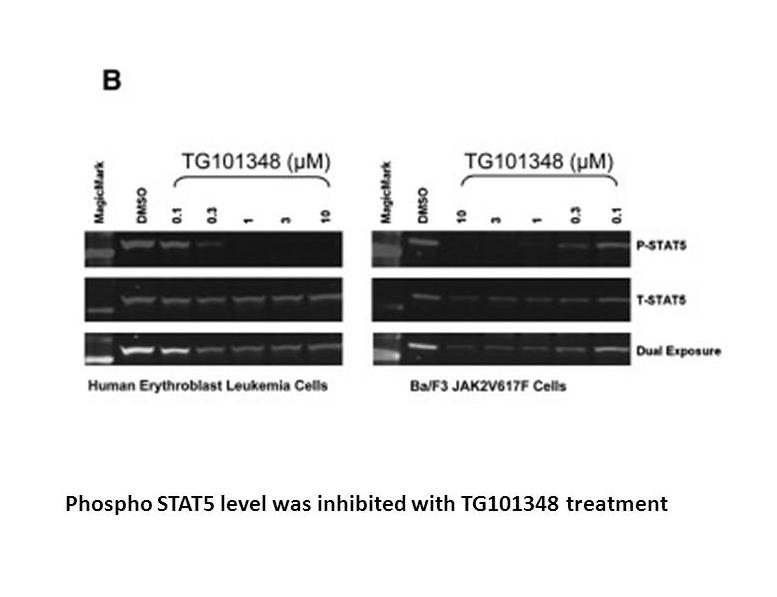 相关生物数据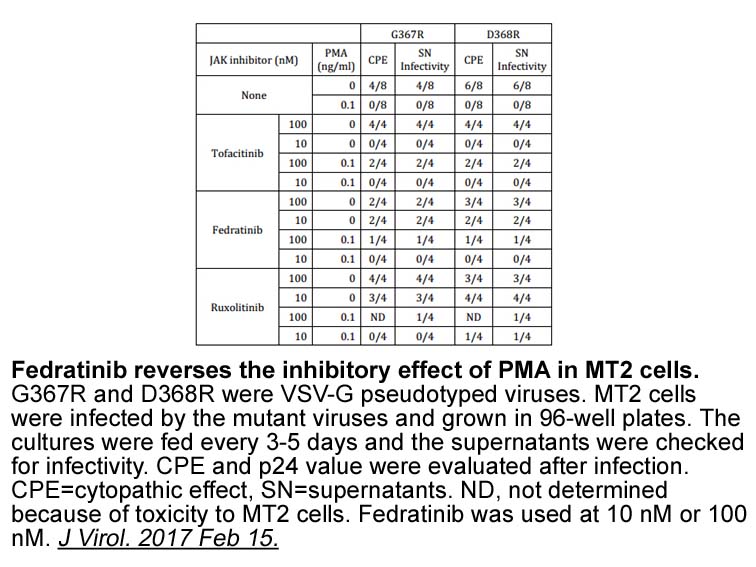 相关生物数据