Background
ONX-0914, previously known as PR-975, is a potent inhibitor of immunoproteasome, a form of proteasome generating peptides presented on major histocompatibility complex (MHC) class I molecule to cytotixic T cells, which selectively induces conformational changes in the S1 binding pocket of the immunoproteasome subunit β5i (low molecular mass polypeptide 7/LMP7) rather than the constitutive proteasome subunit β5 in human and mouse cells. ONX-0914 is able to block the production of proinflammatory cytokines from human peripheral blood mononuclear cells (PBMCs), activate mouse splenocytes, inhibit IL-17-producing T cells under TH17-polarizing cytokines in vitro, and attenuate disease progression of diabetes, arthritis, and colitis in mouse models.
Reference
Denise Niewerth, Niels E. Franke, Gerrit Jansen, Yehuda G. Assaraf, Johan van Meerloo, Christopher. Kirk, Jeremiah Degenhardt, Janet Anderl, Aaron D. Schimmer, Sonja Zweegman, Valerie de Haas, Terzah M. Horton, Gertjan J.L. Kaspers, and Jacqueline Cloos. Higer ratio immune vs. constitutive proteasome level as novel indicator of sensitivity of pediatric acute leukemia cells to proteasome inhibitors. Haematologica 2013.
Khalid W. Kalim, Michael Basler, Christopher J. Kirk and Marcus Groettrup. Immunoproteasome subunit LMP7 deficiency and inhibition suppresses Th1 and Th17 but enhances regulatory T cell differentiation. J Immunol 2012; 189:4182-4193
文献引用
Chemical Properties
| | |
| --- | --- |
| Storage | Store at -20°C |
| M.Wt | 580.67 |
| Cas No. | 960374-59-8 |
| Formula | C31H40N4O7 |
| Synonyms | ONX-0914,PR-957 |
| Solubility | ≥29.0335mg/mL in DMSO, ≥69 mg/mL in EtOH, <3.59 mg/mL in H2O |
| Chemical Name | (2S)-3-(4-methoxyphenyl)-N-[(2S)-1-(2-methyloxiran-2-yl)-1-oxo-3-phenylpropan-2-yl]-2-[[(2S)-2-[(2-morpholin-4-ylacetyl)amino]propanoyl]amino]propanamide |
| SDF | Download SDF |
| Canonical SMILES | CC(C(=O)NC(CC1=CC=C(C=C1)OC)C(=O)NC(CC2=CC=CC=C2)C(=O)C3(CO3)C)NC(=O)CN4CCOCC4 |
| 运输条件 | 试用装:蓝冰运输。 其他可选规格:常温运输或根据您的要求用蓝冰运输。 |
| 一般建议 | 为了使其更好的溶解,请用37℃加热试管并在超声波水浴中震动片刻。不同厂家不同批次产品溶解度各有差异,仅做参考。若实验所需浓度过大至产品溶解极限,请添加助溶剂助溶或自行调整浓度。 |
试验操作
细胞实验[1]:

细胞系

人外周血单核细胞(PBMC)

溶解方法

在DMSO中的溶解度>10 mM。为了获得更高的浓度,可以将离心管在37℃加热10分钟和/或在超声波浴中震荡一段时间。原液可以在-20℃以下储存几个月。

反应条件

200 nM;1 h

应用

将PBMC用200 nM的ONX-0914处理1小时后,于1 ng/ml的LPS中暴露24小时,上清用于分析炎性细胞因子的表达。ONX-0914选择性地抑制LMP7(> 80%)。LMP7的抑制阻断了大于90%的IL-23的产生和约50%的肿瘤坏死因子α(TNF-α)和IL-6的产生。诱导LMP2和MECL-1抑制的更高浓度的ONX-0914可进一步减少TNF-α和IL-6的分泌,表明这些亚基在细胞因子的产生中起重要作用。

动物实验[1]:

动物模型

胶原抗体诱导的关节炎(CAIA)BALB/c小鼠模型;胶原诱导的关节炎(CIA)DBA1/J小鼠模型

剂量

2、6和10 mg/kg;静脉注射

应用

ONX-0914以剂量依赖的方式阻断疾病的发展,在最高剂量下完全改善疾病的明显迹象。PR-957以2 mg/kg的剂量给药的治疗反应表明,LMP7的单独抑制即可阻止疾病的发展。在T细胞和B细胞依赖的CIA模型中,ONX-0914也诱导快速的治疗反应。免疫蛋白酶体的抑制与循环中自身抗体及胶原寡聚基质蛋白(COMP)水平的下降相关,COMP是软骨破坏的标志物。

注意事项

请测试所有化合物在室内的溶解度,实际溶解度和理论值可能略有不同。这是由实验系统的误差引起的,属于正常现象。

References:

[1] Muchamuel T, Basler M, Aujay M A, et al. A selective inhibitor of the immunoproteasome subunit LMP7 blocks cytokine production and attenuates progression of experimental arthritis. Nature medicine, 2009, 15(7): 781-787.
生物活性
描述
ONX-0914 (PR-957)是一种有效的和选择性的免疫蛋白酶体(immunoproteasome)抑制剂,对组成型蛋白酶体具有最低的交叉反应性。
靶点
LMP7
IC50
~10 nM
质量控制
化学结构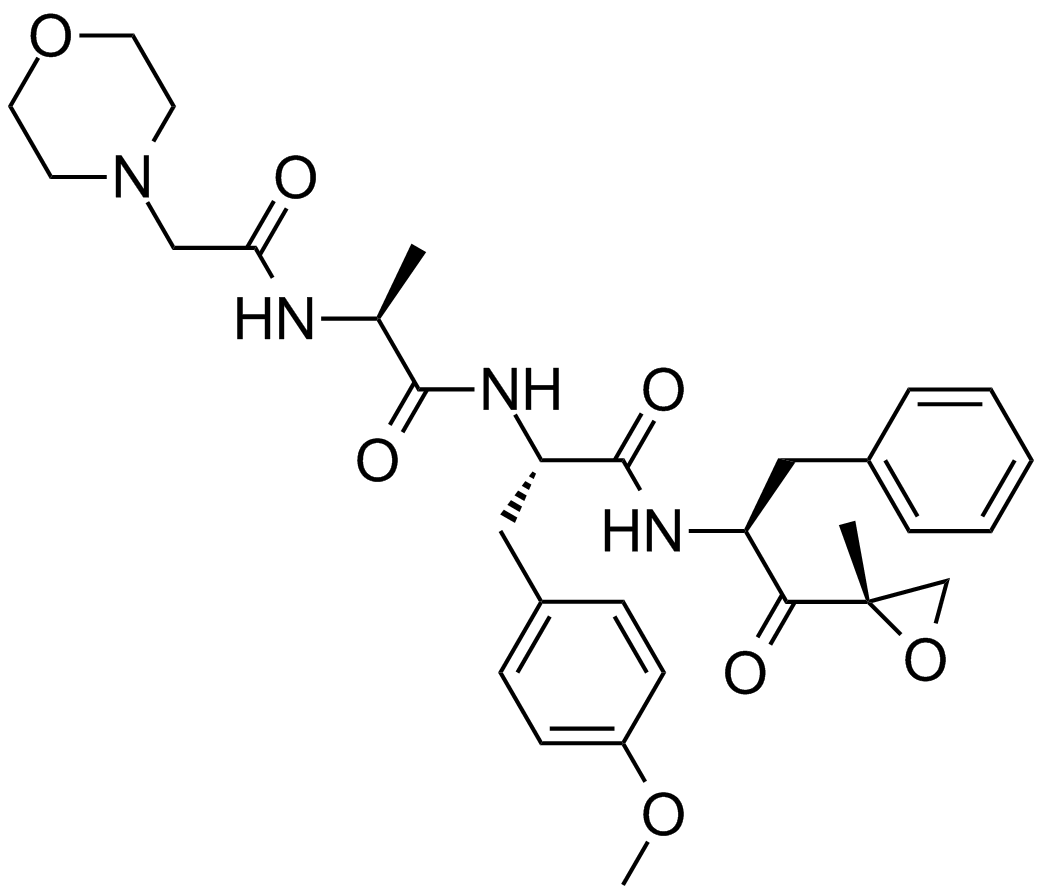 相关生物数据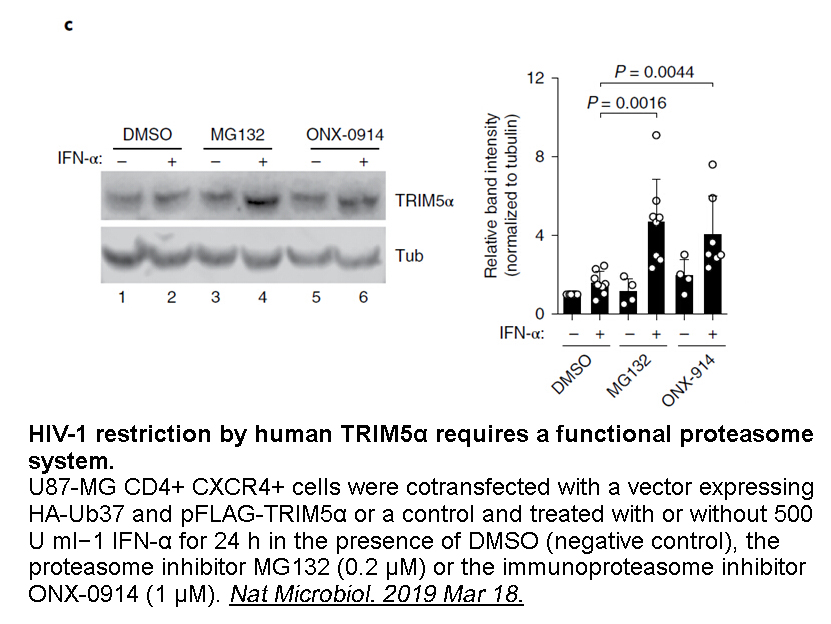 相关生物数据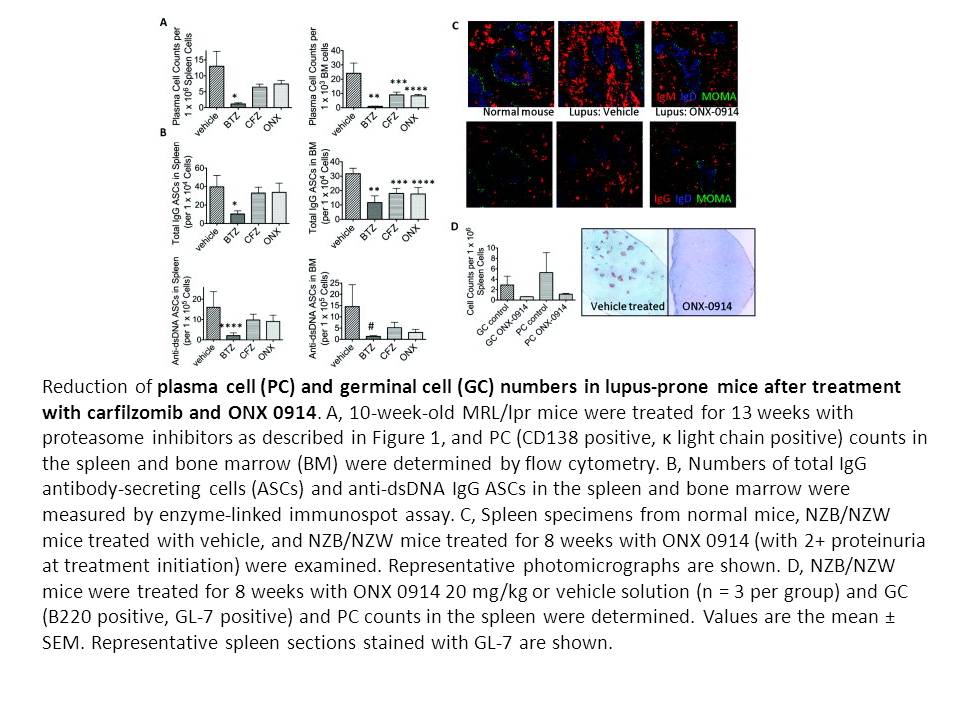 相关生物数据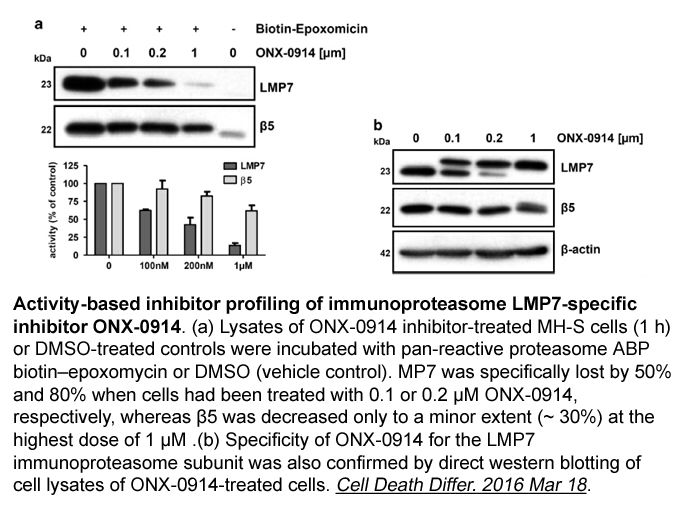 相关生物数据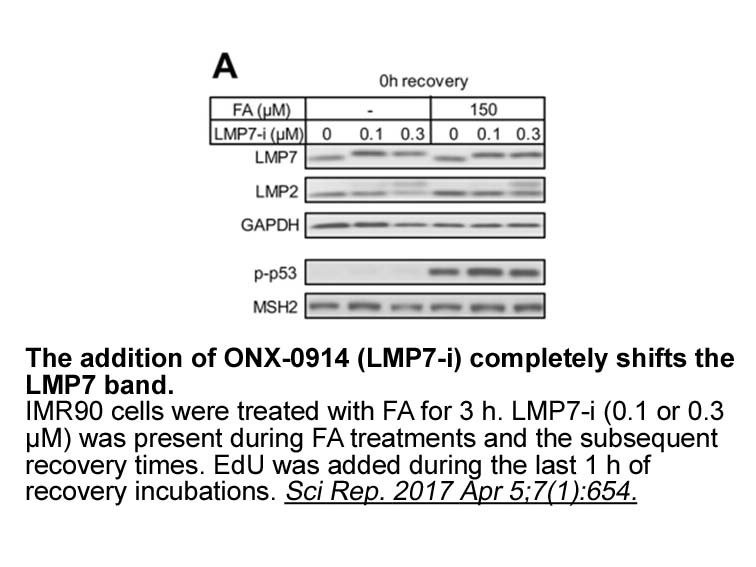 相关生物数据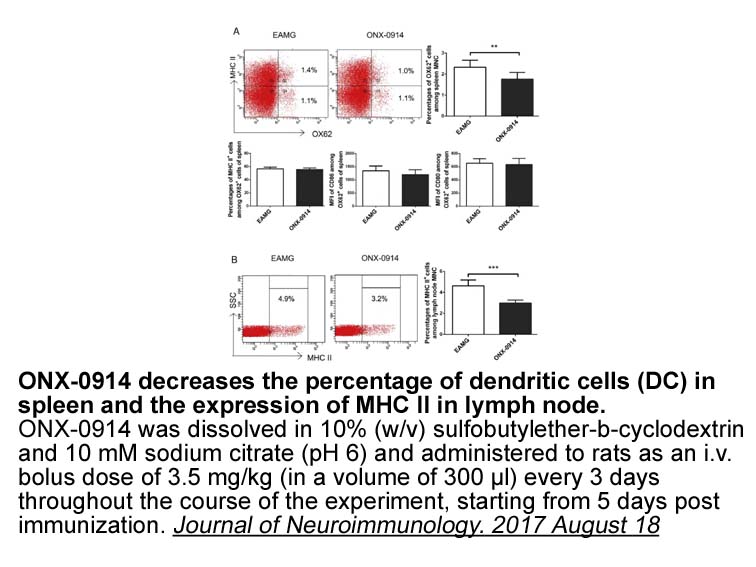 相关生物数据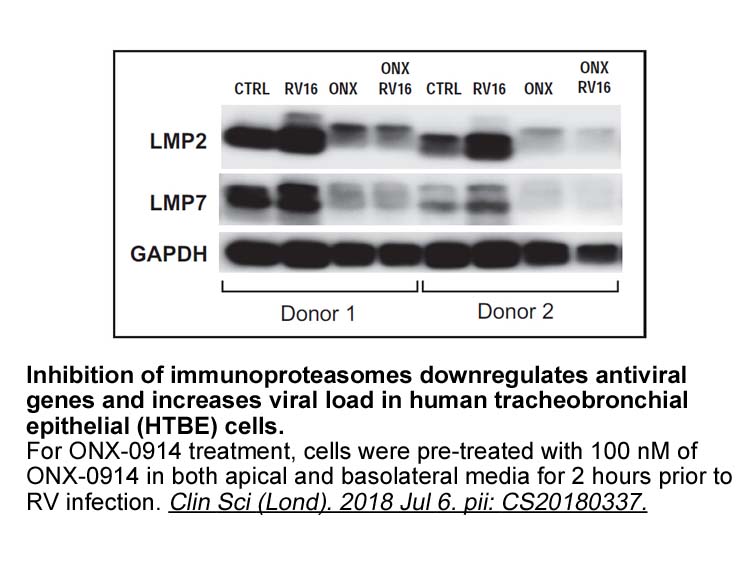 相关生物数据