Background
GM 6001 is a broad-spectrum inhibitor of MMP with Ki values of 0.4nM, 0.5nM, 27nM, 0.1nM and 0.2nM, respectively for MMP-1,2,3,8 and 9 [1].
MMPs are divided into 4 subfamilies: stromelysins, gelatinases, membrane-type MMPs, and collagenases. They play major roles in mediating the effects of IL-1 during meniscal healing. As an inhibitor of MMP, GM 6001 is reported to enhance the repair of meniscal lesions in an inflammatory microenvironment. MMPs also play roles in the transactivation of EGFR induced by GPCR agonists. It is reported that treatment of GM 6001 inhibits the phosphorylation of EGFR as well as the activation of ERK induced by bombesin or LPA. The DNA synthesis induced by bombesin or LPA is also attenuated by GM 6001 since the activity of MMP is required for the GPCR-induced late response mitogenic signaling [1, 2].
References:
[1] McNulty AL, Weinberg JB, Guilak F. Inhibition of matrix metalloproteinases enhances in vitro repair of the meniscus. Clin Orthop Relat Res. 2009 Jun;467(6):1557-67.
[2] Santiskulvong C, Rozengurt E. Galardin (GM 6001), a broad-spectrum matrix metalloproteinase inhibitor, blocks bombesin- and LPA-induced EGF receptor transactivation and DNA synthesis in rat-1 cells. Exp Cell Res. 2003 Nov 1;290(2):437-46.
文献引用
Chemical Properties
| | |
| --- | --- |
| Physical Appearance | A solid |
| Storage | Store at -20°C |
| M.Wt | 388.46 |
| Cas No. | 142880-36-2 |
| Formula | C20H28N4O4 |
| Solubility | ≥19.423 mg/mL in DMSO, <2.47 mg/mL in EtOH, <2.43 mg/mL in H2O |
| Chemical Name | (2R)-N'-hydroxy-N-[(2S)-3-(1H-indol-3-yl)-1-(methylamino)-1-oxopropan-2-yl]-2-(2-methylpropyl)butanediamide |
| SDF | Download SDF |
| Canonical SMILES | CC(C)CC(CC(=O)NO)C(=O)NC(CC1=CNC2=CC=CC=C21)C(=O)NC |
| 运输条件 | 试用装:蓝冰运输。 其他可选规格:常温运输或根据您的要求用蓝冰运输。 |
| 一般建议 | 为了使其更好的溶解,请用37℃加热试管并在超声波水浴中震动片刻。不同厂家不同批次产品溶解度各有差异,仅做参考。若实验所需浓度过大至产品溶解极限,请添加助溶剂助溶或自行调整浓度。 |
试验操作
细胞实验[1]:

细胞系

MDA-MB-435细胞

溶解方法

该化合物在DMSO中的溶解度大于10 mM。若配制更高浓度的溶液,一般步骤如下:请将试管置于37℃加热10分钟和/或将其置于超声波浴中震荡一段时间。原液于-20℃可放置数月

反应条件

1、2、4 nM,6或12 h.

实验结果

在MDA-MB-435细胞中,GM 6001处理6小时和12小时后,呼吸速率增加80%,[3H]胸苷掺入增加50%,这表明GM 6001增加DNA合成。GM 6001还增加ERK活性和p38激酶活性。

动物实验 [2]:

动物模型

颈动脉气囊损伤大鼠

剂量

100 mg/kg,2、4、7、10或14天,腹腔注射。

溶解方法

溶于4% CMC.

实验结果

损伤后第4天,GM 6001将迁移到内膜中的SMC的量减少97%,并抑制MMP介导的损伤生长。然而,在损伤后第14天,GM6001治疗组和对照大鼠中内膜区域和SMC的量相同。

注意事项

请测试所有化合物在室内的溶解度,实际溶解度和理论值可能略有不同。这是由实验系统的误差引起的,属于正常现象。

References:

[1]. Porter JF, Shen S, Denhardt DT. Tissue inhibitor of metalloproteinase-1 stimulates proliferation of human cancer cells by inhibiting a metalloproteinase. Br J Cancer, 2004, 90(2): 463-470.

[2]. Bendeck MP, Irvin C, Reidy MA. Inhibition of matrix metalloproteinase activity inhibits smooth muscle cell migration but not neointimal thickening after arterial injury. Circ Res, 1996, 78(1): 38-43.
生物活性
描述
GM 6001(Ilomastat,Galardin)是一种广谱matrix metalloprotease (MMP)(基质金属蛋白酶)抑制剂,作用于MMP-1、MMP-2、MMP-3、MMP-8和MMP-9,Ki值分别为0.4 nM、0.5 nM、27 nM、0.1 nM和0.2 nM。
靶点
MMP-1
MMP-2
MMP-3
MMP-8
MMP-9
IC50
0.4 nM (Ki)
0.5 nM (Ki)
27 nM (Ki)
0.1 nM (Ki)
0.2 nM (Ki)
质量控制
化学结构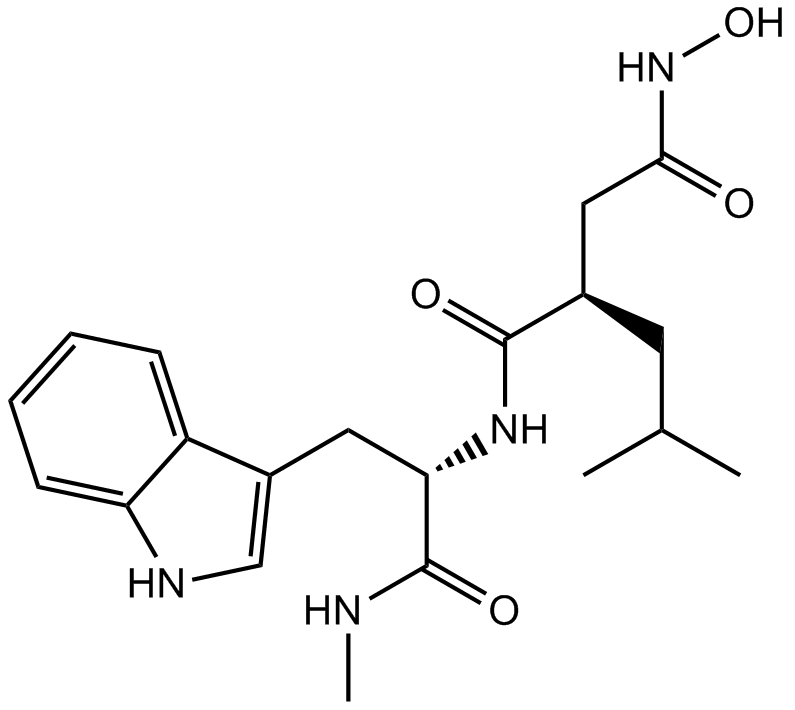 相关生物数据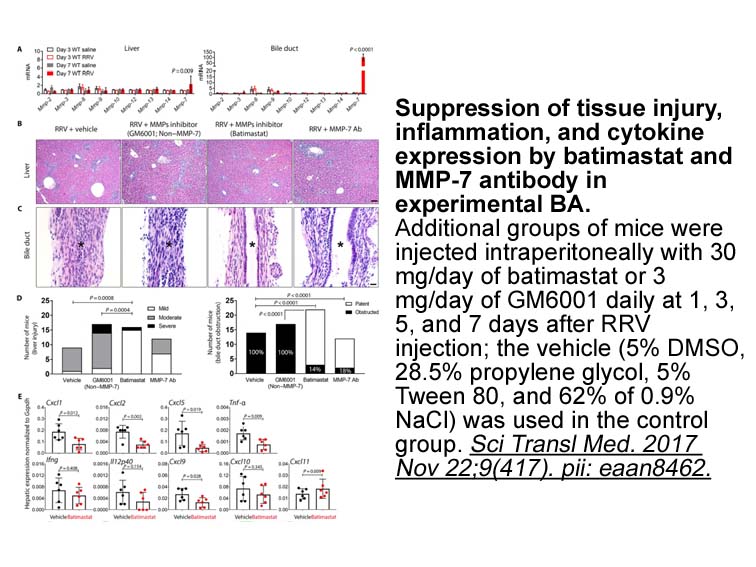 相关生物数据