Background
Dynasore is a noncompetitive inhibitor of GTPases with the IC50 value of 15 μM[1] [2].
GTPases (singular GTPase) are hydrolase enzymes that play an important role in GTP binding and hydrolyzing. GTPases involve in many processes, like, transduction signal, protein biosynthesis, translocation proteins through membranes, and transporting vesicles within the cell. It has been reported that dynasore could inhibit the GTPase activity of dynamin1, dynamin2 and Drp1 [3] [4].
Dynasore is a potent GTPases inhibitor and functions on the sites of dynamin1, dynamin2 or Drp1. When tested with HL-1 cells, treated cells with dynasore blocked the endocytic process via inhibiting the activity of dynamin [1].  Using genetically encoded pH-sensitive fluorescent probe synaptopHluorin to study the role of dynasore in the synapses expressing spH, and the results showed that dyansore treatment resulted in the normal stimulus-triggered increase in fluorescence intensity via reducing the GTPase activity of dynamin which in turn blocked the synaptic endocytosis[4]. Dynasore worked as inhibitor of dynamin GTPase activity which blocks dynamin-dependent endocytosis not only in cells, but also including neurons [3].
References:
[1].Zheng, J., et al., Chymase mediates injury and mitochondrial damage in cardiomyocytes during acute ischemia/reperfusion in the dog. PLoS One, 2014. 9(4): p. e94732.
[2].McCluskey, A., et al., Building a better dynasore: the dyngo compounds potently inhibit dynamin and endocytosis. Traffic, 2013. 14(12): p. 1272-89.
[3].Kirchhausen, T., E. Macia, and H.E. Pelish, Use of dynasore, the small molecule inhibitor of dynamin, in the regulation of endocytosis. Methods Enzymol, 2008. 438: p. 77-93.
[4].Newton, A.J., T. Kirchhausen, and V.N. Murthy, Inhibition of dynamin completely blocks compensatory synaptic vesicle endocytosis. Proc Natl Acad Sci U S A, 2006. 103(47): p. 17955-60.
文献引用
Chemical Properties
| | |
| --- | --- |
| Physical Appearance | A solid |
| Storage | Store at -20°C |
| M.Wt | 322.31 |
| Cas No. | 304448-55-3 |
| Formula | C18H14N2O4 |
| Solubility | ≥16.12mg/mL in DMSO |
| Chemical Name | (E)-N'-(3,4-dihydroxybenzylidene)-3-hydroxy-2-naphthohydrazide |
| SDF | Download SDF |
| Canonical SMILES | OC1=C(C(N/N=C/C(C=C2)=CC(O)=C2O)=O)C=C(C=CC=C3)C3=C1 |
| 运输条件 | 试用装:蓝冰运输。 其他可选规格:常温运输或根据您的要求用蓝冰运输。 |
| 一般建议 | 为了使其更好的溶解,请用37℃加热试管并在超声波水浴中震动片刻。不同厂家不同批次产品溶解度各有差异,仅做参考。若实验所需浓度过大至产品溶解极限,请添加助溶剂助溶或自行调整浓度。 |
试验操作
细胞实验 [1]:

细胞系

Hela细胞

制备方法

在DMSO中的溶解度大于16.1 mg/mL。若配制更高浓度的溶液,一般步骤如下:请将试管置于37 °C加热10分钟和/或将其置于超声波浴中震荡一段时间。原液于-20 °C可放置数月。

反应条件

0、1、10、20、40、60和80 μM;30分钟

实验结果

使用80 μM Dynasore预处理Hela细胞30分钟,转铁蛋白摄取、运输以及胞内积累均被显著抑制。此外,Dynasore呈剂量依赖性地抑制转铁蛋白摄取。实验表明,Dynasore对转铁蛋白摄取的抑制作用是可逆的。

References:

[1]. Macia E, Ehrlich M, Massol R, Boucrot E, Brunner C, Kirchhausen T. Dynasore, a cell-permeable inhibitor of dynamin. Dev Cell. 2006 Jun;10(6):839-50.
生物活性
描述
Dynasore是一种细胞通透性的和非竞争性的动力素GTP酶抑制剂,IC50值为15 μM。
靶点
dynamin GTPase
IC50
15 ?M
质量控制
化学结构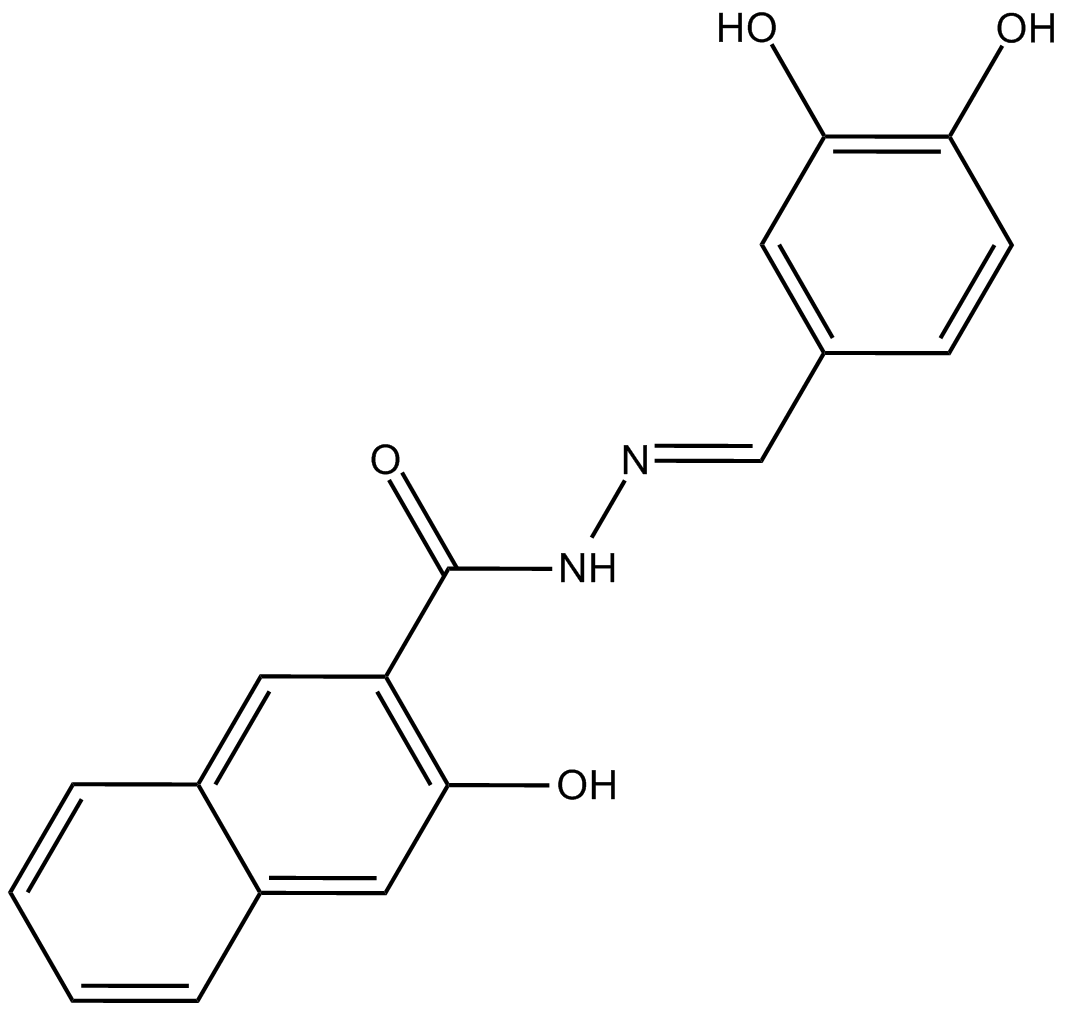 相关生物数据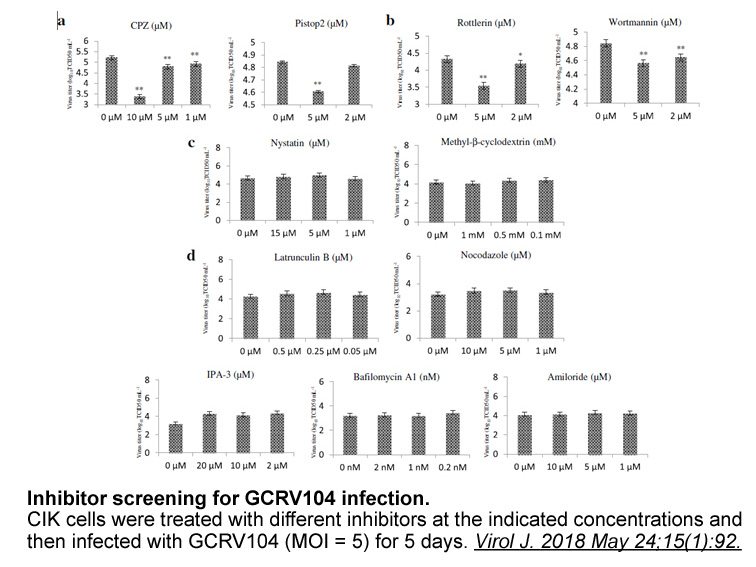 相关生物数据
相关生物数据