Background
Description:IC50: 100 nm (antiproliferative IC50) [1]
The proteasome is a member of the growing N-terminal nucleophile (Ntn) hydrolase family, whose aminoterminal side chains act as nucleophiles and free amino groups as proton acceptors. Proteasome inhibitors have been increasingly used to help define the role of the proteasome in cell biology. Dihydroeponemycin labels the catalytic threonine residues of the immunoproteasome subunits LMP2 and LMP7 and the constitutive proteasome subunit X, while epoxomicin covalently modifies the N-terminal catalytic threonine residues of the constitutive proteasome (X and Z) and immunoproteasome (LMP7 and MECL1) subunits.
In vitro: Previoius study reports that dihydroeponemycin, an analogue of the antitumor and antiangiogenic natural product eponemycin, selectively targets the 20S proteasome. Dihydroeponemycin covalently modifies a subset of catalytic proteasomal subunits, binding preferentially to the IFN-g-inducible subunits LMP2 and LMP7. Moreover, the three major peptidolytic activities of the proteasome are inhibited by dihydroeponemycin at different rates. In addition, dihydroeponemycin-mediated proteasome inhibition induces a spindle-like cellular morphological change and apoptosis. These results validate the proteasome as a target for antitumor pharmacological intervention and are relevant for the design of novel chemotherapeutic strategies [2].
In vivo: Recent study in the mouse model of dihydrosterptomycin shows that hair cells are targeted because aminoglycosides enter outer hair cells through large mechanically gated channels in the mechanosensory hair boundles. The aminoglycoside molecules then block the channels through which they entered. When this occurs, the aminoglycoside goes through the channel and effectively traps itself in the hair cell [3].
Clinical trial: Dihydroeponemycin is currently in the preclinical development and non clinical trial is ongoing.
References:
[1] Kim KB, Myung J, Sin N, Crews CM. Proteasome inhibition by the natural products epoxomicin and dihydroeponemycin: insights into specificity and potency. Bioorg Med Chem Lett. 1999;9(23):3335-40.
[2] Meng L, Kwok BH, Sin N, Crews CM. Eponemycin exerts its antitumor effect through the inhibition of proteasome function. Cancer Res. 1999;59(12):2798-801.
[3] Marcotti W, van Netten SM, Kros CJ. The aminoglycoside antibiotic dihydrostreptomycin rapidly enters mouse outer hair cells through the mechano-electrical transducer channels. J Physiol. 2005;567(Pt 2):505-21.
文献引用
Chemical Properties
| | |
| --- | --- |
| Storage | Store at 2-8°C |
| M.Wt | 400.51 |
| Cas No. | 126463-64-7 |
| Formula | C20H36N2O6 |
| Synonyms | Dihydroeponemycin,uk101 |
| Solubility | ≥15.6mg/mL in DMSO |
| Chemical Name | N-[(2S)-3-hydroxy-1-[[(2S)-1-[(2R)-2-(hydroxymethyl)oxiran-2-yl]-4-methyl-1-oxopentan-2-yl]amino]-1-oxopropan-2-yl]-6-methylheptanamide |
| SDF | Download SDF |
| Canonical SMILES | CC(C)CCCCC(=O)NC(CO)C(=O)NC(CC(C)C)C(=O)C1(CO1)CO |
| 运输条件 | 试用装:蓝冰运输。 其他可选规格:常温运输或根据您的要求用蓝冰运输。 |
| 一般建议 | 为了使其更好的溶解,请用37℃加热试管并在超声波水浴中震动片刻。不同厂家不同批次产品溶解度各有差异,仅做参考。若实验所需浓度过大至产品溶解极限,请添加助溶剂助溶或自行调整浓度。 |
试验操作
细胞实验 [1]:

细胞系

牛主动脉内皮细胞

制备方法

可溶于DMSO。若配制更高浓度的溶液,一般步骤如下:请将试管置于37 °C加热10分钟和/或将其置于超声波浴中震荡一段时间。原液于-20 °C可放置数月。

反应条件

4 μM;0、12、24、36和48小时

实验结果

在牛主动脉内皮细胞中,95%细胞在Dihydroeponemycin处理的48小时中发生了DNA片段化。

References:

[1]. Meng L, Kwok BH, Sin N, Crews CM. Eponemycin exerts its antitumor effect through the inhibition of proteasome function. Cancer Res. 1999;59(12):2798-801.
生物活性
描述
Dihydroeponemycin是蛋白酶体的抑制剂和抗癌剂。
靶点
Proteasome
IC50
质量控制
化学结构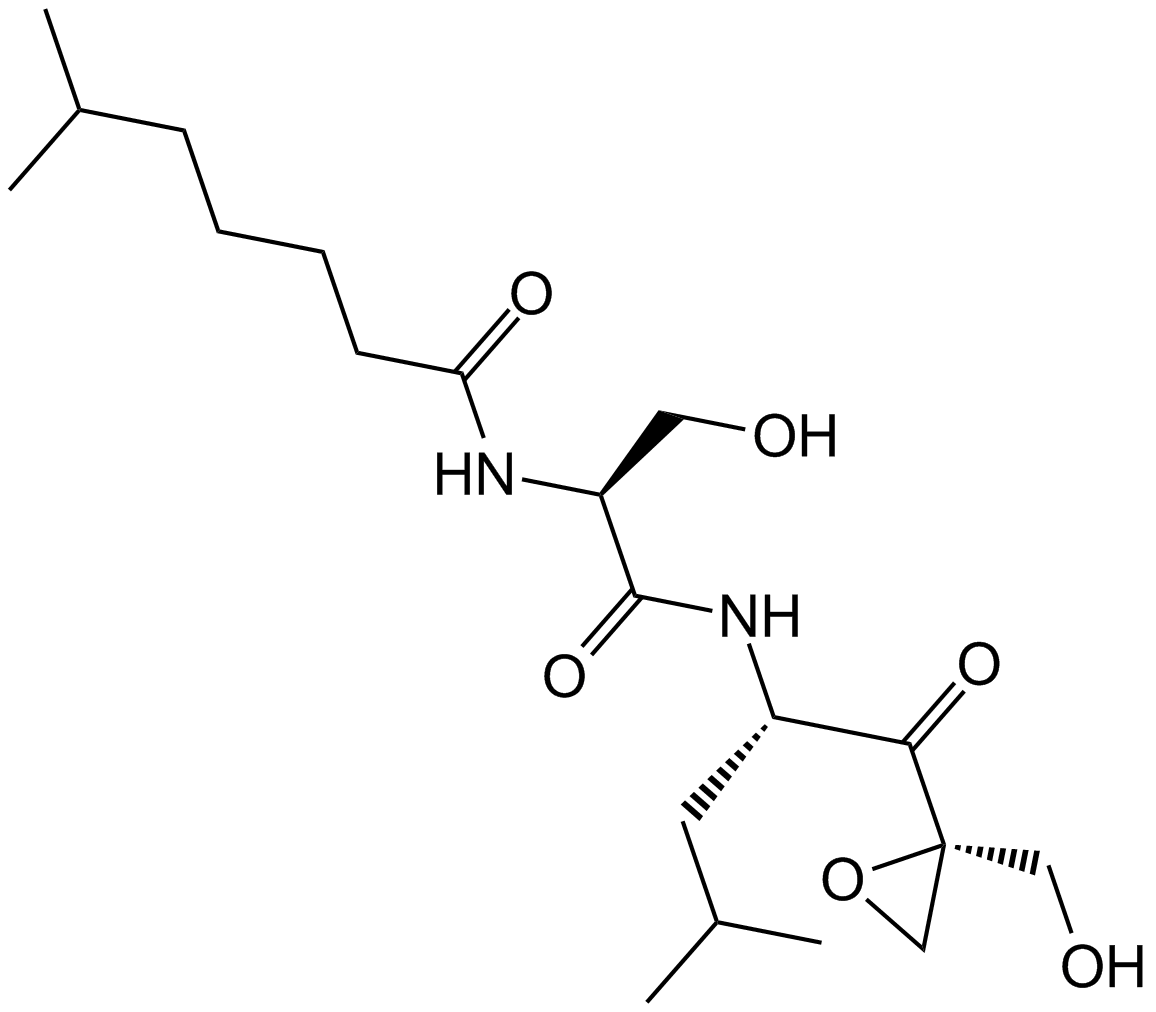 相关生物数据