Background
Nanaomycin A is a selective inhibitor of DNA methyltransferase 3B (DNMT3B) with IC50 value of 500 nM [1].
In the biochemical in vitro methylation assay, Nanaomycin A showed selective inhibition of DNMT3B but not DNMT1 although it was docked to the catalytic domain of human DNMT1 in a multi-step docking approach. Nanaomycin A showed cell viability inhibition in HCT116, A549 and HL60 cells with IC50 values of 400 nM, 4100 nM and 800 nM, respectively. It decreased the genomic methylation level of these cells significantly. Besides that, Nanaomycin A treatment resulted in demethylation of the RASSF1A promoter in A549 cells. The demethylation caused by Nanaomycin A reactivated the transcription and expression of a silenced tumor suppressor gene [1].
References:
[1] Kuck D, Caulfield T, Lyko F, et al. Nanaomycin A selectively inhibits DNMT3B and reactivates silenced tumor suppressor genes in human cancer cells. Molecular cancer therapeutics, 2010, 9(11): 3015-3023.
文献引用
Chemical Properties
| | |
| --- | --- |
| Physical Appearance | A solid |
| Storage | Store at -20°C |
| M.Wt | 302.28 |
| Cas No. | 52934-83-5 |
| Formula | C16H14O6 |
| Synonyms | Nanafrocin, Nanafrocine, Nanafrocinum, Rosanomycin A |
| Solubility | ≥15.1mg/mL in DMSO, ≥31.07 mg/mL in EtOH with ultrasonic,insoluble in H2O |
| Chemical Name | 2-[(1S,3S)-9-hydroxy-1-methyl-5,10-dioxo-3,4-dihydro-1H-benzo[g]isochromen-3-yl]acetic acid |
| SDF | Download SDF |
| Canonical SMILES | OC1=CC=CC(C(C2=C3[C@H](C)O[C@H](CC(O)=O)C2)=O)=C1C3=O |
| 运输条件 | 试用装:蓝冰运输。 其他可选规格:常温运输或根据您的要求用蓝冰运输。 |
| 一般建议 | 为了使其更好的溶解,请用37℃加热试管并在超声波水浴中震动片刻。不同厂家不同批次产品溶解度各有差异,仅做参考。若实验所需浓度过大至产品溶解极限,请添加助溶剂助溶或自行调整浓度。 |
试验操作
细胞实验[1]:

细胞系

A549、HL60、HeLa和HCT116细胞

溶解方法

在DMSO中的溶解度>10 mM。为了获得更高的浓度,可以将离心管在37℃加热10分钟和/或在超声波浴中震荡一段时间。原液可以在-20℃以下储存几个月。

反应条件

10 nM ~ 10 μM;72 h

应用

Nanaomycin A最初是通过DNMT1抑制剂的虚拟筛选而鉴定得到的,在来自不同组织的三个不同肿瘤细胞系中均具有抗增殖活性。在三个细胞系中,nanaomycin A减少整体甲基化水平,激活RASSF1A肿瘤抑制基因的转录。在生化试验中,nanaomycin A对DNMT3B具有选择性。

动物实验[2]:

动物模型

豚鼠

应用

评估nanaomycin A和siccanin对豚鼠中实验性皮肤癣菌(Trichophyton mentagrophytes)感染的治疗效果。Nanaomycin A的局部使用可以有效改善病变情况,阻止感染组织真菌的生长。Nanaomycin A和siccanin在实验中具有可比的活性。

注意事项

请测试所有化合物在室内的溶解度,实际溶解度和理论值可能略有不同。这是由实验系统的误差引起的,属于正常现象。

References:

1. Kuck D1, Caulfield T, Lyko F et al. Nanaomycin A selectively inhibits DNMT3B and reactivates silenced tumor suppressor genes in human cancer cells. Mol Cancer Ther. 2010 Nov;9(11):3015-23.

2. Kitaura K, Araki Y, Marumo H. The therapeutic effect of nanaomycin A against experimental Trichophyton mentagrophytes infection in guinea pigs. Kitaura K, Araki Y, Marumo H
生物活性
描述
Nanaomycin A是一个选择性的DNMT3B抑制剂。
靶点
DNMT3B
IC50
500 nM
质量控制
化学结构
相关生物数据
Treatment of Nanaomycin A does not significantly affect DNMT1 and DNMT3B level
相关生物数据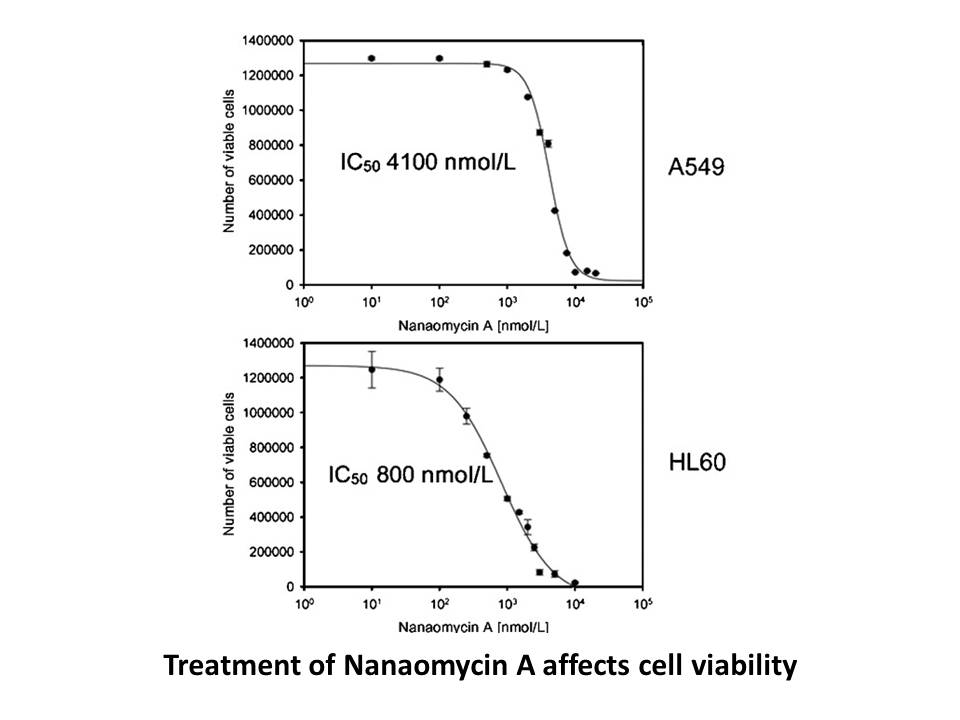 相关生物数据