Background
Nilotinib is a selective, oral inhibitor of tyrosine kinase with IC50 values of 20, 42, 31, 38, 29 and 41 nM for the autophosphorylation of native BCR-ABL (WT p210) and mutant BCR-ABL (E281K, E292K, F317L, M351T and F486S), respectively [1].
Nilotinib was designed based on the structure of imatinib and showed the superiority over imatinib in newly diagnosed or imatinib-resistant chronic myelogenous leukemia (CML). It was more potent than imatinib to wild-type BCR-ABL in a wide range of CML-derived and transfected cell lines. Nilotinib was also efficacious in gastrointestinal stromal tumors. Nilotinib showed inhibition activities in KIT mutant cells, including KITV560del, KITK642E and KITV560G (IC50 value of 108 nM). It also was effect to double mutations of KIT, such as KITV560del/V654A, KITV559D/D820Y, KITV560del/V654A (IC50: 192 nM) and KITV559D/D820Y (IC50: 297 nM). Besides that, Nilotinib exerted selective inhibition of PDGFRα and PDGFRβ. It suppressed cell proliferation with IC50 value of 0.54 nM in EOL-1 cells with constitutive activation of FIP1L1-PDGFRα [1, 2].
References:
[1] Weisberg E, Manley P, Mestan J, et al. AMN107 (nilotinib): a novel and selective inhibitor of BCR-ABL. British Journal of Cancer, 2006, 94(12): 1765-1769.
[2] Blay J Y, Von Mehren M. Nilotinib: a novel, selective tyrosine kinase inhibitor//Seminars in oncology. WB Saunders, 2011, 38: S3-S9.
文献引用
Chemical Properties
| | |
| --- | --- |
| Physical Appearance | A solid |
| Storage | Store at -20°C |
| M.Wt | 529.53 |
| Cas No. | 641571-10-0 |
| Formula | C28H22F3N7O |
| Synonyms | AMN-107; Tasigna; AMN107 |
| Solubility | ≥26.5mg/mL in DMSO, ≥5mg/mL in EtOH with ultrasonic and warming, <2.31 mg/mL in H2O |
| Chemical Name | 4-methyl-N-[3-(4-methylimidazol-1-yl)-5-(trifluoromethyl)phenyl]-3-[(4-pyridin-3-ylpyrimidin-2-yl)amino]benzamide |
| SDF | Download SDF |
| Canonical SMILES | CC1=C(C=C(C=C1)C(=O)NC2=CC(=CC(=C2)N3C=C(N=C3)C)C(F)(F)F)NC4=NC=CC(=N4)C5=CN=CC=C5 |
| 运输条件 | 试用装:蓝冰运输。 其他可选规格:常温运输或根据您的要求用蓝冰运输。 |
| 一般建议 | 为了使其更好的溶解,请用37℃加热试管并在超声波水浴中震动片刻。不同厂家不同批次产品溶解度各有差异,仅做参考。若实验所需浓度过大至产品溶解极限,请添加助溶剂助溶或自行调整浓度。 |
试验操作
细胞实验: [1]

细胞系

来自单个CML患者的CD34+细胞

制备方法

该化合物在DMSO中的溶解度大于10 mM,若配制更高浓度的溶液,一般步骤如下:请将试管置于37℃加热10分钟和/或将其置于超声波浴中震荡一段时间。原液于-20℃可放置数月。

反应条件

5 μM,16 hours

使用

Nilotinib培养16小时充分抑制CrkL磷酸化,但不诱导凋亡,总的CD34+细胞样品中仅表现出CrkL磷酸化的部分和可变抑制,抑制范围为49%至0%。

动物实验: [2]

动物模型

注射8093淋巴瘤细胞的C57Bl /6J小鼠

给药剂量

口服,75 mg/kg,每天

实验结果

载体处理的小鼠在移植后3周内濒临死亡,表现出明显的ALL症状。与对照组小鼠相比,Nilotinib治疗的小鼠存活时间显著延长。该结果清楚地表明,Nilotinib在体内非常有效地抑制白血病细胞的增殖。

注意事项

请于室内测试所有化合物的溶解度。虽然化合物的实际溶解度可能与其理论值略有不同,但仍处于实验系统误差的允许范围内。

References:

[1] J?rgensen H G, Allan E K, Jordanides N E, et al. Nilotinib exerts equipotent antiproliferative effects to imatinib and does not induce apoptosis in CD34+ CML cells. Blood, 2007, 109(9): 4016-4019.

[2] Kaur P, Feldhahn N, Zhang B, et al. Nilotinib treatment in mouse models of P190 Bcr/Abl lymphoblastic leukemia. Mol Cancer, 2007, 6(10): 67-77.
生物活性
描述
Nilotinib(AMN-107)是一种Bcr-Abl抑制剂,IC50小于30 nM。
靶点
Bcr-Abl
IC50
30 nM
质量控制
化学结构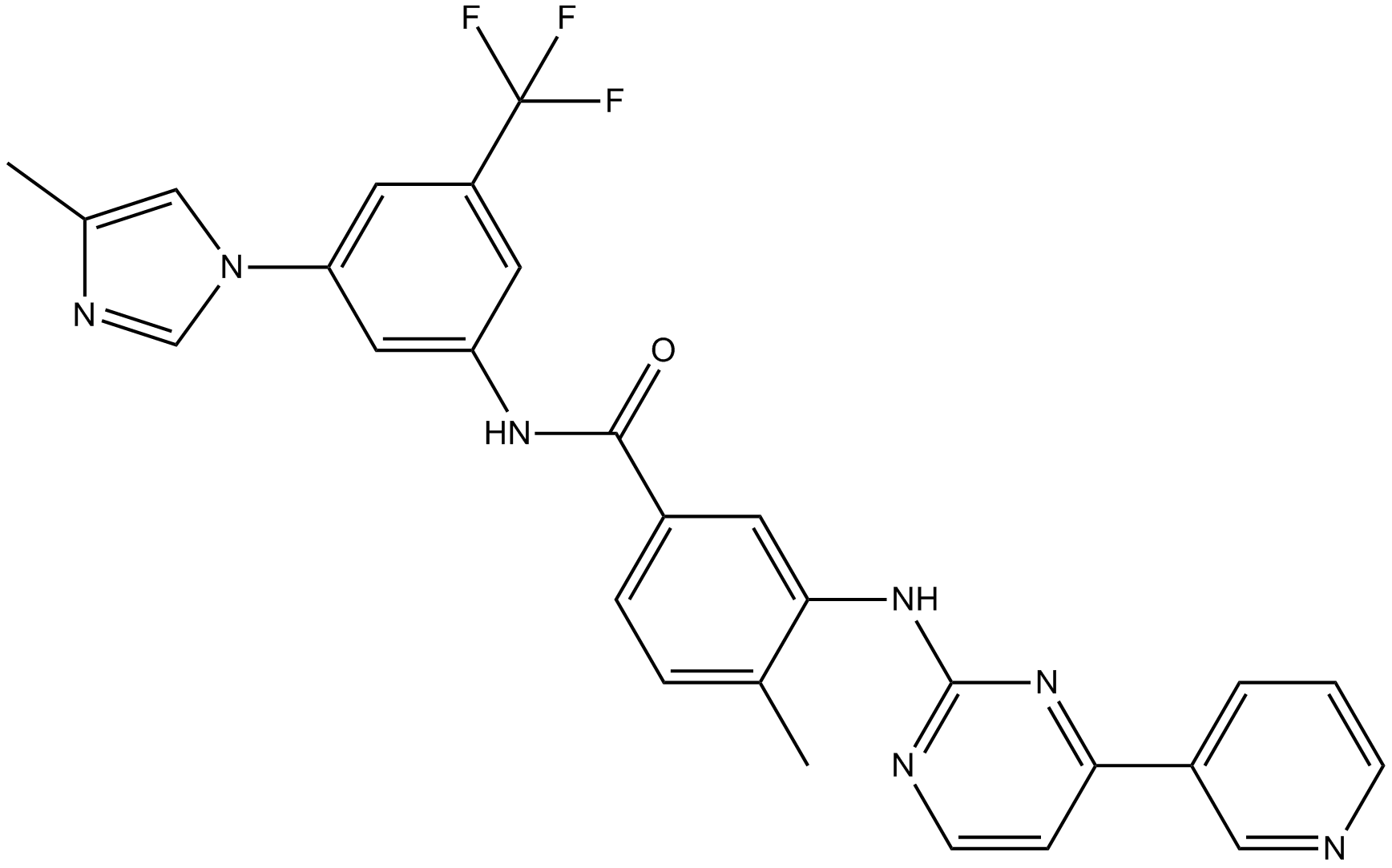 相关生物数据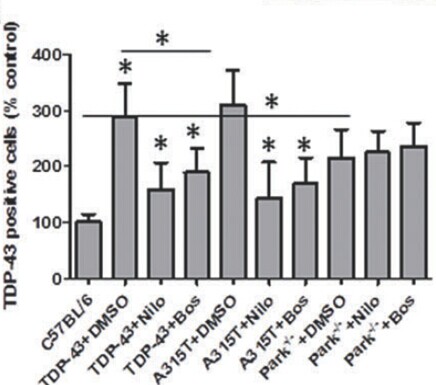 Histograms represent stereological quanti?cation of TDP-43 expressing cells. Asterisks indicate signi?cantly different to control or as indicated, mean + SEM, n=8, ANOVA, Neumann–Keuls multiple comparison.
相关生物数据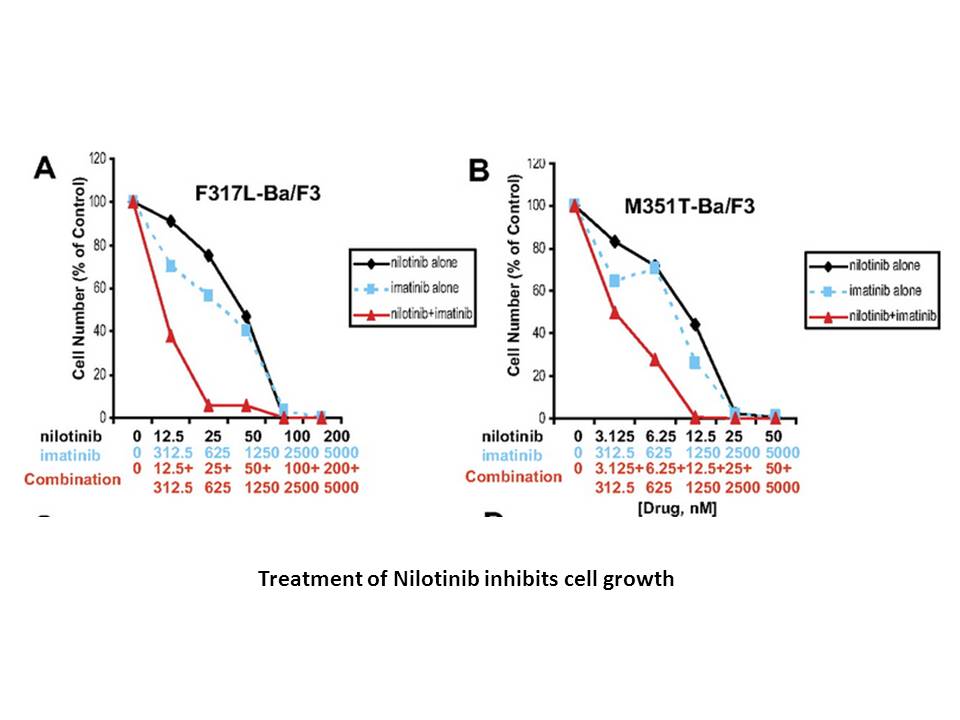 相关生物数据
相关生物数据