Background
Dorsomorphin is a cell-permeable and reversible ATP-competitive inhibitor of AMP-activated protein kinase (AMPK) with Ki value of 109nM [1].
Dorsomorphin is highly selective against AMPK over other structure related kinases such as protein kinase A, protein kinase C and Janus kinase 3. As an AMPK inhibitor, dorsomorphin is found to reverse the anti-proliferation induced by AMPK signaling in glucose-deprived mouse neural stem cells. It also shows inhibition of adipogenic differentiation in mouse 3T3-L1 fibroblasts [2].
Dorsomorphin is also reported to be an inhibitor of BMP signaling. It inhibits the phosphorylation of Smad 1/5/8, resulting in a reduction of heterotopic ossification. It also decreases the gene transcription of hepatic hepcidin and leads to increased iron levels subsequently. Moreover, the inhibition of BMP caused by dorsomorphin promotes self-renewal and neural induction of human ESC [2]
References:
[1] Lu Y, Akinwumi BC, Shao Z, Anderson HD. Ligand Activation of Cannabinoid Receptors Attenuates Hypertrophy of Neonatal Rat Cardiomyocytes. J Cardiovasc Pharmacol. 2014 Jun 26.
[2] Kudo T, Kanetaka H, Mizuno K, et al. Effects of the Small Molecule Dorsomorphin on Intracellular Signaling. Interface Oral Health Science 2011. Springer Japan, 2012: 131-133.
文献引用
Chemical Properties
| | |
| --- | --- |
| Physical Appearance | A solid |
| Storage | Store at -20°C |
| M.Wt | 399.49 |
| Cas No. | 866405-64-3 |
| Formula | C24H25N5O |
| Synonyms | Compound C |
| Solubility | ≥8.49 mg/mL in DMSO with ultrasonic and warming, <1.96 mg/mL in H2O |
| Chemical Name | 6-[4-(2-piperidin-1-ylethoxy)phenyl]-3-pyridin-4-ylpyrazolo[1,5-a]pyrimidine |
| SDF | Download SDF |
| Canonical SMILES | C1CCN(CC1)CCOC2=CC=C(C=C2)C3=CN4C(=C(C=N4)C5=CC=NC=C5)N=C3 |
| 运输条件 | 试用装:蓝冰运输。 其他可选规格:常温运输或根据您的要求用蓝冰运输。 |
| 一般建议 | 为了使其更好的溶解,请用37℃加热试管并在超声波水浴中震动片刻。不同厂家不同批次产品溶解度各有差异,仅做参考。若实验所需浓度过大至产品溶解极限,请添加助溶剂助溶或自行调整浓度。 |
试验操作
细胞实验 [1]:

细胞系

HT-29人结肠癌细胞和HeLa细胞,斑马鱼胚胎

溶解方法

该化合物可溶于DMSO。若获取更高浓度的溶液,可在37℃下孵育10分钟,随后在超声波浴中摇匀。-20℃以下可储存数月。

反应条件

40 μM,4-10 μM,30 min

应用

Dorsomorphin抑制完整肝细胞中的AMPK活性。Dorsomorphin抑制自噬蛋白水解。Dorsomorphin抑制80%ACC磷酸化。Dorsomorphin抑制HT-29细胞中的蛋白水解。在表达LKB1和STRAD的HeLa细胞和对照HeLa细胞中,Dorsomorphin抑制AMPK活性。Dorsomorphin在斑马鱼胚胎中诱导背皮化。Dorsomorphin抑制BMP4诱导的BMP反应性SMAD的磷酸化,IC50为0.47 μM。

动物实验 [2]:

动物模型

通过尾静脉注射0.2 g/kg葡聚糖的C57BL/6小鼠或0.2 g/kg铁-葡聚糖USP的斑马鱼

给药剂量

腹腔注射,10 mg/kg

应用

Dorsomorphin将肝铁调素mRNA水平降低至对照小鼠的三分之一。Dorsomorphin给药24小时以上导致总血清铁浓度增加60%。在小鼠中注射dorsomorphin消除了铁介导的肝SMAD1/5/8磷酸化增加。在成年斑马鱼中,腹腔注射铁-葡聚糖1小时内,肝脏提取物中SMAD1/5/8磷酸化几乎增加三倍。与注射铁葡聚糖和对照组的斑马鱼相比,铁-葡聚糖和dorsomorphin联合使用使SMAD1/5/8磷酸化水平降低近3倍。

注意事项

由于实验环境的不同,实际溶解度可能与理论值略有不同,请测试室内所有化合物的溶解度。

References:

[1]. Meley D, Bauvy C, Houben-Weerts J H P M, et al. AMP-activated protein kinase and the regulation of autophagic proteolysis[J]. Journal of biological chemistry, 2006, 281(46): 34870-34879.

[2]. Paul B Y, Hong C C, Sachidanandan C, et al. Dorsomorphin inhibits BMP signals required for embryogenesis and iron metabolism[J]. Nature chemical biology, 2008, 4(1): 33-41.
质量控制
化学结构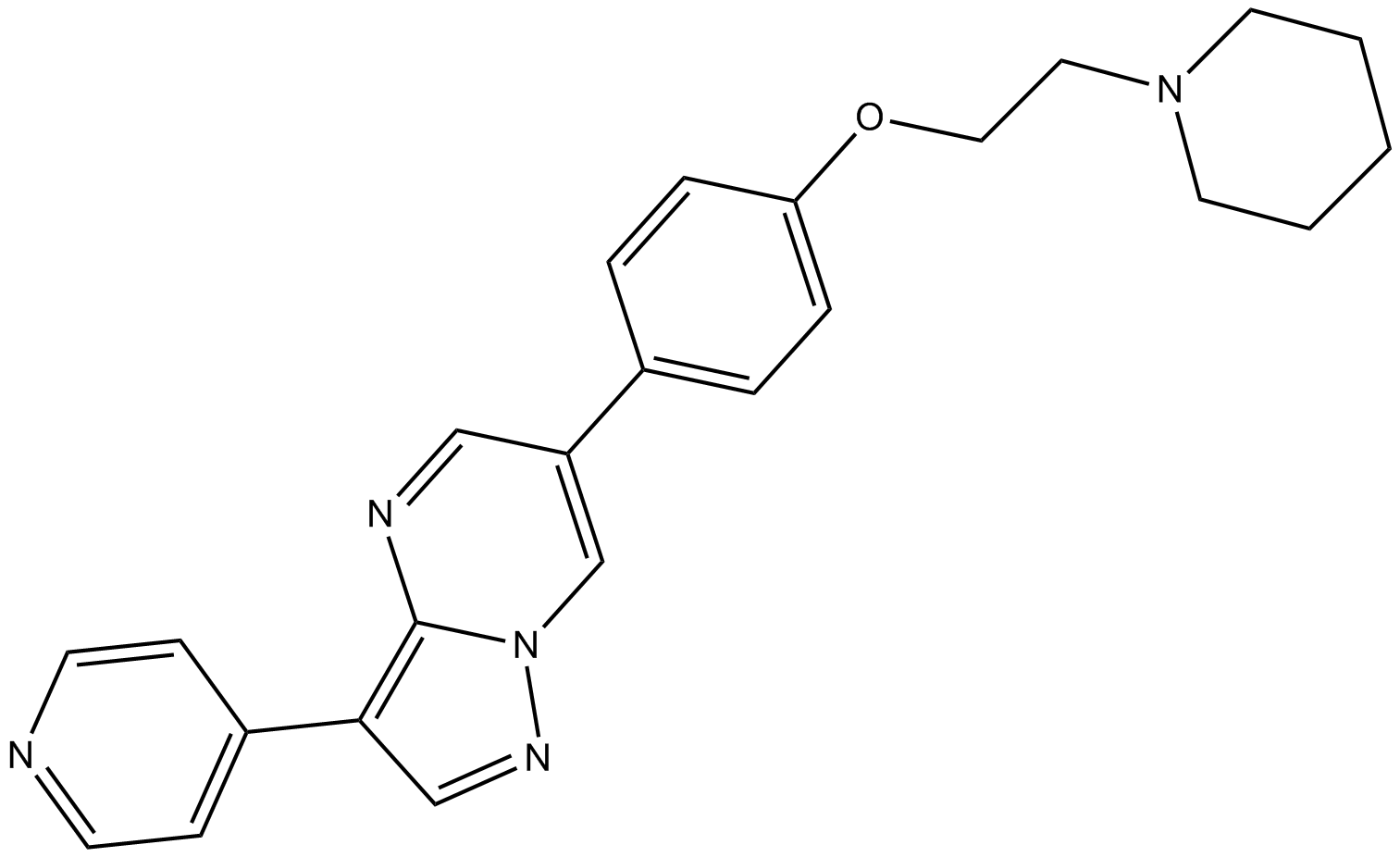 相关生物数据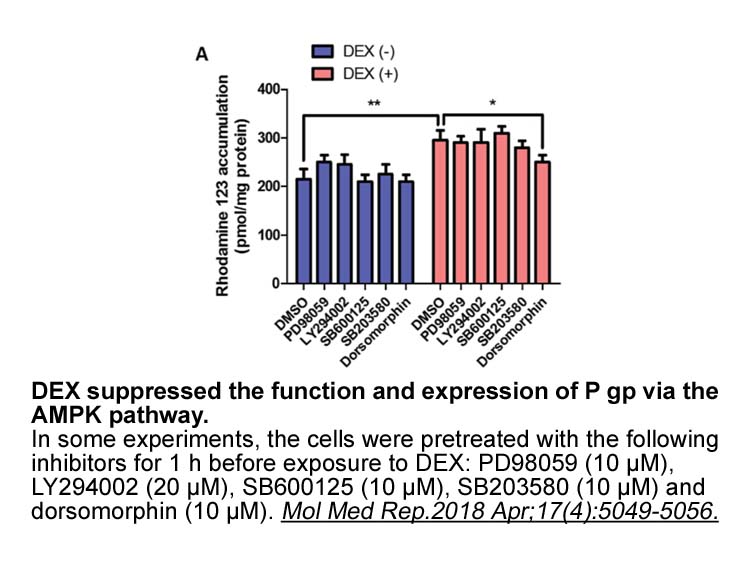 相关生物数据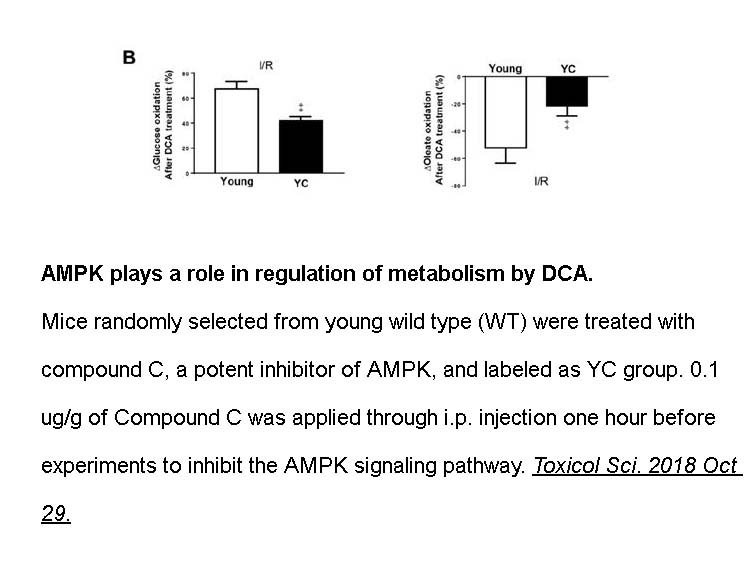 相关生物数据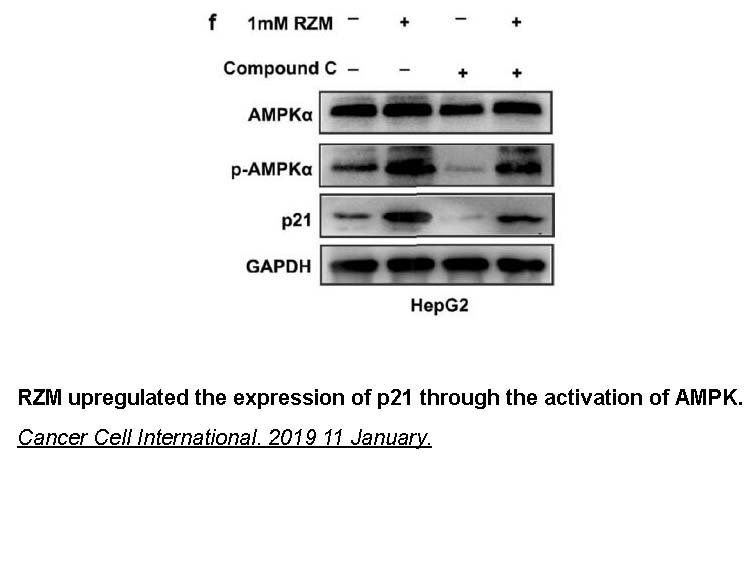 相关生物数据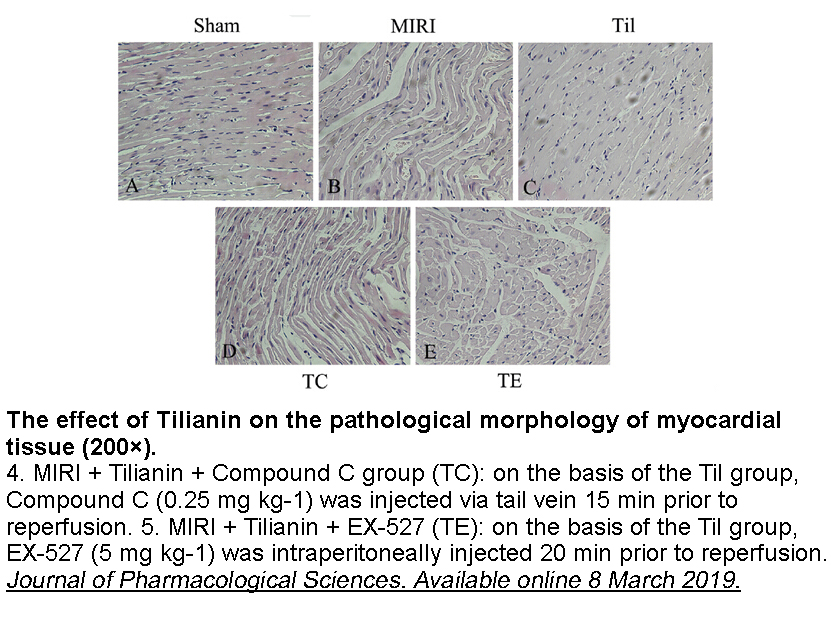 相关生物数据