Background
SQ109 is a novel antitubercular drug with IC50 value of 0.2 μg/ml on XDR [1].
Tuberculosis is a serious infection disease caused by Mycobacterium tuberculosis (Mtb). It is the leading single-agent killer with highest fatality rate. About more than three million lives were killed by tuberculosis every year. Even so, the existed drugs for TB treatment are facing many challenges including the side effects and the development of multidrug-resistant tuberculosis (MDR-TB). As a novel antitubercular drug, SQ109 has a distinguished mechanism of action and improved potency. The target of it is the mycolic acid transporter MmpL3 required for the synthesis of mycolic acid in cell wall of Mtb [1 and 2].  
SQ109 was screened out from a big chemical library designed around the active pharmacophore of ethambutol (EMB). Even so, SQ109 had different chemical structure, potency and mechanism with EMB. Among the top 27 candidates, SQ109 showed the highest selectivity index value and lowest IC50 value in vitro of 16.7 and 0.78 μg/ml, respectively. SQ109 displayed potent activity against all the substrains of Mtb including XDR- and MDR-TB clinical strains with IC50 values of 0.2 μg/ml. Besides that, SQ109 also showed significant effects on other pathogenic Mycobacteria with MIC values in the range of 4 to 16 μg/ml [1].
SQ109 showed low oral bioavailability in PK studies. The carbamate prodrug of it with improved oral bioavailability (from 21.4% to 91.4 %) exerted a high tissue distribution in rats. In the infected mice, treatment of SQ109 at dose of 10 mg/kg significantly attenuated the symptom of weight loss. In the chronic TB model in mice, 10 mg/kg of SQ109 showed better potency than EMB at dose of 100 mg/kg. Besides that, it was reported that the combination treatment of SQ109 and bedaquiline demonstrated a durable cure in infected mice model [1 and 3].
References:
[1] Sacksteder K A, Protopopova M, Barry C E, et al. Discovery and development of SQ109: a new antitubercular drug with a novel mechanism of action. Future microbiology, 2012, 7(7): 823-837.
[2] Meng Q, Luo H, Liu Y, et al. Synthesis and evaluation of carbamate prodrugs of SQ109 as antituberculosis agents. Bioorganic & medicinal chemistry letters, 2009, 19(10): 2808-2810.
[3] SQ109 (2008) SQ109. Tuberculosis (Edinb) 88, 159–161.
[4] Reddy V M, Dubuisson T, Einck L, et al. SQ109 and PNU-100480 interact to kill Mycobacterium tuberculosis in vitro. Journal of antimicrobial chemotherapy, 2012: dkr589.
文献引用
Chemical Properties
| | |
| --- | --- |
| Storage | Store at -20°C |
| M.Wt | 330.55 |
| Cas No. | 502487-67-4 |
| Formula | C22H38N2 |
| Synonyms | NSC 722041;SQ-109;SQ 109 |
| Solubility | Soluble in DMSO |
| Chemical Name | N'-(2-adamantyl)-N-[(2E)-3,7-dimethylocta-2,6-dienyl]ethane-1,2-diamine |
| SDF | Download SDF |
| Canonical SMILES | CC(=CCCC(=CCNCCNC1C2CC3CC(C2)CC1C3)C)C |
| 运输条件 | 试用装:蓝冰运输。 其他可选规格:常温运输或根据您的要求用蓝冰运输。 |
| 一般建议 | 为了使其更好的溶解,请用37℃加热试管并在超声波水浴中震动片刻。不同厂家不同批次产品溶解度各有差异,仅做参考。若实验所需浓度过大至产品溶解极限,请添加助溶剂助溶或自行调整浓度。 |
生物活性
Description
SQ109是一种可口服的抗生素小分子,用于治疗肺结核。
靶点
Mycobacterium
TB bacteria
IC50
1-0.5 μM (MIC)
质量控制
化学结构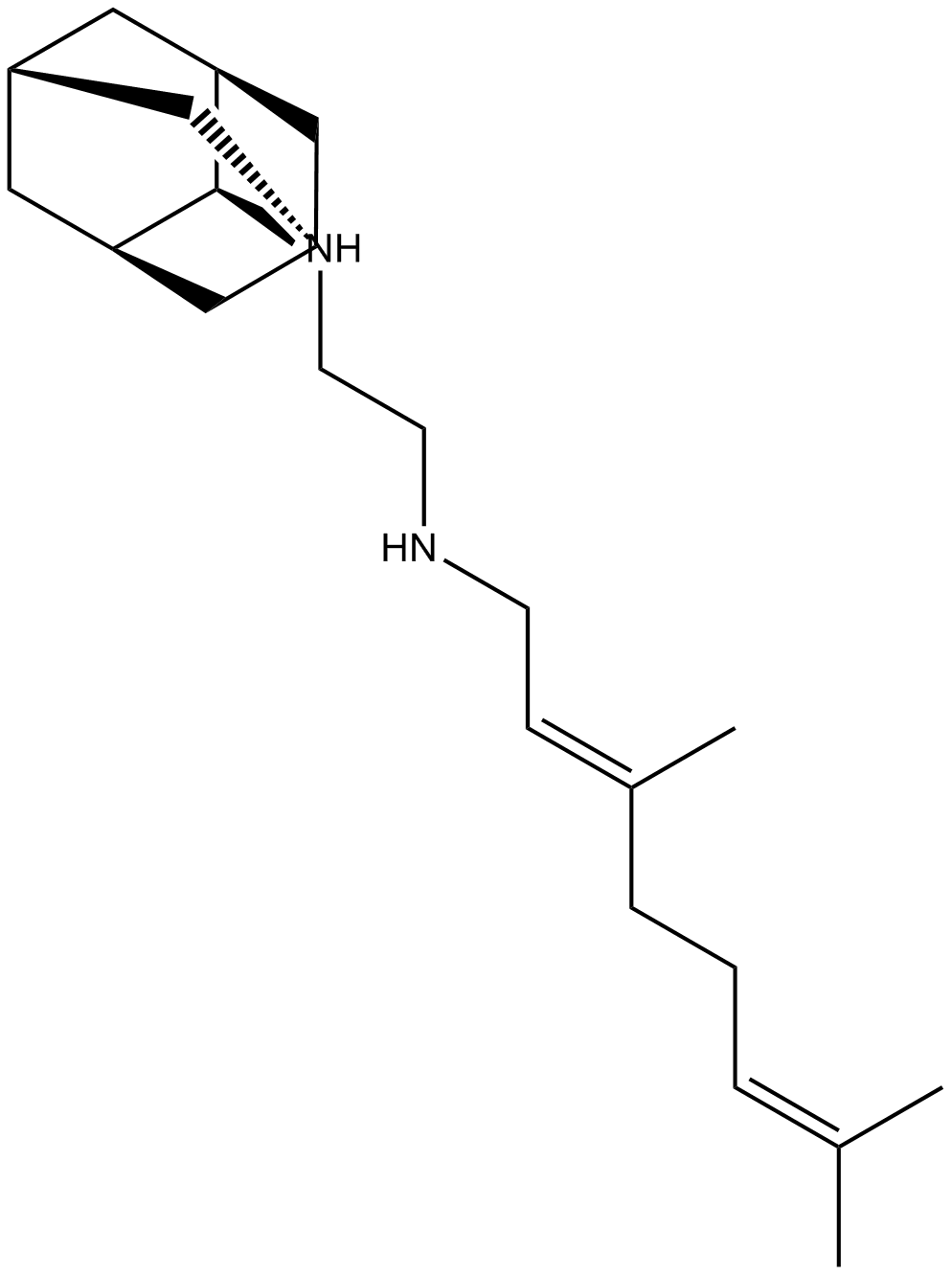 相关生物数据