Background
Aprotinin, a naturally occurring serine protease inhibitor, saves lives and decreases the risk of stroke and repeat surgery for massive bleeding1, 2, 3.
The use of aprotinin did not significantly increase the risk of renal failure or the need for postoperative renal replacement despite an increase in the proportion of patients who had a doubling of serum creatinine levels. The adjudication of death did not identify renal failure as contributing to or causing death associated with aprotinin use. A Meta analysis by Brown and colleagues showed a nonsignificant relative risk of renal failure with high-dose aprotinin4.
Although aprotinin is potentially more effective than other active agents in controlling hemostasis, we noted only a possible trend suggesting that it decreased massive bleeding. Only repeat surgeries and important blood losses through chest tubes, one of the main indications for surgery, were potentially improved by the use of aprotinin. Aprotinin did not appear to prevent massive bleeding or save the life of patients who had massive bleeding.
The adverse effects on mortality associated with aprotinin may also have been present among healthier patients, those under the age of 65 years, and those without coexisting illnesses at the time of surgery.
Despite the possibility of a modest reduction in the risk of massive bleeding, the strong and consistent negative mortality trend associated with aprotinin as compared with lysine analogues precludes its use in patients undergoing high-risk cardiac surgery5.
Reference:
1. Henry DA, Carless PA, Moxey AJ, et al. Anti-fibrinolytic use for minimising perioperative allogeneic blood transfusion. Cochrane Database Syst Rev 2007;4:CD001886.
2. Levi M, Cromheecke ME, de Jonge E, et al. Pharmacological strategies to decrease excessive blood loss in cardiac surgery: a meta-analysis of clinically relevant endpoints. Lancet 1999;354:1940-7.
3. Sedrakyan A, Treasure T, Elefteriades JA. Effect of aprotinin on clinical outcomes in coronary artery bypass graft surgery: a systematic review and meta-analysis of randomized clinical trials. J Thorac Cardiovasc Surg 2004;128:442-8.
4. Brown JR, Birkmeyer NJ, O'Connor GT. Meta-analysis comparing the effectiveness and adverse outcomes of antifibrinolytic agents in cardiac surgery. Circulation 2007;115:2801-13.
5. Dean A. Fergusson,  Paul C. Hébert et al, A Comparison of Aprotinin and Lysine Analogues in High-Risk Cardiac Surgery, N Engl J Med 2008; 358:2319-2331
文献引用
Chemical Properties
| | |
| --- | --- |
| Physical Appearance | A solid |
| Storage | Store at 2-8°C |
| M.Wt | 6511.44 |
| Cas No. | 9087-70-1 |
| Formula | C284H432N84O79S7 |
| Synonyms | Aprotinin,Trypsin inhibitor (basic) |
| Solubility | ≥195mg/mL in H2O |
| Canonical SMILES | CC(O)=O.CC.CC.CCccC.[R].[P].[2H].[L].[E].[P].[P].[Y].[3H].[G].[KH].[R].[R].[Y].F.[Y].[*].[L].F.[V].[Y].[G].[G].[R].[KH].[R].N.N.F.[KH].S.[*].[2H].[R].[G].[G].[*].[KH].[*].[3H].C.[*].F.[P].[*].I.I.N.[Q].[3H].[M] |
| 运输条件 | 试用装:蓝冰运输。 其他可选规格:常温运输或根据您的要求用蓝冰运输。 |
| 一般建议 | 为了使其更好的溶解,请用37℃加热试管并在超声波水浴中震动片刻。不同厂家不同批次产品溶解度各有差异,仅做参考。若实验所需浓度过大至产品溶解极限,请添加助溶剂助溶或自行调整浓度。 |
试验操作
细胞实验[1]:

细胞系

HUVEC细胞

溶解方法

该化合物在DMSO中的溶解度大于10 mM。若配制更高浓度的溶液,一般步骤如下:请将试管置于37℃加热10分钟和/或将其置于超声波浴中震荡一段时间。原液于-20℃可放置数月

反应条件

1600 kIU/mL,60 min

实验结果

Aprotinin以剂量依赖性的方式抑制TNF-α诱导的ICAM-1和VCAM-1表达,但不抑制E-选择素的表达。

动物实验[2]:

动物模型

3至4月龄的雄性Albino Wistar大鼠

剂量

使用50 mg/kg氯胺酮麻醉大鼠,并用12mmHg气腹处理4小时,此外较低剂量的氯胺酮腹膜内给药直到气腹结束,维持麻醉状态。气腹开始后腹膜内给予28000 KIU/kg的aprotinin,随后使用较低的维持剂量(7500 KIU/kg),每小时施用直至终止。脾脏再灌注期需持续60或180分钟。

实验结果

Aprotinin导致所有组织(肝、小肠和肺)中几种细胞因子和标记物(TNF-α、IL-6、内皮素1、C反应蛋白、PAB和羰基蛋白)氧化应激减少。

注意事项

请测试所有化合物在室内的溶解度,实际溶解度和理论值可能略有不同。这是由实验系统的误差引起的,属于正常现象。

References:

[1] Asimakopoulos G, Lidington E A, Mason J, et al. Effect of aprotinin on endothelial cell activation. The Journal of thoracic and cardiovascular surgery, 2001, 122(1): 123-128.

[2] Baltatzis M, Pavlidis T E, Ouroumidis O, et al. Aprotinin reduces oxidative stress induced by pneumoperitoneum in rats. Journal of Surgical Research, 2014, 189(2): 238-248.
生物活性
描述
Aprotinin(抑肽酶)是牛胰蛋白酶的抑制剂(BPTI)。
靶点
bovine pancreatic trypsin
IC50
质量控制
化学结构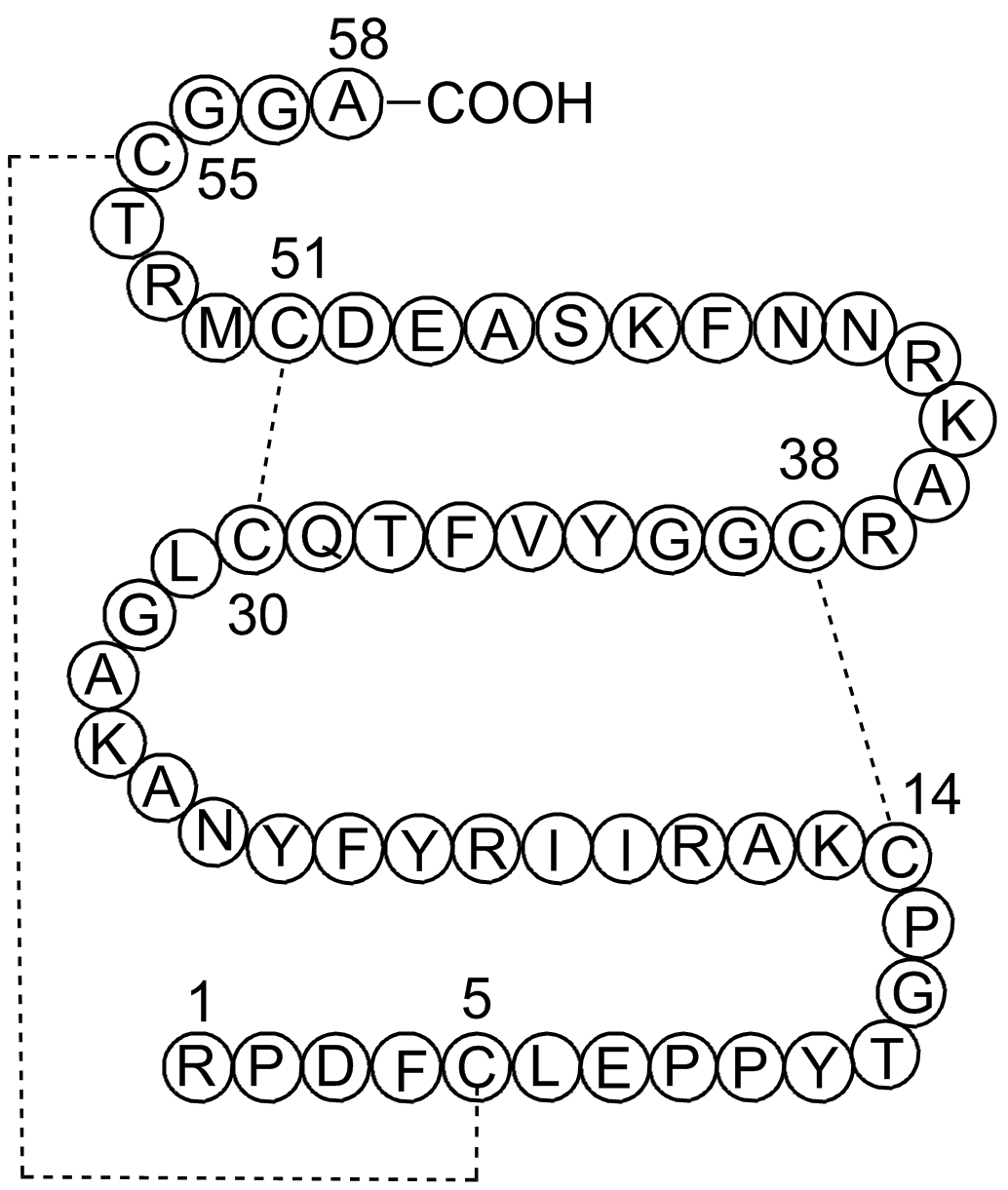 相关生物数据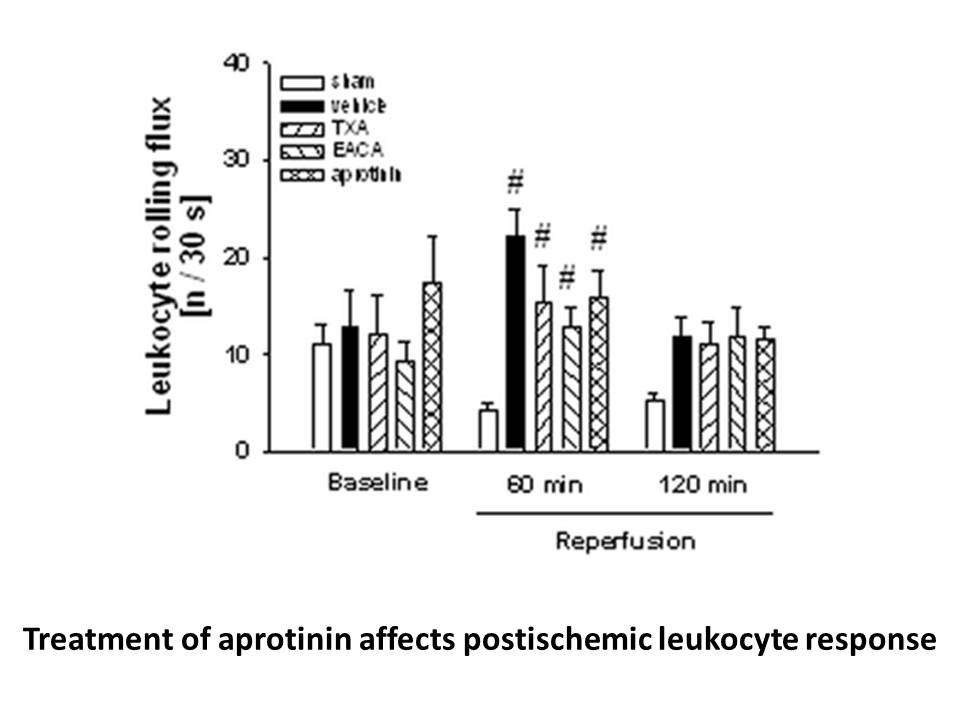 相关生物数据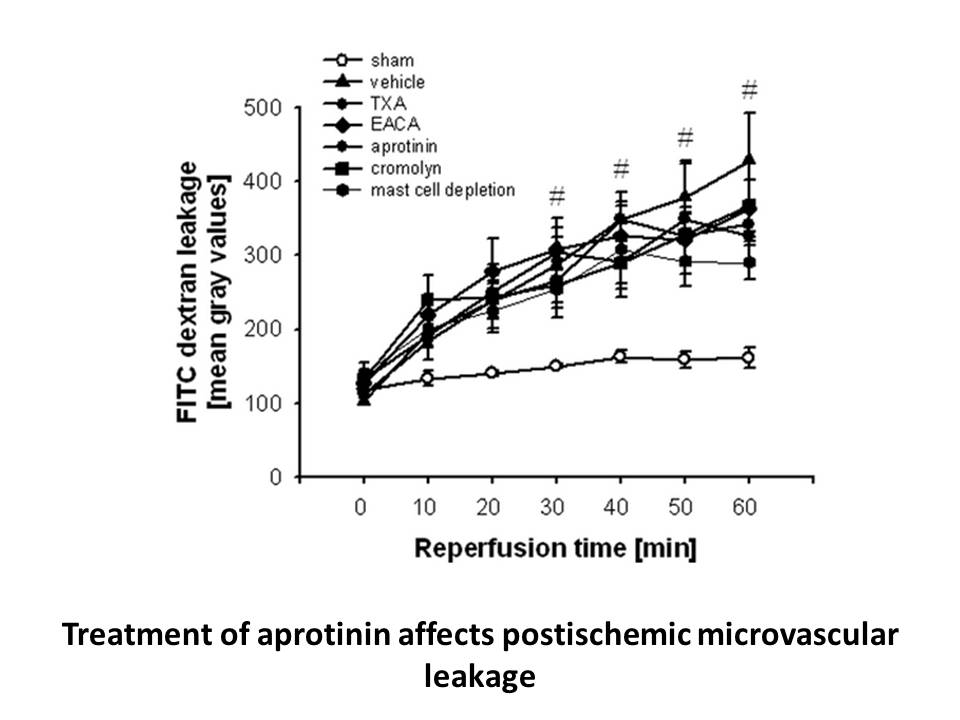 相关生物数据