Background
Rapamycin was used as a kind of original antifungal antibiotic, which is produced by Streptomyces hygroscopicus. Now it has been used in the prevention of transplant rejection because of its immunosuppressive effect.  It also exhibits activity against several transplantable tumors and slightly activity to inactive against leukemias. The immunosuppressive effect of Rapamycin is exerted by inhibiting the activation and proliferation of T cells. Rapamycin binds to FK-binding protein 12 (FKBP12) and forms the rapamycin-FKBP12 complex, which regulates an enzyme that plays an important role in the progression of the cell cycle.
References:
1. Sehgal, Suren N. "Rapamune®(RAPA, rapamycin, sirolimus): mechanism of action immunosuppressive effect results from blockade of signal transduction and inhibition of cell cycle progression." Clinical biochemistry 31.5 (1998): 335-340.
2. Sehgal, S. N., H. Baker, and Claude Vézina. "Rapamycin (AY-22,989), a new antifungal antibiotic. II. Fermentation, isolation and characterization." The Journal of antibiotics 28.10 (1975): 727-732.
文献引用
Chemical Properties
| | |
| --- | --- |
| Physical Appearance | A solid |
| Storage | Desiccate at -20°C |
| M.Wt | 914.18 |
| Cas No. | 53123-88-9 |
| Formula | C51H79NO13 |
| Synonyms | Sirolimus,(-)-Rapamycin, AY-22989, WY-090217, Antibiotic AY22989 |
| Solubility | ≥45.709mg/mL in DMSO, ≥58.9 mg/mL in EtOH with ultrasonic, <3.32 mg/mL in H2O |
| SDF | Download SDF |
| Canonical SMILES | O[C@H]1[C@H](OC)C[C@H](C[C@@H](C)[C@H](CC([C@H](C)/C=C(C)/[C@H]([C@@H](OC)C([C@@H](C[C@@H](/C=C/C=C/C=C(C)/[C@@H](OC)C[C@@H]2CC[C@@H](C)[C@@](C(C(N3[C@H]4CCCC3)=O)=O)(O)O2)C)C)=O)O)=O)OC4=O)CC1 |
| 运输条件 | 试用装:蓝冰运输。 其他可选规格:常温运输或根据您的要求用蓝冰运输。 |
| 一般建议 | 为了使其更好的溶解,请用37℃加热试管并在超声波水浴中震动片刻。不同厂家不同批次产品溶解度各有差异,仅做参考。若实验所需浓度过大至产品溶解极限,请添加助溶剂助溶或自行调整浓度。 |
试验操作
细胞实验[1]:

细胞系

肝细胞生长因子(HGF)诱导的晶状体上皮细胞(LECs)

溶解方法

在DMSO中的溶解度>10 mM。为了获得更高的浓度,可以将离心管在37℃加热10分钟和/或在超声波浴中震荡一段时间。原液可以在-20℃以下储存几个月。

反应时间

10 ng/ml;72 h

应用

在细胞增殖、细胞活力和流式细胞凋亡实验中,在HGF诱导的LECs中,rapamycin不仅有效地抑制细胞增值,而且以剂量依赖的方式诱导细胞凋亡。用siRNA转染进一步研究其潜在的机制,rapamycin通过抑制HGF诱导的AKT/mTOR、ERK和JAK2/STAT3信号分子的磷酸化,从而促进LECs凋亡。而且,AKT、ERK和STAT3的强制表达可以显著抑制rapamycin诱导的细胞凋亡。

动物实验[1]:

动物模型

Ndufs4(?/?) 小鼠

剂量

8 mg/kg,每隔一天,腹腔注射

应用

Rapamycin是mTOR信号通路的特异性抑制剂。在Leigh综合征小鼠模型中,rapamycin可以增加存活,并减弱疾病的发展。在缺乏线粒体呼吸链亚基Ndufs4 [NADH脱氢酶(泛醌)Fe-S蛋白4]的小鼠中,rapamycin延迟神经症状的发作,减少神经炎症,并防止脑病变。尽管其精确机制还有待进一步研究,rapamycin诱导代谢转向氨基酸分解代谢,远离糖酵解,减少糖酵解中间体的累积。这种治疗策略可能对各种线粒体疾病有效。

注意事项

请测试所有化合物在室内的溶解度,实际溶解度和理论值可能略有不同。这是由实验系统的误差引起的,属于正常现象。

References:

1. Tian F, Dong L, Zhou Y et al. Rapamycin-Induced Apoptosis in HGF-Stimulated Lens Epithelial Cells by AKT/mTOR, ERK and JAK2/STAT3 Pathways. Int J Mol Sci. 2014 Aug 11;15(8):13833-48.

2. Johnson SC1, Yanos ME, Kayser EB et al. mTOR inhibition alleviates mitochondrial disease in a mouse model of Leigh syndrome. Science. 2013 Dec 20;342(6165):1524-8.
生物活性
描述
Rapamycin (Sirolimus, AY-22989, WY-090217)是一种特异性的mTOR抑制剂,IC50值约为0.1 nM。
靶点
mTOR
IC50
~0.1 nM
质量控制
化学结构
相关生物数据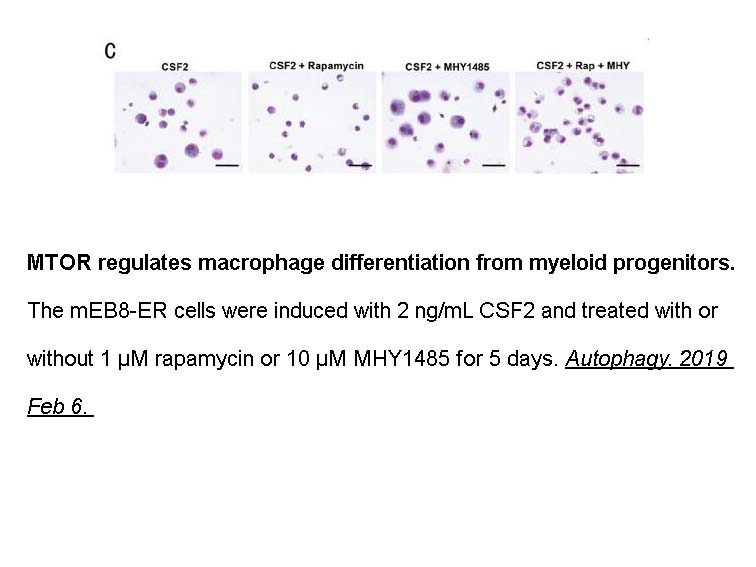 相关生物数据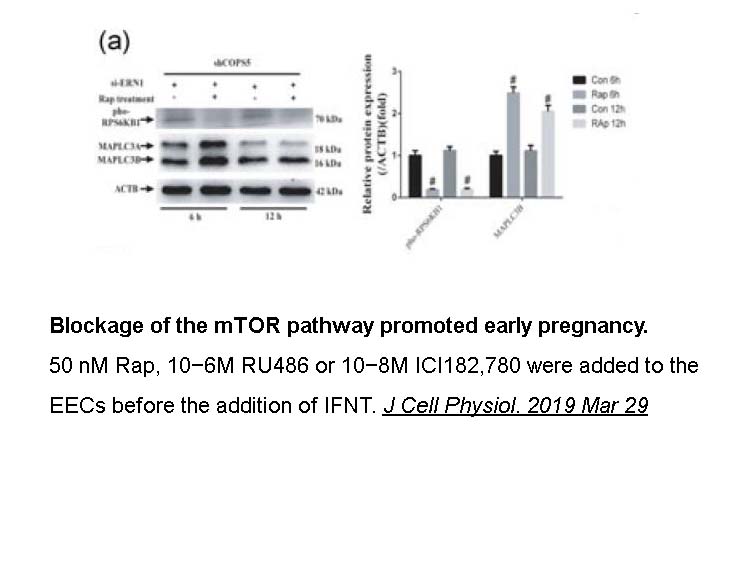 相关生物数据
相关生物数据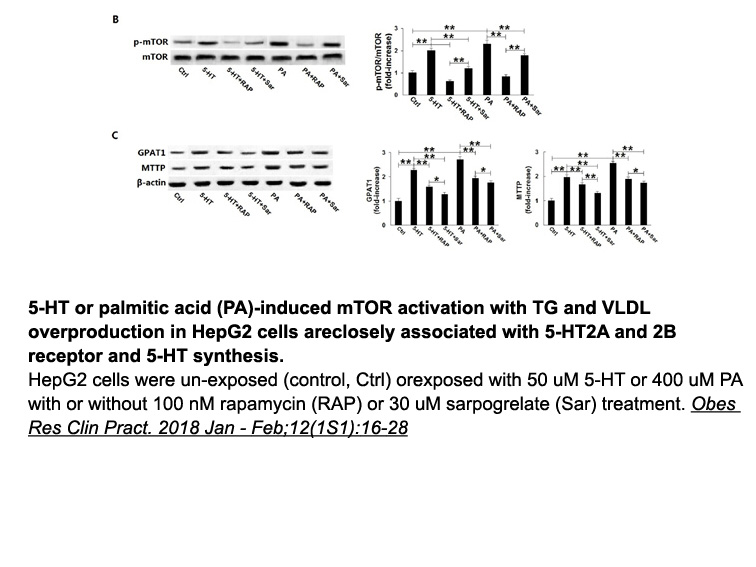 相关生物数据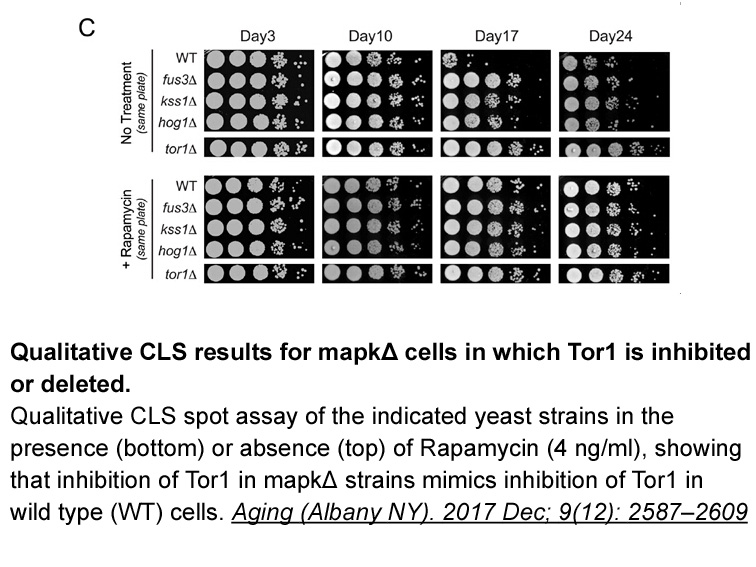 相关生物数据
相关生物数据