拓扑异构酶II(Topo II)抑制剂,免疫抑制抗肿瘤抗生素。
Background
Doxorubicin is a semi-synthesized anticancer agent derived from bacterial culture. [1] It is an anthracycline antibiotic. It is been widely used in blood cancers, solid tumors and sarcomas.
Doxorubicin intercalates into DNA double strand and inhibits the progression of DNA topoisomerase II, stopping replication process. [2] Doxorubicin also induces histone eviction from open chromatin, causing DNA damage and epigenetic deregulation. [3]
Doxorubicin is administrated intravenously. Approximately 75% of doxorubicin and its metabolites bind to plasma protein. Doxorubicin does not cross blood brain barrier. 50% of the drug is eliminated unchanged from the body mainly though bile excretion. The remaining undergoes one-electron reduction, two-electron reduction, and deglycosidation. The major metabolite is a potent membrane ion pump inhibitor, which is associated with cardiomyopathy. [4]
References:
[1]Brayfield, A, ed. (2013). Doxorubicin. Martindale: The Complete Drug Reference. Pharmaceutical Press. Retrieved 15 April 2014.
[2]Pommier Y., et al. (2010). DNA topoisomerases and their poisoning by anticancer and antibacterial drugs. Chemistry & Biology 17 (5): 421–433.
[3]Pang, B., et al. (2013). Drug-induced histone eviction from open chromatin contributes to the chemotherapeutic effects of doxorubicin. Nature Communications 4 (5): 1908
[4]Boucek RJ., et al. (1987). The major metabolite of doxorubicin is a potent inhibitor of membrane-associated ion pumps. A correlative study of cardiac muscle with isolated membrane fractions. J of Biol Chem 262: 15851-15856.
文献引用
Chemical Properties
| | |
| --- | --- |
| Physical Appearance | A solid |
| Storage | Store at RT |
| M.Wt | 543.52 |
| Cas No. | 23214-92-8 |
| Formula | C27H29NO11 |
| Synonyms | Adriamycin, Doxil, Adriablastin, Doxorubicinum, Myocet |
| Solubility | ≥27.2 mg/mL in DMSO, <2.17 mg/mL in EtOH, ≥24.8 mg/mL in H2O with ultrasonic |
| Chemical Name | (7S,9S)-7-[(2R,4S,5S,6S)-4-amino-5-hydroxy-6-methyloxan-2-yl]oxy-6,9,11-trihydroxy-9-(2-hydroxyacetyl)-4-methoxy-8,10-dihydro-7H-tetracene-5,12-dione |
| SDF | Download SDF |
| Canonical SMILES | CC1C(C(CC(O1)OC2CC(CC3=C(C4=C(C(=C23)O)C(=O)C5=C(C4=O)C=CC=C5OC)O)(C(=O)CO)O)N)O |
| 运输条件 | 试用装:蓝冰运输。 其他可选规格:常温运输或根据您的要求用蓝冰运输。 |
| 一般建议 | 为了使其更好的溶解,请用37℃加热试管并在超声波水浴中震动片刻。不同厂家不同批次产品溶解度各有差异,仅做参考。若实验所需浓度过大至产品溶解极限,请添加助溶剂助溶或自行调整浓度。 |
试验操作
细胞实验 [1]:

细胞系

MDA-MB-231细胞

制备方法

可溶于DMSO。若配制更高浓度的溶液,一般步骤如下:请将试管置于37℃加热10分钟和/或将其置于超声波浴中震荡一段时间。原液于-20℃可放置数月。

反应条件

20 nM;72小时

实验结果

在MDA-MB-231细胞中,SH003 (120 μg/mL) 和Doxorubicin (20 nM) 联合使用具有协同作用。

动物实验 [2]:

动物模型

皮下注射MB231细胞的雌性无胸腺裸鼠

给药剂量

3 mg/kg/day;瘤内给药

实验结果

Doxorubicin与腺病毒MnSOD (AdMnSOD) 以及1,3-双(2-氯乙基)-1-亚硝基脲 (BCNU) 联合用药有效降低MB231肿瘤体积并延长小鼠生存期。

其它注意事项

请于室内测试所有化合物的溶解度。虽然化合物的实际溶解度可能与其理论值略有不同,但仍处于实验系统误差的允许范围内。

References:

[1]. Woo SM, Kim AJ, Choi YK, Shin YC, Cho SG, Ko SG. Synergistic Effect of SH003 and Doxorubicin in Triple-negative Breast Cancer. Phytother Res. 2016 Aug 1.

[2]. Sun W, Kalen AL, Smith BJ, Cullen JJ, Oberley LW. Enhancing the antitumor activity of adriamycin and ionizing radiation. Cancer Res. 2009 May 15;69(10):4294-300.
生物活性
描述
Doxorubicin(Adriamycin)是一种抗生素,DNA拓扑异构酶II的抑制剂,DNA损伤和细胞凋亡的诱导剂。
靶点
Autophagy
IC50
质量控制
化学结构
相关生物数据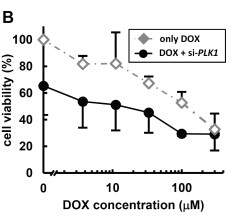 Cells were incubated with YSK-MEND for 24h, and then trypsinized and reseeded in 24-well plates. 24 h after reseeding, the cells were washed with PBS and incubated with DOX-containing medium for 6h. DOX-containing medium was removed, and cells were washed with PBS and recovered 18 h after fresh medium incubation. Protein concentrations determined by the CA method were regarded as a viability. Values indicate mRNA expression relative to nontreatment (NT) ± SD.
相关生物数据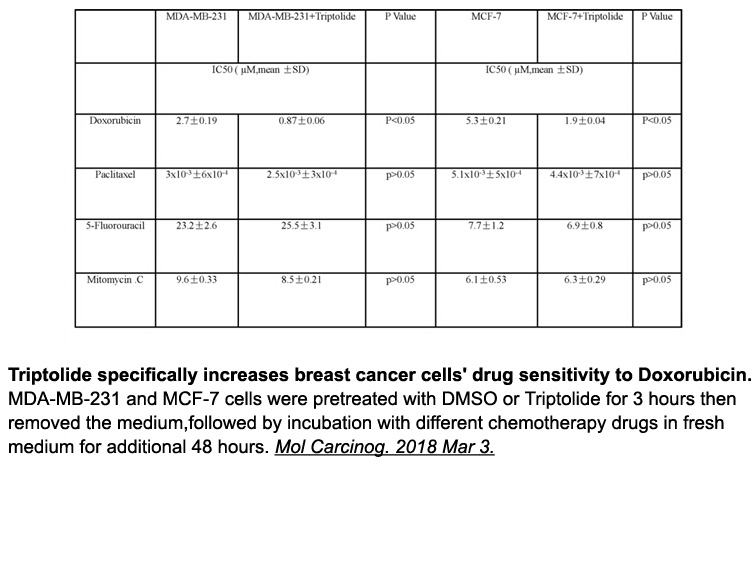 相关生物数据