Background
Description:
IC50: PHA-793887 is a novel and potent inhibitor of CDK2, CDK5 and CDK7 with IC50 values of 8 nM, 5 nM and 10 nM, respectively.
Cyclin dependent kinases (CDKs) are a family of serine/threonine kinases that, in concert with cyclins (positive regulators) and natural inhibitors (CDKI), control the cell cycle progression.1Deregulation of the activity of CDKs, mainly due to alterations of expression and/or genetic mutations of cyclins, CDKs, CDKIs and other components of the retinoblastoma protein (pRB) pathway, has been reported in more than 90% of human neoplasms.
In vitro: PHA-793887 was found to be cytotoxic for leukemic cell lines in vitro, with IC50 ranging from 0.3 to 7 μM (mean: 2.9 μM), regardless of any specific chromosomal aberration. At these doses, the drug was not cytotoxic for normal unstimulated peripheral blood mononuclear cells or CD34+ hematopoietic stem cells. Moreover, in colony assays PHA-793887 showed very high activity against leukemia cell lines, with an IC50<0.1 μM (mean: 0.08 μM), indicating that it has efficient and prolonged antiproliferative activity. PHA-793887 induced cell-cycle arrest, inhibited Rb and nucleophosmin phosphorylation, and modulated cyclin E and cdc6 expression at low doses (0.2-1 μM) and induced apoptosis at the highest dose (5 μM) [1].
In vivo: PHA-793887 was also effective in vivo in both subcutaneous xenograft and primary leukemic disseminated models that better mimic naturally occurring human disease. Interestingly, in one disseminated model derived from a relapsed Philadelphia-positive acute lymphoid leukemia patient, PHA-793887 showed strong therapeutic activity also when treatment was started after establishment of high disease burden. Thus, PHA-793887 has promising therapeutic activity against acute leukemias in vitro and in vivo [1].
Clinical trial: A first in man, phase I dose-escalation study indicates that although toxicity was acceptable at initial dose levels, PHA-793887 was poorly tolerated at doses≥44 mg/m2. The most frequent events across all dose levels were gastrointestinal or nervous system events. DLTs were experienced by two of three patients at the dose level of 66 mg/m2, and by three of nine patients at the dose level of 44 mg/m2. In all but one patient the DLT was hepatotoxicity; fatal hepatorenal failure was seen in one patient treated at the 44 mg/ m2 dose level. There were no objective responses, but disease stabilization was observed in five patients. Over the dose range investigated, pharmacokinetic studies showed that systemic exposure to PHA-793887 increased with the dose and was time-independent. The study terminated after the enrolment of 19 patients due to the severe hepatic toxicity. These findings shows that PHA-793887 induces severe, dose-related hepatic toxicity, which was not predicted by pre-clinical models and currently precludes its further clinical development [2].
References:
[1] Alzani R, Pedrini O, Albanese C, Ceruti R, Casolaro A, Patton V, Colotta F, Rambaldi A, Introna M, Pesenti E, Ciomei M, Golay J. Therapeutic efficacy of the pan-cdk inhibitor PHA-793887 in vitro and in vivo in engraftment and high-burden leukemia models. Exp Hematol. 2010;38(4):259-269.e2.
[2] Massard C, Soria JC, Anthoney DA, Proctor A, Scaburri A, Pacciarini MA, Laffranchi B, Pellizzoni C, Kroemer G, Armand JP, Balheda R, Twelves CJ. A first in man, phase I dose-escalation study of PHA-793887, an inhibitor of multiple cyclin-dependent kinases (CDK2, 1 and 4) reveals unexpected hepatotoxicity in patients with solid tumors. Cell Cycle. 2011;10(6):963-70.
文献引用
Chemical Properties
| | |
| --- | --- |
| Physical Appearance | A solid |
| Storage | Store at -20°C |
| M.Wt | 361.48 |
| Cas No. | 718630-59-2 |
| Formula | C19H31N5O2 |
| Solubility | ≥18.05mg/mL in DMSO, ≥7.73 mg/mL in EtOH,insoluble in H2O |
| Chemical Name | N-[6,6-dimethyl-5-(1-methylpiperidine-4-carbonyl)-1,4-dihydropyrrolo[3,4-c]pyrazol-3-yl]-3-methylbutanamide |
| SDF | Download SDF |
| Canonical SMILES | CC(C)CC(=O)NC1=NNC2=C1CN(C2(C)C)C(=O)C3CCN(CC3)C |
| 运输条件 | 试用装:蓝冰运输。 其他可选规格:常温运输或根据您的要求用蓝冰运输。 |
| 一般建议 | 为了使其更好的溶解,请用37℃加热试管并在超声波水浴中震动片刻。不同厂家不同批次产品溶解度各有差异,仅做参考。若实验所需浓度过大至产品溶解极限,请添加助溶剂助溶或自行调整浓度。 |
试验操作
细胞实验 [1]:

细胞系

A2780细胞

制备方法

在DMSO中的溶解度大于10 mM。若配制更高浓度的溶液,一般步骤如下:请将试管置于37 °C加热10分钟和/或将其置于超声波浴中震荡一段时间。原液于-20 °C可放置数月。

反应条件

0.1 nM ~ 1 μM;72小时

实验结果

在A2780细胞中,PHA-793887 (1 μM) 减少处于S期的细胞,增加处于G1期的细胞,以及稍微增加处于G2/M期的细胞。

动物实验 [1]:

动物模型

人类卵巢癌A2780细胞、结肠癌HCT-116细胞以及胰脏癌BX-PC3细胞异种移植小鼠模型

给药剂量

10、20和30 mg/kg;静脉注射;每日1次,持续10天

实验结果

在人类卵巢癌A2780细胞、结肠癌HCT-116细胞以及胰脏癌BX-PC3细胞异种移植小鼠模型中,PHA-793887 (10 ~ 30 mg/kg) 显著抑制肿瘤生长。

其它注意事项

请于室内测试所有化合物的溶解度。虽然化合物的实际溶解度可能与其理论值略有不同,但仍处于实验系统误差的允许范围内。

References:

[1]. Brasca MG, Albanese C, Alzani R, Amici R, Avanzi N, Ballinari D, Bischoff J, Borghi D, Casale E, Croci V, Fiorentini F, Isacchi A, Mercurio C, Nesi M, Orsini P, Pastori W, Pesenti E, Pevarello P, Roussel P, Varasi M, Volpi D, Vulpetti A, Ciomei M. Optimization of 6,6-dimethyl pyrrolo[3,4-c]pyrazoles: Identification of PHA-793887, a potent CDK inhibitor suitable for intravenous dosing. Bioorg Med Chem. 2010 Mar 1;18(5):1844-53.
生物活性
描述
PHA-793887是一种新型的和有效的CDK2、CDK5和CDK7抑制剂,其IC50值分别为8 nM、5 nM和10 nM。
靶点
CDK5/p25
CDK2/CyclinA
CDK2/CyclinE
CDK7/CyclinH
CDK1/CyclinB
IC50
5 nM
8 nM
8 nM
10 nM
60 nM
质量控制
化学结构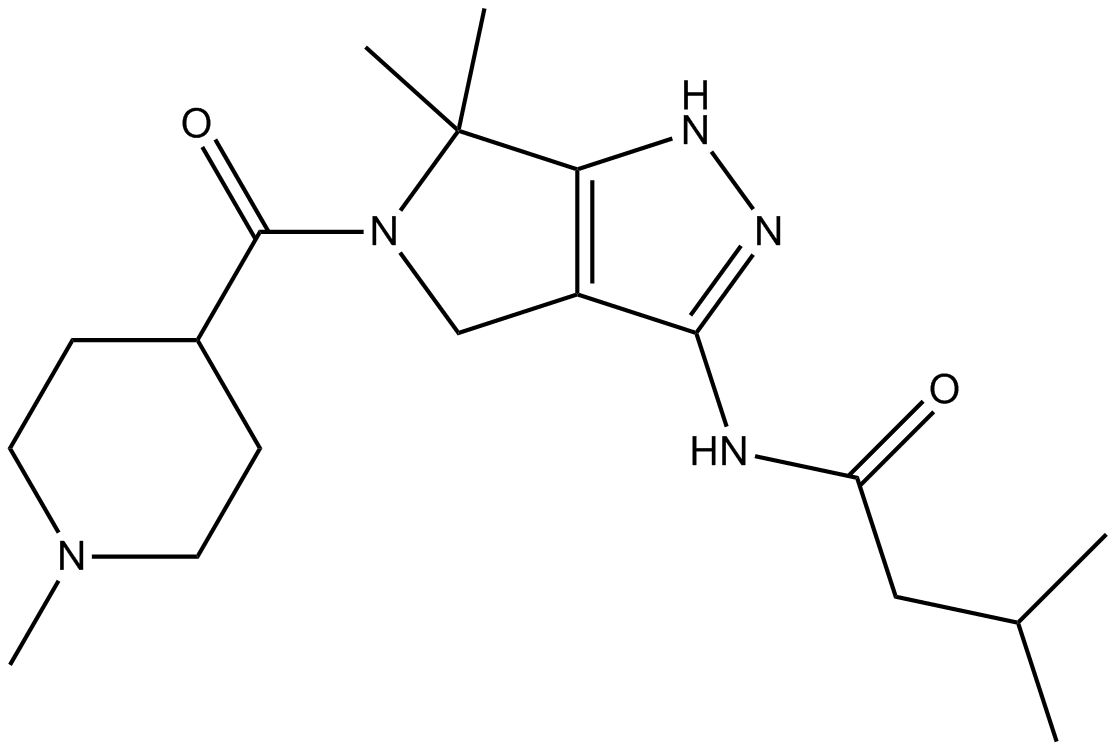 Related Biological Data