Background
FG-4592 (also known as ASP1517), 2-(4-hydroxy-1-methyl-7-phenoxyisoquinoline-3-carboxamido)acetic acid, is a potent small molecule inhibitor of hypoxia-inducible factor prolyl hydroxylase (HIF-PH), an enzyme up-regulating the expression of endogenous human erythropoietin (Epo). It is currently being investigated as an oral treatment for anemia associated with chronic kidney disease (CKD). Unlike other anemia treating agents, erythropoiesis-stimulating agents (ESAs), FG-4592 inhibits HIF, through a distinctive mechanism, by stabilization of HIF. According to previous studies, FG-4592 is capable of correcting and maintaining hemoglobin levels in CKD patients not receiving dialysis and in patients of end-stage renal disease who receives dialysis but do not need intravenous iron supplement.
Reference
1. Luis Borges. Different modalities of erythropoiesis stimulating agents. Port J Nephrol Hypert 2010; 24(2): 137-145
2. "FibroGen and Astellas announce initiation of phase 3 trial of FG-4592/ASP1517 for treatment of anemia of chronic kidney disease" Fibrogen Press Release. Dec 11 2012
3. "FibroGen announces initiation of phase 2b studies of FG-4592, an oral HIF prolyl hydroxylase inhibitor, for treatment of anemia"
文献引用
Chemical Properties
| | |
| --- | --- |
| Physical Appearance | A solid |
| Storage | Store at -20°C |
| M.Wt | 352.34 |
| Cas No. | 808118-40-3 |
| Formula | C19H16N2O5 |
| Solubility | ≥17.62 mg/mL in DMSO, ≥2.9 mg/mL in EtOH with ultrasonic and warming,insoluble in H2O |
| Chemical Name | 2-[(4-hydroxy-1-methyl-7-phenoxyisoquinoline-3-carbonyl)amino]acetic acid |
| SDF | Download SDF |
| Canonical SMILES | CC1=NC(=C(C2=C1C=C(C=C2)OC3=CC=CC=C3)O)C(=O)NCC(=O)O |
| 运输条件 | 试用装:蓝冰运输。 其他可选规格:常温运输或根据您的要求用蓝冰运输。 |
| 一般建议 | 为了使其更好的溶解,请用37℃加热试管并在超声波水浴中震动片刻。不同厂家不同批次产品溶解度各有差异,仅做参考。若实验所需浓度过大至产品溶解极限,请添加助溶剂助溶或自行调整浓度。 |
试验操作
细胞实验 [1]:

细胞系

PC-12细胞

制备方法

在DMSO中的溶解度大于10 mM。若配制更高浓度的溶液,一般步骤如下:请将试管置于37 °C加热10分钟和/或将其置于超声波浴中震荡一段时间。原液于-20 °C可放置数月。

反应条件

5、20或50 μM

实验结果

FG-4592对TBHP诱导的细胞死亡具有显著的保护作用。

动物实验 [1]:

动物模型

脊髓损伤小鼠模型

给药剂量

50 mg/kg/day;腹腔注射;持续7天

实验结果

在脊髓损伤小鼠模型中,给予FG-4592促进损伤修复,同时增加脊髓病变部位神经元的存活率。

其它注意事项

请于室内测试所有化合物的溶解度。虽然化合物的实际溶解度可能与其理论值略有不同,但仍处于实验系统误差的允许范围内。

References:

[1]. Wu K, Zhou K, Wang Y, Zhou Y, Tian N, Wu Y, Chen D, Zhang D, Wang X, Xu H, Zhang X. Stabilization of HIF-1α by FG-4592 promotes functional recovery and neural protection in experimental spinal cord injury. Brain Res. 2016 Feb 1;1632:19-26.
生物活性
Description
FG-4592 is an inhibitor of HIF α prolyl hydroxylase.
Targets
HIF α prolyl hydroxylase
IC50
质量控制
化学结构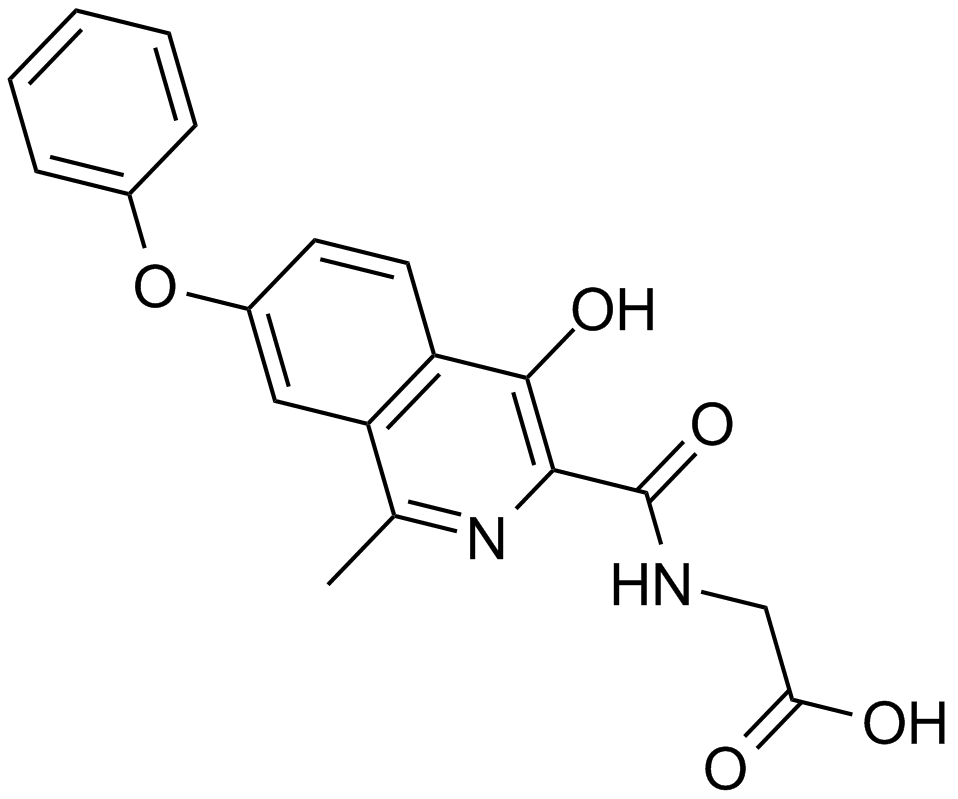 相关生物数据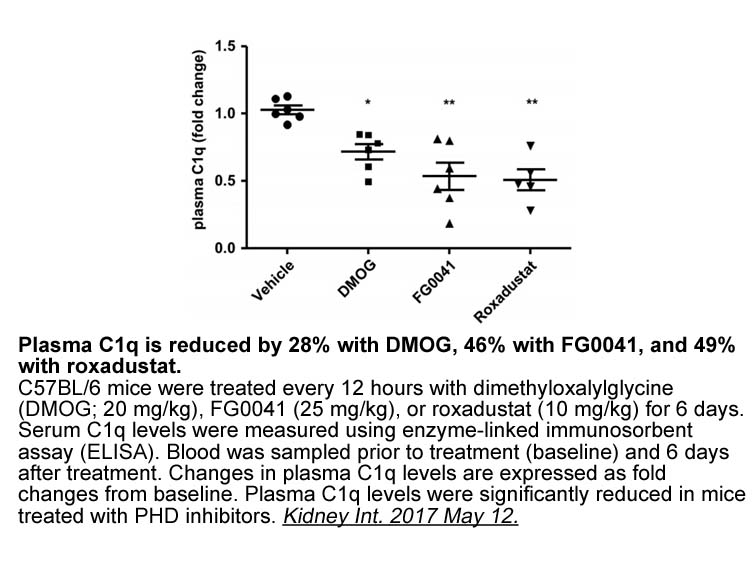 相关生物数据