Background
Ezatiostat hydrochloride(TLK199) is an effective inhibitor of glutathione S-transferase (GST)[1].
Ezatiostat hydrochloride (TLK199) is a novel glutathione analog and the potential treatment of cytopenias. In addition, Ezatiostat hydrochloride has been revealed to selectively bind to and thus inhibit GST P1-1. Because GST P1-1 can bind to and inhibit JNK, Ezatiostat hydrochloride has also been exhibited to inhibit GST P1-1, activate JNK, and promote the growth and maturation of hematopoietic progenitors in preclinical models. Moreover, Ezatiostat hydrochloride has been reported to stimulate the proliferation of myeloid precursors. Ezatiostat hydrochloride has been elucidated to induce growth inhibition and cellular apoptosis in human leukemia cells (HL-60) with a CC50 value of 6-17μM. Apart from these, Ezatiostat hydrochloride has shown the stimulation of multilineage differentiation in mature monocytes, granulocytes and erythrocytes [1,2].
References:
[1] Tew KD1, Dutta S, Schultz M.Inhibitors of glutathione S-transferases as therapeutic agents. Adv Drug Deliv Rev. 1997 Jul 7;26(2-3):91-104.
[2] Raza A1, Galili N, Callander N, Ochoa L, Piro L, Emanuel P, Williams S, Burris H 3rd, Faderl S, Estrov Z, Curtin P, Larson RA, Keck JG, Jones M, Meng L, Brown GL. Phase 1-2a multicenter dose-escalation study of ezatiostat hydrochloride liposomes for injection (Telintra, TLK199), a novel glutathione analog prodrug in patients with myelodysplastic syndrome. J Hematol Oncol. 2009 May 13;2:20.
文献引用
Chemical Properties
| | |
| --- | --- |
| Storage | Store at -20°C |
| M.Wt | 566.11 |
| Cas No. | 286942-97-0 |
| Formula | C27H36ClN3O6S |
| Solubility | ≥28.3mg/mL in DMSO |
| Chemical Name | ethyl (2S)-2-amino-5-[[(2R)-3-benzylsulfanyl-1-[[(1R)-2-ethoxy-2-oxo-1-phenylethyl]amino]-1-oxopropan-2-yl]amino]-5-oxopentanoate;hydrochloride |
| SDF | Download SDF |
| Canonical SMILES | CCOC(=O)C(CCC(=O)NC(CSCC1=CC=CC=C1)C(=O)NC(C2=CC=CC=C2)C(=O)OCC)N.Cl |
| 运输条件 | 试用装:蓝冰运输。 其他可选规格:常温运输或根据您的要求用蓝冰运输。 |
| 一般建议 | 为了使其更好的溶解,请用37℃加热试管并在超声波水浴中震动片刻。不同厂家不同批次产品溶解度各有差异,仅做参考。若实验所需浓度过大至产品溶解极限,请添加助溶剂助溶或自行调整浓度。 |
试验操作
细胞实验 [1]:

细胞系

TF-1红白血病和HL-60早幼粒细胞

溶解方法

该化合物在DMSO中的溶解度大于28.3 mg/mL。若获取更高浓度的溶液,可在37℃下孵育10分钟,随后在超声波浴中摇匀。-20℃以下可储存数月。

反应条件

40 μM,5.5小时

应用

在白血病细胞系中,TLK199引发凋亡和ROS水平升高。TLK199以剂量和时间依赖的方式裂解PARP蛋白。在HL-60细胞中,TLK199(40 μM,5.5小时)最大程度诱导caspase 3和caspase 9的活化。TLK199导致细胞活力丧失。在TF-1和HL-60细胞系中,TLK199引起参与ER应激的基因上调。TLK199上调AP-1转录因子如c-jun的基因表达。

注意事项

由于实验环境的不同,实际溶解度可能与理论值略有不同,请测试室内所有化合物的溶解度。

References:

[1]. Stofega M, Hsu S C, Chew J, et al. Induction of apoptosis by TLK199 in human leukemia cells[J]. 2008.
质量控制
化学结构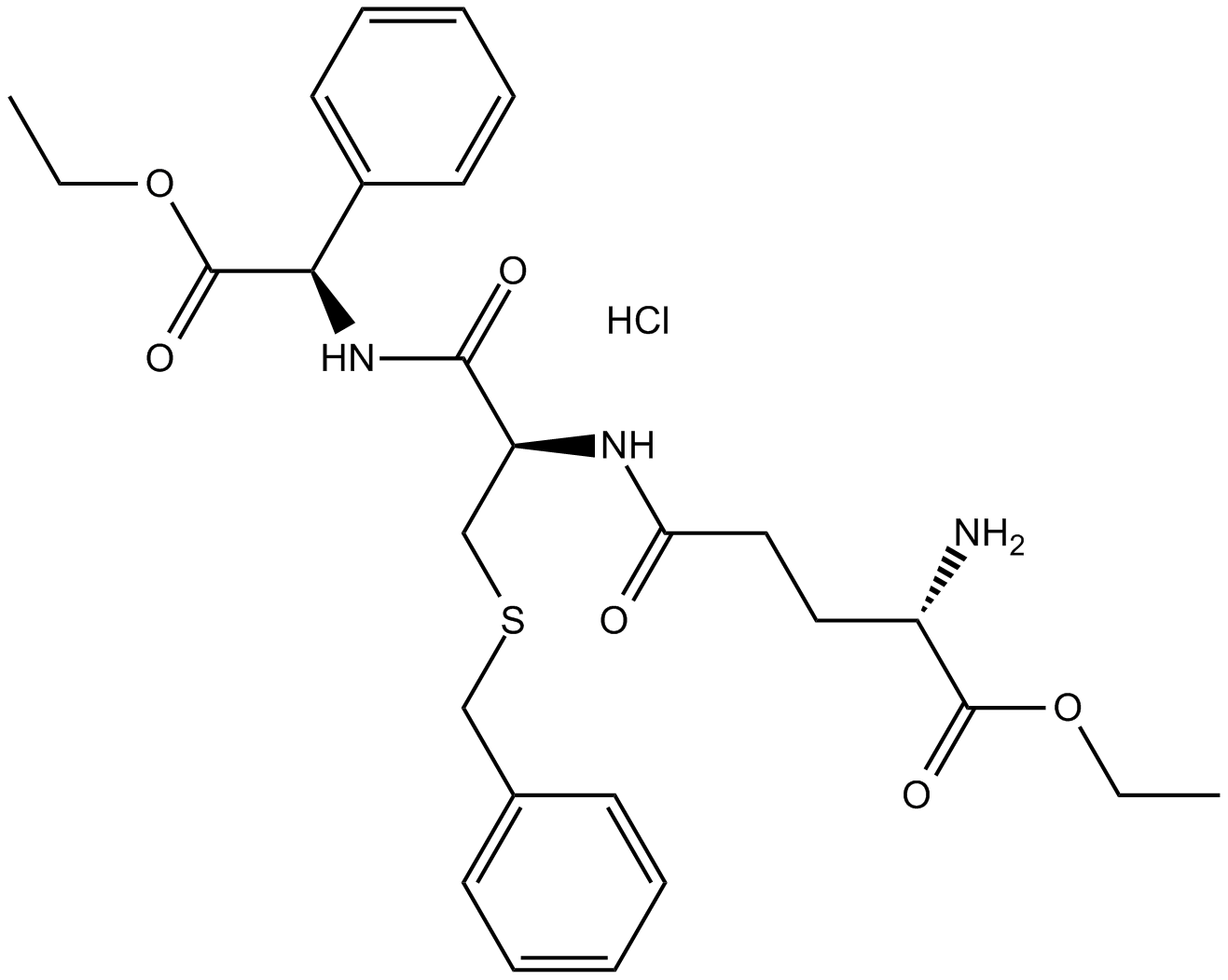 相关生物数据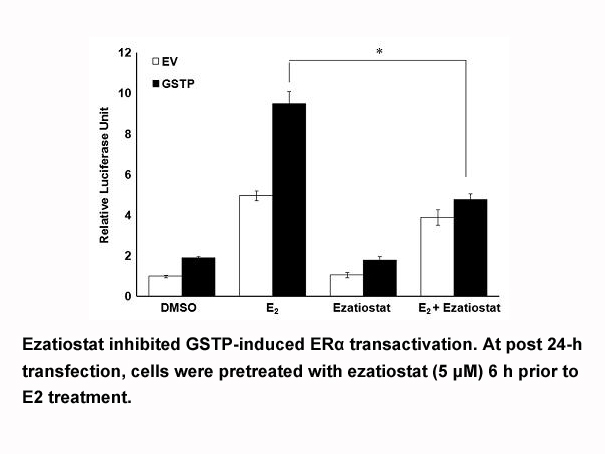 相关生物数据