Background
Cilengitide is a cyclic RGD pentapeptide [Arg-Gly-Asp-DPhe-(NMeVal)], and a potent αvβ3 and αvβ5 integrin inhibitor to block integrin-mediated adhesion and migration. It can directly bind αvβ3 integrin. Its IC50 is 250 nM as an αvβ3 inhibitor [1] [2] [3] [4].
Integrins are named for a family including 24 transmembrane heterodimer receptors that are composed of paired alpha and beta chains. These receptors can integrate extracellular and intracellular activities. Consequently, they can regulate tumor angiogenesis, migration and invasion [2].
When treated with cilengitide, a significant dose-dependent reduction of proliferation was noted (p<0.0002) in cell lines developed through 28 d of expansion and hence 14 d of differentiation culture of CD133+ stem cells (with VEGF, SCGF and FLT3L, to prepare CD133+ EPCs, i.e. endothelial progenitor cells). When treated with cilengitide after withdrawal of FLT3L and SCGF, a dose-dependent decrease of adherent cells was noted in EPCs after 7 and 14 days (p<0.03). Compared with which on EPC proliferation, the inhibitory effect of cilengitide on endothelial cell attachment was more pronounced [3].
Therapy with cilengitide intraperitoneally 5 times per week between days 1 and 30 after injection of MDA-MB-231 cells (105), volumes of osteolytic lesions(OL) and soft tissue components(SC) were significantly reduced on days 30 and 35 in rats, compared with untreated nude rats (p<0.05) [5].
References:
[1]. Carlos Mas-Moruno, Florian Rechenmacher and Horst Kessler. Cilengitide: The First Anti-Angiogenic Small Molecule Drug Candidate. Design, Synthesis and Clinical Evaluation. Anti-Cancer Agents in Medicinal Chemistry, 2010, 10(10): 753-768.
[2]. David A Reardon, L Burt Nabors, Roger Stupp, et al. Cilengitide: an integrin-targeting arginine-glycine-aspartic acid peptide with promising activity for glioblastoma multiforme. Expert Opin Investig Drugs, 2008, 17(8):1225-1235.
[3]. Sonja Loges, Martin Butzal, Jasmin Otten, et al. Cilengitide inhibits proliferation and differentiation of human endothelial progenitor cells in vitro. Biochemical and Biophysical Research Communications, 2007, 357: 1016-1020.
[4]. Despoina Sykoutri, Nisha Geetha, Silvia Hayer, et al. αvβ3 Integrin Inhibition with Cilengitide both Prevents and Treats Collagen Induced Arthritis. Ann Rheum Dis, 2013, 72(Suppl 1):A1-A88.
[5]. Maren Bretschi, Maximilian Merz, Dorde Komljenovic, et al. Cilengitide inhibits metastatic bone colonization in a nude rat model. Oncology Reports, 2011, 26:843-851.
文献引用
Chemical Properties
| | |
| --- | --- |
| Physical Appearance | A solid |
| Storage | Store at -20°C |
| M.Wt | 588.66 |
| Cas No. | 188968-51-6 |
| Formula | C27H40N8O7 |
| Solubility | ≥29.433mg/mL in DMSO; ≥22.56mg/ml in H20 |
| Chemical Name | 2-[(2S,5R,8S,11S)-5-benzyl-11-[3-(diaminomethylideneamino)propyl]-7-methyl-3,6,9,12,15-pentaoxo-8-propan-2-yl-1,4,7,10,13-pentazacyclopentadec-2-yl]acetic acid |
| SDF | Download SDF |
| Canonical SMILES | CC(C)C1C(=O)NC(C(=O)NCC(=O)NC(C(=O)NC(C(=O)N1C)CC2=CC=CC=C2)CC(=O)O)CCCN=C(N)N |
| 运输条件 | 试用装:蓝冰运输。 其他可选规格:常温运输或根据您的要求用蓝冰运输。 |
| 一般建议 | 为了使其更好的溶解,请用37℃加热试管并在超声波水浴中震动片刻。不同厂家不同批次产品溶解度各有差异,仅做参考。若实验所需浓度过大至产品溶解极限,请添加助溶剂助溶或自行调整浓度。 |
试验操作
细胞实验[1]:

细胞系

脑膜瘤细胞系(Ben-Men1、IOMM-Lee、HBL-52)

溶解方法

在DMSO中的溶解度>10 mM。为了获得更高的浓度,可以将离心管在37℃加热10分钟和/或在超声波浴中震荡一段时间。原液可以在-20℃以下储存几个月。

反应条件

100 μM/mL;24 h

应用

在IOMM-Lee、HBL52和Ben-Men1细胞培养基中加入cilengitide(1、10和100 μM/mL),监测超过24小时的形态变化。在所有三个脑膜瘤细胞系中,细胞以浓度依赖的方式变圆并从培养瓶中分离,表明cilengitide减少细胞粘附。在24小时后对细胞活力进行定量,在所有三个细胞系中,cilengitide以显著剂量依赖的方式诱导细胞活力的轻微下降。

动物实验[1]:

动物模型

8?10周龄的Swiss裸鼠

剂量

75 mg/kg;腹腔注射

应用

在原位肿瘤移植小鼠模型中评估cilengitide每日剂量(75 mg/kg)作为单一疗法或与放疗联合治疗的效果。 在肿瘤小鼠中,cilengitide单独治疗或与放疗联合治疗均显著减少tongue样脑浸润(P≤0.01),分别减少了35%和35.5%。

注意事项

请测试所有化合物在室内的溶解度,实际溶解度和理论值可能略有不同。这是由实验系统的误差引起的,属于正常现象。

References:

[1] Wilisch-Neumann A, Kliese N, Pachow D, et al. The integrin inhibitor cilengitide affects meningioma cell motility and invasion[J]. Clinical Cancer Research, 2013, 19(19): 5402-5412.
生物活性
描述
Cilengitide是一种integrin小分子抑制剂,作用于αvβ3受体和αvβ5受体,IC50值分别为2.3 nM和37 nM。
靶点
αvβ3
αvβ5
α5β1
IC50
2.3 nM
37 nM
质量控制
化学结构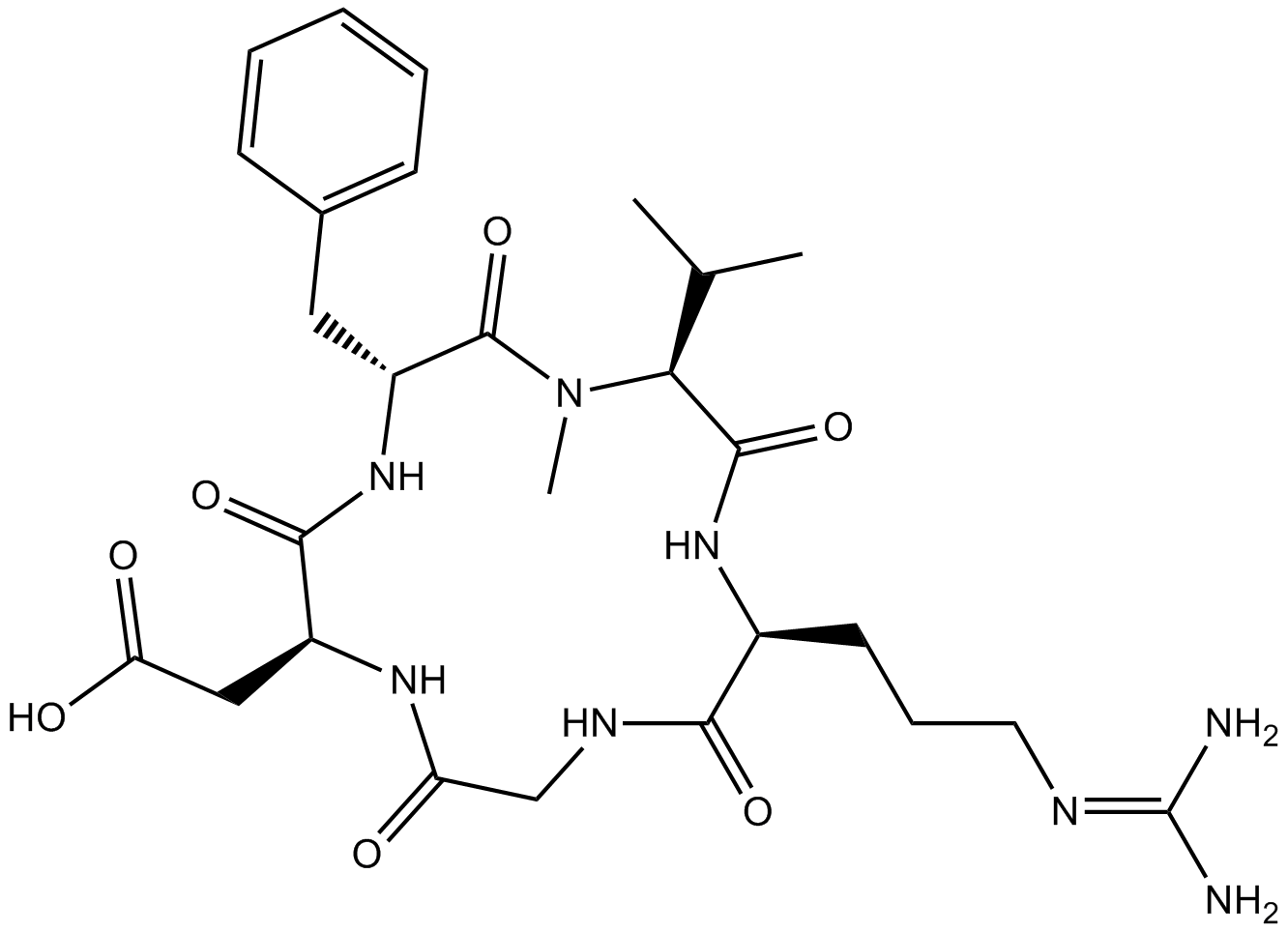 相关生物数据