Background
CI994 is a selective inhibitor of HDAC1 with IC50 value of 0.57 μM [1].
HDAC1 is an enzyme that encoded by HDAC1 and plays a pivotal role in regulating eukaryotic gene expression. It is also been reported that HDAC1 interacts with retinoblastoma tumor-suppressor protein which is a key element in the control of cell proliferation and differentiation. Many studies have shown that HDAC1 inhibition works as a promising therapy used for cancer treatment in clinic [2] [3].
CI994 is a selective HDAC1 and HDAC3 and is different from the reported unselective inhibitor SAHA. When tested with HeLa cervical carcinoma cells, CI994 treatment showed a selectivity inhibitory ability for HDAC1 and 3 with the IC50 was 43.5±1.2 μM [4]. In peripheral blood lymphocytes isolated from untreated male Wistar rats, administration of CI994 for 24 hours induced cells apoptosis in a dose-dependent manner (1 μM~10μM ) [1]. When tested with mitogen-stimulated blood lymphocytes, CI-994 treatment inhibited cells proliferation with IC50 value of 3 mM [5]. In NSCLC cell lines (A549 and LX-1), CI994 administration induced cell apoptosis via inhibiting HDAC activity and arresting cell cycle at G0/G1 phase and showed a promising therapy strategy when combined with chemotherapy [2].
In male rats model, oral administration of CI994 markedly effected lymphoid tissue via reducing blood lymphocytes, monocytes, neutrophils and bone marrow lymphoid cells at the concentration of 10, 23, and 45 mg/kg on day 1 and/or 3 [5].
References:
[1].    Graziano, M.J., et al., Induction of Apoptosis in Rat Peripheral Blood Lymphocytes by the Anticancer Drug CI-994 (Acetyldinaline)(*). J Biomed Biotechnol, 2001. 1(2): p. 52-61.
[2].    Loprevite, M., et al., In vitro study of CI-994, a histone deacetylase inhibitor, in non-small cell lung cancer cell lines. Oncol Res, 2005. 15(1): p. 39-48.
[3].    Cacan, E., et al., Inhibition of HDAC1 and DNMT1 modulate RGS10 expression and decrease ovarian cancer chemoresistance. PLoS One, 2014. 9(1): p. e87455.
[4].    Beckers, T., et al., Distinct pharmacological properties of second generation HDAC inhibitors with the benzamide or hydroxamate head group. Int J Cancer, 2007. 121(5): p. 1138-48.
[5].    Graziano, M.J., A.J. Galati, and K.M. Walsh, Immunotoxicity of the anticancer drug CI-994 in rats: effects on lymphoid tissue. Arch Toxicol, 1999. 73(3): p. 168-74.
文献引用
Chemical Properties
| | |
| --- | --- |
| Physical Appearance | A solid |
| Storage | Store at -20°C |
| M.Wt | 269.3 |
| Cas No. | 112522-64-2 |
| Formula | C15H15N3O2 |
| Solubility | ≥50 mg/mL in DMSO,insoluble in EtOH,insoluble in H2O |
| Chemical Name | 4-acetamido-N-(2-aminophenyl)benzamide |
| SDF | Download SDF |
| Canonical SMILES | CC(=O)NC1=CC=C(C=C1)C(=O)NC2=CC=CC=C2N |
| 运输条件 | 试用装:蓝冰运输。 其他可选规格:常温运输或根据您的要求用蓝冰运输。 |
| 一般建议 | 为了使其更好的溶解,请用37℃加热试管并在超声波水浴中震动片刻。不同厂家不同批次产品溶解度各有差异,仅做参考。若实验所需浓度过大至产品溶解极限,请添加助溶剂助溶或自行调整浓度。 |
试验操作
细胞实验[1]:

细胞系

外周血淋巴细胞

溶解方法

在DMSO中的溶解度≥50mg/mL。为了获得更高的浓度,可以将离心管在37℃加热10分钟和/或在超声波浴中震荡一段时间。原液可以在-20℃以下储存几个月。

反应条件

10 ?M;24 h

应用

淋巴细胞暴露于CI994 4小时之后没有检测到细胞凋亡或坏死。24小时之后观察到浓度依赖的细胞凋亡增加,其特征是DNA浓缩,DNA片段化,和/或磷脂酰丝氨酸向外翻转。CI-994在低至1 ?M浓度时即可观察到这些特征,而在10 ?M浓度时具有统计学显著性。

动物实验[2]:

动物模型

雄性Wistar大鼠

剂量

45 mg/kg;口服给药

应用

每组15只大鼠分别给予0(载体对照)、10、23和45 mg/kg的CI994,在给药后的1、3和7天分别各处死5只,用于评估血液和骨髓中淋巴细胞数。CI994导致总白细胞计数、总淋巴细胞和淋巴细胞亚群显著的剂量相关性减少。与对照组相比,在第一天时,10、23和45 mg/kg处理组分别减少36-48%、65-76%和74-87%。在所有治疗组中,在第1天和第3天时单核细胞的剂量相关性减少介于54-89%之间。除此之外,10 mg/kg、23 mg/kg和45 mg/kg治疗组中,骨髓淋巴细胞的显著剂量相关性减少分别介于28-33%、63-69%和80-87%之间。

注意事项

请测试所有化合物在室内的溶解度,实际溶解度和理论值可能略有不同。这是由实验系统的误差引起的,属于正常现象。

References:

[1] Graziano M J, Spoon T A, Cockrell E A, et al. Induction of apoptosis in rat peripheral blood lymphocytes by the anticancer drug CI-994 (acetyldinaline). BioMed Research International, 2001, 1(2): 52-61.

[2] Graziano M J, Galati A J, Walsh K M. Immunotoxicity of the anticancer drug CI-994 in rats: effects on lymphoid tissue. Archives of toxicology, 1999, 73(3): 168-174.
生物活性
描述
CI-994 (Tacedinaline),一种抗癌药物,是HDAC1的抑制剂,IC50值为0.57 μM,可引起G1期细胞周期停滞。
靶点
HDAC1
IC50
0.57 μM
质量控制
化学结构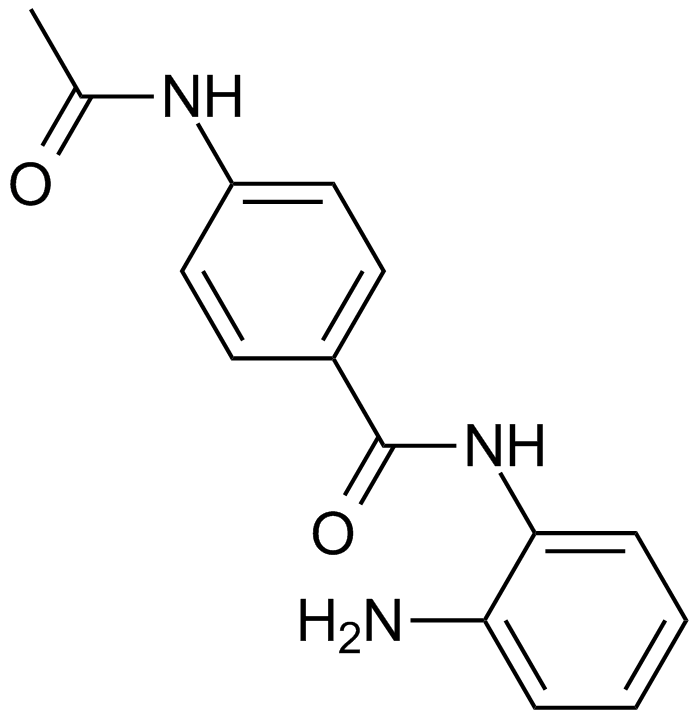 相关生物数据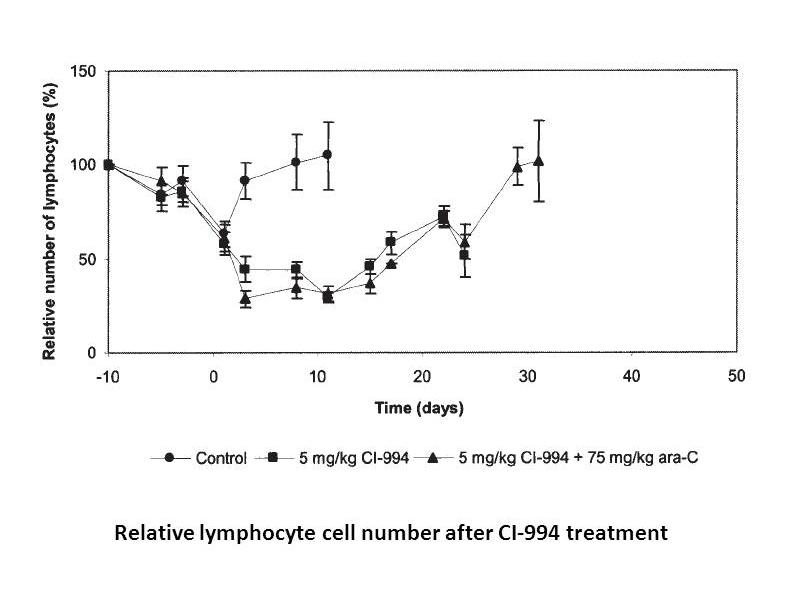 相关生物数据