Background
3-Deazaneplanocin is a highly potent inhibitor of S-adenosylhomocysteine hydrolase with Ki value of 0.05 nM [1].
3-Deazaneplanocin was synthesized as an inhibitor of S-adenosylhomocysteine hydrolase. It is an analog of adenosine and inhibits S-adenosylhomocysteine hydrolase through competing with the substrate, adenosine. 3-Deazaneplanocin was not so that potent in cell growth inhibition. 10 μM 3-Deazaneplanocin treatment resulted in moderate cell growth reduction in HL-60 cells. In HCC cell lines Huh1 and Huh7, 3-Deazaneplanocin inhibited growth and non-adherent sphere formation dose-dependently. It decreased the epithelial cell adhesion molecule EpCAMhigh fraction from 49.0% to 12.5% in Huh1 cells and from 44.4% to 11.6% in Huh7 cells. Moreover, in mice implanted with Huh7 cells, administration of 3-Deazaneplanocin suppressed tumor initiation and growth via directly affecting the growth and self-renewal of tumor-initiating cells [1, 2].
References:
[1] Glazer R I, Hartman K D, Knode M C, et al. 3-Deazaneplanocin: a new and potent inhibitor of S-adenosylhomocysteine hydrolase and its effects on human promyelocytic leukemia cell line HL-60. Biochemical and biophysical research communications, 1986, 135(2): 688-694.
[2] Chiba T, Suzuki E, Negishi M, et al. 3-Deazaneplanocin A is a promising therapeutic agent for the eradication of tumor-initiating hepatocellular carcinoma cells. International Journal of Cancer, 2012, 130(11): 2557-2567.
文献引用
Chemical Properties
| | |
| --- | --- |
| Physical Appearance | A crystalline solid |
| Storage | Store at -20°C |
| M.Wt | 262.26 |
| Cas No. | 102052-95-9 |
| Formula | C12H24N4O3 |
| Synonyms | DZNep, 3-Deazaneplanocin A,NSC 617989,NSC617989 |
| Solubility | Soluble in Water |
| Chemical Name | (1S,2R,5R)-5-(4-aminoimidazo[4,5-c]pyridin-1-yl)-3-(hydroxymethyl)cyclopent-3-ene-1,2-diol |
| SDF | Download SDF |
| Canonical SMILES | C1=CN=C(C2=C1N(C=N2)C3C=C(C(C3O)O)CO)N |
| 运输条件 | 试用装:蓝冰运输。 其他可选规格:常温运输或根据您的要求用蓝冰运输。 |
| 一般建议 | 为了使其更好的溶解,请用37℃加热试管并在超声波水浴中震动片刻。不同厂家不同批次产品溶解度各有差异,仅做参考。若实验所需浓度过大至产品溶解极限,请添加助溶剂助溶或自行调整浓度。 |
试验操作
细胞实验[1]:

细胞系

人急性骨髓性白血病(AML)细胞

溶解方法

在DMSO中的溶解度>10 mM。为了获得更高的浓度,可以将离心管在37℃加热10分钟和/或在超声波浴中震荡一段时间。原液可以在-20℃以下储存几个月。

反应条件

100-750 nM;24-72 h

应用

在培养的和原代AML细胞中,DZNep诱导细胞凋亡。在AML HL-60和OCI-AML3细胞中,DZNep耗尽EZH2水平,抑制组蛋白H3赖氨酸27(H3K27)的三甲基化。在cyclin E和HOXA9水平耗尽之后,DZNep诱导p16、p21、p27和FBXO32的水平。

动物实验[2]:

动物模型

Sprague-Dawley大鼠(120-140 g)

剂量

5 μM;实验前24小时处理,随饮食口服。

应用

在非酒精性脂肪性肝病(NAFLD)小鼠模型中,DZNep显著减少EZH2的表达和活性,增加脂质沉积、炎症分子和microRNAs。

注意事项

请测试所有化合物在室内的溶解度,实际溶解度和理论值可能略有不同。这是由实验系统的误差引起的,属于正常现象。

References:

1. Fiskus W1, Wang Y, Sreekumar A et al. Combined epigenetic therapy with the histone methyltransferase EZH2 inhibitor 3-deazaneplanocin A and the histone deacetylase inhibitor panobinostat against human AML cells. Blood. 2009 Sep 24;114(13):2733-43.

2. Vella S, Gnani D, Crudele A et al. EZH2 down-regulation exacerbates lipid accumulation and inflammation in vitro and in vivo NAFLD.Int J Mol Sci. 2013 Dec 12;14(12):24154-68.
生物活性
描述
3-deazaneplanocin A (DZNeP),腺苷类似物,是S-腺苷高半胱氨酸水解酶(S-adenosylhomocysteine hydrolase)的竞争性抑制剂,Ki值为50 pM。
靶点
S-adenosylhomocysteine hydrolase
IC50
50 pM (Ki)
质量控制
化学结构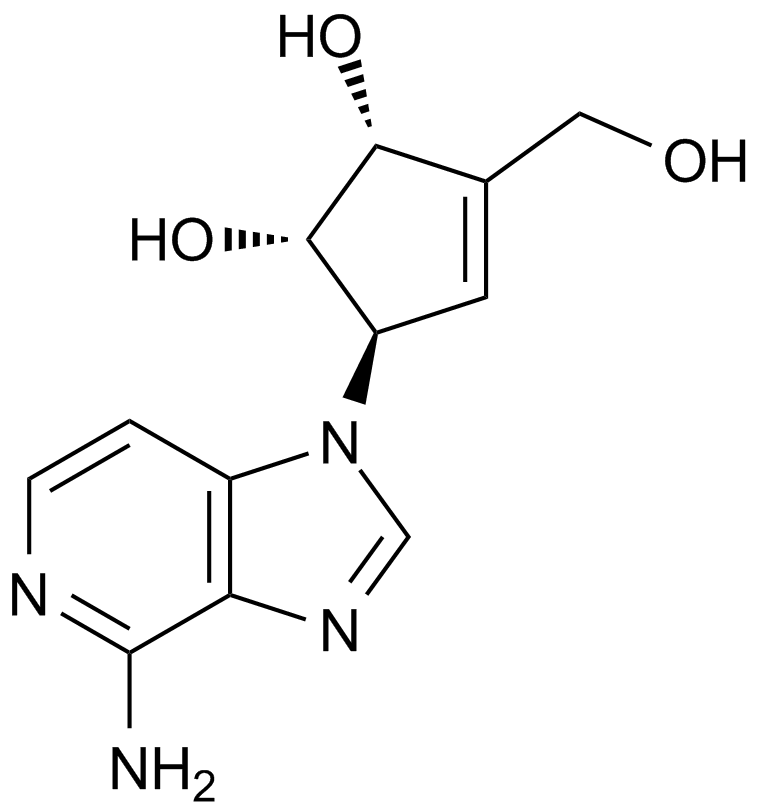 相关生物数据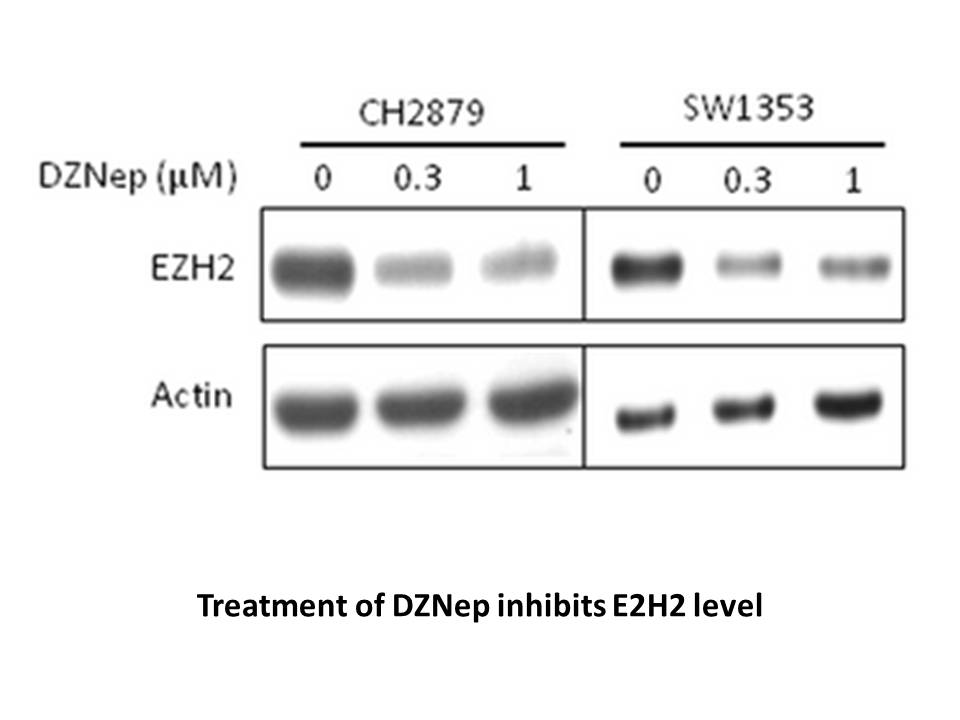 相关生物数据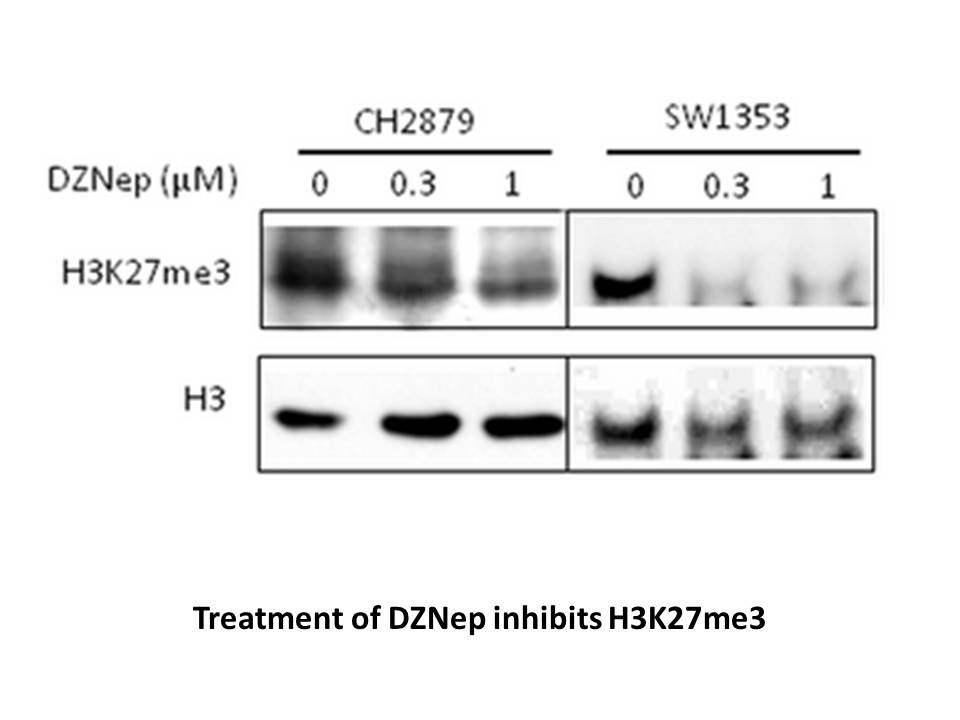 相关生物数据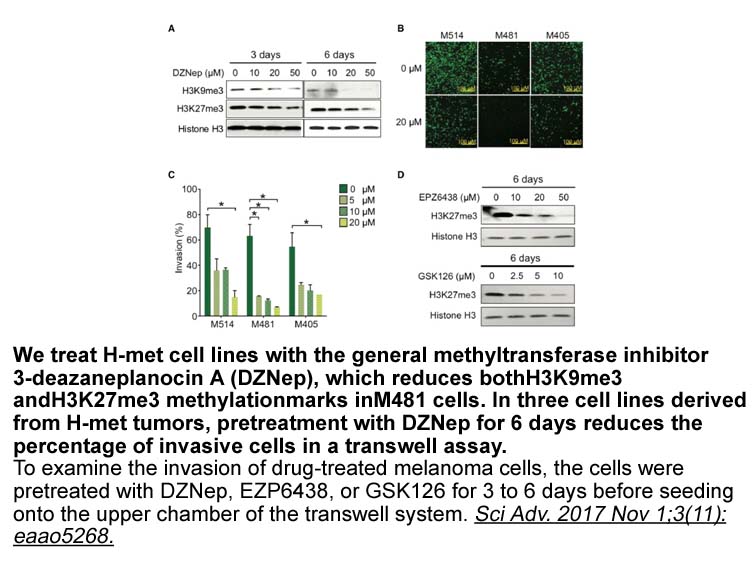 相关生物数据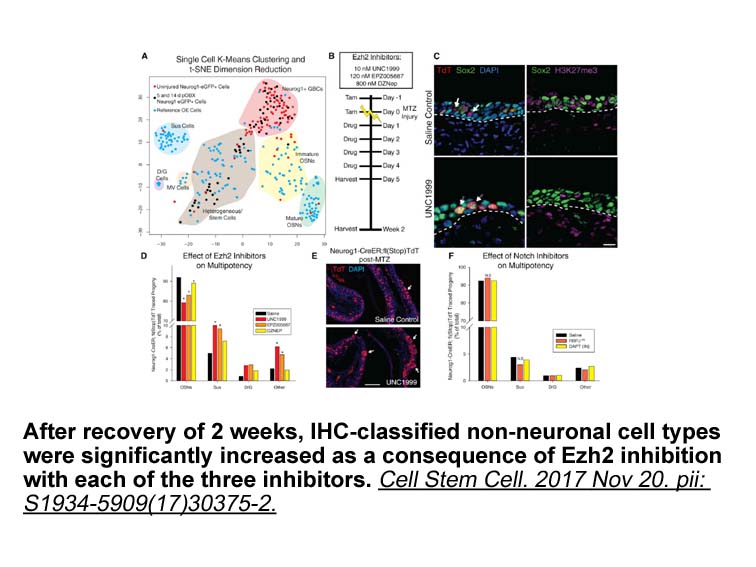 相关生物数据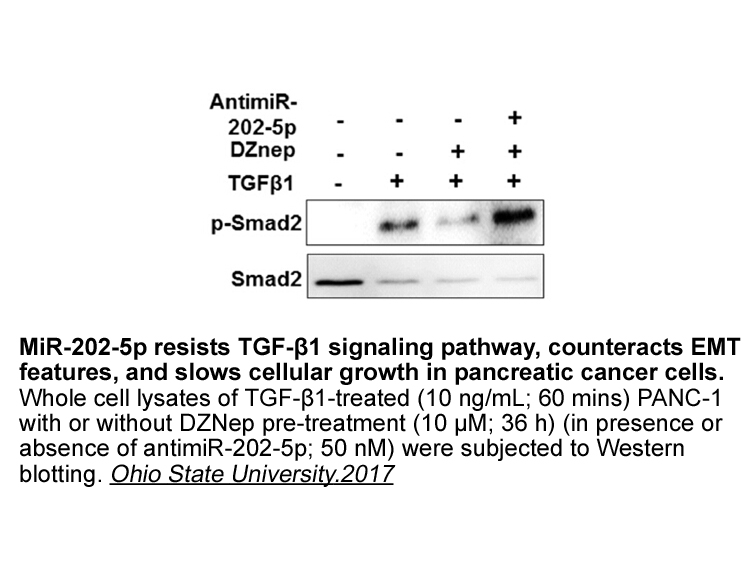 相关生物数据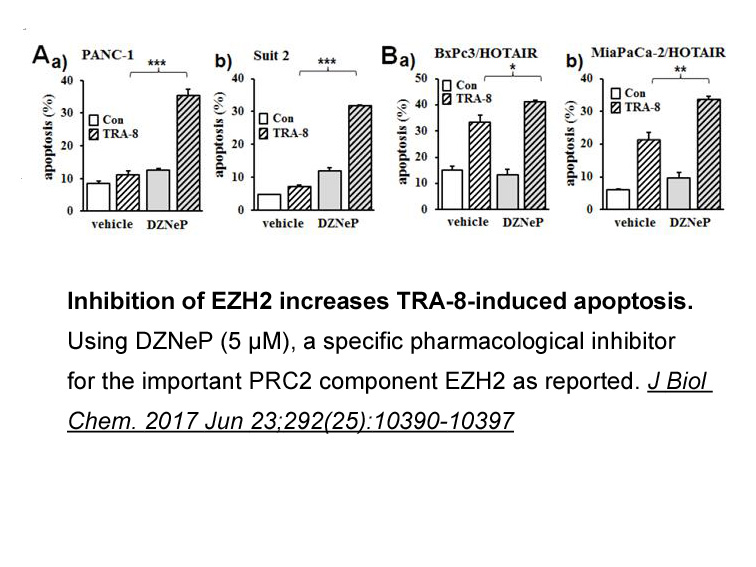 相关生物数据