Background
Bafilomycin A1 is a selective inhibitor of vacuolar H+ ATPases (V-ATPases) with I50 values of 4-400 nmol/mg 1.
Bafilomycin A1 was treated to different types of membrane ATPases with the dependent I50 of 400 nmol/mg, 4 nmol/mg and 50 nmol/mg for the vacuolar ATPases of a fungus (N. crassa), a plant (Z. mays), and an animal (bovine abrenal medulla). In addition, the inhibitory effect of bafilomycin A1 on vacuolar ATPases was further determined by testing its influence on H+-pumping activity. H+ translocation was completely inhibited by 10 nM bafilomycin A1 1. Other study has shown that bafilomycin A1 strongly inhibited the pit-forming activity of osteoclasts. The subcellular localization of V-ATPase in osteoclasts was been treated with or without bafilomycin A1 by immunoelectron microscopy. These results suggested that disruption of V-ATPase localization to the ruffled border by bafilomycin A1 resulted in the lack of acidification of the dentine surface 2.
Notes: I50 values is umol of bafilomycin AI per mg of protein giving 50% inhibition of ATPase activity.
References:
1. Bowman E J, Siebers A, Altendorf K. Bafilomycins: a class of inhibitors of membrane ATPases from microorganisms, animal cells, and plant cells[J]. Proceedings of the National Academy of Sciences, 1988, 85(21): 7972-7976.
2. Takami M, Suda K, Sahara T, et al. Involvement of vacuolar H+-ATPase in incorporation of risedronate into osteoclasts[J]. Bone, 2003, 32(4): 341-349.
文献引用
Chemical Properties
| | |
| --- | --- |
| Physical Appearance | A crystalline solid |
| Storage | Desiccate at -20°C |
| M.Wt | 622.84 |
| Cas No. | 88899-55-2 |
| Formula | C35H58O9 |
| Solubility | Soluble in DMSO |
| Chemical Name | (3Z,5E,7R,8S,9S,11E,13E,15S,16R)-16-[(2S,3R,4S)-4-[(2R,4R,5S,6R)-2,4-dihydroxy-5-methyl-6-propan-2-yloxan-2-yl]-3-hydroxypentan-2-yl]-8-hydroxy-3,15-dimethoxy-5,7,9,11-tetramethyl-1-oxacyclohexadeca-3,5,11,13-tetraen-2-one |
| SDF | Download SDF |
| Canonical SMILES | CC1CC(=CC=CC(C(OC(=O)C(=CC(=CC(C1O)C)C)OC)C(C)C(C(C)C2(CC(C(C(O2)C(C)C)C)O)O)O)OC)C |
| 运输条件 | 试用装:蓝冰运输。 其他可选规格:常温运输或根据您的要求用蓝冰运输。 |
| 一般建议 | 为了使其更好的溶解,请用37℃加热试管并在超声波水浴中震动片刻。不同厂家不同批次产品溶解度各有差异,仅做参考。若实验所需浓度过大至产品溶解极限,请添加助溶剂助溶或自行调整浓度。 |
试验操作
细胞实验 [1]:

细胞系

HeLa细胞

制备方法

在DMSO中的溶解度大于10 mM。若配制更高浓度的溶液,一般步骤如下:请将试管置于37 °C加热10分钟和/或将其置于超声波浴中震荡一段时间。原液于-20 °C可放置数月。

反应条件

0 ~ 20 nM

实验结果

Bafilomycin A1呈剂量依赖性地抑制由幽门螺杆菌诱导的Hela细胞空泡化,在4 nM浓度下具有50%作用,在12.5 nM浓度下具有完全抑制。 此外,Bafilomycin A1还能有效促进空泡化细胞恢复至正常外观。

动物实验 [2]:

动物模型

年轻淡水罗非鱼

给药剂量

0 ~ 10-5 mol/L;30分钟

实验结果

在年轻的罗非鱼中,Bafilomycin A1呈剂量依赖性地抑制Na+摄取率,其Ki值为1.6 × 10-7 mol/L。 在低至10-8 mol/L的浓度下,Bafilomycin A1的抑制效应为20%。直到浓度达到10-6 mol/L之前,其抑制效应呈线性递增,然后保持在90 %左右。

其它注意事项

请于室内测试所有化合物的溶解度。虽然化合物的实际溶解度可能与其理论值略有不同,但仍处于实验系统误差的允许范围内。

References:

[1]. Papini E, Bugnoli M, De Bernard M, Figura N, Rappuoli R, Montecucco C. Bafilomycin A1 inhibits Helicobacter pylori-induced vacuolization of HeLa cells. Mol Microbiol. 1993 Jan;7(2):323-7.

[2]. Fenwick JC, Wendelaar Bonga SE, Flik G. In vivo bafilomycin-sensitive Na(+) uptake in young freshwater fish. J Exp Biol. 1999 Dec;202 Pt 24:3659-66.
生物活性
描述
Bafilomycin A1是一种选择性的和可逆的空泡H+ ATPases(V-ATPases)抑制剂,IC50值介于4-400 nM之间。
靶点
V-ATPases
IC50
4-400 nM
质量控制
化学结构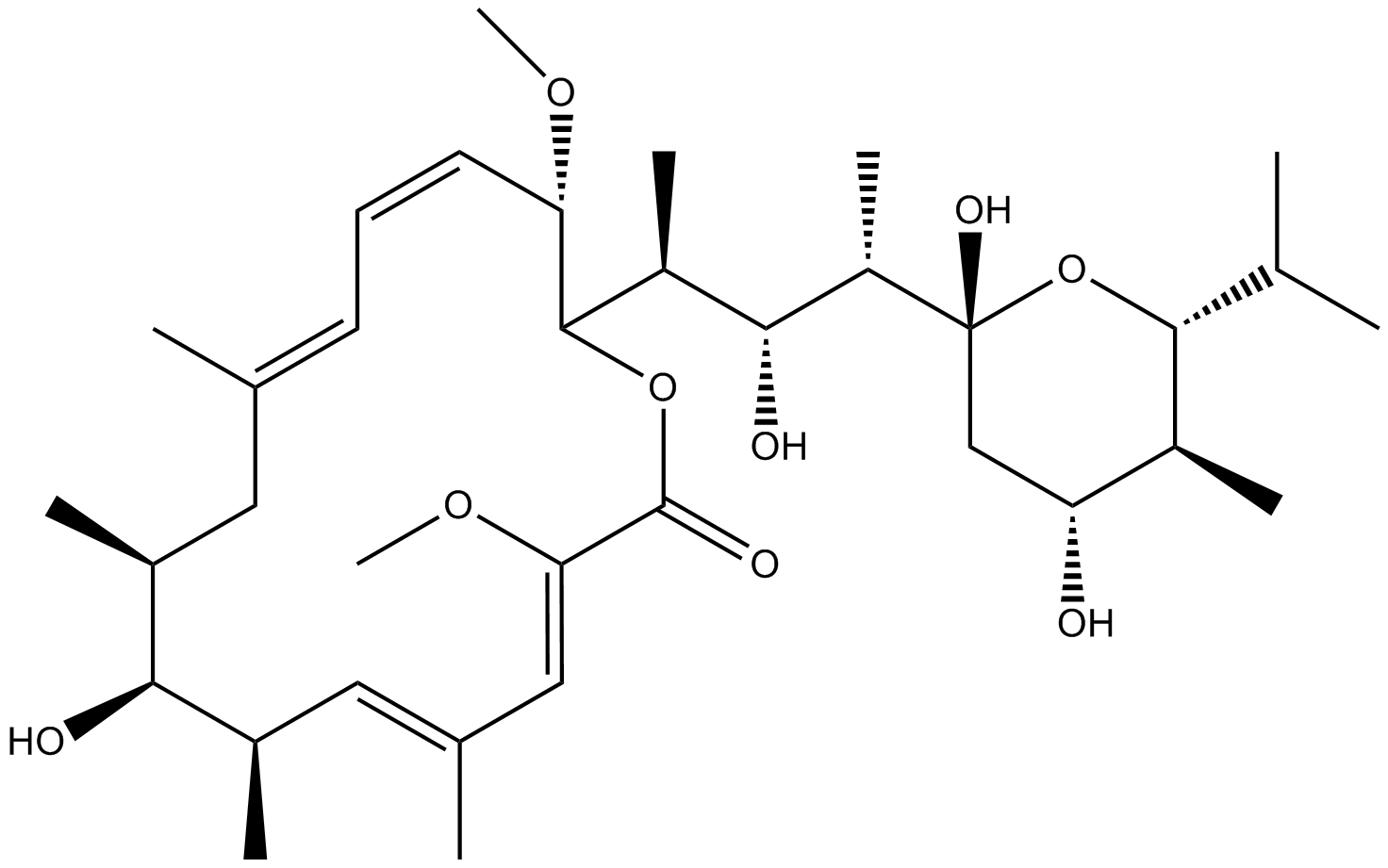 相关生物数据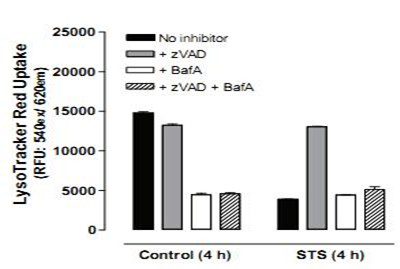 Bafilomycin A1 was able to decrease lysosomal/vesicular acid loading in Jurkat cells under the experimental conditions (STS+zVAD) used to stimulate ATP release [1].
1. Boyd-Tressler A, Penuela S, Laird D W, et al. Chemotherapeutic Drugs Induce ATP Release via Caspase-gated Pannexin-1 Channels and a Caspase/Pannexin-1-Independent Mechanism. Journal of Biological Chemistry, 2014: jbc. M114. 590240.
相关生物数据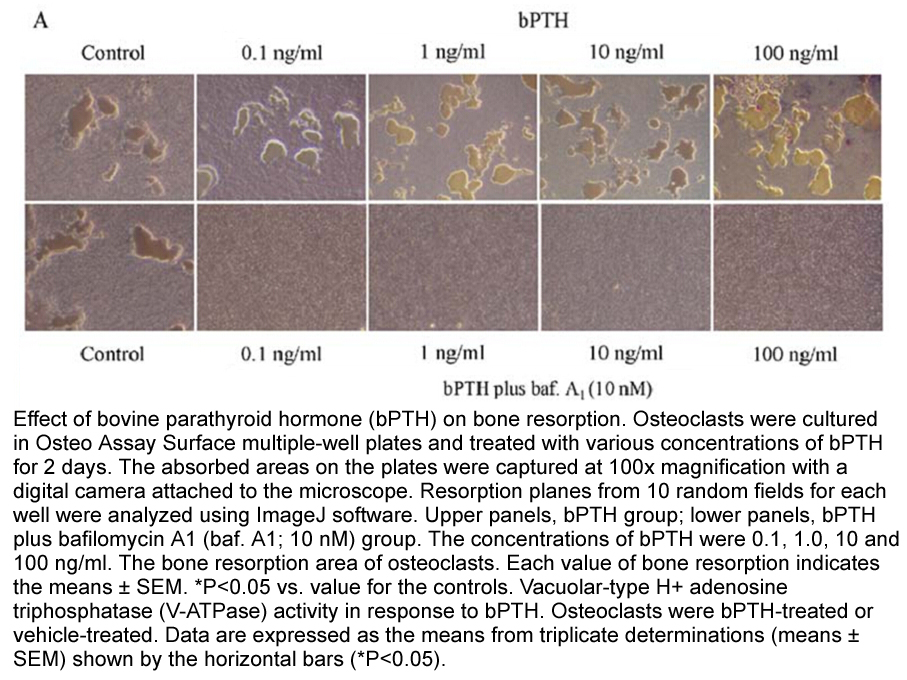 相关生物数据
相关生物数据