Background
Saracatinib (AZD0530) is a novel, potent Src family kinase (SFK)/Abl dual-kinase inhibitor with IC50 value of 2.7 nM [1].
Saracatinib has been reported to inhibit Src activation in DU145 and PC3 cell lines (prostate cancer cell lines). Both of c-Myc and cyclin D1 expression are decreased by Saracatinib. Saracatinib can inhibit the ERK1/2 and GSK3b phosphorylation as well as decrease β-catenin level in cells. Saracatinib inhibits the prostate tumor cell growth by inducing cycle arrest at G1/S phase. Saracatinib dose-dependently blocks cell migration in DU145 and PC3 cell lines [1].
In DU145 implanted orthotopic SCID mice model, treatment with Saracatinib has been demonstrated to down-regulate the Src expression as well as suppress the tumor size [1].
References:
[1] Chang YM1, Bai L, Liu S, Yang JC, Kung HJ, Evans CP. Src family kinase oncogenic potential and pathways in prostate cancer as revealed by AZD0530. Oncogene. 2008 Oct 23;27(49):6365-75.

文献引用
Chemical Properties
| | |
| --- | --- |
| Storage | Store at -20°C |
| M.Wt | 542.03 |
| Cas No. | 379231-04-6 |
| Formula | C27H32ClN5O5 |
| Solubility | ≥27.1mg/mL in DMSO |
| Chemical Name | N-(5-chloro-1,3-benzodioxol-4-yl)-7-[2-(4-methylpiperazin-1-yl)ethoxy]-5-(oxan-4-yloxy)quinazolin-4-amine |
| SDF | Download SDF |
| Canonical SMILES | CN1CCN(CC1)CCOC2=CC(=C3C(=C2)N=CN=C3NC4=C(C=CC5=C4OCO5)Cl)OC6CCOCC6 |
| 运输条件 | 试用装:蓝冰运输。 其他可选规格:常温运输或根据您的要求用蓝冰运输。 |
| 一般建议 | 为了使其更好的溶解,请用37℃加热试管并在超声波水浴中震动片刻。不同厂家不同批次产品溶解度各有差异,仅做参考。若实验所需浓度过大至产品溶解极限,请添加助溶剂助溶或自行调整浓度。 |
试验操作
细胞实验[1]:

细胞系

A549细胞

溶解方法

在DMSO中的溶解度>10 mM。为了获得更高的浓度,可以将离心管在37℃加热10分钟和/或在超声波浴中震荡一段时间。原液可以在-20℃以下储存几个月。

反应条件

1 μM,细胞迁移抑制:24 h;细胞侵袭抑制:48 h。

应用

A549细胞生长形成融合单层,移液器尖端划伤后用100-1000 nM的AZD0530孵育。在24小时内,DMSO处理的对照细胞持续迁移进入划伤区域,几乎完全覆盖了划痕。AZD0530以剂量依赖的方式显著抑制细胞迁移。在检测的最高浓度(1 μM),AZD0530减少了超过60%的A549细胞迁移。用修改的基底膜实验检测A549细胞的侵袭,AZD0530显著减少了51%的基底膜侵袭。

动物实验[2]:

动物模型

植入Panc410细胞的雌性无胸腺裸鼠

剂量

50mg/kg/d,28天;口服给药

应用

与对照肿瘤相比,在敏感肿瘤Panc410中,AZD0530明显减少Src、FAK、p-FAK和pSTAT-3的表达。此外,AZD0530导致XIAP的下调,正如Panc410的免疫印迹结果所示。

注意事项

请测试所有化合物在室内的溶解度,实际溶解度和理论值可能略有不同。这是由实验系统的误差引起的,属于正常现象。

References:

[1] Purnell P R, Mack P C, Tepper C G, et al. The Src inhibitor AZD0530 blocks invasion and may act as a radiosensitizer in lung cancer cells. Journal of thoracic oncology: official publication of the International Association for the Study of Lung Cancer, 2009, 4(4): 448.

[2] Rajeshkumar N V, Tan A C, De Oliveira E, et al. Antitumor effects and biomarkers of activity of AZD0530, a Src inhibitor, in pancreatic cancer. Clinical Cancer Research, 2009, 15(12): 4138-4146.
生物活性
描述
Saracatinib (AZD0530)是一种有效的Src抑制剂,IC50值为2.7 nM,对c-Yes、 Fyn、Lyn、Blk、Fgr和Lck也具有活性,对Abl和EGFR (L858R和L861Q)活性较低。
靶点
c-Src
v-Abl
IC50
2.7 nM
30 nM
质量控制
化学结构
相关生物数据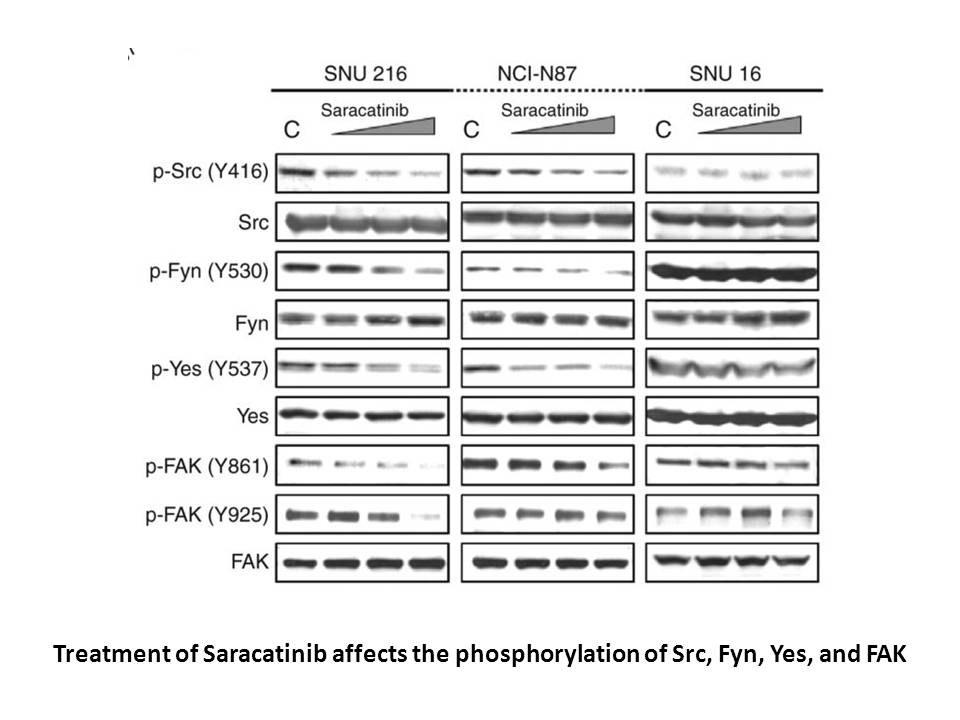 相关生物数据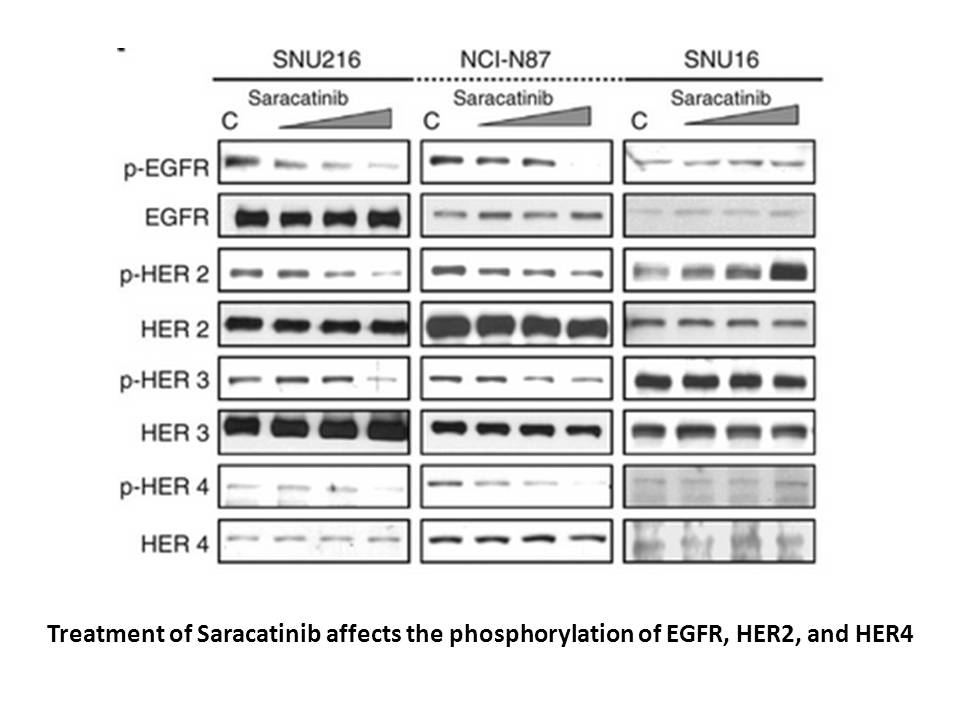 相关生物数据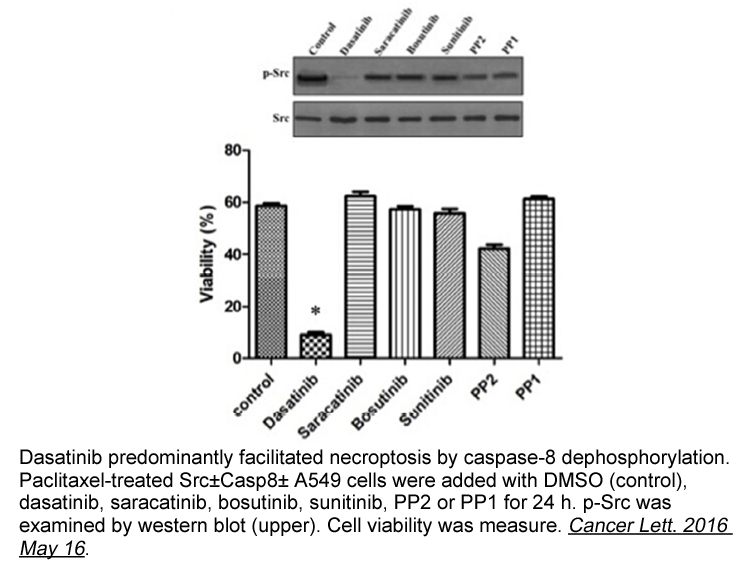 相关生物数据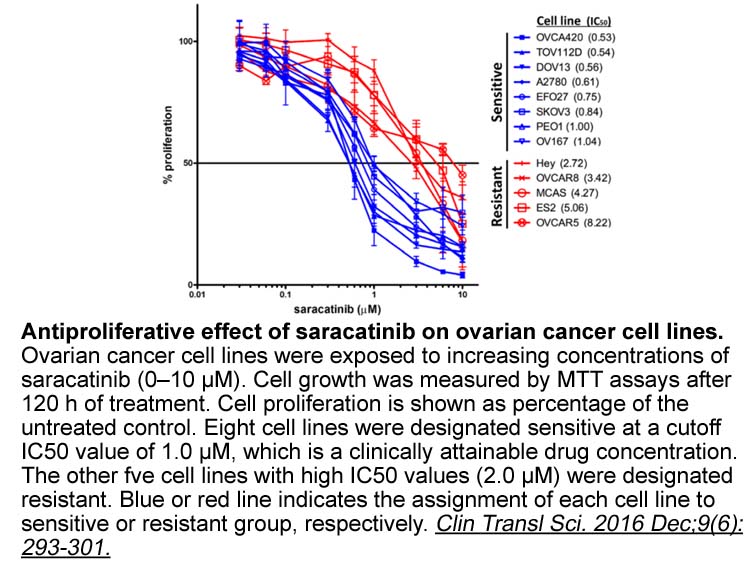 相关生物数据