Background
PRIMA-1MET selectively restores the activity of mutant p53 in tumor cells.[1]
The p53 is encoded in humans by the TP53 gene. The molecular mass of p53 is 53 KD. The p53 has the function of regulating the cell cycle, thus, it functions as preventing cancer, a tumor suppressor. The p53 plays an important role in apoptosis, inhibition of angiogenesis and genomic stability by activating DNA repair proteins, arresting cell growth though holding the cell cycle and initiating apoptosis. p53 becomes activated in response to DNA damage, osmotic shock, oxidative stress or other myriad stressors. Activated p53 activates the expression of several genes by binding DNA including p21. p21 binds to the G1-S/CDK complexes which is an important molecules for the G1/S transition, then causes cell cycle arrest. The increasing amount of p53 may be a solution for prevention of tumors spreading or treatment of them. About half of human tumours have mutant p53 then lose the control for cell apotosis.[2]
PRIMA-1MET is a methylated derivative of PRIMA-1. PRIMA-1 suppressed the growth of Saos-2-His-273 osteosarcoma cell but did not affect the cell lines which express wild type P53. PRIMA-1 directly binds to mutant p53 according to gel shift assay.[2] PRIMA-1MET induced nucleolar translocation of Hsp70, PML, CBP and p53 in MCF 7 cells.[3] PRIMA -1MET reactivate the mutant p53, then results in enhanced expression of genes which are involved in apoptosis and cell-cycle regulation[4]. In the H1299-His175 cells, treatment with 50μM PRIMA-1MET leaded to significant caspase-2 activation , then induced mitochondria-mediated apoptosis.[1]
PRIMA-1 MET at 25μM reduced the IC50 of cisplatin in H1299 cells by inducing mutant P53-dependent apotosis.[5]
In SCID mice with H1299-His175 tumor xenografts, the combination of PRIMA-1MET at 100mg/Kg and cisplatin significantly inhibited tumor grown compared to cisplatin only. [5]
References:
[1].    Shen J, Vakifahmetoglu H, Stridh H, Zhivotovsky B, Wiman KG: PRIMA-1MET induces mitochondrial apoptosis through activation of caspase-2. Oncogene 2008, 27(51):6571-6580.
[2].    Bykov VJ, Selivanova G, Wiman KG: Small molecules that reactivate mutant p53. Eur J Cancer 2003, 39(13):1828-1834.
[3].    Stuber G, Flaberg E, Petranyi G, Otvos R, Rokaeus N, Kashuba E, Wiman KG, Klein G, Szekely L: PRIMA-1MET induces nucleolar translocation of Epstein-Barr virus-encoded EBNA-5 protein. Mol Cancer 2009, 8:23.
[4].    Lambert JM, Moshfegh A, Hainaut P, Wiman KG, Bykov VJ: Mutant p53 reactivation by PRIMA-1MET induces multiple signaling pathways converging on apoptosis. Oncogene 2010, 29(9):1329-1338.
[5].    Bykov VJ, Zache N, Stridh H, Westman J, Bergman J, Selivanova G, Wiman KG: PRIMA-1(MET) synergizes with cisplatin to induce tumor cell apoptosis. Oncogene 2005, 24(21):3484-3491.
Chemical Properties
| | |
| --- | --- |
| Physical Appearance | A solid |
| Storage | Store at 4°C |
| M.Wt | 199.25 |
| Cas No. | 5291-32-7 |
| Formula | C10H17NO3 |
| Synonyms | APR-246 |
| Solubility | ≥19.9mg/mL in DMSO, ≥102 mg/mL in EtOH with ultrasonic, ≥104.2 mg/mL in H2O |
| Chemical Name | 2-(hydroxymethyl)-2-(methoxymethyl)-1-azabicyclo[2.2.2]octan-3-one |
| SDF | Download SDF |
| Canonical SMILES | COCC1(C(=O)C2CCN1CC2)CO |
| 运输条件 | 试用装:蓝冰运输。 其他可选规格:常温运输或根据您的要求用蓝冰运输。 |
| 一般建议 | 为了使其更好的溶解,请用37℃加热试管并在超声波水浴中震动片刻。不同厂家不同批次产品溶解度各有差异,仅做参考。若实验所需浓度过大至产品溶解极限,请添加助溶剂助溶或自行调整浓度。 |
试验操作
细胞实验: [1]

细胞系

人骨髓瘤细胞系(XG6、OPM2、JJN3)

制备方法

该化合物在DMSO中的溶解度大于10 mM,若配制更高浓度的溶液,一般步骤如下:请将试管置于37℃加热10分钟和/或将其置于超声波浴中震荡一段时间。原液于-20℃可放置数月。

反应条件

72 h,LD50大约为37 μM.

实验结果

使用表达野生型蛋白(XG6)、先前报道被PRIMA-1Met(OPM2)重激活的TP53R175H突变蛋白或不表达p53蛋白(JJN3)的3种HMCL测试PRIMA-1MET。LD50值浓度下的PRIMA-1Met不诱导p21表达,但诱导HMCL中Noxa的强烈表达,不论p53表达或状态如何。值得注意的是,PRIMA-1Met处理后,突变或野生型的p53的表达不可检测,通过caspases 2、3和PARP的切割表明PRIMA-1Met诱导凋亡。

动物实验: [1]

动物模型

雌性SCID beige小鼠,7周龄

给药剂量

8 mg/kg,静脉注射

实验结果

将JJN3肿瘤细胞SCID-beige小鼠分为四组处理,即对照组、18 mg/kg PRIMA-1Met静脉内注射组、BSO组(10 mM,饮用水)或BSO和PRIMA-1Met的组合使用。每天给药,持续4天,停止2天,并再给药4天。因为对照和BSO处理组肿瘤超过肿瘤负荷,所以于第16天处死小鼠。任何治疗方式对体重没有明显影响。PRIMA-1Met显著抑制肿瘤生长(p < 0.001),其与BSO的组合使用进一步抑制肿瘤生长(p < 0.05)。

注意事项

请于室内测试所有化合物的溶解度。虽然化合物的实际溶解度可能与其理论值略有不同,但仍处于实验系统误差的允许范围内。

References:

[1] Tessoulin B, Descamps G, Moreau P, et al. PRIMA-1Met induces myeloma cell death independently of p53 by impairing the GSH/ROS balance[J]. Blood, 2014.
生物活性
Description
PRIMA-1MET是PRIMA-1的甲基化衍生物,它可以恢复突变p53的活性。
靶点
p53
IC50
质量控制
化学结构
相关生物数据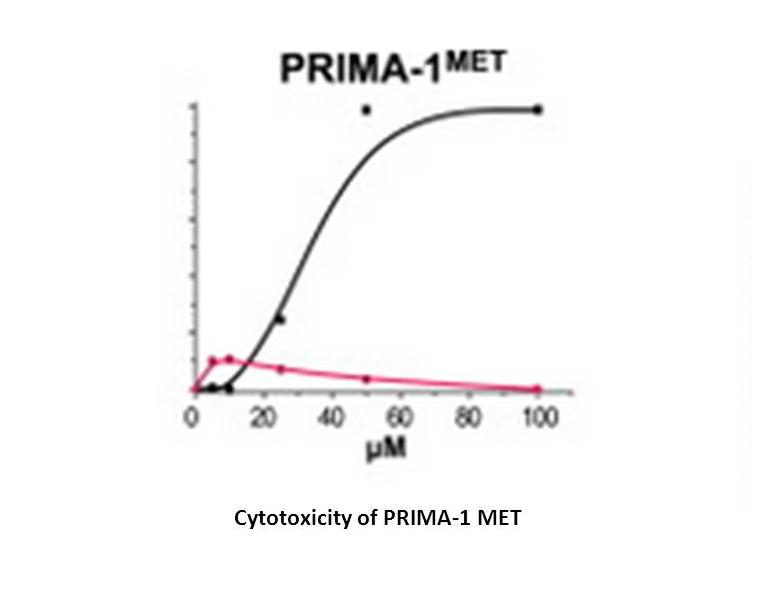 相关生物数据