Background
Imatinib mesylate is a tyrosine kinase inhibitor IC50 value of 100 nM, 100 nM, 600 nM for v-Abl, c-kit, PDGFR, respectively [1].
Tyrosine kinase is an enzyme which is a subclass of protein kinase and plays an important role in transferring a phosphate group from ATP to a protein in cells. It is shown that tyrosine kinase plays a pivotal role in the management of disorders in which activation of c-Abl, PDGFR, or c-Kit signaling. Recently, the role of tyrosine kinases in the modulation of growth factor signaling are received more and more attention and gradually become an especial important target [2].
Imatinib Mesylate is a specific tyrosine kinase (abl, c-kit, and PDGFR) inhibitor and is reported to sensitize cells to radio- or chemo-therapy. When tested with Y-79 and WERI-RB-1 Rb cell lines, imatinib mesylate treatment decreased the cell proliferation and invasion with the concentration of 10 μM [3]. In osteoblast cells, administration of imatinib mesylate decreased osteoclast development via stimulating differentiation, inhibiting proliferation and survival [4].
In dog model with mast cell tumor, administration of imatinib mesylate at a dose of 10 mg/kg daily for 1-9 weeks reduced tumor growth via inhibiting tyrosine kinase [5].
References:
[1].Buchdunger, E., et al., Selective inhibition of the platelet-derived growth factor signal transduction pathway by a protein-tyrosine kinase inhibitor of the 2-phenylaminopyrimidine class. Proc Natl Acad Sci U S A, 1995. 92(7): p. 2558-62.
[2].Zhou, Y., et al., The multi-targeted tyrosine kinase inhibitor vandetanib plays a bifunctional role in non-small cell lung cancer cells. Sci Rep, 2015. 5: p. 8629.
[3].de Moura, L.R., et al., The effect of imatinib mesylate on the proliferation, invasive ability, and radiosensitivity of retinoblastoma cell lines. Eye (Lond), 2013. 27(1): p. 92-9.
[4].O'Sullivan, S., et al., Imatinib mesylate does not increase bone volume in vivo. Calcif Tissue Int, 2011. 88(1): p. 16-22.
[5].Isotani, M., et al., Effect of tyrosine kinase inhibition by imatinib mesylate on mast cell tumors in dogs. J Vet Intern Med, 2008. 22(4): p. 985-8.
文献引用
Chemical Properties
| | |
| --- | --- |
| Physical Appearance | A solid |
| Storage | Store at -20°C |
| M.Wt | 589.71 |
| Cas No. | 220127-57-1 |
| Formula | C29H31N7O·CH4SO3 |
| Solubility | ≥29.5mg/mL in DMSO |
| Chemical Name | methanesulfonic acid;4-[(4-methylpiperazin-1-yl)methyl]-N-[4-methyl-3-[(4-pyridin-3-ylpyrimidin-2-yl)amino]phenyl]benzamide |
| SDF | Download SDF |
| Canonical SMILES | CC1=C(C=C(C=C1)NC(=O)C2=CC=C(C=C2)CN3CCN(CC3)C)NC4=NC=CC(=N4)C5=CN=CC=C5.CS(=O)(=O)O |
| 运输条件 | 试用装:蓝冰运输。 其他可选规格:常温运输或根据您的要求用蓝冰运输。 |
| 一般建议 | 为了使其更好的溶解,请用37℃加热试管并在超声波水浴中震动片刻。不同厂家不同批次产品溶解度各有差异,仅做参考。若实验所需浓度过大至产品溶解极限,请添加助溶剂助溶或自行调整浓度。 |
试验操作
细胞实验 [1]:

细胞系

T细胞

溶解方法

该化合物在DMSO中的溶解度大于10 mM。若配制更高浓度的溶液,一般步骤如下:请将试管置于37℃加热10分钟和/或将其置于超声波浴中震荡一段时间。原液于-20℃可放置数月。

反应条件

IC50:抑制DCs刺激的T细胞增殖的IC50值为3.9 μM,抑制PHA刺激的T细胞增殖4天的IC50值为2.9 μM

实验结果

在imatinibmesylate存在的条件下,用同种异体成熟的DC或PHA刺激细胞,该药物抑制T细胞增殖。在DC刺激的细胞中,0.5 μM的imatinibmesylate作用最为显著,而对于PHA刺激的细胞,1.0 μM浓度的imatinibmesylate作用效果最为显著。在DC和PHA刺激的T细胞中,imatinibmesylate抑制T细胞增殖的IC50值分别为3.9 μM和2.9 μM。

动物实验[2]:

动物模型

雌性 C57BL/6小鼠

剂量

腹膜内注射,25或50 mg/kg/天

实验结果

单独施用imatinib不能使肺形态学发生改变。然而,当在bleomycin治疗的小鼠中使用imatinib时,25和50 mg/kg/天的剂量减少肺的胸膜下区域中纤维化病变。定量组织学分析表明,共同使用bleomycin和50mg/kg/天的imatinib治疗小鼠,小鼠的纤维化评分显著低于单独使用bleomycin治疗的小鼠。同样的,与单独使用bleomycin处理的小鼠相比,bleomycin和imatinib(50mg/kg/天)共同处理小鼠的肺胶原含量显著降低。

注意事项

请测试所有化合物在室内的溶解度,实际溶解度和理论值可能略有不同。这是由实验系统的误差引起的,属于正常现象。

References:

[1] Dietz A B, Souan L, Knutson G J, et al. Imatinibmesylate inhibits T-cell proliferation in vitro and delayed-type hypersensitivity in vivo. Blood, 2004, 104(4): 1094-1099.

[2] Aono Y, Nishioka Y, Inayama M, et al. Imatinib as a novel antifibrotic agent in bleomycin-induced pulmonary fibrosis in mice. American journal of respiratory and critical care medicine, 2005, 171(11): 1279-1285.
生物活性
描述
Imatinib Mesylate(STI571)是口服的v-Abl、c-Kit和PDGFR多靶点抑制剂,其IC50值分别为0.6 μM、0.1 μM和0.1 μM。
靶点
v-Abl
PDGFR
c-Kit
IC50
600 nM
100 nM
100 nM
质量控制
化学结构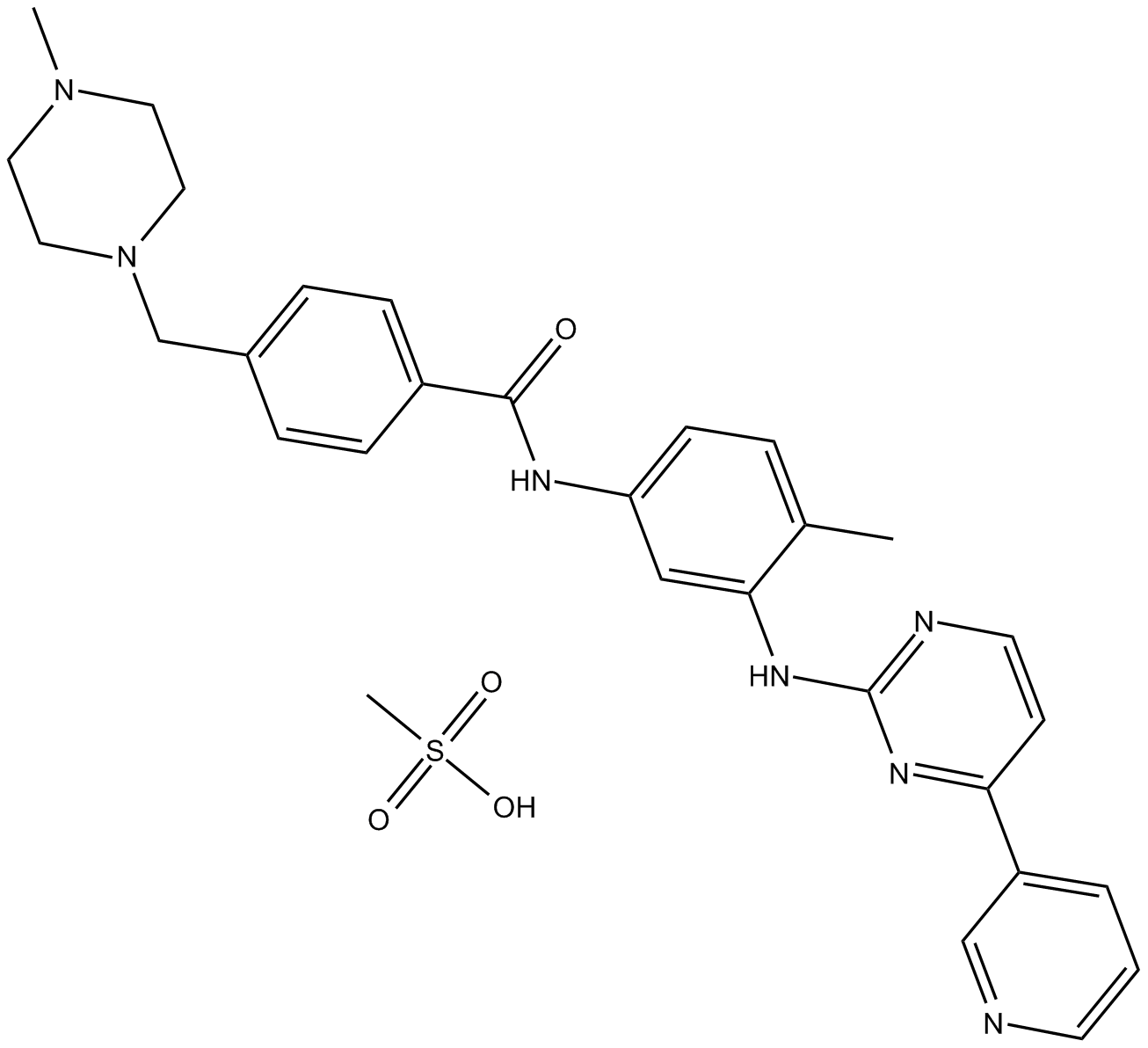 相关生物数据