Background
AZD8055 is a selective inhibitor of mTOR kinase with IC50 of 0.8 nM [1]. It competes with ATP at the ATP-binding cleft of mTOR. AZD8055 showed ~1000 fold selectivity against closely related kinases PI3K isoforms and ATM/DNA-PK [1]. Furthermore, it had no significant activity against a panel of 260 kinases at 10 μM [1].
AZD8055 has shown potential anti-tumor activity in preclinical studies.
mTOR phosphorylates and activates transcription factors which in turn regulate cell growth, proliferation, motility, and survival. AZD8055 inhibited downstream signaling of both mTORC1 and mTORC2 complexes [1]. It inhibited proliferation in cell lines of lung, cervical and laryngeal cancer, as well as acute myeloid leukemia [1-4]. Studies in xenograft models showed that AZD8055 reduced tumor growth of glioblastoma, breast, lung, colon, prostate, uterine, and head and neck cancer [1, 5]. In addition, AZD8055 enhanced the efficacy of HDAC inhibitors and MEK inhibitors [6-8]. AZD8055 has been tested in phase I clinical trials with minimal clinical benefit [9, 10].
References:
[1]Chresta CM, Davies BR, Hickson I et al. AZD8055 is a potent, selective, and orally bioavailable ATP-competitive mammalian target of rapamycin kinase inhibitor with in vitro and in vivo antitumor activity. Cancer Res 2010; 70: 288-298.
[2]Li S, Li Y, Hu R et al. The mTOR inhibitor AZD8055 inhibits proliferation and glycolysis in cervical cancer cells. Oncol Lett 2013; 5: 717-721.
[3]Willems L, Chapuis N, Puissant A et al. The dual mTORC1 and mTORC2 inhibitor AZD8055 has anti-tumor activity in acute myeloid leukemia. Leukemia 2012; 26: 1195-1202.
[4]Zhao L, Teng B, Wen L et al. mTOR inhibitor AZD8055 inhibits proliferation and induces apoptosis in laryngeal carcinoma. Int J Clin Exp Med 2014; 7: 337-347.
[5]Li Q, Song XM, Ji YY et al. The dual mTORC1 and mTORC2 inhibitor AZD8055 inhibits head and neck squamous cell carcinoma cell growth in vivo and in vitro. Biochem Biophys Res Commun 2013; 440: 701-706.
[6]Shao H, Gao C, Tang H et al. Dual targeting of mTORC1/C2 complexes enhances histone deacetylase inhibitor-mediated anti-tumor efficacy in primary HCC cancer in vitro and in vivo. J Hepatol 2012; 56: 176-183.
[7]Holt SV, Logie A, Davies BR et al. Enhanced apoptosis and tumor growth suppression elicited by combination of MEK (selumetinib) and mTOR kinase inhibitors (AZD8055). Cancer Res 2012; 72: 1804-1813.
[8]Renshaw J, Taylor KR, Bishop R et al. Dual blockade of the PI3K/AKT/mTOR (AZD8055) and RAS/MEK/ERK (AZD6244) pathways synergistically inhibits rhabdomyosarcoma cell growth in vitro and in vivo. Clin Cancer Res 2013; 19: 5940-5951.
[9]Asahina H, Nokihara H, Yamamoto N et al. Safety and tolerability of AZD8055 in Japanese patients with advanced solid tumors; a dose-finding phase I study. Invest New Drugs 2013; 31: 677-684.
[10]Naing A, Aghajanian C, Raymond E et al. Safety, tolerability, pharmacokinetics and pharmacodynamics of AZD8055 in advanced solid tumours and lymphoma. Br J Cancer 2012; 107: 1093-1099.
文献引用
Chemical Properties
| | |
| --- | --- |
| Physical Appearance | A solid |
| Storage | Store at -20°C |
| M.Wt | 465.54 |
| Cas No. | 1009298-09-2 |
| Formula | C25H31N5O4 |
| Solubility | ≥23.3mg/mL in DMSO,insoluble in EtOH,insoluble in H2O |
| Chemical Name | [5-[2,4-bis[(3S)-3-methylmorpholin-4-yl]pyrido[2,3-d]pyrimidin-7-yl]-2-methoxyphenyl]methanol |
| SDF | Download SDF |
| Canonical SMILES | CC1COCCN1C2=NC(=NC3=C2C=CC(=N3)C4=CC(=C(C=C4)OC)CO)N5CCOCC5C |
| 运输条件 | 试用装:蓝冰运输。 其他可选规格:常温运输或根据您的要求用蓝冰运输。 |
| 一般建议 | 为了使其更好的溶解,请用37℃加热试管并在超声波水浴中震动片刻。不同厂家不同批次产品溶解度各有差异,仅做参考。若实验所需浓度过大至产品溶解极限,请添加助溶剂助溶或自行调整浓度。 |
试验操作
细胞实验[1]:

细胞系

TamR和MCF7-X细胞

制备方法

该化合物在DMSO中的溶解度大于10 mM,若配制更高浓度的溶液,一般步骤如下:请将试管置于37℃加热10分钟和/或将其置于超声波浴中震荡一段时间。原液于-20℃可放置数月。

反应条件

100 nM,3 days

实验结果

使用MIB1 Ki67染色监测AZD8055对TamR和MCF-7-X细胞增殖的影响。用50 nM AZD8055处理三天,在TamR和MCF7-X细胞中Ki67染色均减少,用100 nM 处理后,40%至50%的细胞为MIB1阴性,表明细胞退出细胞周期。

动物实验: [2]

动物模型

雌性C57BL/6小鼠

给药剂量

腹腔注射,10 mg/kg

实验结果

过夜禁食的小鼠中,腹腔注射载体或AZD8055。AZD8055注射后3小时,血液取样用于血浆胰岛素和脂肪酸(FA)测定。AZD8055注射后3和6小时,小鼠中的葡萄糖水平升高,与对照小鼠中注射后24小时的葡萄糖含量相似。随着药物处理后3小时葡萄糖水平的升高,AZD8055处理小鼠的血浆胰岛素水平增高3倍,血浆FA降低。

注意事项

请于室内测试所有化合物的溶解度。虽然化合物的实际溶解度可能与其理论值略有不同,但仍处于实验系统误差的允许范围内。

References:

[1] Jordan NJ, Dutkowski CM, Barrow D, Mottram HJ, Hutcheson IR, Nicholson RI, Guichard SM, Gee JM. Impact of dual mTORC1/2 mTOR kinase inhibitor AZD8055 on acquired endocrine resistance in breast cancer in vitro. Breast Cancer Res. 2014 Jan 23;16(1):R12.

[2] Kleinert M, Sylow L, Fazakerley DJ, Krycer JR, Thomas KC, Oxb?ll AJ, Jordy AB, Jensen TE, Yang G, Schjerling P, Kiens B, James DE, Ruegg MA, Richter EA. Acute mTOR inhibition induces insulin resistance and alters substrate utilization in vivo. Mol Metab. 2014 Jun 27;3(6):630-41.
生物活性
Description
AZD8055是一种新型ATP竞争性mTOR抑制剂,IC50值为0.8 nM,具有优异的选择性,与PI3K亚型和ATM/DNA-PK相比,对mTOR具有约1000倍的选择性。
靶点
mTOR (full length)
mTOR (truncated)
IC50
0.8 nM
0.13 nM
质量控制
化学结构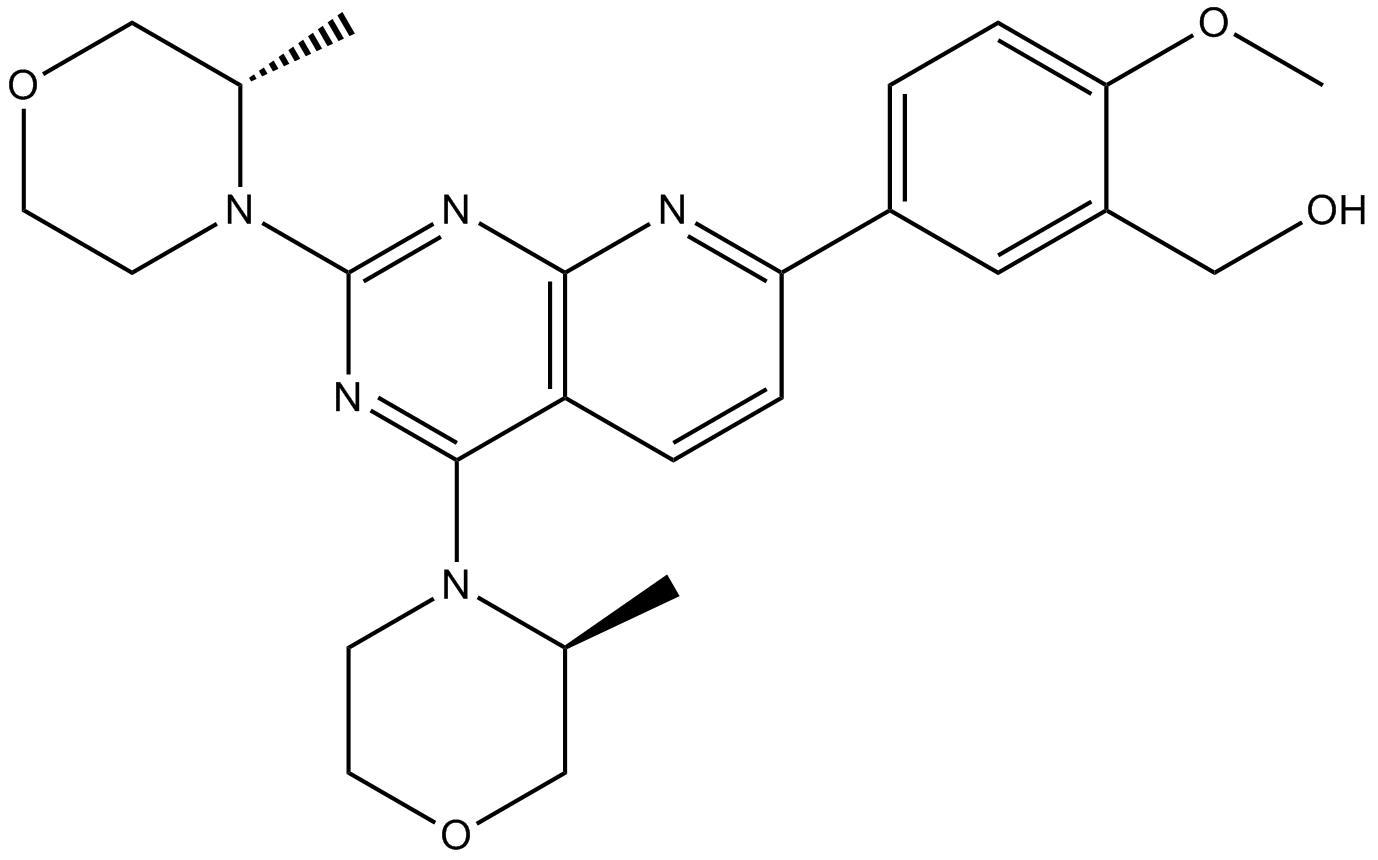 相关生物数据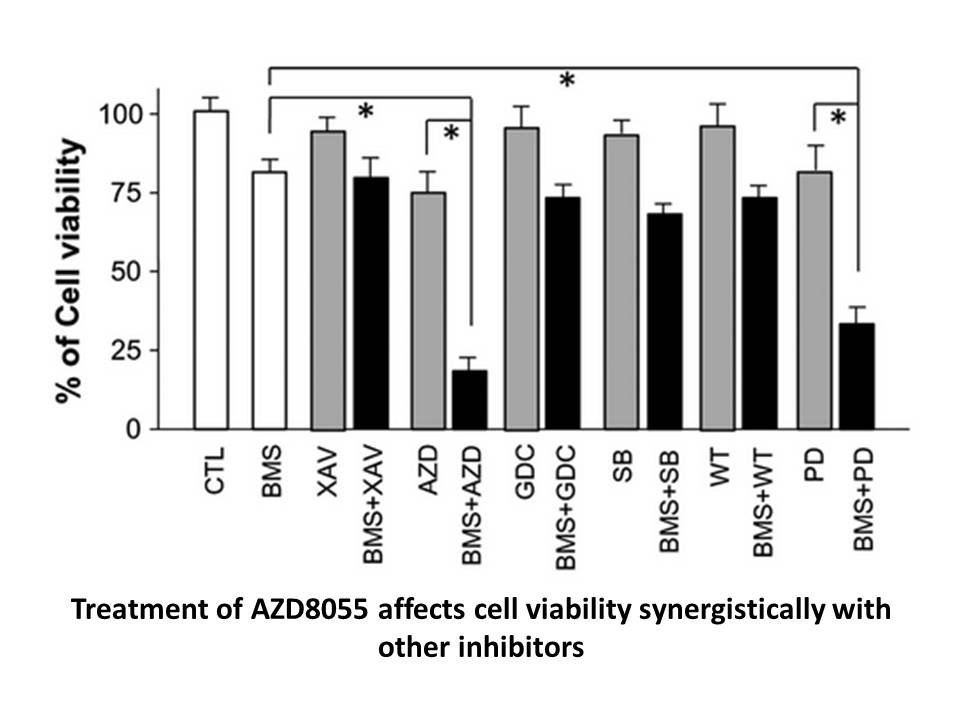 相关生物数据
相关生物数据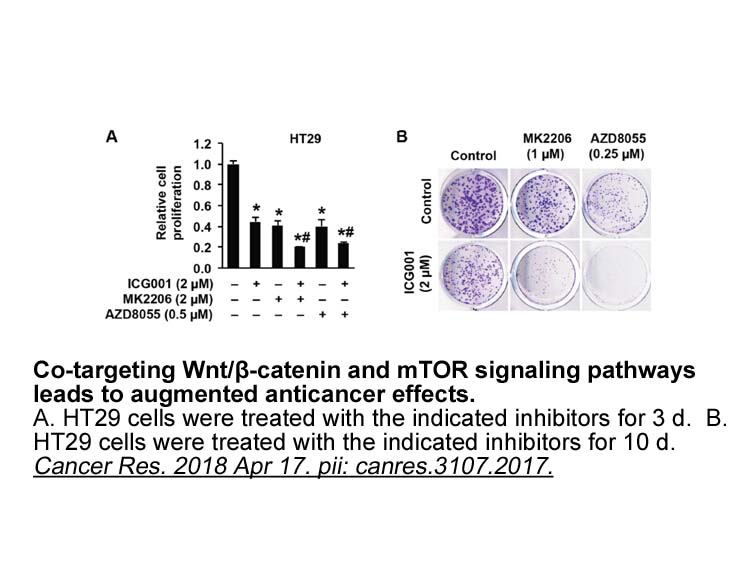 相关生物数据