Background
ABT-737是一种新型有效的BCL-2家族蛋白抑制剂,对BCL-X L、BCL-2和BCL-w有高亲和性,而对同源性较低的BCL-B、MCL-1及A1没有亲和性。BCL-2家族蛋白对许多肿瘤细胞中细胞的存活和过表达是至关重要的。ABT-737具有在体外和体内对抗淋巴瘤,小细胞肺癌和骨髓瘤的单药活性。最近的研究表明,ABT-737可以有效的杀死急性髓性白血病细胞、祖细胞和干细胞,而保留了完整的造血细胞。ABT-737可以扰乱BCL-2/BAX复合体,并以BAK依赖,而非BIM依赖的方式激活内在的凋亡途径。
参考文献:
Marina Konopleva, Rooha Contractor, Twee Tsao, Ismael Samudio, Peter P. Ruvolo, Shinichi Kitada, Xingming Deng, Dayong Zhai, Yue-Xi Shi, Thomas Sneed, Monique Verhaegen, Maria Soengas, Vivian R. Ruvolo, Teresa McQueen, Wendy D. Schober, Julie C. Watt, Tilahun Jiffar, Xiaoyang Ling, Frank C. Marini, David Harris, Martin Dietrich, Zeev Estrov, James McCubrey, W. Stratford May, John C. Reed, and Michael Andreeff. Mechanisms of apoptosis sensitivity and resistance to the BH3 mimetic ABT-737 in acute myeloid leukemia. Cancer Cell 2006: 10; 375-388
Suzanne Trudel, A. Keith Stewart, Zhihua Li, Yanjun Shu, Sheng-Ben Liang, Young Trieu, Donna Reece, Josh Paterson, Dingyan Wang, and Xiao-Yan Wen. The Bcl-2 family protein inhibitor,ABT-737, has substantial antimyeloma activity and shows synergistic effect with dexamethasone and melphalan. Clin Cancer Res 2007; 13 (2) 621-629
文献引用
Chemical Properties
| | |
| --- | --- |
| Physical Appearance | A solid |
| Storage | Store at -20°C |
| M.Wt | 813.43 |
| Cas No. | 852808-04-9 |
| Formula | C42H45ClN6O5S2 |
| Synonyms | ABT 737, ABT737 |
| Solubility | ≥40.67mg/mL in DMSO,insoluble in EtOH,insoluble in H2O |
| Chemical Name | 4-[4-[[2-(4-chlorophenyl)phenyl]methyl]piperazin-1-yl]-N-[4-[[(2R)-4-(dimethylamino)-1-phenylsulfanylbutan-2-yl]amino]-3-nitrophenyl]sulfonylbenzamide |
| SDF | Download SDF |
| Canonical SMILES | CN(C)CCC(CSC1=CC=CC=C1)NC2=C(C=C(C=C2)S(=O)(=O)NC(=O)C3=CC=C(C=C3)N4CCN(CC4)CC5=CC=CC=C5C6=CC=C(C=C6)Cl)[N+](=O)[O-] |
| 运输条件 | 试用装:蓝冰运输。 其他可选规格:常温运输或根据您的要求用蓝冰运输。 |
| 一般建议 | 为了使其更好的溶解,请用37℃加热试管并在超声波水浴中震动片刻。不同厂家不同批次产品溶解度各有差异,仅做参考。若实验所需浓度过大至产品溶解极限,请添加助溶剂助溶或自行调整浓度。 |
试验操作
细胞实验:

细胞系

小细胞肺癌(SCLC)细胞系(NCI-H889、NCI-H1963、NCI-H1417、NCI-H146、NCI-187、DMS79、NCI-1048、NCI-H82、NCI-H196、H69AR和DMS114)。

溶解方法

在DMSO中的溶解度>10 mM。为了获得更高的浓度,可以将离心管在37℃加热10分钟和/或在超声波浴中震荡一段时间。原液可以在-20℃以下储存几个月。

反应条件

48 h;10 μM

应用

ABT-737作为单药活性抑制细胞增殖的能力在11种SCLC细胞系中进行评估。在H146细胞中,用活化caspase 3的底物Ac-DEVD-AMC处理24小时,ABT-737剂量依赖地增加细胞凋亡,与其剂量依赖地减少细胞活力一致,表明ABT-737通过诱导细胞凋亡,从而抑制细胞增殖。

动物实验:

动物模型

淋巴瘤多发Eμ-myc转基因小鼠

剂量

75 mg/kg;尾部注射

应用

与对照组小鼠相比,ABT-737(75 mg/kg)治疗小鼠的骨髓和脾脏中所有B淋巴细胞亚群均显著减少。ABT-737治疗的Eμ- myc动物骨髓中具有显著更多的凋亡细胞(**P<0.01)。

注意事项

请测试所有化合物在室内的溶解度,实际溶解度和理论值可能略有不同。这是由实验系统的误差引起的,属于正常现象。

References:

[1] Tahir S K, Yang X, Anderson M G, et al. Influence of Bcl-2 family members on the cellular response of small-cell lung cancer cell lines to ABT-737[J]. Cancer research, 2007, 67(3): 1176-1183.

[2] Kelly P N, Grabow S, Delbridge A R D, et al. Prophylactic treatment with the BH3 mimetic ABT-737 impedes Myc-driven lymphomagenesis in mice[J]. Cell Death & Differentiation, 2012, 20(1): 57-63.
生物活性
ABT-737是一种BH3模拟抑制剂,作用于Bcl-xL、Bcl-2和Bcl-w,非细胞试验中EC50分别为78.7 nM、30.3 nM和197.8 nM,但对Mcl-1、Bcl-B及Bfl-1没有抑制作用。
靶点
Bcl-xL
Bcl-2
Bcl-w
IC50
78.7 nM (EC50)
30.3 nM (EC50)
197.8 nM (EC50)
质量控制
化学结构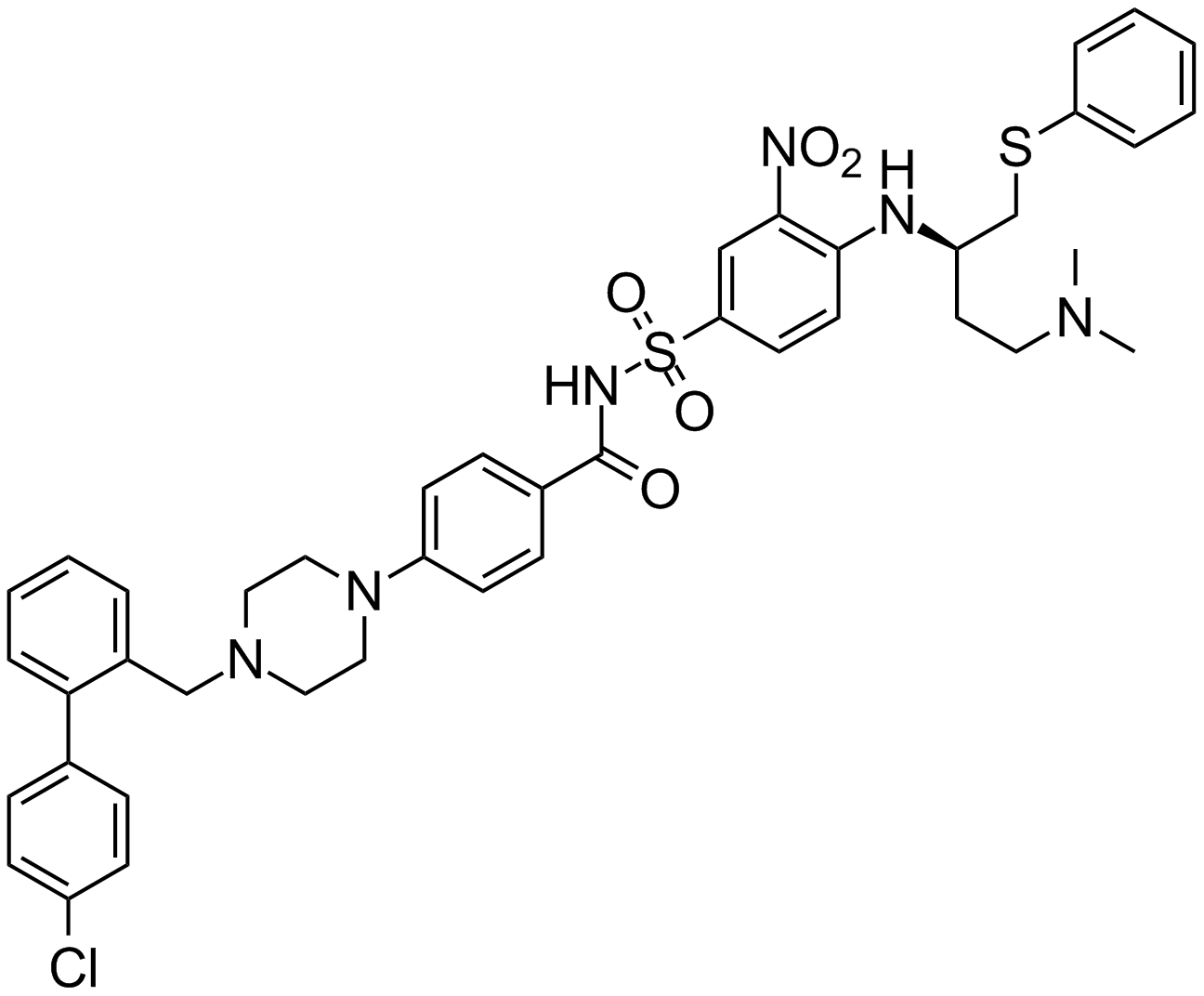 相关生物数据
相关生物数据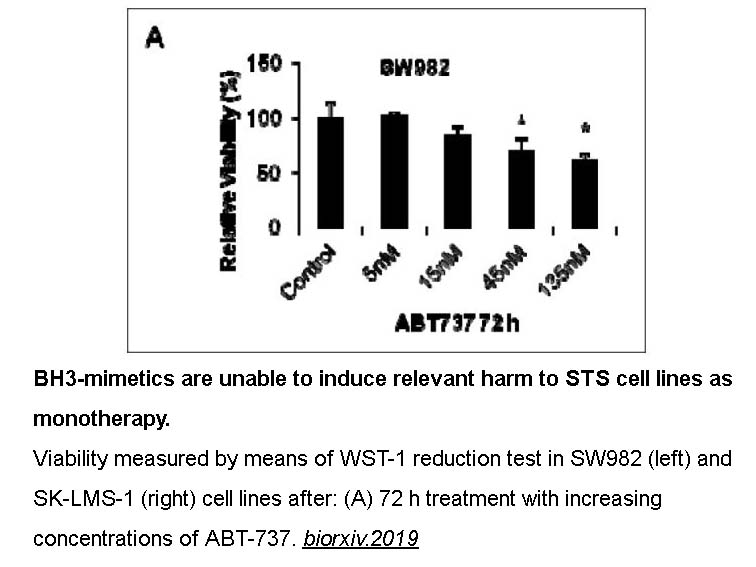 相关生物数据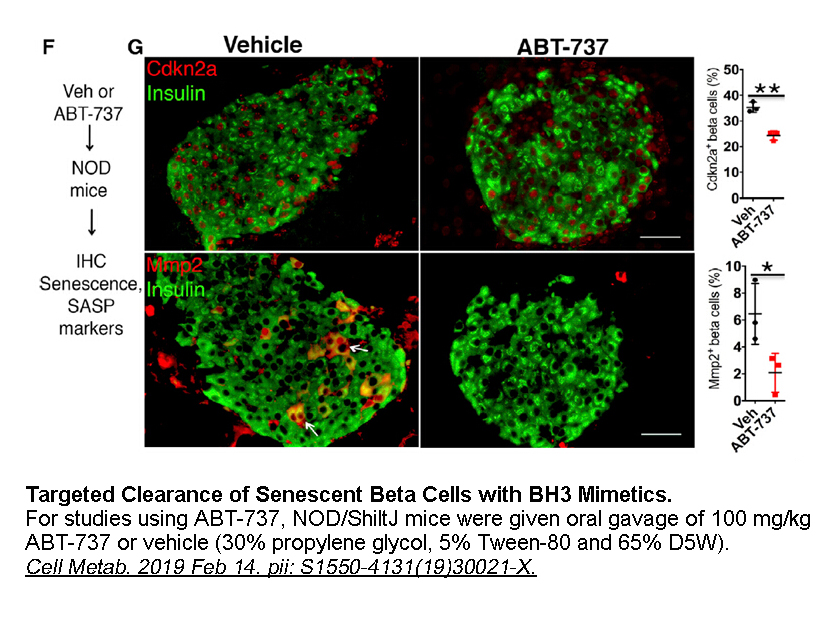 相关生物数据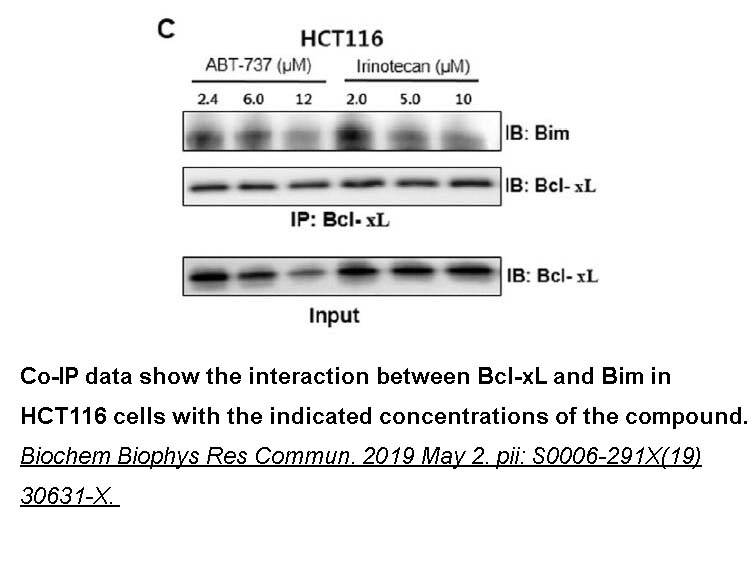 相关生物数据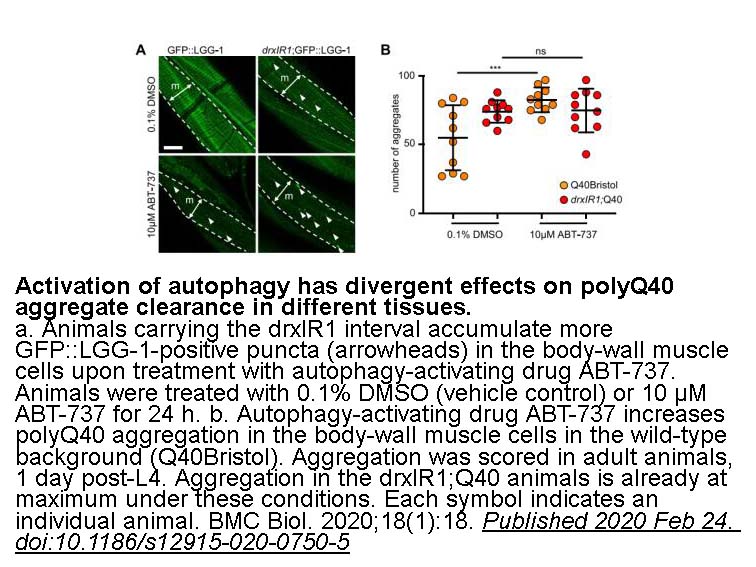 相关生物数据
相关生物数据