Background
Gap26 (Val-Cys-Tyr-Asp-Lys-Ser-Phe-Pro-Ile-Ser-His-Val-Arg) is a connexin mimetic peptide, corresponding to residues 63-75 of connexin 43, which is a gap junction blocker.
Connexins, or gap junctions, are a family of structurally-related transmembrane proteins. Gap junctions contain channels that allow the passage of ions and small molecules between adjacent cells molecules. Calcium and inositol phosphates are among the second messengers that can pass through gap junction channels. [1] It was showed that gap26 attenuates rhythmic contractile activity of rabbit arterial smooth muscle (IC50 = 28.4 mM). It also blocks movement of IP3-induced ATP and Ca2+ across connexin hemichannels, i.e. hexameric channels yet to dock with partners in aligned cells and to generate the gap junction cell–cell conduit. [2]
Fig. 1: Formula of Gap26
Fig. 2: Function of Gap26.
Ref:
1. Boitano, S. and H. Evans Am. J. Physiol. Lung Cell Mol. Physiol. 279, L623 (2000).
2. T. Desplantez, V. Verma, L. Leybaert, W.H. Evans, R. Weingart, Gap26, a connexin mimetic peptide, inhibits currents carried by connexin43 hemichannels and gap junction channels, Pharmacological Research, Volume 65, Issue 5, May 2012, Pages 546-552.
文献引用
Chemical Properties
| | |
| --- | --- |
| Physical Appearance | A solid |
| Storage | Desiccate at -20°C |
| M.Wt | 1550.79 |
| Cas No. | 197250-15-0 |
| Formula | C70H107N19O19S |
| Synonyms | Val-Cys-Tyr-Asp-Lys-Ser-Phe-Pro-Ile-Ser-His-Val-Arg |
| Solubility | ≥77.55 mg/mL in DMSO with ultrasonic and warming, <7.75 mg/mL in EtOH, ≥155.1 mg/mL in H2O with ultrasonic |
| SDF | Download SDF |
| 运输条件 | 试用装:蓝冰运输。 其他可选规格:常温运输或根据您的要求用蓝冰运输。 |
| 一般建议 | 为了使其更好的溶解,请用37℃加热试管并在超声波水浴中震动片刻。不同厂家不同批次产品溶解度各有差异,仅做参考。若实验所需浓度过大至产品溶解极限,请添加助溶剂助溶或自行调整浓度。 |
试验操作
细胞实验[1]:

细胞系

ECV304细胞

溶解方法

在无菌水中的溶解度>10 mM。原液应分装,在-80℃以下可储存几个月。

反应条件

0.25 mg/ml;30 min

应用

钙螯合剂BAPTA阻止InsP3触发的钙增加,减少InsP3触发的ATP释放至对照水平。Gap 26与细胞孵育后完全阻断InsP3触发的ATP释放,使ATP释放下降到对照水平以下,表明基底ATP释放也受到影响。

动物实验[2]:

动物模型

雌性Sprague-Dawley大鼠

剂量

300 μM;45 min

应用

在实验前24小时,大鼠安装脑颅窗。在颅骨中线进行10 mm直径的开颅手术,小心移除硬脑膜以保持矢状窦完好,配备三个端口的11 mm直径玻璃窗口用氰基丙烯酸酯胶合在头骨上,缝合覆盖在窗口上的皮肤,使动物恢复。在实验当天,三个不锈钢螺丝沿着脑颅窗的边缘插入头骨,用于脑电图(EEG)记录,然后将插管与三个端口连接。大鼠用于两个神经元激活模型之一:SNS或bicuculline诱导的癫痫发作。在SNS或bicuculline暴露期间测量软脑膜小动脉直径的变化。20 min后,gap-26开始扩散,45 min后,神经元再次被激活。Cx40/Cx37的抑制肽gap-26(300 μM)对bicuculline或SNS诱导的软脑膜小动脉扩张没有影响。

注意事项

请测试所有化合物在室内的溶解度,实际溶解度和理论值可能略有不同。这是由实验系统的误差引起的,属于正常现象。

References:

[1] Braet K, Vandamme W, Martin P E M, et al. Photoliberating inositol-1, 4, 5-trisphosphate triggers ATP release that is blocked by the connexin mimetic peptide gap 26. Cell calcium, 2003, 33(1): 37-48.

[2] Xu H L, Mao L, Ye S, et al. Astrocytes are a key conduit for upstream signaling of vasodilation during cerebral cortical neuronal activation in vivo. American Journal of Physiology-Heart and Circulatory Physiology, 2008, 294(2): H622-H632.
生物活性
Description
Gap26 (Val-Cys-Tyr-Asp-Lys-Ser-Phe-Pro-Ile-Ser-His-Val-Arg)是一种连接蛋白模拟肽,对应于connexin 43的63-75 aa,是间隙连接的阻断肽。
Targets
IC50
质量控制
化学结构
相关生物数据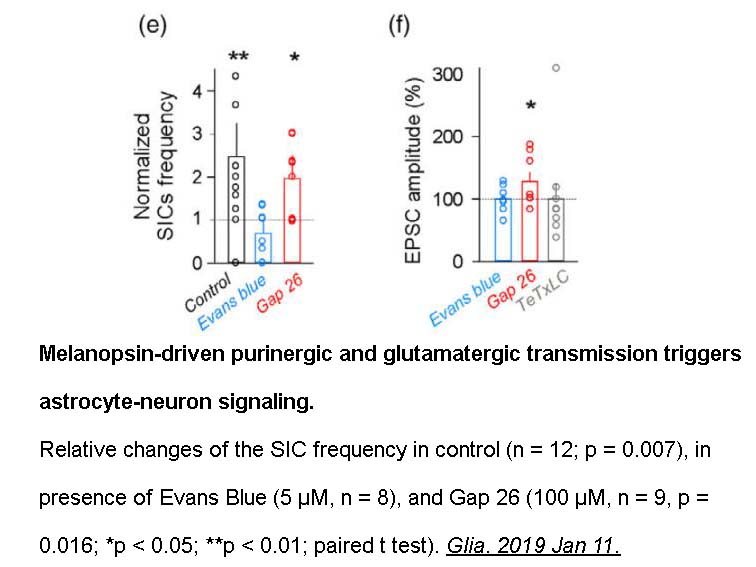 相关生物数据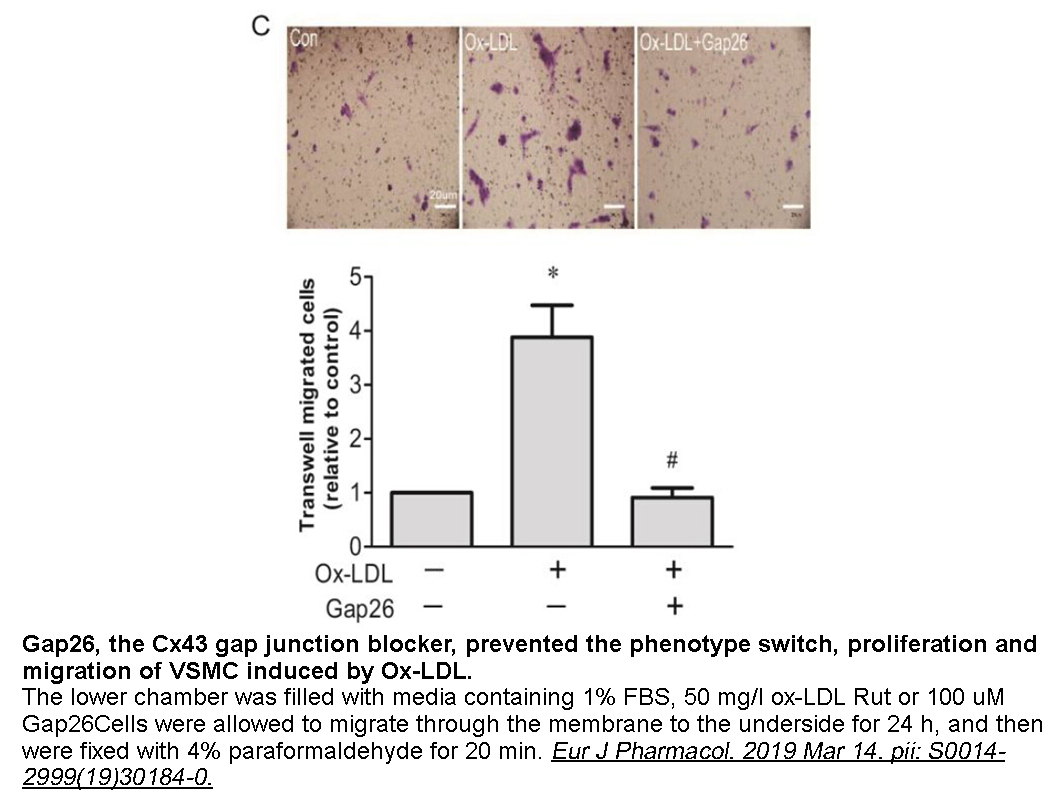 相关生物数据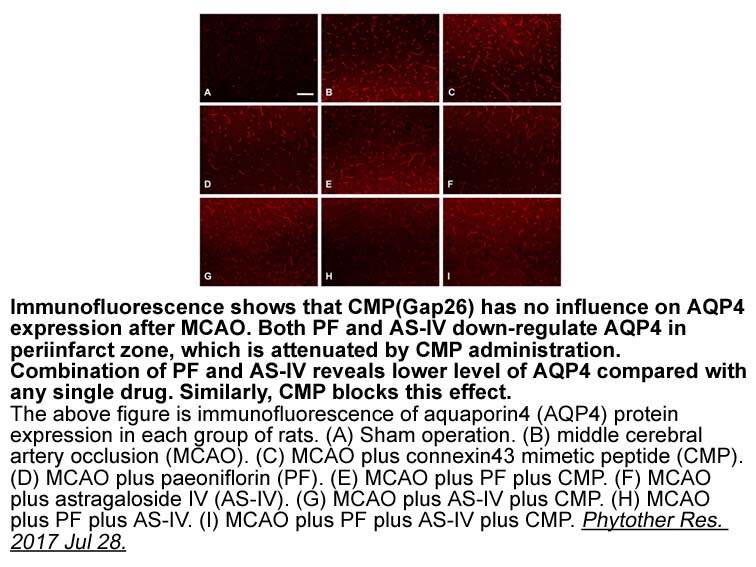 相关生物数据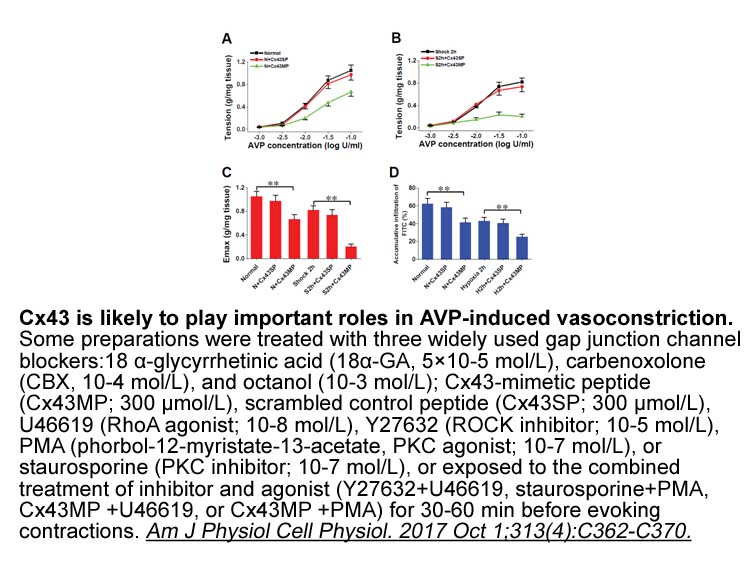 相关生物数据
相关生物数据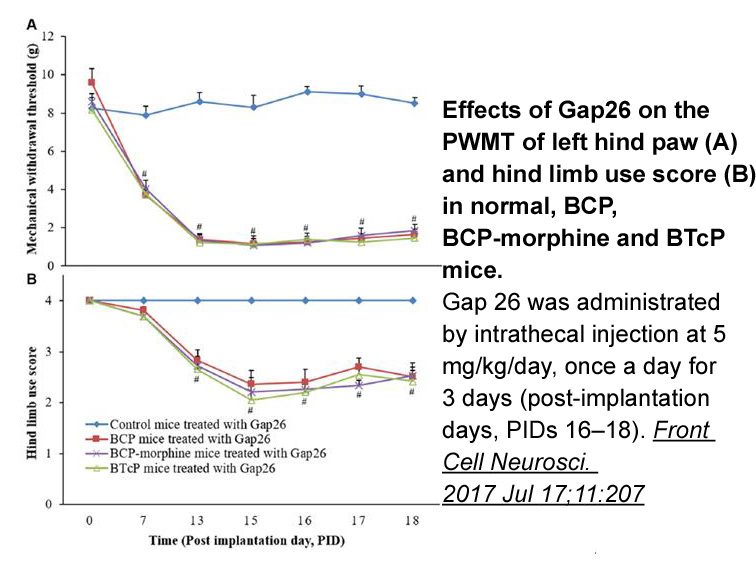 相关生物数据