Sample solution is provided at 25 µL, 10mM.
质量控制
化学结构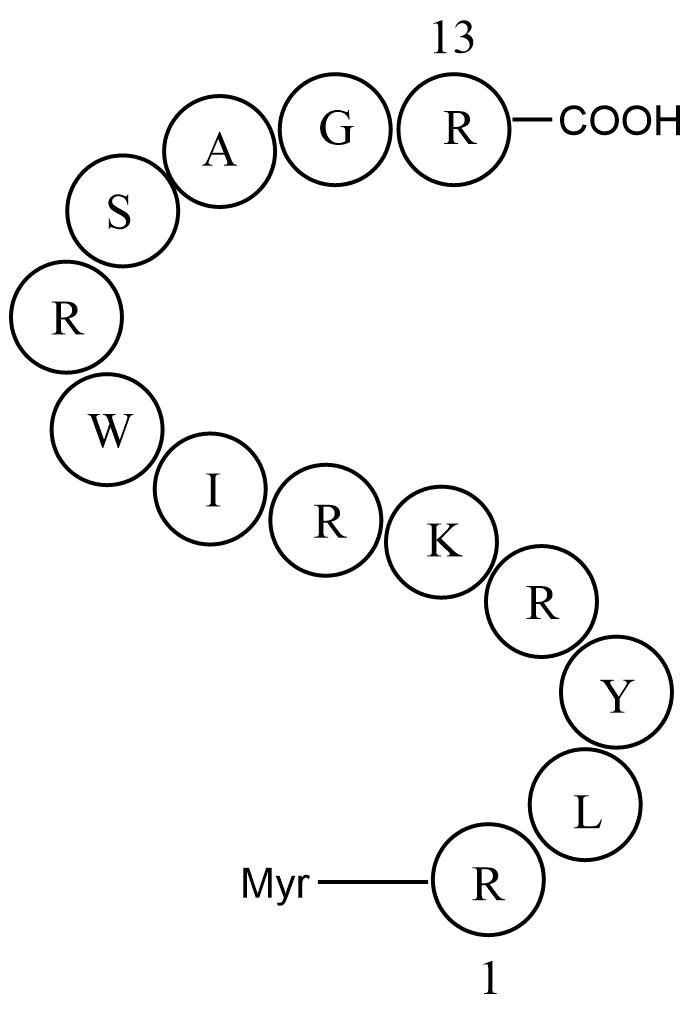 化学性质
CAS号
908012-18-0
SDF
Download SDF
别名
z-Pseudosubstrate inhibitory peptide
分子式
C90H154N30O17
分子量

1928.4

溶解度
≥192.8mg/mL in DMSO
储存条件
Store at -20°C
物理性状
A solid
运输条件
试用装:蓝冰运输。
其他可选规格:常温运输或根据您的要求用蓝冰运输。
一般建议
为了使其更好的溶解,请用37℃加热试管并在超声波水浴中震动片刻。不同厂家不同批次产品溶解度各有差异,仅做参考。若实验所需浓度过大至产品溶解极限,请添加助溶剂助溶或自行调整浓度。
产品描述
IC50值:ZIP通过抑制蛋白激酶Mξ (PKMξ),逆转后期LTP,IC50值范围为1 - 2.5 μM。
长时程增强(LTP)指持续性突触增强,被当作记忆底物。一个典型的LTP过程包括两个阶段:诱导和维持。作为蛋白激酶C(PKC)同工酶的活性形式,PKMξ对于LTP的维持是必需且有效的。ZIP用作新型的、细胞可透过性的PKMξ抑制剂,因此可以阻止LTP[1]。
体外实验:为了确定受PKMξ影响的LTP的特定阶段,在细胞孵育前,将不同浓度的ZIP加入细胞培养基中。将ZIP与没有ZIP多肽的实验相比较。该研究表明,ZIP可以选择性地抑制体外海马切片中PKMξ诱发的突触增强[2]。
体内实验:ZIP是第一个可用于体外检测维持假设的工具。用大鼠海马也检测了ZIP对体内LTP晚期的影响。将溶于1 ml生理盐水的剂量为10 nmol的ZIP注射入海马内可迅速逆转晚期LTP,且导致一日龄动物空间记忆的持续损失[3]。
临床试验:到目前为止,还未进行临床试验。
参考文献:
[1]Ling SF, Benardo LS, Serrano PA, Blace N, Kelly MT, Crary JF and Sacktor TC. Protein kinase Mξ is necessary and sufficient for LTP maintenance. Nat. Neurosci. 2002 Apr. 5(4): 2956.
[2]Serrano P, Yao Y and Sacktor TC. Persistent phosphorylation by protein kinase maintains late-phase long-term potentiation. J. Neurosci. 2005 Feb. 25(8): 1979–84.
[3]Pastalkova E, Serrano P, Pinkhasova D, Wallace E, Fenton AA, Sacktor TC. Storage of spatial information by the maintenance mechanism of LTP. Science. 2006 Aug. 313: 1141-4.