Background
Sepantronium bromide, also known as YM155, is a novel small-molecule suppressant of surviving, the smallest member of inhibitor of apoptosis (IAP) gene family. It exhibits a potent suppressive activity against survivin but has little effect on expression levels of other IAP family members or B-cell lymphoma 2 (BCL-2) related proteins. YM155 also suppresses proliferation in a broad range of human cancer cell lines, induces tumor regression in non-small cell lung cancer (NSCLC), melanoma, bladder, aggressive non-Hodgkin lymphoma, and breast cancer xenograft models, reduces spontaneous metastases, and significantly prolongs the survival of animal harboring established metastatic tumors derived from a human triple-negative breast cancer (TNBC) cell lines.
Reference
Naoki Kaneko, Kentaro Yamanaka, Aya Kita, Kenji Tabata, Takafumi Akabane, and Masamichi Mori. Synergistic antitumor activities of sepantronium bromide (YM155), a surviving suppressant, in combination with microtubule-targeting agents in triple-negative breast cancer cells. Biol Pharm Bull 2013.
Yan-Fang Tao, Jun Lu, Xiao-Juan Du, Li-Chao Sun, Xuan Zhao, Liang Peng, Lan Cao, Pei-Fang Xiao, Li Pang, Dong Wu, Na Wang, Xing Feng, Yan-Hong Li, Jian Ni, Jian Wang and Jian Pan. Survivin selective inhibitor YM155 induce apoptosis in SK-NEP-1 Wilms tumor cells. BMC Cancer 2012, 12:619
文献引用
Chemical Properties
| | |
| --- | --- |
| Physical Appearance | A solid |
| Storage | Store at -20°C |
| M.Wt | 443.3 |
| Cas No. | 781661-94-7 |
| Formula | C20H19BrN4O3 |
| Synonyms | Sepantronium bromide,YM-155 |
| Solubility | ≥22.15 mg/mL in DMSO, ≥13.49 mg/mL in EtOH with ultrasonic, ≥96.2 mg/mL in H2O with ultrasonic |
| Chemical Name | 1-(2-methoxyethyl)-2-methyl-3-(pyrazin-2-ylmethyl)benzo[f]benzimidazol-3-ium-4,9-dione;bromide |
| SDF | Download SDF |
| Canonical SMILES | CC1=[N+](C2=C(N1CCOC)C(=O)C3=CC=CC=C3C2=O)CC4=NC=CN=C4.[Br-] |
| 运输条件 | 试用装:蓝冰运输。 其他可选规格:常温运输或根据您的要求用蓝冰运输。 |
| 一般建议 | 为了使其更好的溶解,请用37℃加热试管并在超声波水浴中震动片刻。不同厂家不同批次产品溶解度各有差异,仅做参考。若实验所需浓度过大至产品溶解极限,请添加助溶剂助溶或自行调整浓度。 |
试验操作
细胞实验[1]:

细胞系

PC-3和PPC-1细胞

制备方法

该化合物在DMSO中的溶解度大于10 mM,若配制更高浓度的溶液,一般步骤如下:请将试管置于37℃加热10分钟和/或将其置于超声波浴中震荡一段时间。原液于-20℃可放置数月。

反应条件

1 μM,48 hours

实验结果

在两种细胞系中,浓度为10-1000 nM的YM155以剂量依赖性方式显著降低细胞的活力。YM155同时增加PC-3和PPC-1的caspase-3活性。这些结果表明YM155诱导人类HRPC细胞的凋亡。

动物实验[1]:

动物模型

注射PC-3细胞的BALB/c nu/nu小鼠

给药剂量

皮下注射,10 mg/kg

实验结果

大型成熟的异种移植PC-3肿瘤小鼠,给药10 mg/kg的YM155,连续3天。盐水对照动物的肿瘤大小从第0天的366 mm3增长至第7天的1,123 mm3,肿瘤快速生长,肿瘤内存活和肌动蛋白水平没有变化。相比之下,用YM155处理的动物肿瘤大小从第0天的292 mm3减少至第7天的162 mm3,显示出肿瘤消退效果,并且观察到在第3天和第7天肿瘤内存活蛋白水平的明显降低。

注意事项

请于室内测试所有化合物的溶解度。虽然化合物的实际溶解度可能与其理论值略有不同,但仍处于实验系统误差的允许范围内。

References:

[1] Nakahara T, Takeuchi M, Kinoyama I, et al. YM155, a novel small-molecule survivin suppressant, induces regression of established human hormone-refractory prostate tumor xenografts. Cancer research, 2007, 67(17): 8014-8021.
生物活性
描述
YM155(Sepantronium Bromide)是Survivin启动子活性的强效抑制剂,其IC50值为0.54 nM。
靶点
Survivin
IC50
0.54 nM
质量控制
化学结构
相关生物数据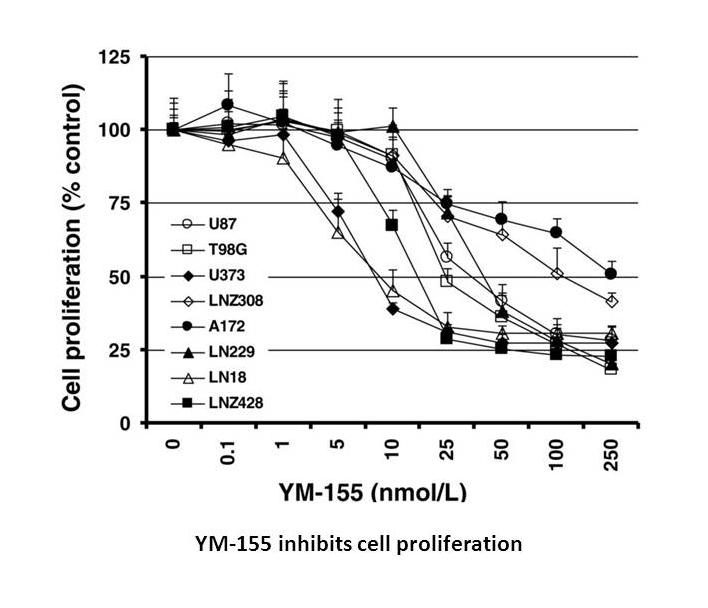 相关生物数据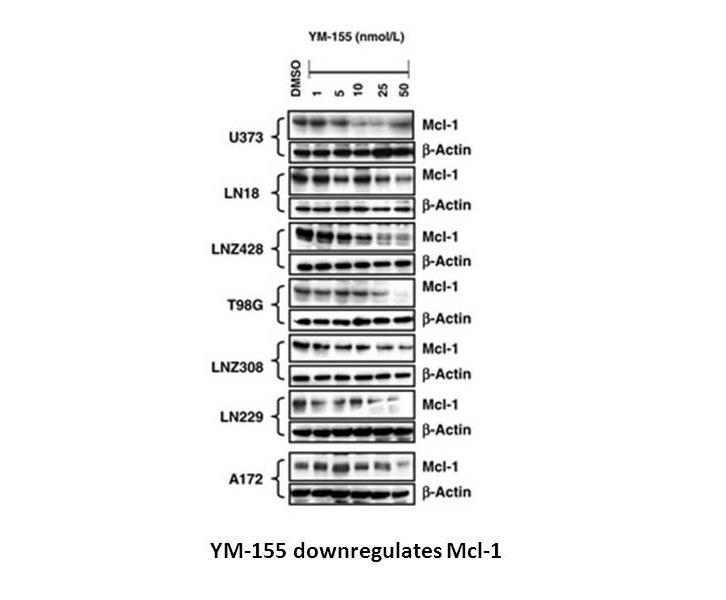 相关生物数据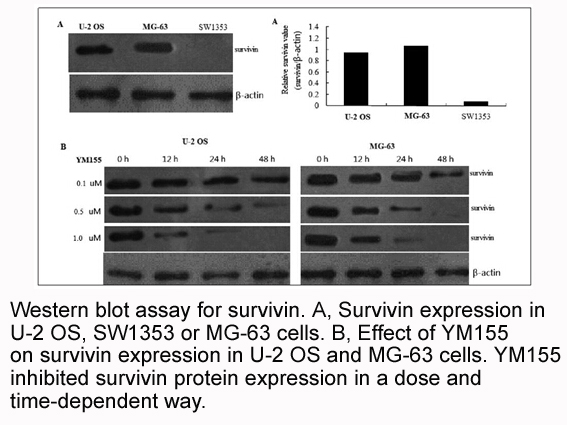 相关生物数据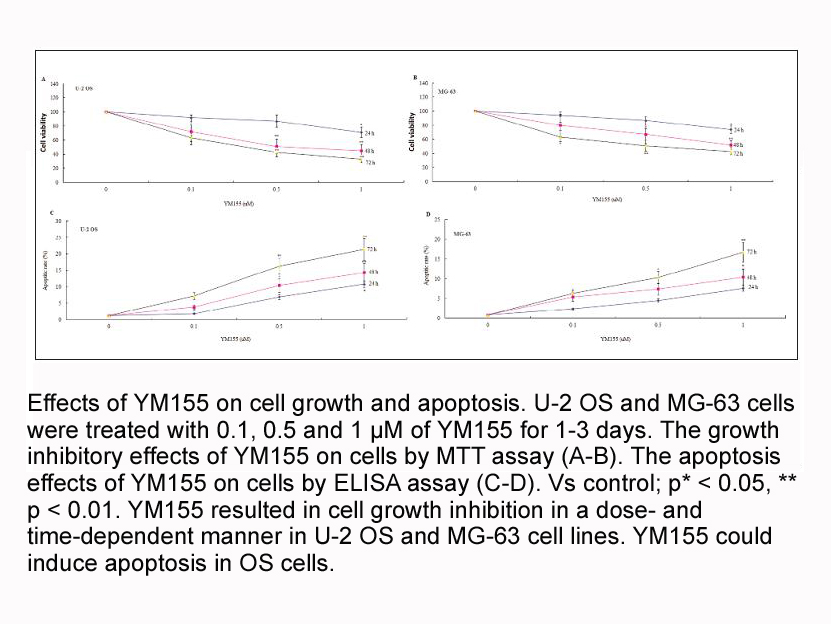 相关生物数据