Background
WZ4002 is a novel mutant-selective epidermal growth factor receptor (EGFR) kinase inhibitor that potently and irreversibly suppresses the ATP-dependent auto-phosphorylation of both wild-type EGFR and EGFR mutants, including EGFR delE746_A750/T790M, EGFR L858R/T790M, EGFR T790M, EGFR delE746_A750 and EGFR L858R, with inhibition constant Ki of 13.6 nM, 1.8 nM, 4 nM, 5 nM, 3.9 nM and 8.5 nM respectively. Although WZ4002 is actively against EGFR mutants rather than wild-type EGFR at lower concentrations resulting in less toxicity in normal tissues, wild-type EGFR is susceptible to higher concentrations of WZ4002 as well as prolonged administration of WZ4002, especially in tissues where it accumulates.
References:
[1]Lee HJ, Schaefer G, Heffron TP, Shao L, Ye X, Sideris S, Malek S, Chan E, Merchant M, La H, Ubhayakar S, Yauch RL, Pirazzoli V, Politi K, Settleman J. Noncovalent wild-type-sparing inhibitors of EGFR T790M. Cancer Discov. 2013 Feb;3(2):168-81. doi: 10.1158/2159-8290.CD-12-0357. Epub 2012 Dec 10.
[2]Zhou W, Ercan D, Chen L, Yun CH, Li D, Capelletti M, Cortot AB, Chirieac L, Iacob RE, Padera R, Engen JR, Wong KK, Eck MJ, Gray NS, Jänne PA. Novel mutant-selective EGFR kinase inhibitors against EGFR T790M. Nature. 2009 Dec 24;462(7276):1070-4. doi: 10.1038/nature08622.
[3]Zannetti A, Iommelli F, Speranza A, Salvatore M, Del Vecchio S. 3'-deoxy-3'-18F-fluorothymidine PET/CT to guide therapy with epidermal growth factor receptor antagonists and Bcl-xL inhibitors in non-small cell lung cancer. J Nucl Med. 2012 Mar;53(3):443-50. doi: 10.2967/jnumed.111.096503. Epub 2012 Feb 13.

Chemical Properties
| | |
| --- | --- |
| Physical Appearance | A solid |
| Storage | Store at -20°C |
| M.Wt | 494.18 |
| Cas No. | 1213269-23-8 |
| Formula | C25H27ClN6O3 |
| Solubility | ≥24.7mg/mL in DMSO |
| Chemical Name | N-[3-[5-chloro-2-[2-methoxy-4-(4-methylpiperazin-1-yl)anilino]pyrimidin-4-yl]oxyphenyl]prop-2-enamide |
| SDF | Download SDF |
| Canonical SMILES | CN1CCN(CC1)C2=CC(=C(C=C2)NC3=NC=C(C(=N3)OC4=CC=CC(=C4)NC(=O)C=C)Cl)OC |
| 运输条件 | 试用装:蓝冰运输。 其他可选规格:常温运输或根据您的要求用蓝冰运输。 |
| 一般建议 | 为了使其更好的溶解,请用37℃加热试管并在超声波水浴中震动片刻。不同厂家不同批次产品溶解度各有差异,仅做参考。若实验所需浓度过大至产品溶解极限,请添加助溶剂助溶或自行调整浓度。 |
试验操作
细胞实验[1]:

细胞系

EGFR突变NSCLC细胞系PC-9和NCI-H1975(H1975)

溶解方法

该化合物在DMSO中的溶解度>24.7mg/mL。为了获得更高的浓度,可以将离心管在37℃加热10分钟和/或在超声波浴中震荡一段时间。原液可以在-20℃以下储存几个月。

反应条件

1-40 nM (PC-9G细胞) 和0-1000 nM (H1975细胞); 72 h

应用

在PC-9G和H1975细胞中,WZ4002单独使用仅少量降低细胞活力,而WZ4002与SAHA联合使用显著降低了两种细胞系的细胞活力。WZ4002与SAHA的联合治疗显着增强了bcl-xL减量,caspase 3激活和PARP切割。在PC-9G细胞中,将WZ4002与SAHA联合使用也增强了自噬。

动物实验[1]:

动物模型

H1975细胞异种移植的裸鼠

剂量

25 mg/kg; 口服,每周5天,持续3周

应用

在H1975细胞异种移植的裸鼠中,WZ4002仅导致肿瘤体积的边际减少,而用WZ4002和SAHA的组合治疗导致肿瘤明显收缩。在H1975肿瘤中,WZ4002与SAHA的联合治疗降低了bcl-2和bcl-xL的表达,增加了PARP切割,从而增强细胞凋亡和自噬。

注意事项

请测试所有化合物在室内的溶解度,实际溶解度和理论值可能略有不同,这是由实验系统的误差引起的,属于正常现象。

References:

[1]. Lee TG1, Jeong EH, Kim SY, et al. The combination of irreversible EGFR TKIs and SAHA induces apoptosis and autophagy-mediated cell death to overcome acquired resistance in EGFR T790M-mutated lung cancer. Int J Cancer. 2015 Jun 1;136(11):2717-29.
生物活性
描述
WZ4002是一种新型的突变选择性EGFR抑制剂,作用于EGFR(L858R)/(T790M),IC50值为2 nM/8 nM。
靶点
EGFRL858R
EGFRL858R/T790M
IC50
2 nM
8 nM
质量控制
化学结构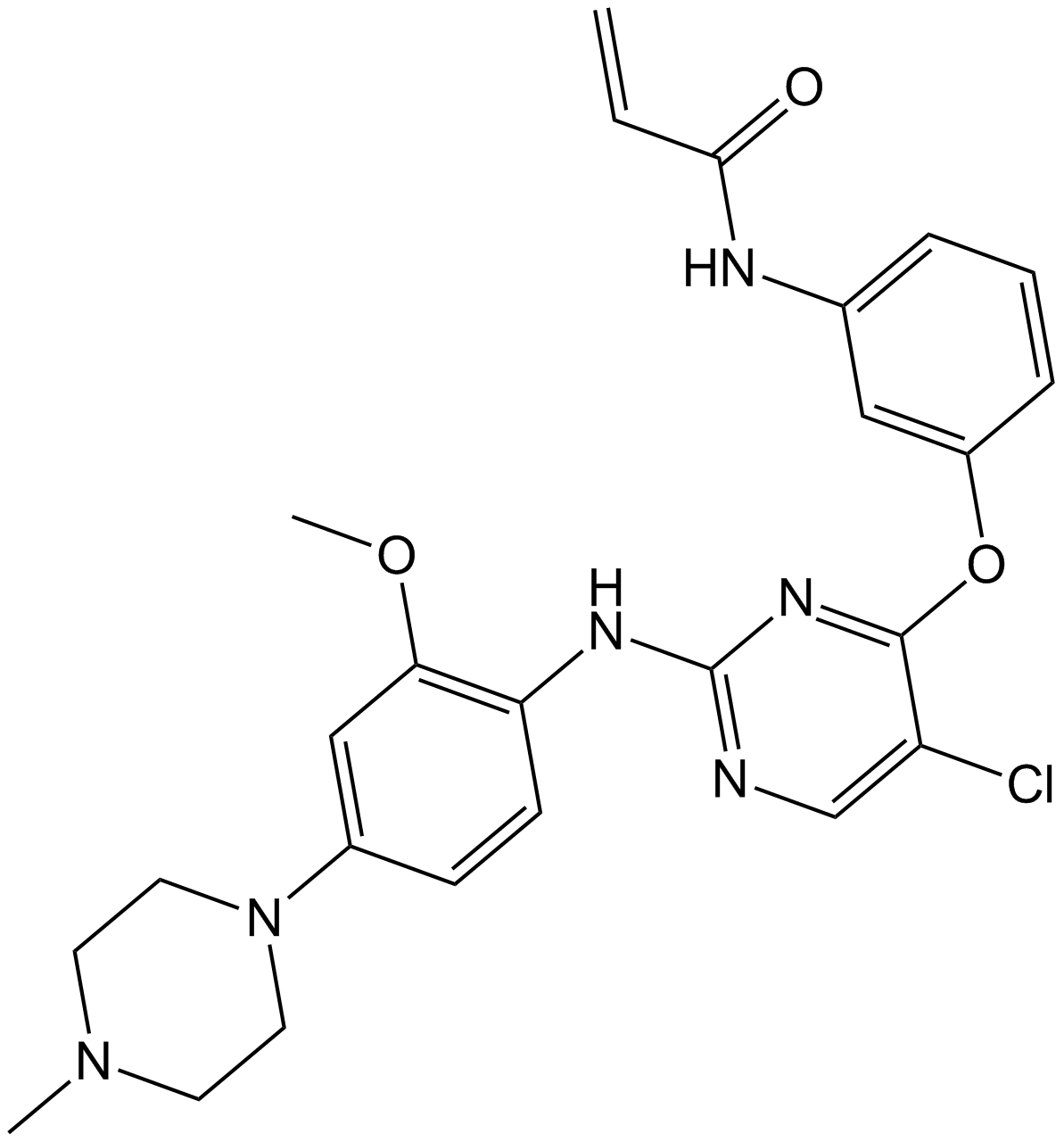 相关生物数据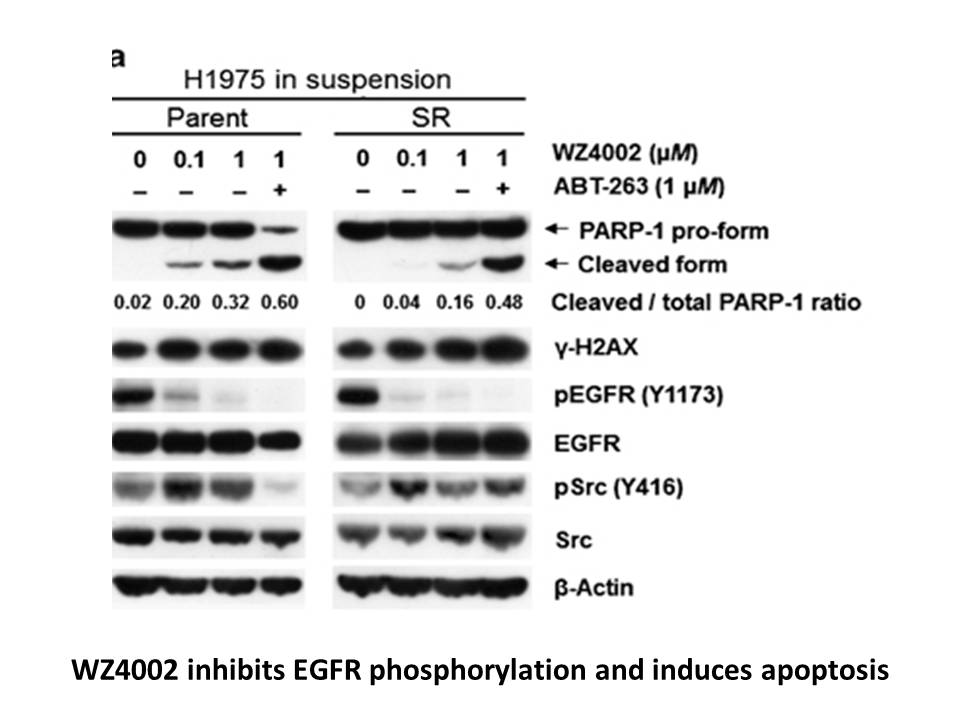 相关生物数据