Background
WY-14643, also known as Pirinixic Acid, has an agonistic action as peroxisome proliferator-activated receptor (PPAR). It is shown that aliphatic α-substitution of WY-14643 enhances both PPARα and PPARγ agonism. It has been demonstrated that aliphatic substitution in a-position to the carboxylic acid head group of WY-14643 improves both PPARa and PPARg activity and leads to balanced dual PPARa/g agonists in the lower micromolar range, with a-hexyl pirinixic acid as the most active compound. WY-14,643 can moderately elevate the level of TNFa mRNA in the liver. WY-14,643 stimulates production of low levels of hepatic TNFα by Kupffer cells which acts indirectly as a hepatocyte mitogen.
Reference
Laura Popescu, Oliver Rau, Jark Böttcher, Yvonne Syha, Manfred Schubert-Zsilavecz. Quinoline-Based Derivatives of Pirinixic Acid as Dual PPAR α/γ Agonists. Archiv der Pharmazie. Volume 340, Issue 7, pages 367–371, July 2007
Heiko Zettl, Michaela Dittrich, Ramona Steri, Ewgenij Proschak, Oliver Rau, Dieter Steinhilber, Gisbert Schneider, Michael Lämmerhofer, Manfred Schubert-Zsilavecz. Novel Pirinixic Acids as PPARα Preferential Dual PPARα/γ Agonists. QSAR & Combinatorial Science. Volume 28, Issue 5, pages 576–586, May 2009
Heidi K.Bojes, Dori R.Germolec, Petia Simeonova, Alessandria Bruccoleri, Robert Schoonhoven, Michael I.Luster, Ronald G.Thurman. Antibodies to tumor necrosis factor alpha prevent increases in cell replication in liver due to the potent peroxisome proliferator, WY-14,643. Carcinogenesis (1997) 18 (4): 669-674.
文献引用
Chemical Properties
| | |
| --- | --- |
| Physical Appearance | A solid |
| Storage | Store at -20°C |
| M.Wt | 323.8 |
| Cas No. | 50892-23-4 |
| Formula | C14H14ClN3O2S |
| Synonyms | WY 14643,WY14643 |
| Solubility | ≥16.2 mg/mL in DMSO, ≥48.8 mg/mL in EtOH with ultrasonic, <2.33 mg/mL in H2O |
| Chemical Name | 2-[4-chloro-6-(2,3-dimethylanilino)pyrimidin-2-yl]sulfanylacetic acid |
| SDF | Download SDF |
| Canonical SMILES | CC1=C(C(=CC=C1)NC2=CC(=NC(=N2)SCC(=O)O)Cl)C |
| 运输条件 | 试用装:蓝冰运输。 其他可选规格:常温运输或根据您的要求用蓝冰运输。 |
| 一般建议 | 为了使其更好的溶解,请用37℃加热试管并在超声波水浴中震动片刻。不同厂家不同批次产品溶解度各有差异,仅做参考。若实验所需浓度过大至产品溶解极限,请添加助溶剂助溶或自行调整浓度。 |
试验操作
细胞实验 [1]:

细胞系

人类ECs和U937细胞

制备方法

在DMSO中的溶解度大于16.2 mg/mL。若配制更高浓度的溶液,一般步骤如下:请将试管置于37 °C加热10分钟和/或将其置于超声波浴中震荡一段时间。原液于-20 °C可放置数月。

反应条件

0、2.5、25或250 μM;24小时

实验结果

使用250 μM MWY-14643预处理ECs显著下调VCAM-1表达水平(占TNF-α刺激细胞VCAM-1水平的52 ± 2%)。此外,在TNF-α诱导之前,使用WY-14643预处理ECs显著降低U937细胞粘附 (37.3 ± 4.3 × 103 cells/cm2)。Northern印迹分析结果显示,WY-14643预处理呈浓度依赖性地抑制TNF-α诱导的VCAM-1 mRNA水平升高。

动物实验 [2]:

动物模型

高脂饮食的大鼠

给药剂量

3 mg/kg/day;口服给药;持续2周

实验结果

在高脂饮食的大鼠中,WY-14643降低了葡萄糖、甘油三酯和瘦素的基础血浆水平、肌肉甘油三酯以及总LCACoAs。WY-14643也显著降低内脏脂肪重量和总甘油三酯含量,但不会使大鼠增加体重。此外,WY-14643增强了全身胰岛素敏感性,从而增加了红色和白色肌肉以及白色脂肪组织中胰岛素介导的肌肉葡萄糖代谢指数,并减少肌肉甘油三酯以及LCACoA积累。

注意事项

请于室内测试所有化合物的溶解度。虽然化合物的实际溶解度可能与其理论值略有不同,但仍处于实验系统误差的允许范围内。

References:

[1]. Marx N, Sukhova GK, Collins T, Libby P, Plutzky J. PPARalpha activators inhibit cytokine-induced vascular cell adhesion molecule-1 expression in human endothelial cells. Circulation. 1999 Jun 22;99(24):3125-31.

[2]. Ye JM, Doyle PJ, Iglesias MA, Watson DG, Cooney GJ, Kraegen EW. Peroxisome proliferator-activated receptor (PPAR)-alpha activation lowers muscle lipids and improves insulin sensitivity in high fat-fed rats: comparison with PPAR-gamma activation. Diabetes. 2001 Feb;50(2):411-7.
生物活性
Description
WY-14643是一种高效的PPARα激动剂,对人类PPARα的IC50值为10.11 ?M。
靶点
PPARα
IC50
10.11 ?M (human)
质量控制
化学结构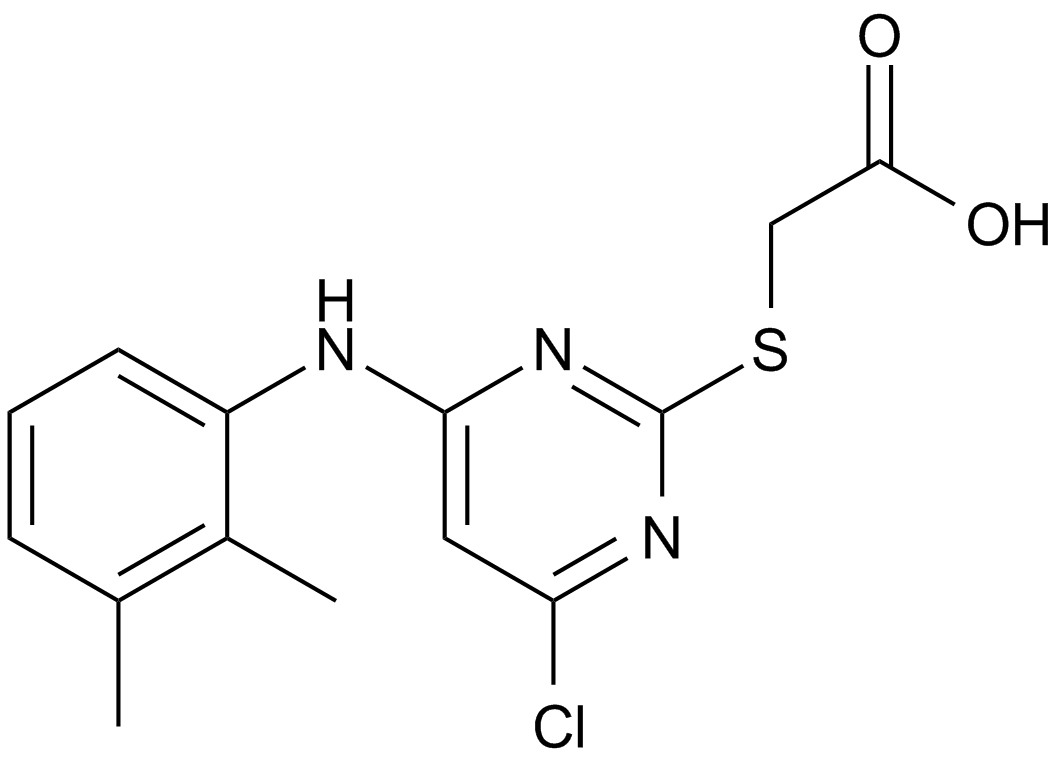 相关生物数据