Background
WP1130, also known as degrasyn, is a second-generation tyrphostin derivative initially identified as a Janus-activated kinase (JAK)-signal transducer and activator of transcription (STAT) pathway inhibitor that reduces STAT activation stimulated by cytokines (such as IL-6 and IL-3) through the rapid down-regulation of upstream JAK kinases. WP1130 has also been identified as a selective deubiquitinating enzyme (DUB) inhibitor that directly inhibits DUB activity of USP9x, USP5, USP14 and UCH37 leading to rapid accumulation of polyubiquitinated proteins into juxtanuclear aggresomes and tumor cell apoptosis. WP1130-induced apoptosis and anti-proliferation in tumor cells have been implicated in the treatment of chronic myelogenous leukemia (CML), melanoma, glioblastoma and myeloproliferative disorders.
References:
[1]Kapuria V1, Peterson LF, Fang D, Bornmann WG, Talpaz M, Donato NJ. Deubiquitinase inhibition by small-molecule WP1130 triggers aggresome formation and tumor cell apoptosis. Cancer Res. 2010 Nov 15;70(22):9265-76. doi: 10.1158/0008-5472.CAN-10-1530. Epub 2010 Nov 2.
[2]Bartholomeusz GA1, Talpaz M, Kapuria V, Kong LY, Wang S, Estrov Z, Priebe W, Wu J, Donato NJ. Activation of a novel Bcr/Abl destruction pathway by WP1130 induces apoptosis of chronic myelogenous leukemia cells. Blood. 2007 Apr 15;109(8):3470-8. Epub 2007 Jan 3.

文献引用
Chemical Properties
| | |
| --- | --- |
| Storage | Store at -20°C |
| M.Wt | 384.27 |
| Cas No. | 856243-80-6 |
| Formula | C19H18BrN3O |
| Synonyms | WP 1130; WP-1130 |
| Solubility | ≥38.4mg/mL in DMSO |
| Chemical Name | (E)-3-(6-bromopyridin-2-yl)-2-cyano-N-[(1S)-1-phenylbutyl]prop-2-enamide |
| SDF | Download SDF |
| Canonical SMILES | CCCC(C1=CC=CC=C1)NC(=O)C(=CC2=NC(=CC=C2)Br)C#N |
| 运输条件 | 试用装:蓝冰运输。 其他可选规格:常温运输或根据您的要求用蓝冰运输。 |
| 一般建议 | 为了使其更好的溶解,请用37℃加热试管并在超声波水浴中震动片刻。不同厂家不同批次产品溶解度各有差异,仅做参考。若实验所需浓度过大至产品溶解极限,请添加助溶剂助溶或自行调整浓度。 |
试验操作
细胞实验[1]:

细胞系

人类典型MCL细胞系(Mino、DB、Z-138和JMP-1)

溶解方法

在DMSO中的溶解度>10 mM。为了获得更高的浓度,可以将离心管在37℃加热10分钟和/或在超声波浴中震荡一段时间。原液可以在-20℃以下储存几个月。

反应条件

48 h;EC50 = ~1 μM

应用

Degrasyn(WP1130)对JAK/STAT途径具有很强的抑制活性,具有抗增殖效应。在所有4个细胞系中,WP1130、WP1129和WP1066均可抑制细胞生长,degrasyn(WP1130)的EC50值比其它两个化合物更低,表明在MCL细胞中,degrasyn是一种更加有效的抗肿瘤剂。

动物实验[1]:

动物模型

年轻的SCID小鼠

剂量

20 mg/kg;i.p.

应用

在MCL异种移植SCID小鼠模型中,与对照相比,degrasyn单独给药可以适度延长存活(P<0.105)。此外,在正常对照小鼠中(n = 5),degrasyn单独给药或与bortezomib联合给药,小鼠均存活,且没有体重下降的迹象。

注意事项

请测试所有化合物在室内的溶解度,实际溶解度和理论值可能略有不同。这是由实验系统的误差引起的,属于正常现象。

References:

[1] Pham L V, Tamayo A T, Li C, et al. Degrasyn potentiates the antitumor effects of bortezomib in mantle cell lymphoma cells in vitro and in vivo: therapeutic implications[J]. Molecular cancer therapeutics, 2010, 9(7): 2026-2036.
生物活性
描述
Degrasyn(WP1130)是一种选择性deubiquitinase (DUB: USP5、UCH-L1、USP9x、USP14和 UCH37)抑制剂。
靶点
DUB
Bcr-Abl
IC50
1.8 μM
质量控制
化学结构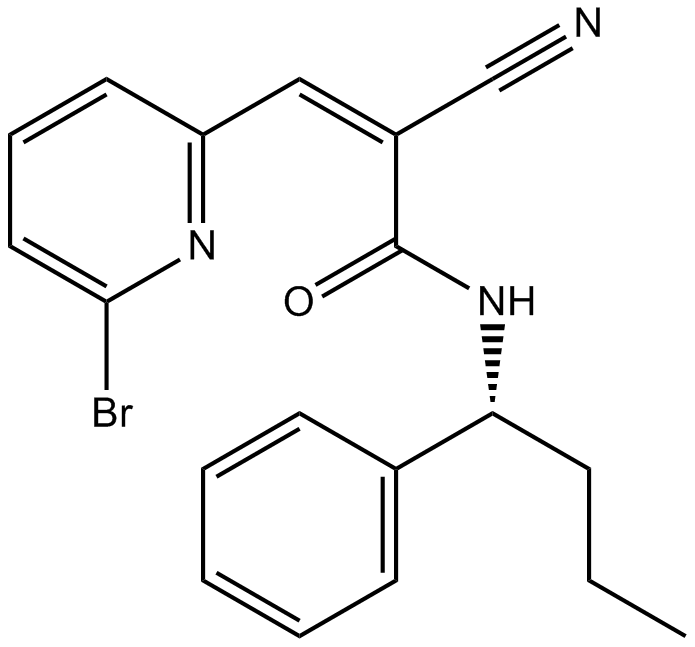 相关生物数据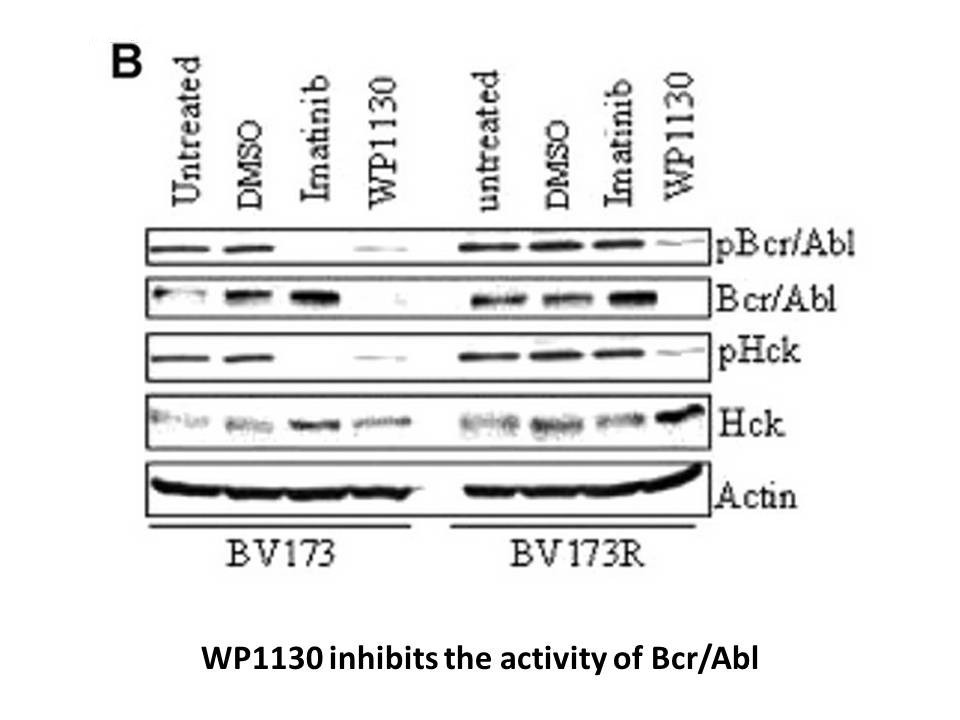 相关生物数据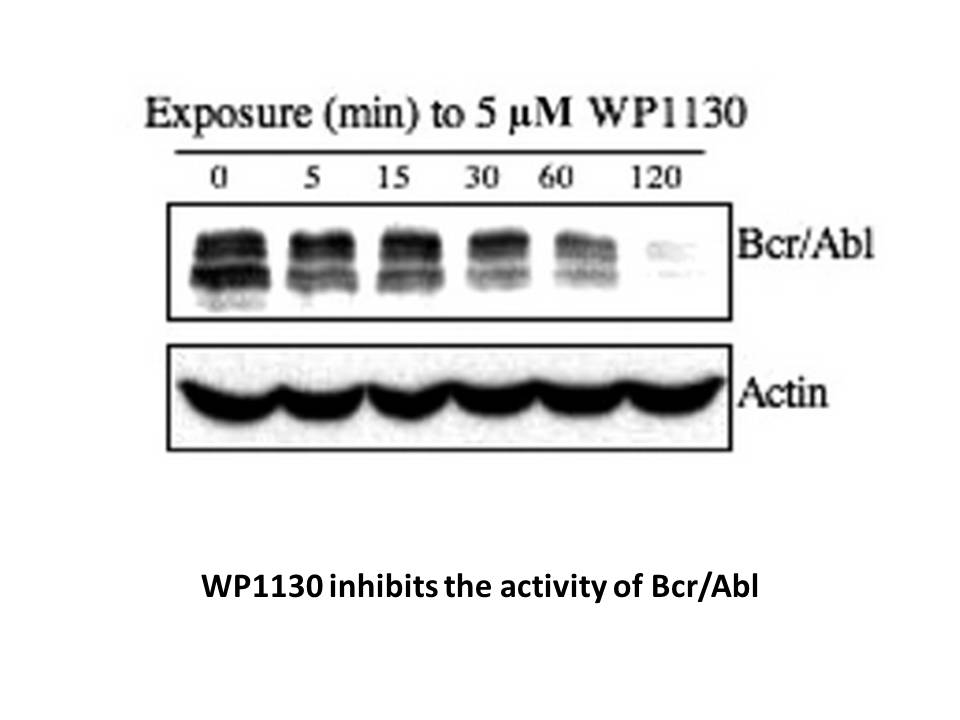 相关生物数据