Background
TTNPB (Arotinoid Acid) is an agonist of RAR with IC50 values of 3.8nM, 4nM and 4.5nM for RARα, RARβ and RARγ, respectively [1].
TTNPB is a teratogen with 1000-fold higher potency than tRA. TTNPB inhibits chondrogenesis with IC50 value of 0.14nM when using mouse limb bud cell cultures. The action of TTNPB results from binding to nuclear receptors. TTNPB can competes with [3H]tRA and prevent them from binding to mRARα, mRARβ and mRARγ with IC50 values of 3.8nM, 4nM and 4.5nM, respectively. Besides that, TTNPB also directly binds to mRARs with high potency. The Kd values are 2.5nM, 2.7nM and 1.8nM for mRARα, mRARβ and mRARγ, respectively. Moreover, TTNPB is reported to bind to mCRABPI and mCRABPII with 27-fold and 3.5-fold lower affinity than tRA [1].
References:
[1] Pignatello M A, Kauffman F C, Levin A A. Multiple factors contribute to the toxicity of the aromatic retinoid, TTNPB (Ro 13-7410): Binding affinities and disposition. Toxicology and applied pharmacology, 1997, 142(2): 319-327.

文献引用
Chemical Properties
| | |
| --- | --- |
| Physical Appearance | A solid |
| Storage | Store at -20°C |
| M.Wt | 348.48 |
| Cas No. | 71441-28-6 |
| Formula | C24H28O2 |
| Solubility | ≥17.4mg/mL in DMSO |
| Chemical Name | 4-[(E)-2-(5,5,8,8-tetramethyl-6,7-dihydronaphthalen-2-yl)prop-1-enyl]benzoic acid |
| SDF | Download SDF |
| Canonical SMILES | CC(=CC1=CC=C(C=C1)C(=O)O)C2=CC3=C(C=C2)C(CCC3(C)C)(C)C |
| 运输条件 | 试用装:蓝冰运输。 其他可选规格:常温运输或根据您的要求用蓝冰运输。 |
| 一般建议 | 为了使其更好的溶解,请用37℃加热试管并在超声波水浴中震动片刻。不同厂家不同批次产品溶解度各有差异,仅做参考。若实验所需浓度过大至产品溶解极限,请添加助溶剂助溶或自行调整浓度。 |
试验操作
细胞实验 [1]:

细胞系

人类乳腺上皮细胞系184和T47D乳腺癌细胞

制备方法

在DMSO中的溶解度大于17.4 mg/mL。若配制更高浓度的溶液,一般步骤如下:请将试管置于37 °C加热10分钟和/或将其置于超声波浴中震荡一段时间。原液于-20 °C可放置数月。

反应条件

1 μM

实验结果

在正常人类乳腺上皮细胞系184中,TTNPB抑制细胞生长。在T47D细胞中,TTNPB使细胞周期停滞于G0/G1期,并诱导细胞凋亡。进一步研究表明,TTNPB主要抑制细胞周期蛋白D1和细胞周期蛋白D3活性,从而引起细胞周期停滞。但TTNPB不是以生物相关的方式改变细胞周期蛋白D1的表达。

动物实验 [2]:

动物模型

携带激素敏感性 (HS) 和激素不敏感性 (HI) MXT鼠类乳腺癌的小鼠

给药剂量

0.25 mg/kg;腹腔注射

实验结果

在MXT-HS和MXT-HI模型中,TTNPB对肿瘤生长显示出等同的抑制作用。与Tamoxifen相比,TTNPB在抑制细胞增殖和诱导细胞凋亡方面具有更显著的效果。TTNPB主要通过诱导细胞凋亡而不是抑制细胞增殖来抑制MXT-HS生长。

注意事项

请于室内测试所有化合物的溶解度。虽然化合物的实际溶解度可能与其理论值略有不同,但仍处于实验系统误差的允许范围内。

References:

[1]. Wu K, DuPré E, Kim H, Tin-U CK, Bissonnette RP, Lamph WW, Brown PH. Receptor-selective retinoids inhibit the growth of normal and malignant breast cells by inducing G1 cell cycle blockade. Breast Cancer Res Treat. 2006 Mar;96(2):147-57.

[2]. Darro F, Cahen P, Vianna A, Decaestecker C, Nogaret JM, Leblond B, Chaboteaux C, Ramos C, Pétein M, Budel V, Schoofs A, Pourrias B, Kiss R. Growth inhibition of human in vitro and mouse in vitro and in vivo mammary tumor models by retinoids in comparison with tamoxifen and the RU-486 anti-progestagen. Breast Cancer Res Treat. 1998 Sep;51(1):39-55.
生物活性
描述
TTNPB(芳维酸)是RAR的强效激动剂,对人RARα、β和γ的IC50值分别为5.1 nM、4.5 nM和9.3 nM。
靶点
RARβ
RARα
RARγ
IC50
4.5 nM
5.1 nM
9.3 nM
质量控制
化学结构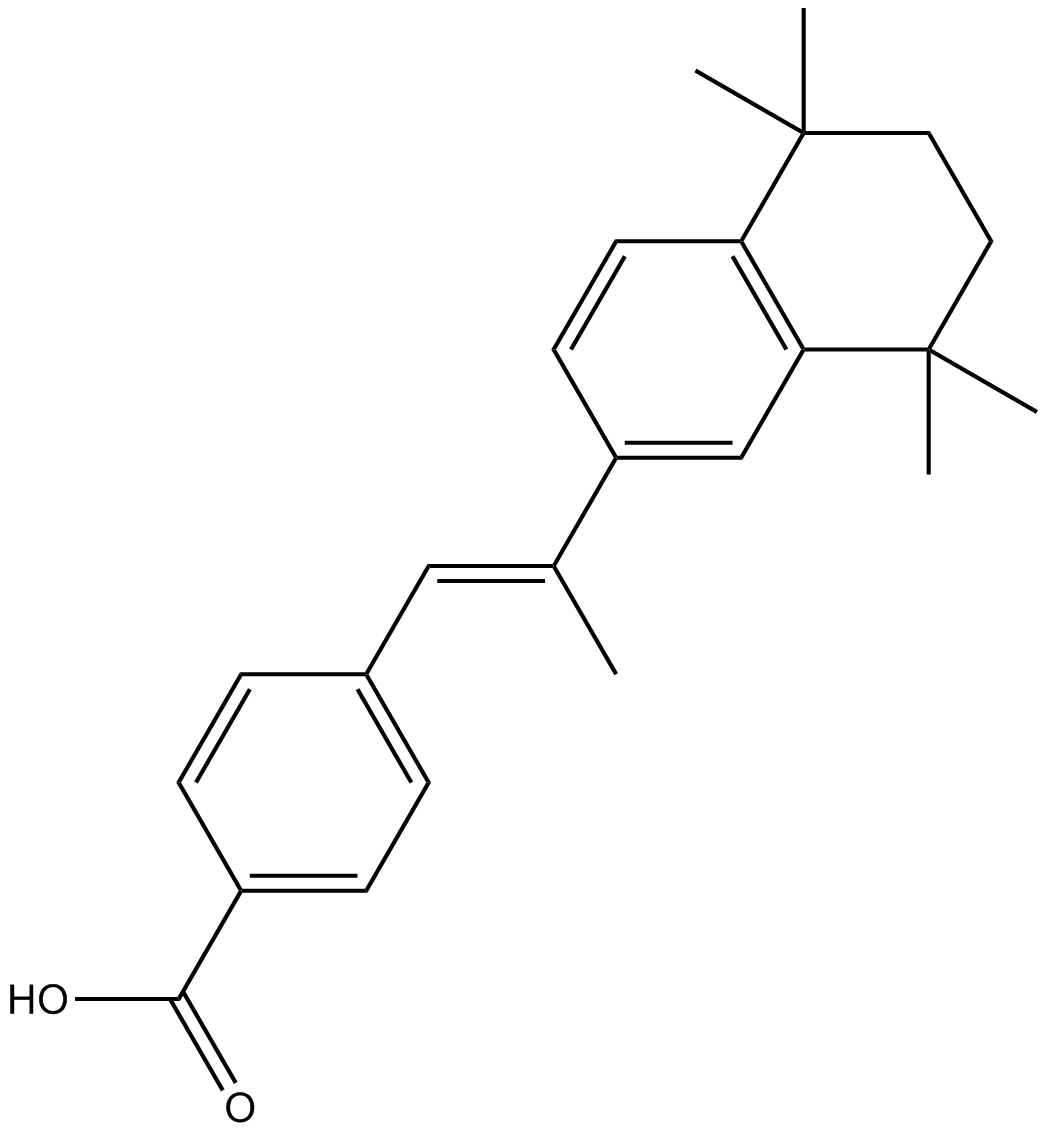 相关生物数据