Background
Tipifarnib (also known as Zarnestra or R115777), an orally bioavailable quinolone analog of imidazole heterocyclics, is a potent and specific nonpeptidomimetic competitive inhibitor of farnesyltransferase (FTase), an enezyme mediating post-translational farnesylation of multiple protein substrates involved in tumor cell proliferation. It has demonstrated inhibition of growth and proliferation of a broad range of human tumor models (either wild-type or mutated RAS) via cytostatic rather than cytotoxic activity both in vitro and in vivo. It cell-type dependently induces apoptosis in some neoplastic cell lineages other than acute myeloid leukemia (AML), including multiple myeloma (MM) cell lines and MM cultures from patients.
Reference
P.K. Epling-Burnett and Thomas P. Loughran Jr. Suppression of farnesyltransferase activity in acute myeloid leukemia and myelodysplastic syndrome: current understanding and recommended use of tipifarnib. Expert Opin Investig Drugs. 2010; 19(5): 689-698
Jean-Pierre Armand, Alan K. Burnett, Johannes Drach, Jean-Luc Harousseau, Bob Lowenberg and Jesus San Miguel. The emerging role of targeted therapy for hematologic malignancies: update on bortezomib and tipifarnib. The Oncologist 2007, 12:281-290
Elzbieta Izbicka, David Campos, Gilbert Carrizales and Amita Patnaik. Biomarkers of anticancer activity of R115777 (tipifarnib, zarnestra) in human breast cancer models in vitro. Anticancer Research 2005; 25: 3215-3224
Chemical Properties
| | |
| --- | --- |
| Physical Appearance | A solid |
| Storage | Store at -20°C |
| M.Wt | 489.4 |
| Cas No. | 192185-72-1 |
| Formula | C27H22Cl2N4O |
| Synonyms | Zarnestra,R115777,R-115777,IND 58359 |
| Solubility | ≥8.16 mg/mL in DMSO, ≥9.16 mg/mL in EtOH with ultrasonic, <2.32 mg/mL in H2O |
| Chemical Name | 6-[(R)-amino-(4-chlorophenyl)-(3-methylimidazol-4-yl)methyl]-4-(3-chlorophenyl)-1-methylquinolin-2-one |
| SDF | Download SDF |
| Canonical SMILES | CN1C=NC=C1C(C2=CC=C(C=C2)Cl)(C3=CC4=C(C=C3)N(C(=O)C=C4C5=CC(=CC=C5)Cl)C)N |
| 运输条件 | 试用装:蓝冰运输。 其他可选规格:常温运输或根据您的要求用蓝冰运输。 |
| 一般建议 | 为了使其更好的溶解,请用37℃加热试管并在超声波水浴中震动片刻。不同厂家不同批次产品溶解度各有差异,仅做参考。若实验所需浓度过大至产品溶解极限,请添加助溶剂助溶或自行调整浓度。 |
试验操作
细胞实验[1]:

细胞系

人白血病细胞系THP-1

溶解方法

在DMSO中的溶解度>10 mM。为了获得更高的浓度,可以将离心管在37℃加热10分钟和/或在超声波浴中震荡一段时间。原液可以在-20℃以下储存几个月。

反应条件

100 ng/ml LPS加2 μM tipifarnib;6个时间点(0、10、20、30、40和50 h)。

应用

Tipifarnib显著抑制细胞因子和MMP-9的产生,在20 h时,抑制MCP-1和IL-6的产生,在30 h时,抑制IL-1β和MMP-9的产生。Tipifarnib对IL-8的产生没有显著抑制效果。

动物实验[1]:

动物模型

雌性BALB/c小鼠(6-7周龄)

剂量

Tipifarnib溶解在20%环糊精中,以50 mg/kg的剂量在腹腔注射20 μg(1 mg/kg)LPS之前的24、17和1 h口服给药。

应用

在治疗2小时后,tipifarnib显著抑制LPS诱导的TNF-α的产生,并抑制50%的MIP-1α和MCP-1的产生。3小时后,tipifarnib抑制约50%的IL-6的产生,几乎完全抑制IL-1β的产生。在3 h时,tipifarnib也抑制LPS诱导的IL12-p40和-p70的产生,而IL-10在两个时间点均没有显著变化。Tipifarnib对LPS诱导的KC也没有影响,与体外其对IL-8的作用一致。

注意事项

请测试所有化合物在室内的溶解度,实际溶解度和理论值可能略有不同。这是由实验系统的误差引起的,属于正常现象。

References:

[1] Xue X, Lai K T A, Huang J F, et al. Anti-inflammatory activity in vitro and in vivo of the protein farnesyltransferase inhibitor tipifarnib. Journal of Pharmacology and Experimental Therapeutics, 2006, 317(1): 53-60.
生物活性
描述
Tipifarnib (R115777)是一种有效的和特异性的farnesyltransferase (FTase)抑制剂,IC50值为0.6 nM。
靶点
FTase
IC50
0.6 nM
质量控制
化学结构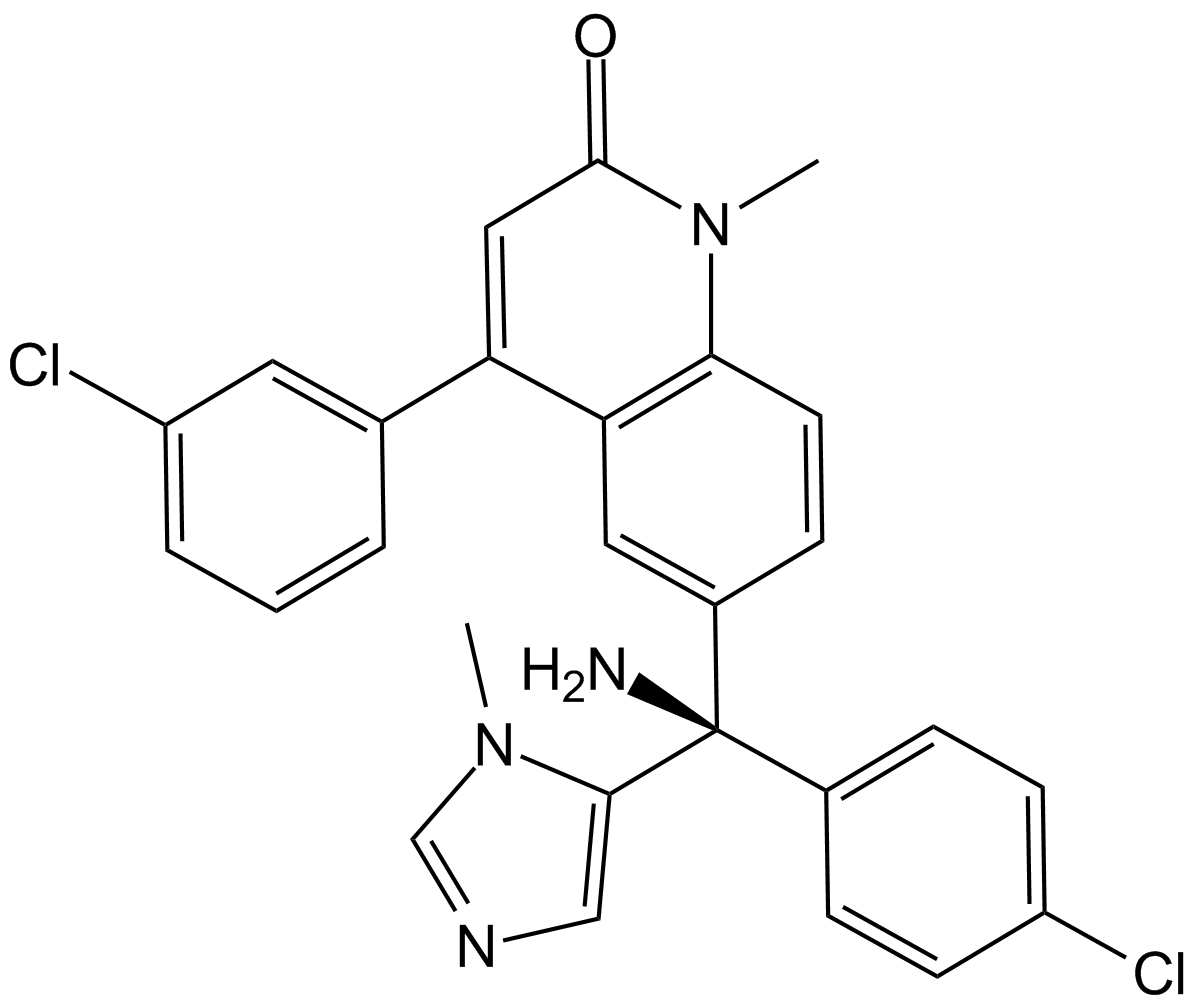 相关生物数据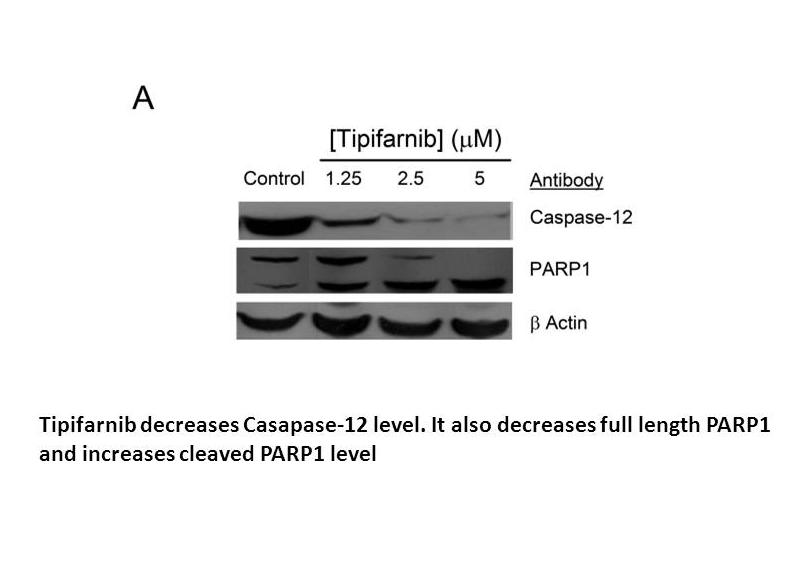 相关生物数据