Background
Tariquidar is a potent inhibitor of P-glycoprotein (Pgp), a 170-kDa transmembrane protein acting as a drug efflux pump to actively transport structurally unrelated compounds out of cells, that noncompetitively inhibits the basal the activity of ATPase associated with Pgp. Tariquidar contains a tertiary amine, dimethoxyphenyl group and amide group in its chemical structure, which contribute to its inhibition against Pgp. Results of in vitro assays of three different models have shown that Tariquidar inhibits Pgp with 50% inhibition concentration IC50 values ranging from 15 to 223 nM. However, the inhibition by tariquidar is Pgp-specific and attenuated in tumor cell lines, where multidrug resistance is mediated by multidrug resistance-associated protein.
Reference
Fox E, Bates SE. Tariquidar (XR9576): a P-glycoprotein drug efflux pump inhibitor. Expert Rev Anticancer Ther. 2007 Apr;7(4):447-59.
Bankstahl JP, Bankstahl M, Römermann K, Wanek T, Stanek J, Windhorst AD, Fedrowitz M, Erker T, Müller M, Löscher W, Langer O, Kuntner C. Tariquidar and elacridar are dose-dependently transported by P-glycoprotein and Bcrp at the blood-brain barrier: a small-animal positron emission tomography and in vitro study. Drug Metab Dispos. 2013 Apr;41(4):754-62. doi: 10.1124/dmd.112.049148. Epub 2013 Jan 10.
文献引用
Chemical Properties
| | |
| --- | --- |
| Physical Appearance | A solid |
| Storage | Store at -20°C |
| M.Wt | 646.73 |
| Cas No. | 206873-63-4 |
| Formula | C38H38N4O6 |
| Synonyms | XR9576, XR 9576, XR-9576,Tariquidar |
| Solubility | ≥16.168mg/mL in DMSO, <2.35 mg/mL in EtOH, <2.13 mg/mL in H2O |
| Chemical Name | N-[2-[[4-[2-(6,7-dimethoxy-3,4-dihydro-1H-isoquinolin-2-yl)ethyl]phenyl]carbamoyl]-4,5-dimethoxyphenyl]quinoline-3-carboxamide |
| SDF | Download SDF |
| Canonical SMILES | COC1=C(C=C2CN(CCC2=C1)CCC3=CC=C(C=C3)NC(=O)C4=CC(=C(C=C4NC(=O)C5=CC6=CC=CC=C6N=C5)OC)OC)OC |
| 运输条件 | 试用装:蓝冰运输。 其他可选规格:常温运输或根据您的要求用蓝冰运输。 |
| 一般建议 | 为了使其更好的溶解,请用37℃加热试管并在超声波水浴中震动片刻。不同厂家不同批次产品溶解度各有差异,仅做参考。若实验所需浓度过大至产品溶解极限,请添加助溶剂助溶或自行调整浓度。 |
试验操作
细胞实验[1]:

细胞系

表达ABCB1的KB-3-1、KB-8-5-11、表达ABCC1的MCF-7、MCF-7/VP16和表达ABCG2的H460、H460/MX20

制备方法

该化合物在DMSO中的溶解度大于10 mM,若配制更高浓度的溶液,一般步骤如下:请将试管置于37℃加热10分钟和/或将其置于超声波浴中震荡一段时间。原液于-20℃可放置数月。

反应条件

≥ 100 nM

实验结果

浓度大于等于100 nM的tariquidar抑制P-gp和BCRP,但不抑制MRP1。在用100 nM和1 μM tariquidar处理的表达ABCB1的细胞中,荧光底物钙黄绿素AM的积累分别增加了14倍和19倍。100 nM浓度tariquidar抑制了大多数P-gp。在表达ABCG2的细胞中,相同浓度的tariquidar将荧光底物mitoxantrone的累积分别增加4倍(P < 0.001)和8倍(P < 0.001)。这些数据表明,tariquidar以相似的效力抑制两种转运蛋白,在100 nM时,其将P-gp的积累恢复到对照的56%,将BCRP的积累恢复到对照的84%。 在表达ABCC1的细胞中,Tariquidar不增加底物的累积。

动物实验: [2]

动物模型

NMRI nu/nu小鼠

给药剂量

口服, 每10g体重0.1 ml

实验结果

ABCB1调节剂tariquidar影响paclitaxel在裸鼠中的分布。在大脑中,tariquidar与paclitaxel共同给药导致细胞抑制的脑浓度增加2.5至6.7倍。肝脏中,不同的ABCB1调节剂组和对照组之间没有显著的统计学差异。在肾脏中,肾脏中的paclitaxel含量降低至与对照组相似的浓度。

注意事项

请于室内测试所有化合物的溶解度。虽然化合物的实际溶解度可能与其理论值略有不同,但仍处于实验系统误差的允许范围内。

References:

[1] Kannan P, Telu S, Shukla S, et al. The "specific" P-glycoprotein inhibitor tariquidar is also a substrate and an inhibitor for breast cancer resistance protein (BCRP/ABCG2). ACS chemical neuroscience, 2010, 2(2): 82-89.

[2] Hubensack M, Müller C, H?cherl P, et al. Effect of the ABCB1 modulators elacridar and tariquidar on the distribution of paclitaxel in nude mice. Journal of cancer research and clinical oncology, 2008, 134(5): 597-607.
生物活性
描述
Tariquidar(XR9576)是一种有效的和选择性的非竞争性P-糖蛋白抑制剂,Kd值为5.1 nM。
靶点
P-glycoprotein
IC50
5.1 nM (Kd)
质量控制
化学结构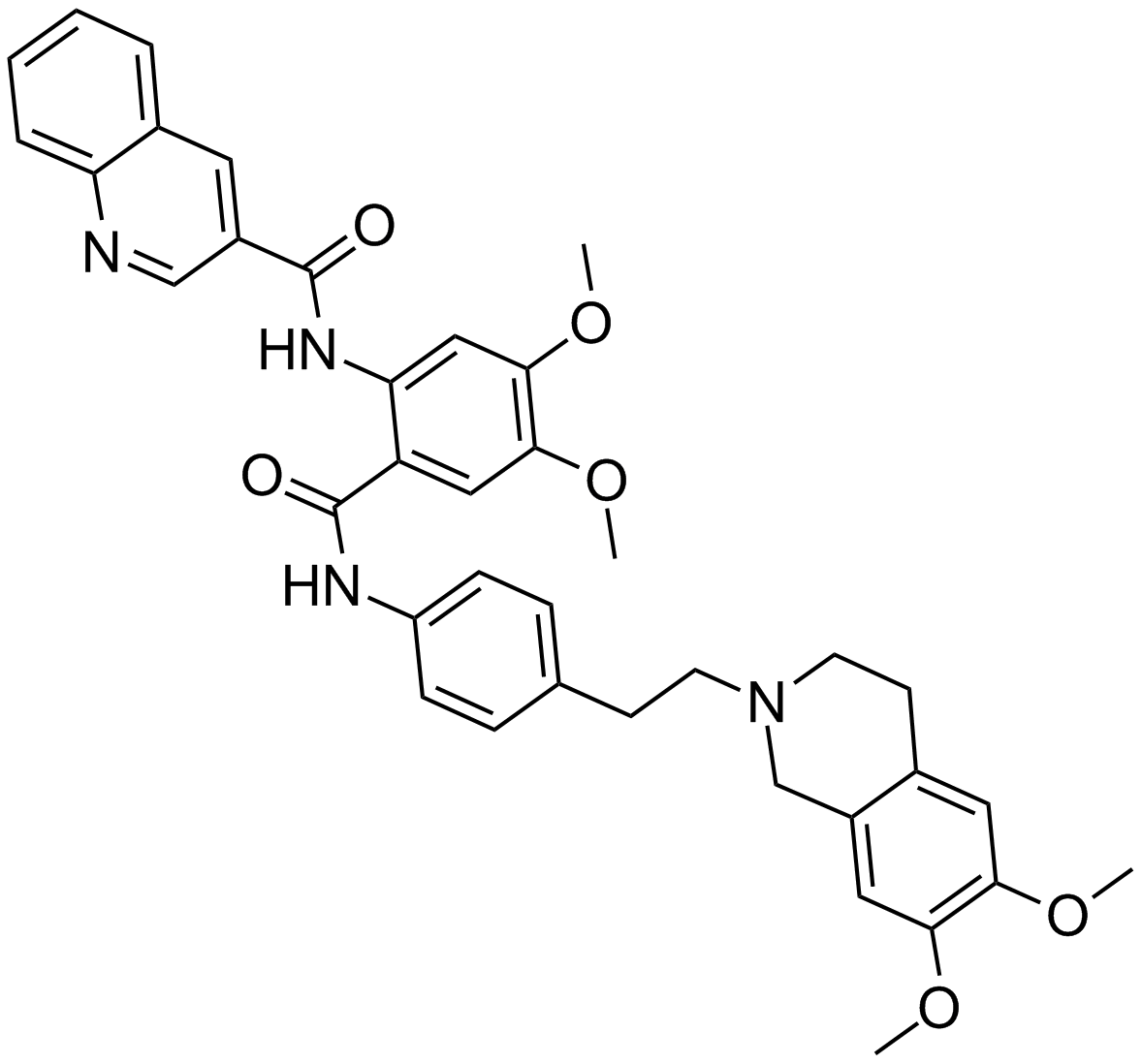 相关生物数据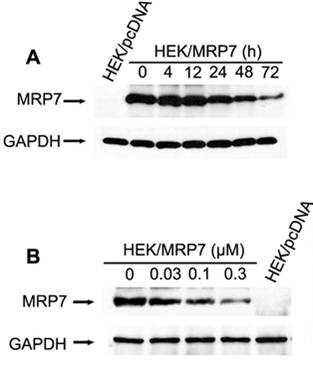 Treatment of Tariquidar downregualted MRP7
相关生物数据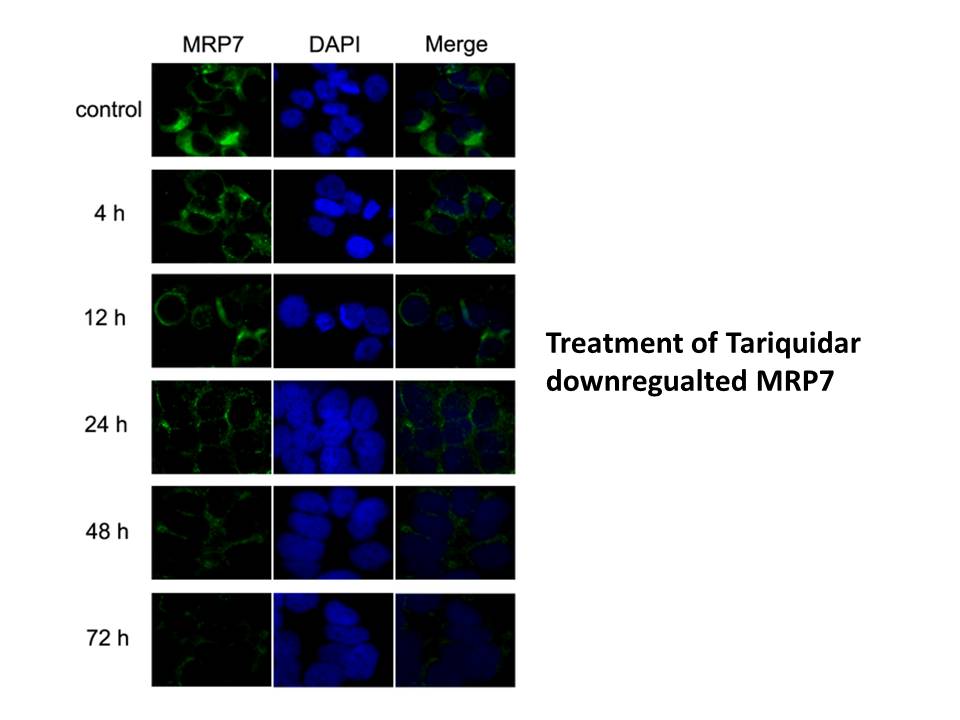 相关生物数据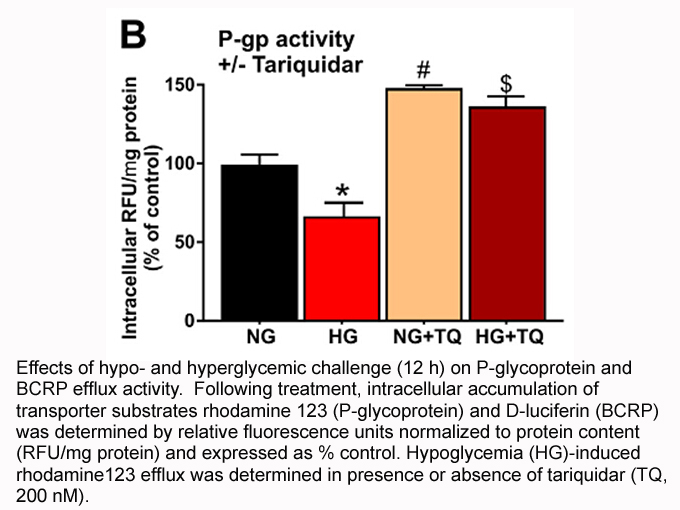 相关生物数据