Background
Sulfo-NHS-Biotin (N-Hydroxysulfosuccinimidobiotin) is an amine-reactive biotinylation reagent. The most common amine-reactive biotinylation reagents can be divied into two basic types, N-hydroxysuccinimide (NHS) esters and carboxylates.  Generally, NHS esters biotinylation reagent contains a reactive NHS ring structure that reacts with an amine on the carbonyl group of a protein or other molecules through nucleophilic attack subsequently forming a stable amide linkage and releasing the NHS group. Due to the insolubility of NHS-biotin in aqueous environments, sulfo-NHS-biotin, a water-soluble analog of NHS-biotin, has been developed by attaching a negatively charged sulfonate group on the NHS ring structure, which can be added directly to aqueous reactions without the need for organic solvent dissolution.
Reference
Bioconjugate Techniques , 2nd ed. By Greg T.Hermanson  (Pierce Biotechnology, Thermo Fisher Scientific, Rockford, IL).  Academic Press  (an imprint of Elsevier):  London, Amsterdam, Burlington, San Diego . 2008. ISBN 978-0-12-370501-3.
文献引用
Features
• Protein labeling—biotinylate antibodies to facilitate immobilization, purification or detection using streptavidin resins or probes
• Cell surface labeling—do not penetrate the plasma membrane, biotinylates only surface proteins of whole cells
• Amine-reactive—reacts with primary amines (-NH2), such as lysine side-chains or the N-terminal-amine
• Solubility—charged sulfo-NHS group increases reagent water solubility compared to ordinary NHS-ester compounds
• Irreversible—forms permanent amide bonds; spacer arm cannot be cleaved
• Very short—spacer arm is 13.5 angstroms; it consists of the native biotin valeric acid group only

Chemical Properties
| | |
| --- | --- |
| Physical Appearance | A solid |
| Storage | Desiccate at -20°C该产品在溶液中不稳定,建议现配现用 |
| M.Wt | 443.4 |
| Cas No. | 119616-38-5 |
| Formula | C14H18N3NaO8S2 |
| Synonyms | Sulfo-NHS Biotin |
| Solubility | ≥22.17mg/mL in DMSO, <2.97 mg/mL in EtOH, ≥59.9 mg/mL in H2O with ultrasonic |
| Chemical Name | sodium;1-[5-[(3aS,6aR)-2-oxo-1,3,3a,4,6,6a-hexahydrothieno[3,4-d]imidazol-4-yl]pentanoyloxy]-2,5-dioxopyrrolidine-3-sulfonate |
| SDF | Download SDF |
| Canonical SMILES | C1C(C(=O)N(C1=O)OC(=O)CCCCC2C3C(CS2)NC(=O)N3)S(=O)(=O)[O-].[Na+] |
| 运输条件 | 试用装:蓝冰运输。 其他可选规格:常温运输或根据您的要求用蓝冰运输。 |
| 一般建议 | 为了使其更好的溶解,请用37℃加热试管并在超声波水浴中震动片刻。不同厂家不同批次产品溶解度各有差异,仅做参考。若实验所需浓度过大至产品溶解极限,请添加助溶剂助溶或自行调整浓度。 |
试验操作
生物素化方法 [1]:

样品

THUMPa 蛋白

溶解方法

可以溶于水中。

反应条件

2mM, 室温反应30min

应用

用含50 mM NaCl 的浓度为50 mM的K2HPO4/KH2PO4 缓冲液 (pH 7.5)将Sulfo-NHS-biotin溶解成 2 mM 的溶液。它可以立即用于分离试验中对浓度为1.66 nmol 的THUMPa蛋白进行标记。在室温下孵育30 min完成标记反应。反应完成后,样品用50mM K2HPO4/KH2PO4 缓冲液(pH 7.5,含50 mM NaCl)透析15分钟。与蛋白质共价结合的生物素 可以用链霉素结合实验检测。

References:

[1]. Guillaume Gabant, Julie Augier and Jean Armengaud. Assessment of solvent residues accessibility using three Sulfo-NHS-biotin reagents in parallel: application to footprint changes of a methyltransferase upon binding its substrate. J. Mass Spectrom. 2008; 43: 360–370.
生物活性
描述
Sulfo-NHS-Biotin是一种水溶性的生物素化试剂,将生物素共价结合在伯胺上。
靶点
IC50
质量控制
化学结构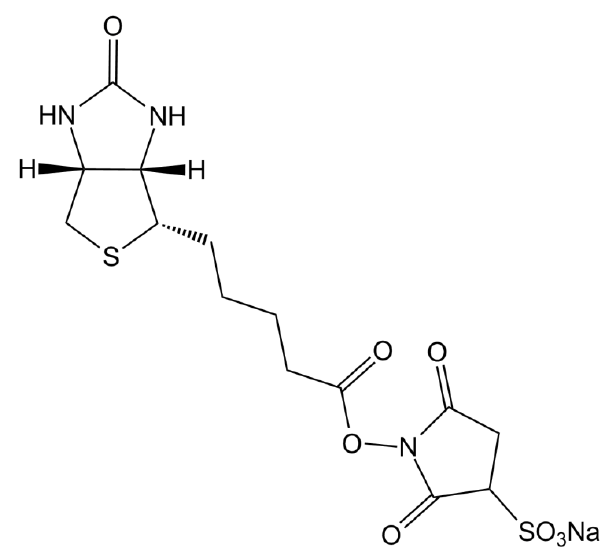 相关生物数据
相关生物数据
相关生物数据