Background
SRT1720 is a small-molecule compound which has the ability of activating the sirtuin subtype SIRT1 in vitro. The activity of SRT1720 as a SIRT1 activator is stronger than that of resveratrol. It affects mitochondrial respiration in a Sirt1- and PGC-1α-dependent manner. SRT1720 has been demonstrated to enhance insulin sensitivity and improve measures of mitochondrial capacity and oxidative metabolism. Treatment of multiple myeloma (MM) cells with SRT1720 inhibits growth and induced apoptosis in MM cells resistant to conventional and bortezomib therapies without significantly affecting the viability of normal cells. SRT1720 is able to enhance the cytotoxic activity of bortezomib or dexamethasone. Anti-MM activity of SRT1720 is related to: 1) activation of caspase-8, caspase-9, caspase-3, poly(ADP) ribose polymerase; 2) increase in reactive oxygen species; 3) induction of phosphorylated ataxia telangiectasia mutated/checkpoint kinase 2 signaling; 4) decrease in vascular endothelial growth factor-induced migration of MM cells and associated angiogenesis; and 5) inhibition of nuclear factor-κB.
References
Robin K. Minor, Joseph A. Baur, Ana P. Gomes, Theresa M. Ward, Anna Csiszar, Evi M. Mercken, Kotb Abdelmohsen, Yu-Kyong Shin, Carles Canto, Morten Scheibye-Knudsen, Melissa Krawczyk ,Pablo M. Irusta, Alejandro Martı´n-Montalvo, Basil P. Hubbard, Yongqing Zhang, Elin Lehrmann, Alexa A. White, Nathan L. Price, William R. Swindell, Kevin J. Pearson, Kevin G. Becker, Vilhelm A. Bohr, Myriam Gorospe, Josephine M. Egan, Mark I. Talan, Johan Auwerx, Christoph H. Westphal, James L. Ellis, Zoltan Ungvari, George P. Vlasuk, Peter J. Elliott, David A. Sinclair, Rafael de Cabo. SRT1720 improves survival and healthspan of obese mice. Scientific Reports. 2011; 1(70): 1038 – 1131.
Kensuke Suzuki, Ryuji Hayashi, Tomomi Ichikawa, Shingo Imanishi, Toru Yamada, Minehiko Inomata, Toshiro Miwa, Shoko Matsui, Isao Usui, Masaharu Urakaze, Yuji Matsuya, Hirofumi Ogawa, Hiroaki Sakurai, Ikuo Saiki, Kazuyuki Tobe. SRT1720, a SIRT1 activator, promotes tumor cell migration, and lung metastasis of breast cancer in mice. Oncology reports. 2012; 27: 1726 -1732.
Dharminder Chauhan, Madhavi Bandi, Ajita V. Singh, Arghya Ray, Noopur Raje, Paul Richardson and Kenneth C.Anderson. Preclinical evaluation of a novel SIRT1 modulator SRT1720 in multiple myeloma cells. British Journal of Haematology. 2011; 155: 588–598.
文献引用
Chemical Properties
| | |
| --- | --- |
| Physical Appearance | A solid |
| Storage | Store at -20°C |
| M.Wt | 506.02 |
| Cas No. | 1001645-58-4 |
| Formula | C25H23N7OS.HCl |
| Synonyms | SRT-1720,SRT 1720,SRT 1720 Hydrochloride |
| Solubility | ≥25.3 mg/mL in DMSO, <1.45 mg/mL in EtOH, ≥15.37 mg/mL in H2O with ultrasonic and warming |
| Chemical Name | N-[2-[3-(piperazin-1-ylmethyl)imidazo[2,1-b][1,3]thiazol-6-yl]phenyl]quinoxaline-2-carboxamide;hydrochloride |
| SDF | Download SDF |
| Canonical SMILES | C1CN(CCN1)CC2=CSC3=NC(=CN23)C4=CC=CC=C4NC(=O)C5=NC6=CC=CC=C6N=C5.Cl |
| 运输条件 | 试用装:蓝冰运输。 其他可选规格:常温运输或根据您的要求用蓝冰运输。 |
| 一般建议 | 为了使其更好的溶解,请用37℃加热试管并在超声波水浴中震动片刻。不同厂家不同批次产品溶解度各有差异,仅做参考。若实验所需浓度过大至产品溶解极限,请添加助溶剂助溶或自行调整浓度。 |
试验操作
细胞实验[1]:

细胞系

MDA-MB-231细胞

溶解方法

在DMSO中的溶解度>10 mM。为了获得更高的浓度,可以将离心管在37℃加热10分钟和/或在超声波浴中震荡一段时间。原液可以在-20℃以下储存几个月。

反应条件

<5 µM,24 h

应用

SRT1720是SIRT1的激活剂。与对照相比,SRT1720增加约30%的VEGF浓度,表明SRT1720可能促进肿瘤的血管生成。

动物实验[1]:

动物模型

注射4T1细胞的BALB/c小鼠(5周龄,雌性)

剂量

在肿瘤植入前第二天,SRT1720以100 mg/kg的剂量给药,5次/周,在第4、8、12、16和20天测量肿瘤大小。在第21天时,将原发性肿瘤除去,称重后-20?C冷冻。在第28天时处死小鼠,Bouin's溶液处理24小时用于肺部气管内固定。

应用

SRT1720不能显著影响原发性肿瘤的大小和重量,但显著增加约150%的肺转移。

注意事项

请测试所有化合物在室内的溶解度,实际溶解度和理论值可能略有不同。这是由实验系统的误差引起的,属于正常现象。

References:

[1] Suzuki K, Hayashi R, Ichikawa T, et al. SRT1720, a SIRT1 activator, promotes tumor cell migration, and lung metastasis of breast cancer in mice. Oncology reports, 2012, 27(6): 1726-1732.
生物活性
描述
SRT1720是一种选择性的SIRT1激活剂,EC50值为0.16 μM,比对SIRT2和SIRT3作用强230倍。
靶点
SIRT1
IC50
0.16 μM (EC50)
质量控制
化学结构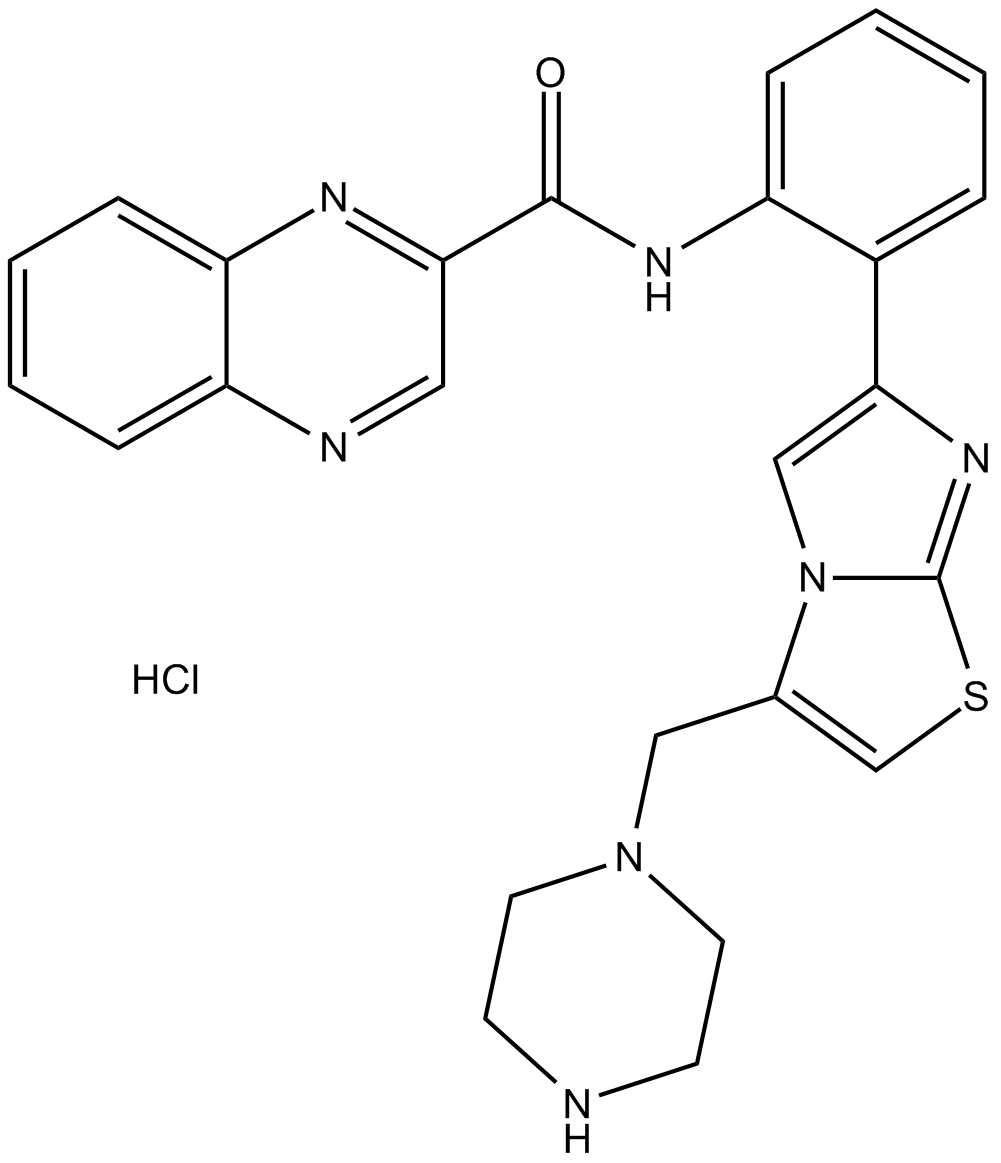 相关生物数据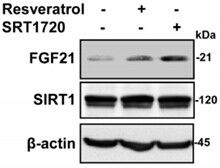 Protein production of FGF21 was stimulated by SIRT1 activators resveratrol (10 μmol/L) and SRT1720 (5 μmol/L).
相关生物数据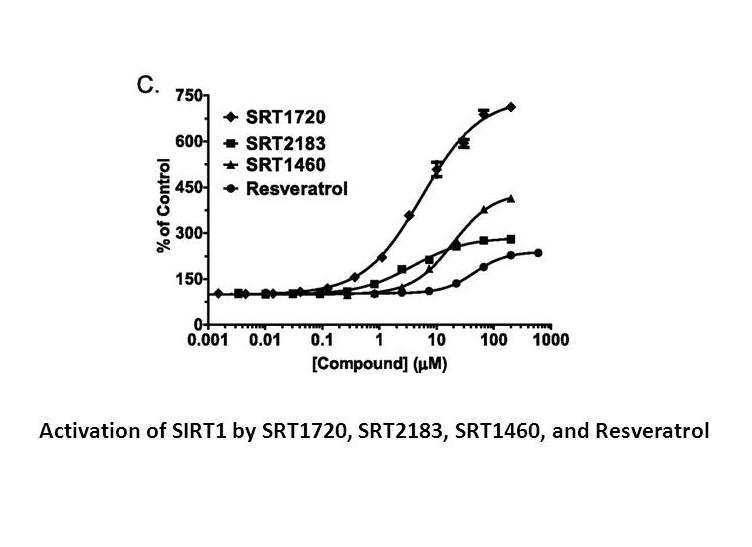 相关生物数据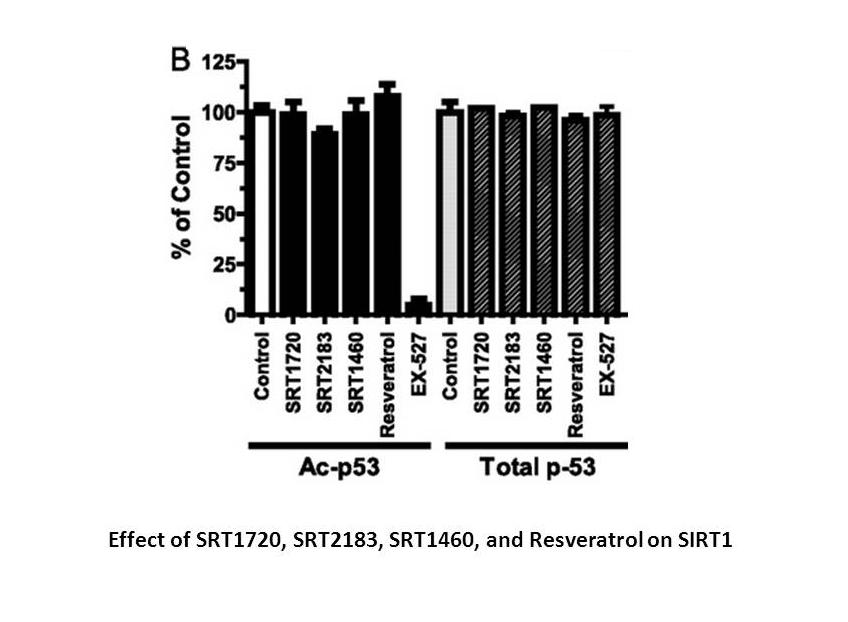 相关生物数据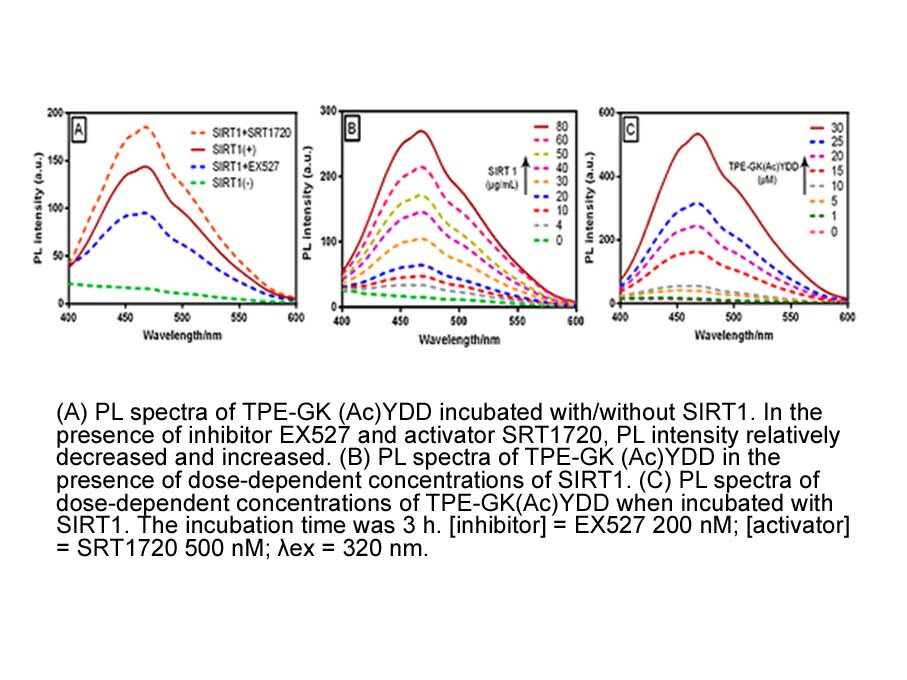 相关生物数据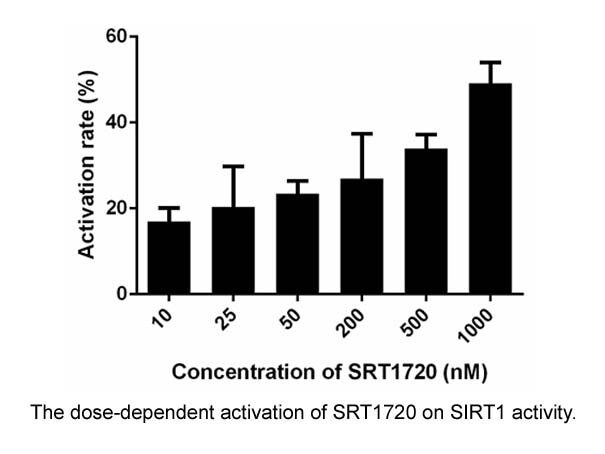 相关生物数据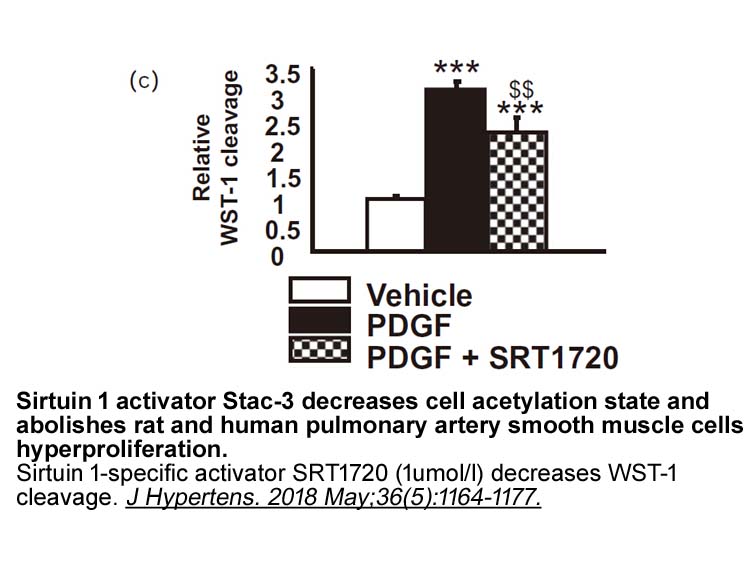 相关生物数据