Background
Description:
IC50: 0.6 and 0.7 μM for USP10 and USP13 activity, respectively
Autophagy is an important intracellular catabolic mechanism which mediates the degradation of cytoplasmic proteins and organelles. USP10 mediates the deubiquitination of p53, regulating deubiquitination the activities of USP10 and USP13 by Beclin1 provides a mechanism for Beclin1 to control the levels of p53. Spautin-1 is a novel autophagy inhibitor.
In vitro: Spautin-1 promotes the degradation of Vps34 PI3 kinase complexes via inhibiting two ubiquitinspecific peptidases, USP10 and USP13, that target the Beclin1 subunit of Vps34 complexes. Spautin-1 had no effect on the growth and survival of Bcap-37 cells under normal culture conditions but dramatically enhanced cell death in glucose-free media. Under glucose-free conditions, western blotting for LC3 further confirmed that autophagy was induced, which was inhibited by spautin-1. Similar results were obtained with MCF-7 and BT549 cells. Therefore, spautin-1 can sensitize tumor cells to apoptosis under nutritional deprived conditions [1].
In vivo: So far, there is no report to investigate the in vivo animal efficacy of spautin-1.
Clinical trial: Up to now, spautin-1 is still in the preclinical development stage.
Reference:
[1] Liu J, Xia H, Kim M, Xu L, Li Y, Zhang L, Cai Y, Norberg HV, Zhang T, Furuya T, Jin M, Zhu Z, Wang H, Yu J, Li Y, Hao Y, Choi A, Ke H, Ma D, Yuan J.  Beclin1 controls the levels of p53 by regulating the deubiquitination activity of USP10 and USP13. Cell. 2011 Sep 30;147(1):223-34.

文献引用
Chemical Properties
| | |
| --- | --- |
| Physical Appearance | A solid |
| Storage | Store at -20°C |
| M.Wt | 271.26 |
| Cas No. | 1262888-28-7 |
| Formula | C15H11F2N3 |
| Solubility | ≥13.5mg/mL in DMSO |
| Chemical Name | (Z)-1-(4-fluorophenyl)-N-(6-fluoroquinazolin-4(3H)-ylidene)methanamine |
| SDF | Download SDF |
| Canonical SMILES | FC1=CC=C(C/N=C2C3=C(N=CN/2)C=CC(F)=C3)C=C1 |
| 运输条件 | 试用装:蓝冰运输。 其他可选规格:常温运输或根据您的要求用蓝冰运输。 |
| 一般建议 | 为了使其更好的溶解,请用37℃加热试管并在超声波水浴中震动片刻。不同厂家不同批次产品溶解度各有差异,仅做参考。若实验所需浓度过大至产品溶解极限,请添加助溶剂助溶或自行调整浓度。 |
试验操作
细胞实验[1]:

细胞系

小鼠MEF细胞

溶解方法

在DMSO中的溶解度大于13.5 mg/mL。为了获得更高的浓度,可以将离心管在37℃加热10分钟和/或在超声波浴中震荡一段时间。原液可以在-20℃以下储存几个月。

反应条件

4 h,10 μM

应用

Spautin-1是强效特异的小分子自噬抑制剂。Spautin-1抑制两种泛素特异的肽酶USP10和USP13(IC50分别为0.6 和0.7 μM),促进Vps34 PI3激酶复合物的泛素化和降解,从而抑制自噬。

动物实验[2]:

动物模型

雌性昆明(KM)小鼠

剂量

腹腔注射,2 mg/kg

应用

使用spautin-1预处理小鼠显著减少血清中胰蛋白酶活性指示物脂酶和淀粉酶水平的升高,spautin-1也会抑制cerulein诱导的血清TNFα水平的增加。

注意事项

请测试所有化合物在室内的溶解度,实际溶解度和理论值可能略有不同。这是由实验系统的误差引起的,属于正常现象。

References:

[1]. Liu J, Xia H, Kim M, et al. Beclin1 controls the levels of p53 by regulating the deubiquitination activity of USP10 and USP13[J]. Cell, 2011, 147(1): 223-234.

[2]. Xiao J, Feng X, Huang X Y, et al. Spautin-1 ameliorates acute Pancreatitis via inhibiting impaired autophagy and alleviating Calcium Overload[J]. Molecular Medicine, 2016, 22: 64
质量控制
化学结构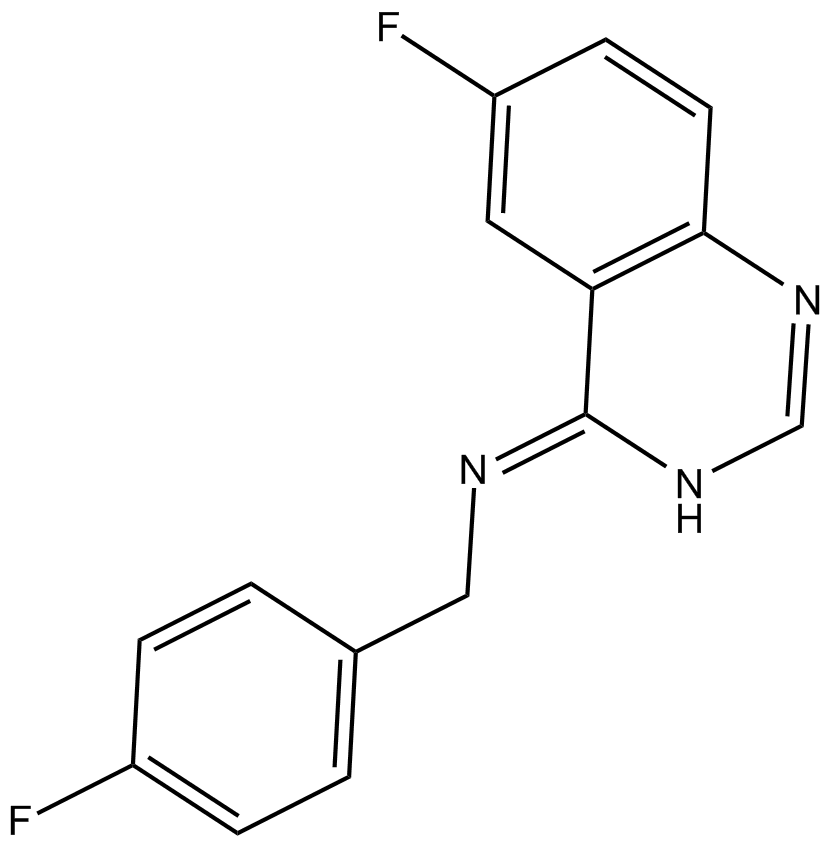 相关生物数据