Background
SKF 96365 hydrochloride is an inhibitor of store-operated calcium entry (SOCE). Also, it inhibits transient receptor potential cation channels (TRPCs) and voltage-gated sodium current [1] [2] [3].
Store-operated calcium entry (SOCE) increases cytosolic Ca2+ and induces the entry of extracellular calcium. TRPC channels are divided into store-operated and receptor-operated channels and play a critical role in brain development [1] [2].
SKF 96365 hydrochloride is a SOCE inhibitor. In MPP+ stressed PC12 cells, SKF-96365 (10, 50 μM) significantly prevented nuclear damage, decreased LDH release, increased cell viability and inhibited apoptosis. Also, SKF-96365 inhibited Homer1-mediated endoplasmic reticulum (ER) Ca2+ release and intracellular calcium overload induced by MPP+ injury [1]. In rat ventricular myocytes, SKF-96365 inhibited INa in a frequency-dependent and use-dependent way [3]. In Madin Darby canine kidney (MDCK) cells, SKF 96365 (25-100 μM) induced a robust [Ca2+]i transient in a dose-dependent way [4].
In rats, SKF-96365 significantly inhibited persistent spontaneous nociception induced by melittin and reduced hypersensitivity to both mechanical and thermal stimuli. These results suggested that SKF-96365-sensitive TRPC channels were involved in the processing of melittin-induced hypersensitivity and inflammatory pain [2].
References:
[1].  Chen T, Zhu J, Zhang C, et al. Protective effects of SKF-96365, a non-specific inhibitor of SOCE, against MPP+-induced cytotoxicity in PC12 cells: potential role of Homer1. PLoS One, 2013, 8(1): e55601.
[2].  Ding J, Zhang JR, Wang Y, et al. Effects of a non-selective TRPC channel blocker, SKF-96365, on melittin-induced spontaneous persistent nociception and inflammatory pain hypersensitivity. Neurosci Bull, 2012, 28(2): 173-181.
[3].  Chen KH, Liu H, Yang L, et al. SKF-96365 strongly inhibits voltage-gated sodium current in rat ventricular myocytes. Pflugers Arch, 2015, 467(6): 1227-1236.
[4].  Jan CR, Ho CM, Wu SN, et al. Multiple effects of 1-[beta-[3-(4-methoxyphenyl)propoxy]-4-methoxyphenethyl]-1H-imidazole hydrochloride (SKF 96365) on Ca2+ signaling in MDCK cells: depletion of thapsigargin-sensitive Ca2+ store followed by capacitative Ca2+ entry, activation of a direct Ca2+ entry, and inhibition of thapsigargin-induced capacitative Ca2+ entry. Naunyn Schmiedebergs Arch Pharmacol, 1999, 359(2): 92-101.
文献引用
Chemical Properties
| | |
| --- | --- |
| Storage | Store at RT |
| M.Wt | 402.92 |
| Cas No. | 130495-35-1 |
| Formula | C22H26N2O3.HCl |
| Solubility | ≥40.3mg/mL in DMSO |
| Chemical Name | (S)-1-(2-(4-methoxyphenyl)-2-(3-(4-methoxyphenyl)propoxy)ethyl)-1H-imidazole hydrochloride |
| SDF | Download SDF |
| Canonical SMILES | COC1=CC=C(C=C1)[C@@H](CN2C=CN=C2)OCCCC(C=C3)=CC=C3OC.Cl |
| 运输条件 | 试用装:蓝冰运输。 其他可选规格:常温运输或根据您的要求用蓝冰运输。 |
| 一般建议 | 为了使其更好的溶解,请用37℃加热试管并在超声波水浴中震动片刻。不同厂家不同批次产品溶解度各有差异,仅做参考。若实验所需浓度过大至产品溶解极限,请添加助溶剂助溶或自行调整浓度。 |
质量控制
化学结构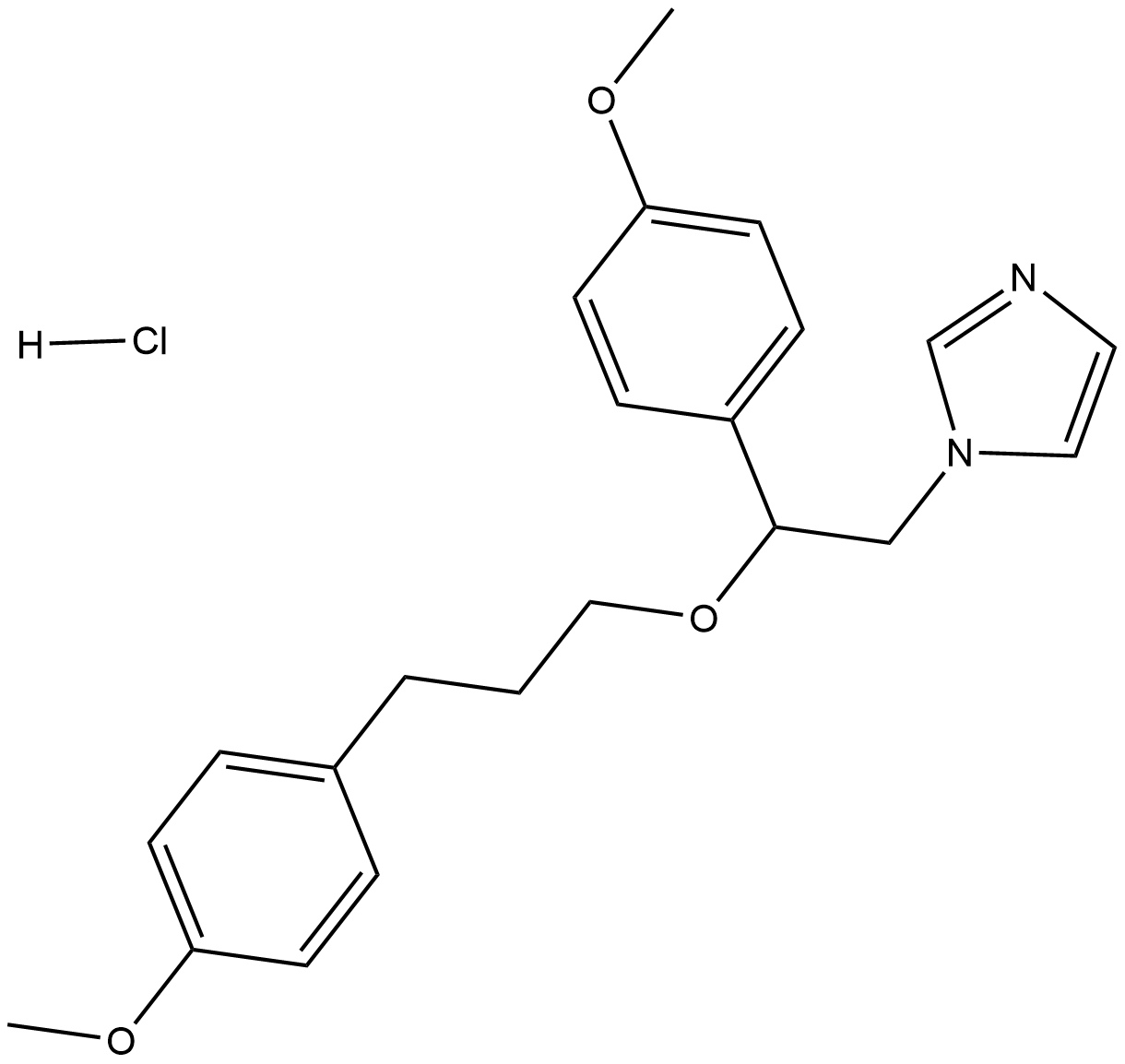 相关生物数据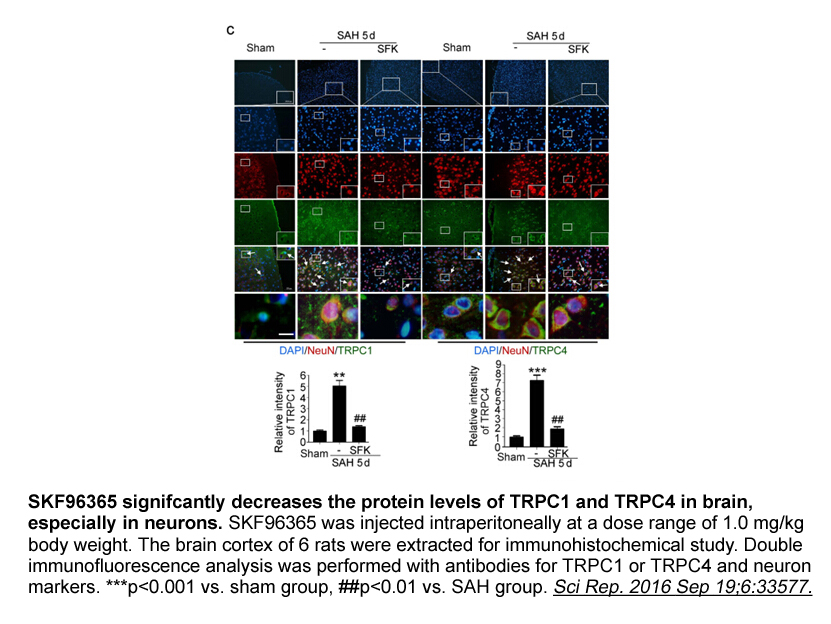 相关生物数据