Background
Semagacestat (also known as LY450139), [(2S)-2-hydroxy-N-((2S)-1-((1S)-3-methyl-2-oxo-2,3,4,5-tetrahydro-1H-benzo[d]azepin-1ylamino)-1-oxopropan-2-yl)-3-methylbutanamide] is an azepine class γ-secretase, which is currently being investigated as a potential disease-modifying agent for the treatment of Alzheimer's disease (AD). It reduces the rate of formation of amyloid-β (Aβ), a major component of the neuritic plaque in the brains of AD patients, in human subjects and animal models including mice, beagle dogs and guinea pigs. According to previous studies, semagacestat slows the accumulation of Aβ in the brains of transgenic mice overexpressing mutant human amyloid precursor protein V717F (PDAPP mice) and exhibits a dose-dependent decrease of plasma in AD patients.
Reference
Ping Yi, Chad Hadden, Palaniappan Kulanthaivel, Nathan Calvert, William Annes, Thomas Brown, Robert J. Barbuch, Archana Chaudhary, Mosun A. Ayan-Oshodi, and Barbara J. Ring. Disposition and metabolism of semagacestat, a γ-secretase inhibitor, in humans. Drug Metabolism and Disposition 2010; 38(4): 554-565
Chemical Properties
| | |
| --- | --- |
| Physical Appearance | A solid |
| Storage | Store at -20°C |
| M.Wt | 361.44 |
| Cas No. | 425386-60-3 |
| Formula | C19H27N3O4 |
| Synonyms | LY-450139, LY 450139,Semagacestat |
| Solubility | ≥18.05mg/mL in DMSO, ≥40.3 mg/mL in EtOH with ultrasonic, <2.07 mg/mL in H2O |
| Chemical Name | (2S)-2-hydroxy-3-methyl-N-[(2S)-1-[[(5S)-3-methyl-4-oxo-2,5-dihydro-1H-3-benzazepin-5-yl]amino]-1-oxopropan-2-yl]butanamide |
| SDF | Download SDF |
| Canonical SMILES | CC(C)C(C(=O)NC(C)C(=O)NC1C2=CC=CC=C2CCN(C1=O)C)O |
| 运输条件 | 试用装:蓝冰运输。 其他可选规格:常温运输或根据您的要求用蓝冰运输。 |
| 一般建议 | 为了使其更好的溶解,请用37℃加热试管并在超声波水浴中震动片刻。不同厂家不同批次产品溶解度各有差异,仅做参考。若实验所需浓度过大至产品溶解极限,请添加助溶剂助溶或自行调整浓度。 |
试验操作
细胞实验:

细胞系

稳定过表达人野生型APP695的H4人类神经胶质瘤细胞

溶解方法

在DMSO中的溶解度>10 mM。为了获得更高的浓度,可以将离心管在37℃加热10分钟和/或在超声波浴中震荡一段时间。原液可以在-20℃以下储存几个月。

反应条件

10 μM;24 h

应用

在稳定过表达人野生型APP的H4细胞中,LY450139减少96孔板培养介质中Aβ42、Aβ40和Aβ38的分泌,增加细胞裂解物中β-CTF的水平,尽管在高浓度时这种增加被意外地减弱。LY450139对β-CTF的双重作用在6孔板培养细胞的Western印迹分析(WB)中得到了证实,WB实验用到两个识别Aβ N端域的抗体,82E1和6E10。

动物实验:

动物模型

雌性Tg2576小鼠

剂量

3 mg/kg;口服给药

应用

为了确定LY450139诱导的β-CTF积累的位点,抗Aβ/β-CTF N端特异性抗体(82E1)的免疫荧光被用于Tg2576小鼠的海马切片。在三月龄的Tg2576小鼠中,LY450139以3 mg/kg的剂量给药8天,在最后一次给药后脑固定3小时。在这些区域的免疫荧光强度用同一脑片中CA3锥体层的强度进行标准化,与对照组相比,LY450139处理小鼠具有显著更高的相对免疫反应。

注意事项

请测试所有化合物在室内的溶解度,实际溶解度和理论值可能略有不同。这是由实验系统的误差引起的,属于正常现象。

References:

[1] Mitani Y, Yarimizu J, Saita K, et al. Differential effects between γ-secretase inhibitors and modulators on cognitive function in amyloid precursor protein-transgenic and nontransgenic mice[J]. The Journal of Neuroscience, 2012, 32(6): 2037-2050.
生物活性
描述
Semagacestat (LY450139)是一种γ-分泌酶抑制剂,作用于Aβ42、Aβ40和Aβ38,IC50值分别为10.9 nM、12.1 nM和12.0 nM,也抑制Notch信号通路,IC50值为14.1 nM。
靶点
Aβ42
Aβ40
Aβ38
Notch
IC50
10.9 nM
12.1 nM
12.0 nM
14.1 nM
质量控制
化学结构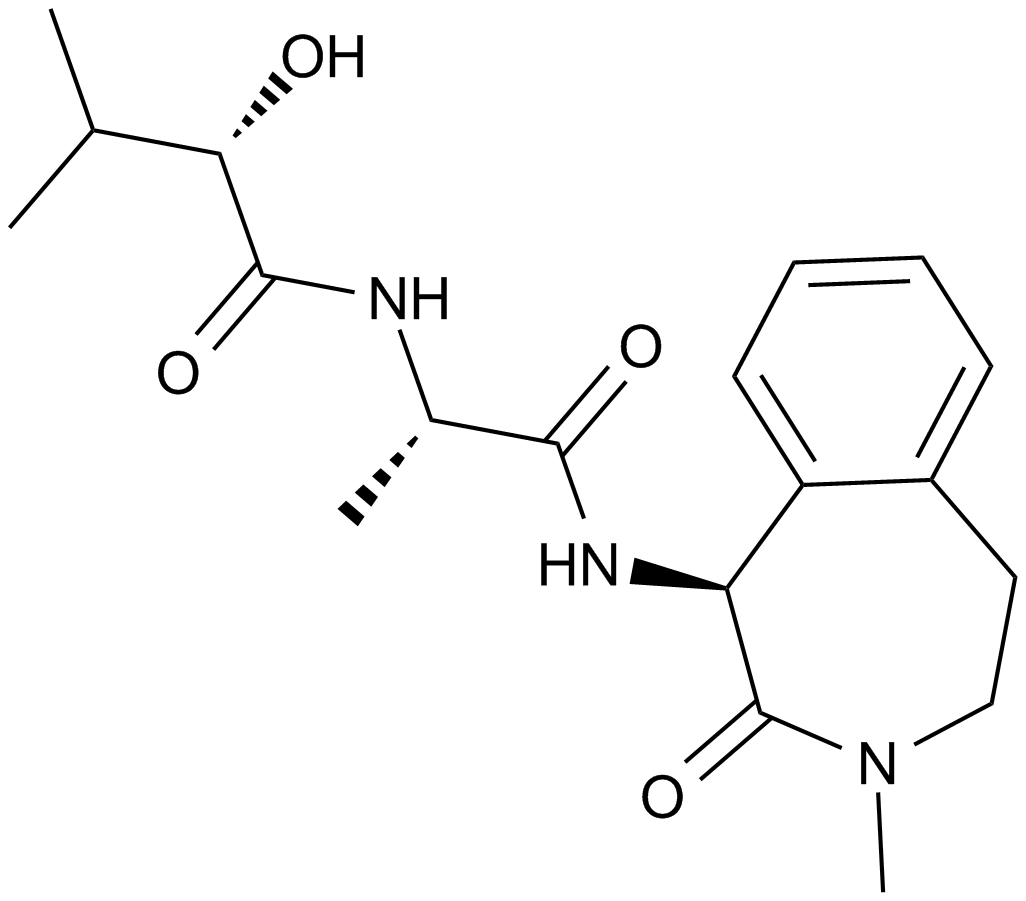 相关生物数据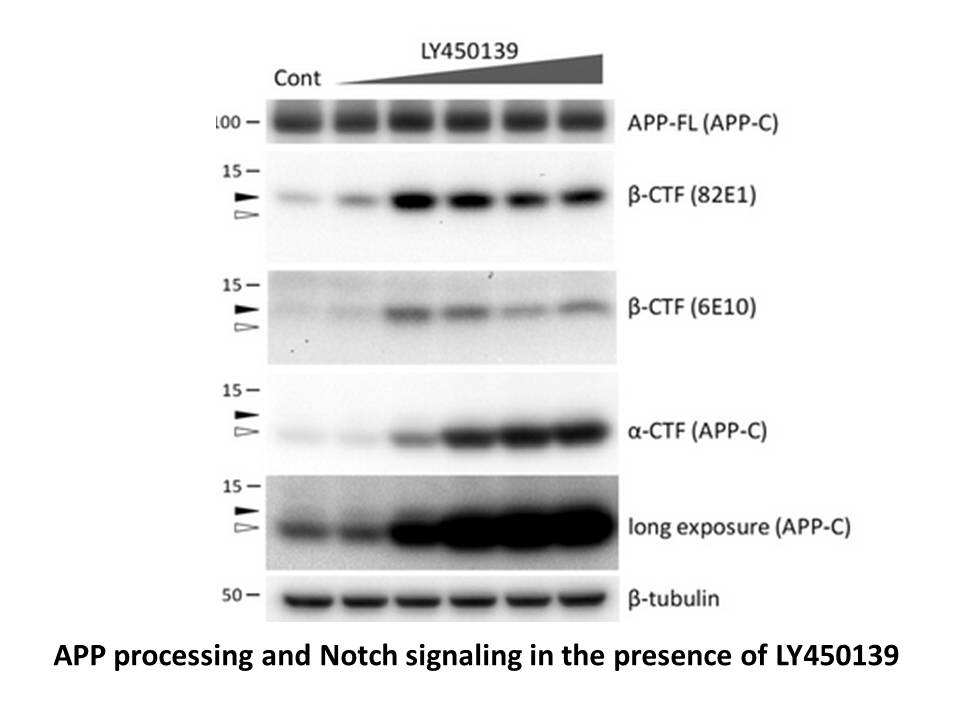 相关生物数据