Background
SCH772984, identified by an affinity-based mass spectroscopy high-throughput platform, is a novel, potent and ATP-competitive inhibition of ERK1 and ERK2 with 50% inhibition concentration IC50 values of 4 nmol/L and 1 nmol/L respectively. Although it displays behaviors of both type I and type II kinase inhibitors, SCH772984 is highly selective against only seven kinases, including CLK2, FLT4, GSG2, MAP4K4, MAPK1, MINK1, PRKD1 and TTK, out of a wide range of 300 tested with more than 50% inhibition at a concentration of 1 μmol/L. Study results have shown that SCH772984 potently inhibits tumor cells with mutations in BRAF, NRAS and KRAS at nanomolar concentrations.
Reference
Morris EJ, Jha S, Restaino CR, Dayananth P, Zhu H, Cooper A, Carr D, Deng Y, Jin W, Black S, Long B, Liu J, Dinunzio E, Windsor W, Zhang R, Zhao S, Angagaw MH, Pinheiro EM, Desai J, Xiao L, Shipps G, Hruza A, Wang J, Kelly J, Paliwal S, Gao X, Babu BS, Zhu L, Daublain P, Zhang L, Lutterbach BA, Pelletier MR, Philippar U, Siliphaivanh P, Witter D, Kirschmeier P, Bishop WR, Hicklin D, Gilliland DG, Jayaraman L, Zawel L, Fawell S, Samatar AA. Discovery of a novel ERK inhibitor with activity in models of acquired resistance to BRAF and MEK inhibitors. Cancer Discov. 2013 Jul;3(7):742-750
文献引用
Chemical Properties
| | |
| --- | --- |
| Physical Appearance | A solid |
| Storage | Store at -20°C |
| M.Wt | 587.67 |
| Cas No. | 942183-80-4 |
| Formula | C33H33N9O2 |
| Synonyms | SCH 772984;SCH-772984 |
| Solubility | ≥14.7 mg/mL in DMSO with gentle warming, <2.28 mg/mL in EtOH, <2.59 mg/mL in H2O |
| Chemical Name | (3R)-1-[2-oxo-2-[4-(4-pyrimidin-2-ylphenyl)piperazin-1-yl]ethyl]-N-(3-pyridin-4-yl-1H-indazol-5-yl)pyrrolidine-3-carboxamide |
| SDF | Download SDF |
| Canonical SMILES | C1CN(CC1C(=O)NC2=CC3=C(C=C2)NN=C3C4=CC=NC=C4)CC(=O)N5CCN(CC5)C6=CC=C(C=C6)C7=NC=CC=N7 |
| 运输条件 | 试用装:蓝冰运输。 其他可选规格:常温运输或根据您的要求用蓝冰运输。 |
| 一般建议 | 为了使其更好的溶解,请用37℃加热试管并在超声波水浴中震动片刻。不同厂家不同批次产品溶解度各有差异,仅做参考。若实验所需浓度过大至产品溶解极限,请添加助溶剂助溶或自行调整浓度。 |
试验操作
细胞实验[1]:

细胞系

黑色素瘤细胞系(M408, M202, WM1366)

溶解方法

该化合物在DMSO中的溶解度大于10 mM。若配制更高浓度的溶液,一般步骤如下:请将试管置于37℃加热10分钟和/或将其置于超声波浴中震荡一段时间。原液于-20℃可放置数月

反应条件

24 h,500 nM

实验结果

用SCH772984处理敏感性M408,导致pRSK减少,pERK1/2消失,轻微诱导pMEK,而RSK、MEK、ERK 1/2或AKT的总含量没有变化。对于抗性M202,在24小时适度诱导pMEK,pERK和pRSK有一些降低。SCH772984可以上调 M408和WM1366的pAKT水平。

动物实验[2]:

动物模型

裸鼠

剂量

25 mg/kg,一日两次,腹腔注射

实验结果

在两个原位患者来源的人胰腺癌异种移植模型(Panc253和Panc265)中,评估CDK抑制剂dinaciclib与ERK抑制剂SCH772984共同使用的治疗效果,这些模型非常类似于人类胰腺癌的生理和病理状况。将2-3mm3肿瘤外植体植入裸鼠的胰腺中,在进行随机分组和治疗之前使用超声成像来测量肿瘤大小(3D),在肿瘤生长至50-100mm3时后开始治疗。与对照组相比,Dinaciclib (20 mg/kg, i.p., t.i.w.)和SCH772984 (25 mg/kg, i.p., b.i.d.)的共同使用显著抑制原发原位Panc265(82.5%,p < 0.001)和Panc253(95.7%,p < 0.001)的生长,Panc265(94.9%,p < 0.001)和Panc253(92.4%,p < 0.02)的转移性病变的数目也有所下降。

注意事项

请测试所有化合物在室内的溶解度,实际溶解度和理论值可能略有不同。这是由实验系统的误差引起的,属于正常现象。

References:

[1] Wong D J L, Robert L, Atefi M S, et al. Antitumor activity of the ERK inhibitor SCH722984 against BRAF mutant, NRAS mutant and wild-type melanoma[J]. Molecular cancer, 2014, 13(1): 194.

[2] Hu C, Dadon T, Chenna V, et al. Abstract B263: Combined inhibition of cyclin-dependent kinases (Dinaciclib) and AKT (MK-2206) or ERK (SCH772984) dramatically blocks pancreatic tumor growth and metastases in patient-derived orthotopic xenograft models[J]. Molecular Cancer Therapeutics, 2013, 12(11 Supplement): B263-B263.
生物活性
描述
SCH772984是一种新型特异性的ERK1/2抑制剂,IC50值分别为4 nM和1 nM。
靶点
ERK1
ERK2
IC50
4 nM
1 nM
质量控制
化学结构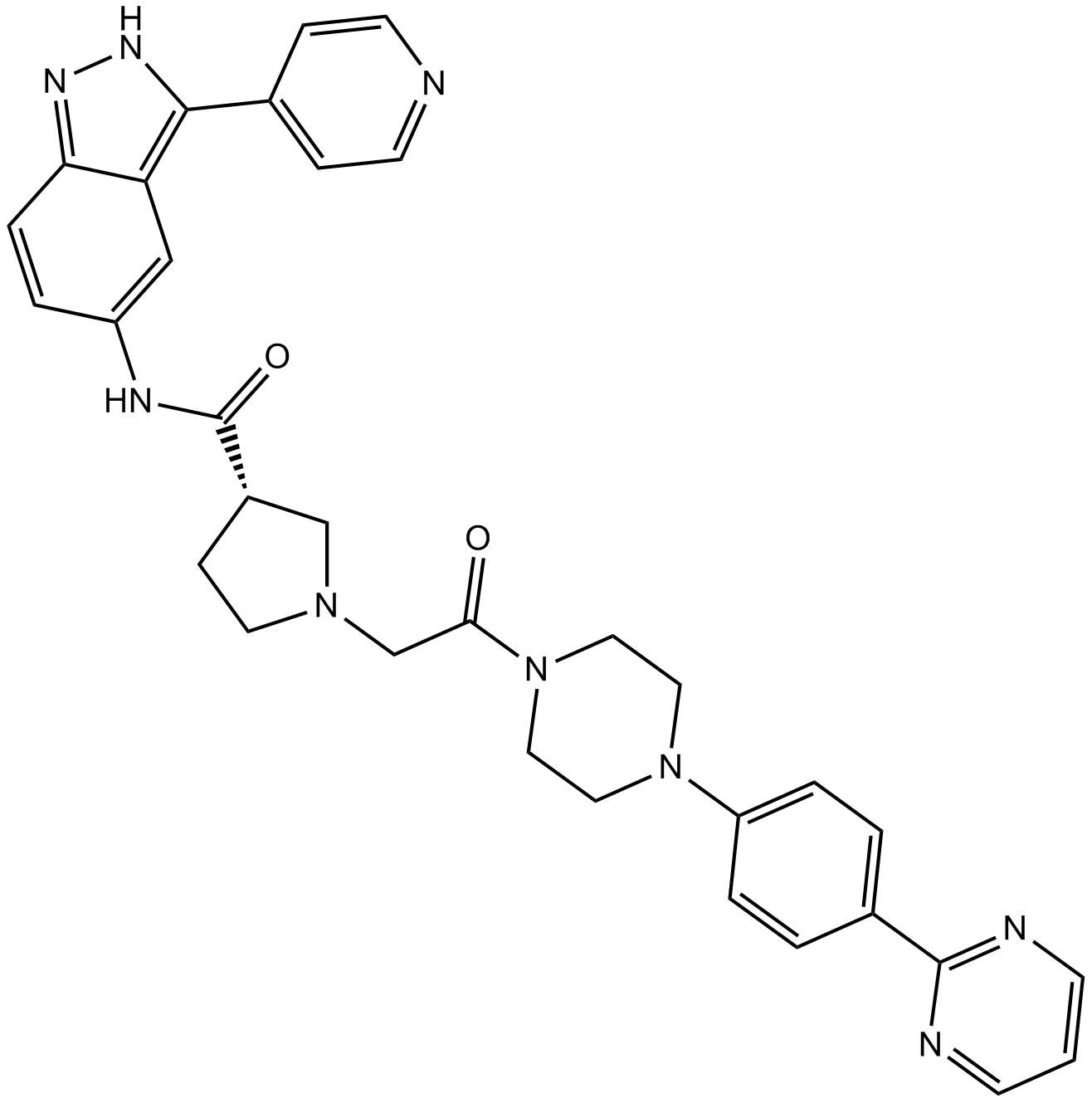 相关生物数据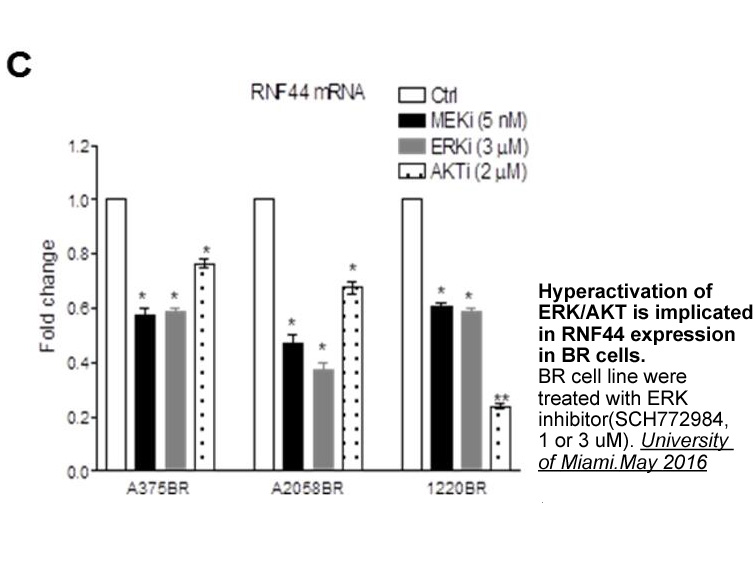 相关生物数据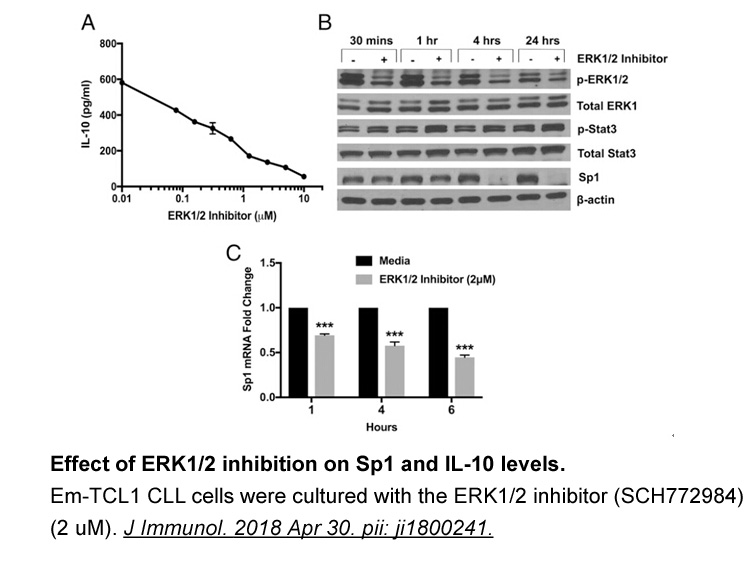 相关生物数据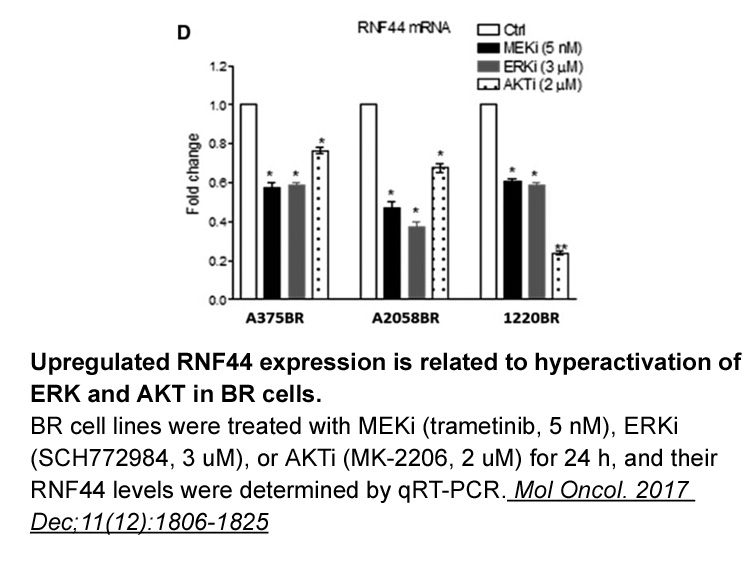 相关生物数据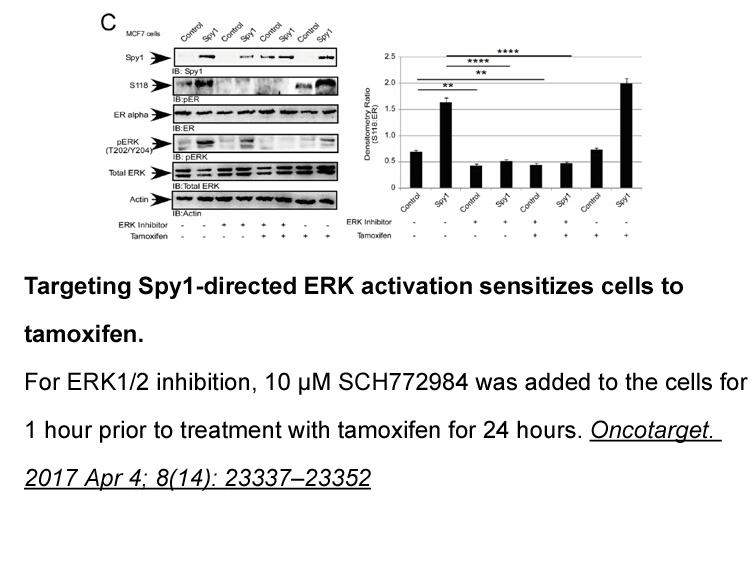 相关生物数据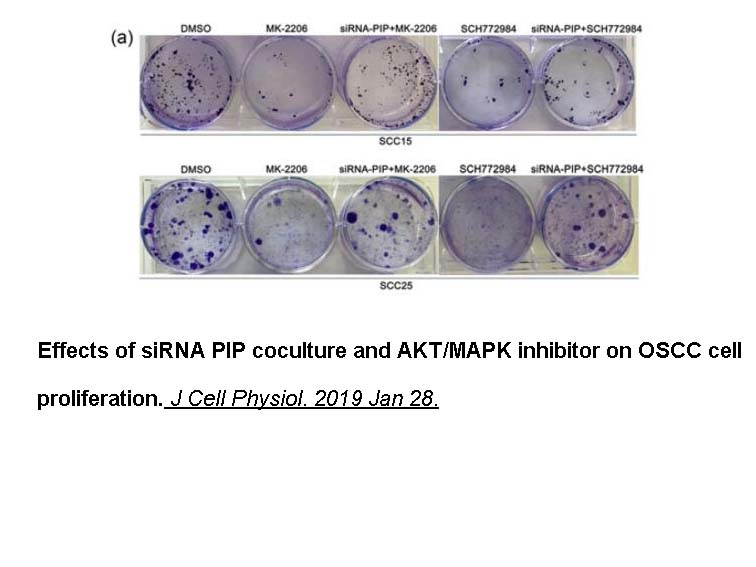 相关生物数据