Background
SB431542 is a selective ATP-competitive inhibitor of ALK5 (activin receptor-like kinase 5) with an IC50 value of 94 nM [1].
SB431542 showed most potent efficacy among the series of hits screened out. It inhibited TGF-β1-induced mRNA formation in A498 cells with IC50 value of 50 nM. It also markedly reduced TGF-β-induced nuclear accumulation of Smad proteins with IC50 value of 40 nM. SB431542 was found to be a selective inhibitor for ALK4, ALK5 and ALK7, suppresses the phosphorylation of Smad2. It showed no significant inhibition of ALK1, ALK2, ALK6 and showed weak effect on ALK3 at concentration of 10 μM [1, 2].
References:
[1] Callahan J F, Burgess J L, Fornwald J A, et al. Identification of novel inhibitors of the transforming growth factor β1 (TGF-β1) type 1 receptor (ALK5). Journal of medicinal chemistry, 2002, 45(5): 999-1001.
[2] Inman G J, Nicolás F J, Callahan J F, et al. SB-431542 is a potent and specific inhibitor of transforming growth factor-β superfamily type I activin receptor-like kinase (ALK) receptors ALK4, ALK5, and ALK7. Molecular pharmacology, 2002, 62(1): 65-74.
文献引用
Chemical Properties
| | |
| --- | --- |
| Physical Appearance | A solid |
| Storage | Store at RT |
| M.Wt | 384.39 |
| Cas No. | 301836-41-9 |
| Formula | C22H16N4O3 |
| Solubility | ≥19.2mg/mL in DMSO, ≥10.06 mg/mL in EtOH with ultrasonic, <2.23 mg/mL in H2O |
| Chemical Name | 4-[4-(1,3-benzodioxol-5-yl)-5-pyridin-2-yl-1H-imidazol-2-yl]benzamide |
| SDF | Download SDF |
| Canonical SMILES | C1OC2=C(O1)C=C(C=C2)C3=C(NC(=N3)C4=CC=C(C=C4)C(=O)N)C5=CC=CC=N5 |
| 运输条件 | 试用装:蓝冰运输。 其他可选规格:常温运输或根据您的要求用蓝冰运输。 |
| 一般建议 | 为了使其更好的溶解,请用37℃加热试管并在超声波水浴中震动片刻。不同厂家不同批次产品溶解度各有差异,仅做参考。若实验所需浓度过大至产品溶解极限,请添加助溶剂助溶或自行调整浓度。 |
试验操作
细胞实验: [1]

细胞系

D54MG、U87MG和U373MG细胞

制备方法

该化合物在DMSO中的溶解度大于10 mM,若配制更高浓度的溶液,一般步骤如下:请将试管置于37℃加热10分钟和/或将其置于超声波浴中震荡一段时间。原液于-20℃可放置数月。

反应条件

10 μM,24 hours

实验结果

0.1和1 μmol/L的SB-431542 适度影响DNA合成,但是在10μmol/L时,D54MG、U87MG和U373MG细胞的胸苷掺入减少60%至70%。通过直接观察或碘化丙锭流式细胞术分析,没有检测到SB-431542处理的凋亡性细胞死亡的证据。因此,SB-431542被用于抑制所测试的恶性胶质瘤细胞系的增殖。

动物实验: [2]

动物模型

注射colon-26细胞的BALB/c小鼠

给药剂量

腹腔注射,1 μM

实验结果

与单独的载体相比,腹腔注射SB-431542引发针对colon-26靶标的CTL活性。此外,与单独的OK-432相比,SB和toll样受体4的配体OK-432共同使用,针对colon-26细胞的CTL活性更有效。因此,SB-431542可能通过改变由TGFβ抑制的DC功能,从而产生抗肿瘤免疫学结果。

注意事项

请于室内测试所有化合物的溶解度。虽然化合物的实际溶解度可能与其理论值略有不同,但仍处于实验系统误差的允许范围内。

References:

[1] Hjelmeland M D, Hjelmeland A B, Sathornsumetee S, et al. SB-431542, a small molecule transforming growth factor-β-receptor antagonist, inhibits human glioma cell line proliferation and motility. Molecular Cancer Therapeutics, 2004, 3(6): 737-745.

[2] Tanaka H, Shinto O, Yashiro M, et al. Transforming growth factor b signaling inhibitor, SB-431542, induces maturation of dendritic cells and enhances anti-tumor activity. Oncology reports, 2010, 24: 1637-1643.
生物活性
描述
SB431542是一种有效的和选择性的ALK5抑制剂,IC50值为94 nM,对ALK5的选择性比对p38 MAPK和其它激酶高100倍。
靶点
ALK5
IC50
94 nM
质量控制
化学结构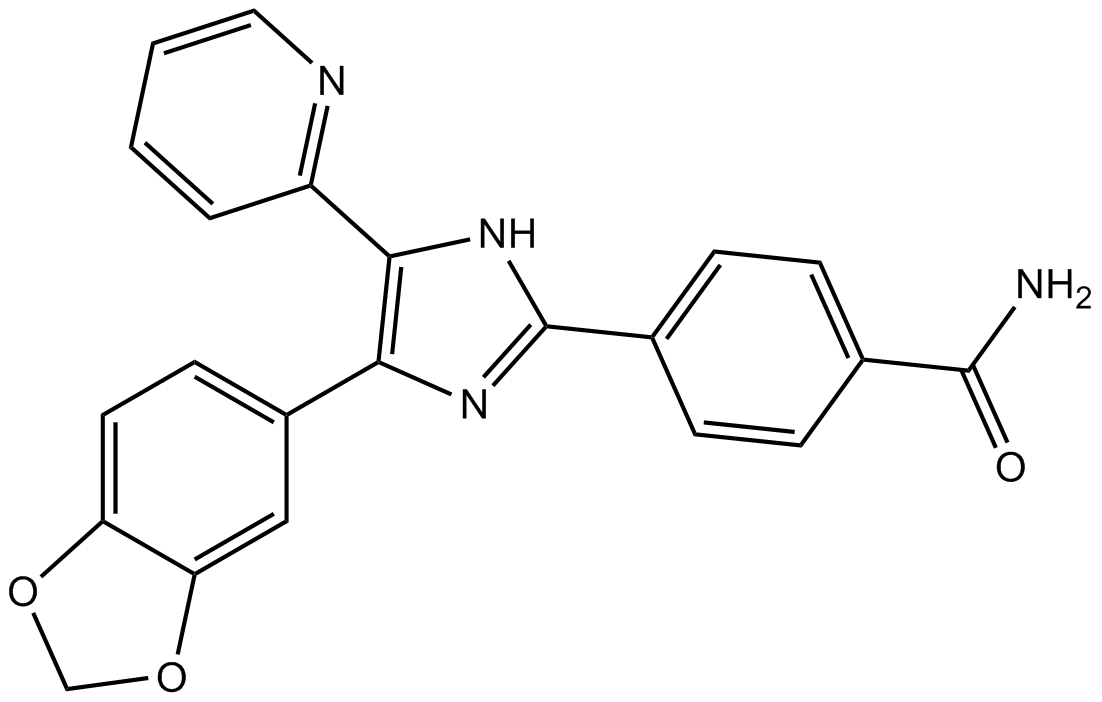 相关生物数据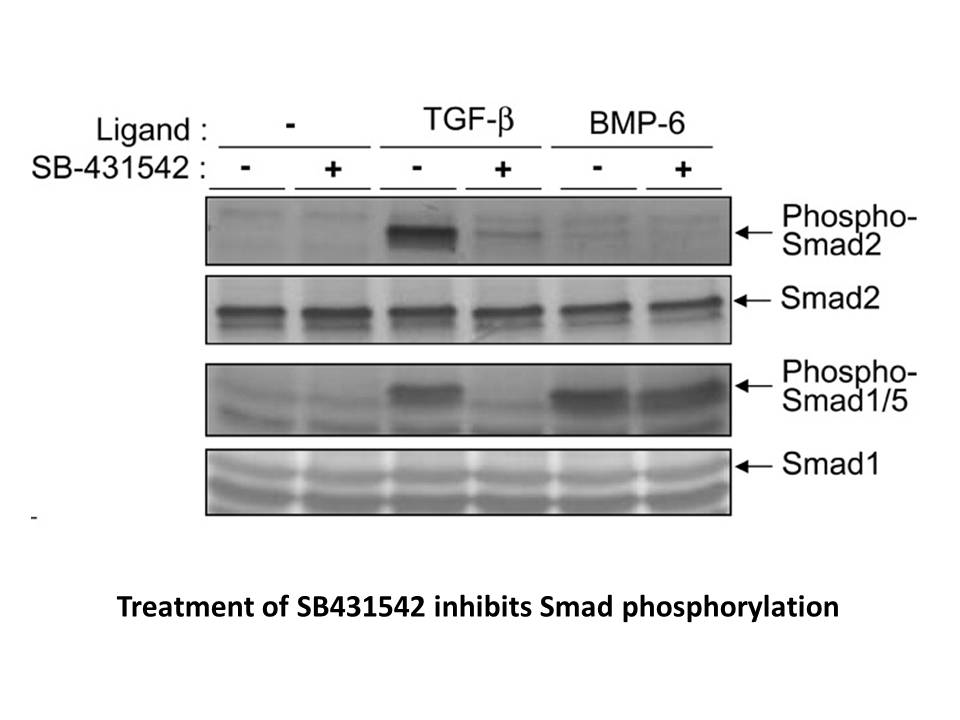 相关生物数据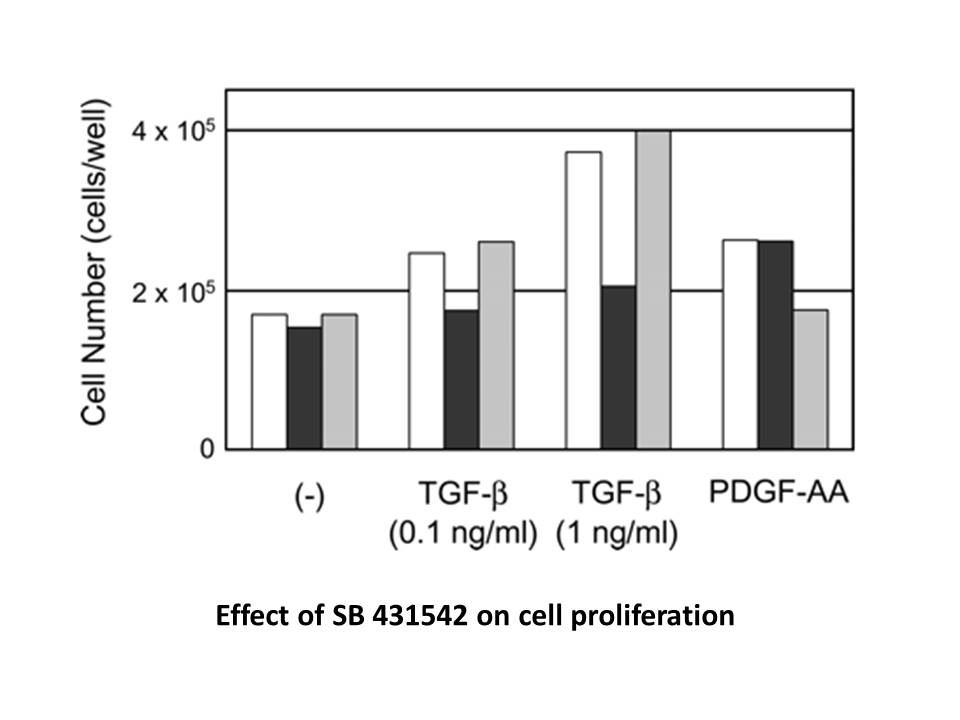 相关生物数据