Background
Ruxolitinib dihydrochloride is a specific inhibitor of Janus-associated kinase (JAK1 and JAK2). Ruxolitinib is a small molecular with the formula of C17H21N6O4Pand Molecular Weight of 404. Ruxolitinib phosphate is an administered ATP-competitive cyclopentylpropionitrile derivative and shows inhibition activity on JAK1 and JAK2. Ruxolitinib inhibits phosphorylation of JAK1/2, STAT5, and ERK1/2, resulting in reduced cellular proliferation.
References
1. Ruxolitinib inhibits transforming JAK2 fusion proteins in vitro and induces complete cytogenetic remission in t (8; 9)(p22; p24)/PCM1-JAK2–positive chronic. E Lierman, D Selleslag, S Smits, J Billiet. Blood. 2012
2. Ruxolitinib for the treatment of myelofibrosis. A Ostojic, R Vrhovac, S Verstovsek.  Ther Clin Risk Manag. 2011
文献引用
Chemical Properties
| | |
| --- | --- |
| Physical Appearance | A solid |
| Storage | Store at -20°C |
| M.Wt | 306.37 |
| Cas No. | 941678-49-5 |
| Formula | C17H18N6 |
| Synonyms | Ruxolitinib,INCB018424,INCB-018424 |
| Solubility | ≥15.32mg/mL in DMSO |
| Chemical Name | (3R)-3-cyclopentyl-3-[4-(7H-pyrrolo[2,3-d]pyrimidin-4-yl)pyrazol-1-yl]propanenitrile |
| SDF | Download SDF |
| Canonical SMILES | C1CCC(C1)C(CC#N)N2C=C(C=N2)C3=C4C=CNC4=NC=N3 |
| 运输条件 | 试用装:蓝冰运输。 其他可选规格:常温运输或根据您的要求用蓝冰运输。 |
| 一般建议 | 为了使其更好的溶解,请用37℃加热试管并在超声波水浴中震动片刻。不同厂家不同批次产品溶解度各有差异,仅做参考。若实验所需浓度过大至产品溶解极限,请添加助溶剂助溶或自行调整浓度。 |
试验操作
细胞实验[1]:

细胞系

PV患者或正常对照者体内分离的原代单核细胞

溶解方法

在DMSO中的溶解度>10 mM。为了获得更高的浓度,可以将离心管在37℃加热10分钟和/或在超声波浴中震荡一段时间。原液可以在-20℃以下储存几个月。

反应条件

IC50:红系祖细胞:正常捐献者 407 nM,PV捐献者 223 nM。 髓系祖细胞:正常捐献者 511 nM,PV捐献者 444 nM。时间:14天

应用

在逐渐增加浓度的INCB018424存在时,红系(BFU-E)和骨髓来源(CFU-M)克隆祖细胞的生长用集落形成实验进行评估。INCB018424剂量依赖地抑制红系和髓系祖细胞的生长,其对正常捐献者和PV患者来源的红系祖细胞的平均IC50值分别为407 nM和223 nM。而对对照和PV样品来源的髓系祖细胞(CFU-M)的IC50值分别为511 nM和444 nM。

动物实验[2]:

动物模型

C57BL/6N小鼠

剂量

75 mg/kg;口服给药

应用

小鼠在注射OVA/CpG之前或之后6 h口服给药75 mg/kg的ruxolitinib或对照,并分析CD11c 1CD81脾DCs活化标志物的表达水平。在ruxolitinib治疗小鼠中,CD40、CD80、CD86以及MHC I和II分子的表达水平均降低。小鼠在注射OVA/CpG和转入CFSE标记的OT-I细胞之前6小时或之后6小时和18小时口服给药ruxolitinib或对照,在ruxolitinib预处理小鼠中,对转入的CFSE标记OT-I细胞的分析表明,ruxolitinib减少细胞增殖、CD25的表达以及IFN的产生。

注意事项

请测试所有化合物在室内的溶解度,实际溶解度和理论值可能略有不同。这是由实验系统的误差引起的,属于正常现象。

References:

[1] Quintás-Cardama A, Vaddi K, Liu P, et al. Preclinical characterization of the selective JAK1/2 inhibitor INCB018424: therapeutic implications for the treatment of myeloproliferative neoplasms. Blood, 2010, 115(15): 3109-3117.

[2] Heine A, Held S A E, Daecke S N, et al. The JAK-inhibitor ruxolitinib impairs dendritic cell function in vitro and in vivo. Blood, 2013, 122(7): 1192-1202.
生物活性
描述
Ruxolitinib (INCB018424)是第一个用于临床的、有效的和选择性的JAK1/2抑制剂,IC50值为3.3 nM/2.8 nM,比对JAK3的选择性高130多倍。
靶点
JAK1
JAK2
IC50
3.3 nM
2.8 nM
质量控制
化学结构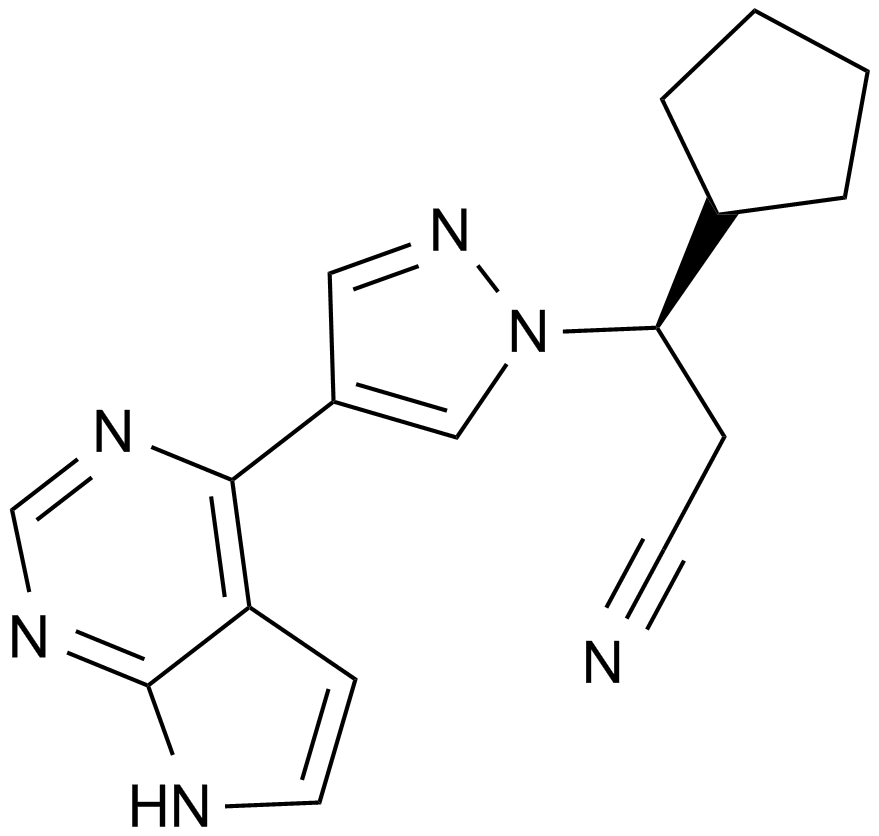 相关生物数据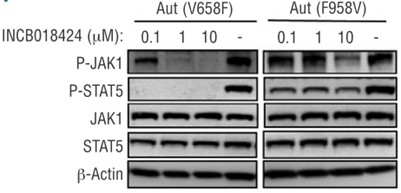 106 BaF3 Aut (V658I), Aut (F958V) were treated for 30 min with 100 nM, 1 μM or 10 μM INCB018424 inhibitor or with DMSO as a control (-condition), lysed and subjected to Western blot analysis. Phosphorylation of JAK1 and STAT5 was detected using specific anti-pY1034/35 JAK1 and anti-pY694 STAT5. Membranes were re-probed with anti-JAK1, anti-STAT5 and anti-β-Actin antibodies as a control. Similar results were obtained in 3 independent experiments.
相关生物数据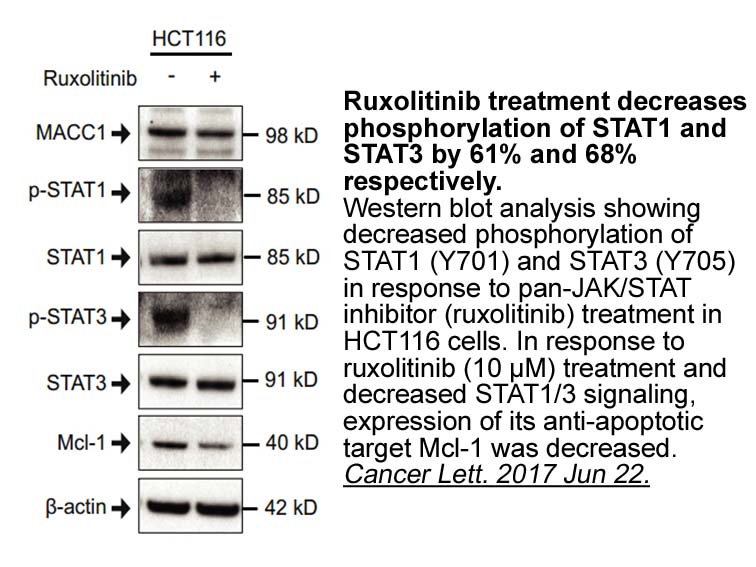 相关生物数据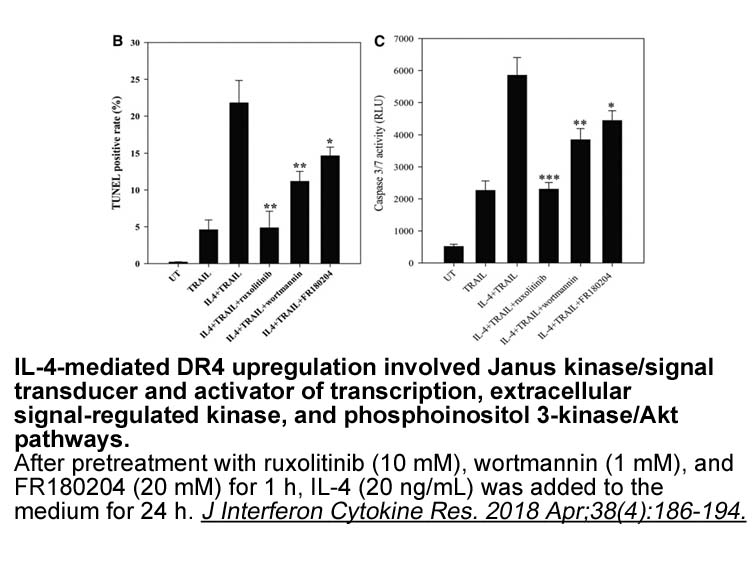 相关生物数据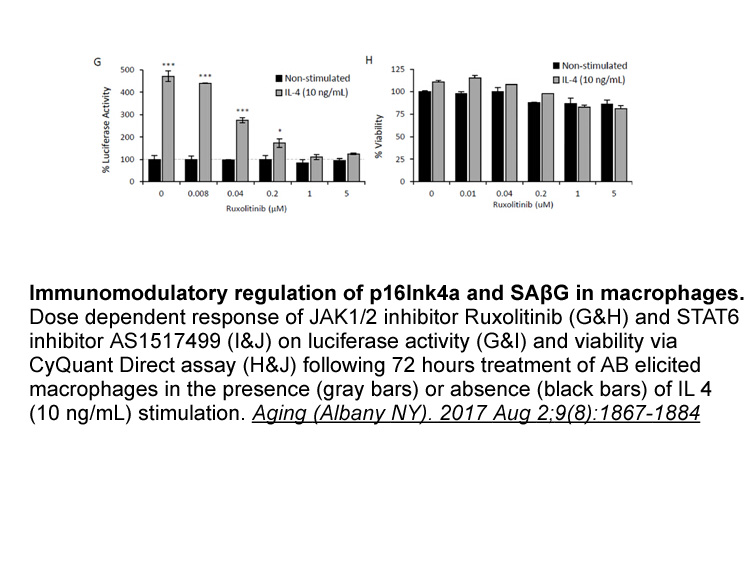 相关生物数据