Background
RO-3306 is an ATP-competitive, potent cyclin-dependent kinase (CDK) 1 inhibitor with Ki values of 35 and 110 nM for cdk1/cyclin B1 and cdk1/cyclin A, respectively.
Cell cycle progression is regulated by a series of CDKs. Cdk1 controls the cell cycle entry into mitosis. It forms a bipartite complex with cyclin B and phosphorylates a spectrum of substrates that coordinate nuclear envelope breakdown, chromosome condensation, assembly of the mitotic spindle and activation of the spindle assembly checkpoint.  
CDK1 inhibitor RO-3306 was reported to impair BRCA1 localization to DSBs, and consistent with this, suppressed RAD51 focus formation in DU145 cells when applied at the GI50 (1μM).  Co-treatment of 100 nM AZ12253801 and 1 μM RO-3306 manifested a marked increase in pre-G1
DNA, indicating apoptosis induction. In viability assays, RO-3306 induced a significant shift to the left of the AZ12253801 dose-response curve, with 2.4-fold reduction in GI50, comparable to RAD51 depletion or inhibition. At sub-50nM AZ12253801 concentrations there was more striking sensitization, with 13-fold reduction in GI80. Paralleling effects of RAD51 knockdown, RO-3306 did not affect AZ12253801 sensitivity of PC3 or LNCaP cells, but did sensitize 22Rv1 cells.
References:
[1]. Lodhia KA, Gao S, Aleksic T, et al. Suppression of homologous recombination sensitizes human tumor cells to IGF-1R inhibition. Int J Cancer. 2014 Nov 12.
文献引用
Chemical Properties
| | |
| --- | --- |
| Physical Appearance | A solid |
| Storage | Store at -20°C |
| M.Wt | 351.45 |
| Cas No. | 872573-93-8 |
| Formula | C18H13N3OS2 |
| Solubility | ≥4.39mg/mL in DMSO |
| Chemical Name | (Z)-5-(quinolin-6-ylmethylene)-2-((thiophen-2-ylmethyl)amino)thiazol-4(5H)-one |
| SDF | Download SDF |
| Canonical SMILES | O=C1N=C(NCC2=CC=CS2)S/C1=C\C3=CC=C(N=CC=C4)C4=C3 |
| 运输条件 | 试用装:蓝冰运输。 其他可选规格:常温运输或根据您的要求用蓝冰运输。 |
| 一般建议 | 为了使其更好的溶解,请用37℃加热试管并在超声波水浴中震动片刻。不同厂家不同批次产品溶解度各有差异,仅做参考。若实验所需浓度过大至产品溶解极限,请添加助溶剂助溶或自行调整浓度。 |
试验操作
激酶实验 [1]:

结合实验

使用从Hi5昆虫细胞表达和分离的重组人CDK1/cyclin B1、CDK1/cyclin A、CDK2/cyclin E和CDK4/cyclin D进行CDK活性测定。使用均匀时间分辨荧光测定法在96孔板中进行测定。测定缓冲液含有25 mM Hepes、6.25 mM MgCl2、0.003%TWEEN 20、0.3 mg/ml BSA、1.5mM DTT和ATP,包含162 μM(CDK1)、90 μM(CDK2)或135 μM(CDK4)。CDK1和CDK2缓冲液含有10 mM MgCl2。将测试化合物在测定缓冲液中稀释至20 μl,稀释为最终浓度的3倍,并通过加入含有pRB底物(0.185 μM)的40 μl测定缓冲液起始反应。将板在37℃下恒温搅拌孵育30分钟,通过在25 mM Hepes/24mM EDTA/0.2mg/ml BSA中加入15 μl 1.6 μM抗磷酸化pRB抗体终止反应。在振荡温育30分钟后,加入15 μl 的在25 mM Hepes/0.5 mg/ml BSA中含有3nM Lance-Eu-W1024标记的抗兔IgG和60 nM紫杉蓝蛋白缀合的抗His-6抗体,孵育1小时。使用Victor-V多标签阅读器,激发光为340nm,发射光615nm和665nm读板。从665nm处的读数计算IC50值,并对615nm处的铕读数进行归一化。

细胞实验 [1]:

细胞系

增殖人细胞HCT116、SW480、Hela

溶解方法

该化合物在DMSO中的溶解度大于4.4 mg/mL。若获取更高浓度的溶液,可在37℃下孵育10分钟,随后在超声波浴中摇匀。-20℃以下可储存数月。

反应条件

9 μM,20 h,

应用

在增殖的人类癌细胞HCT116、SW480和HeLa中,用RO-3306处理20小时完全阻断G2/M期的细胞周期。在癌细胞系RKO、SJSA、MDAMB-435和DU145中,RO-3306为晚期G2期的细胞同步提供了有效的手段。在HeLa细胞中,使用9 μM RO-3306阻断18小时后,停止使用RO-3306,HeLa细胞富集在有丝分裂期,随后在不存在或存在9 μM RO-3306的情况下发生了形态学变化。4 μM RO-3306处理48小时诱导癌细胞凋亡。

注意事项

由于实验环境的不同,实际溶解度可能与理论值略有不同,请测试室内所有化合物的溶解度。

References:

[1]. Vassilev L T, Tovar C, Chen S, et al. Selective small-molecule inhibitor reveals critical mitotic functions of human CDK1[J]. Proceedings of the National Academy of Sciences, 2006, 103(28): 10660-10665.
质量控制
化学结构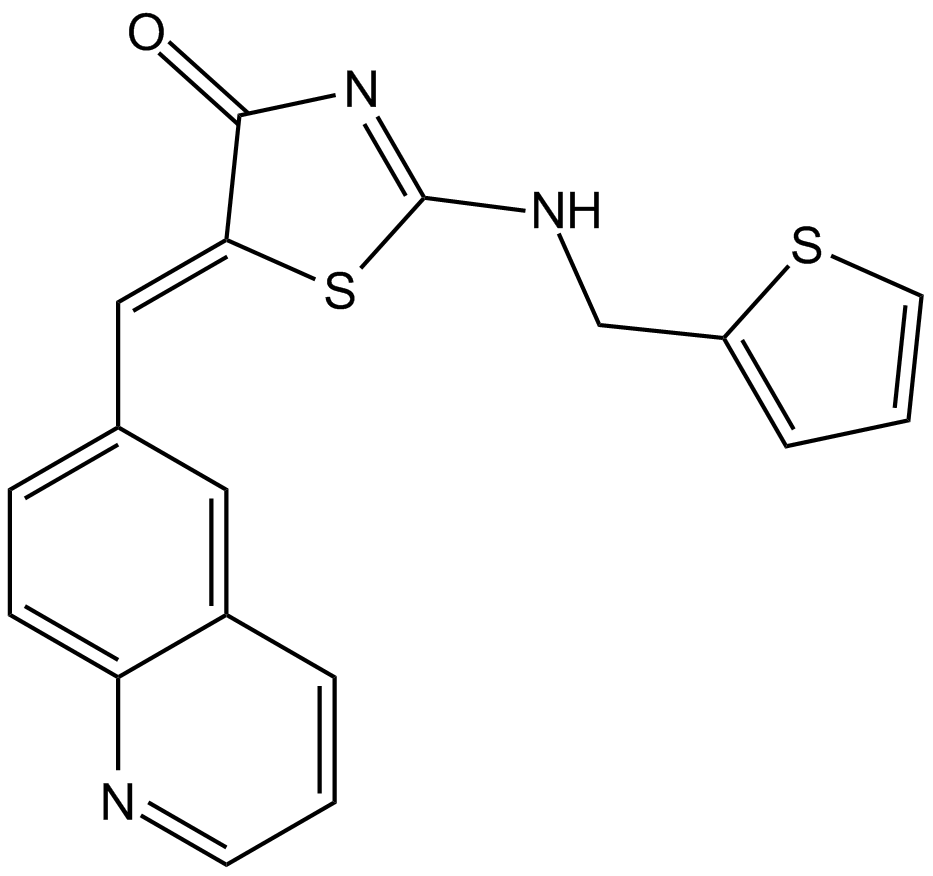 相关生物数据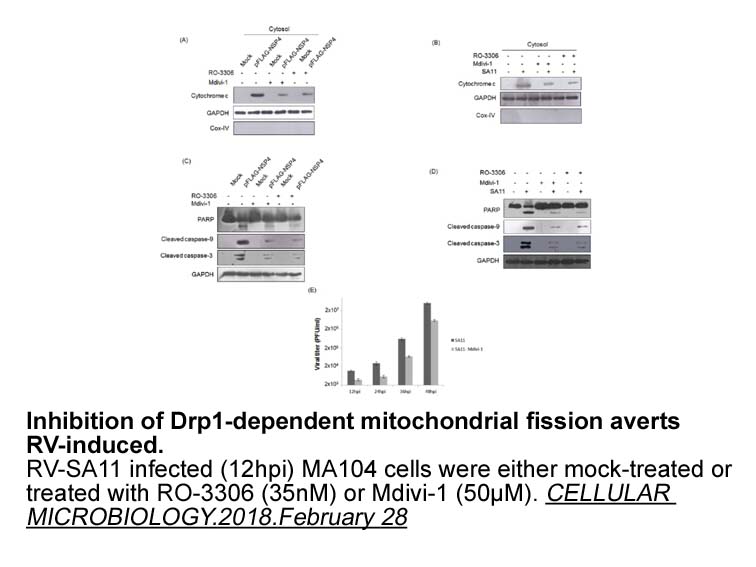 相关生物数据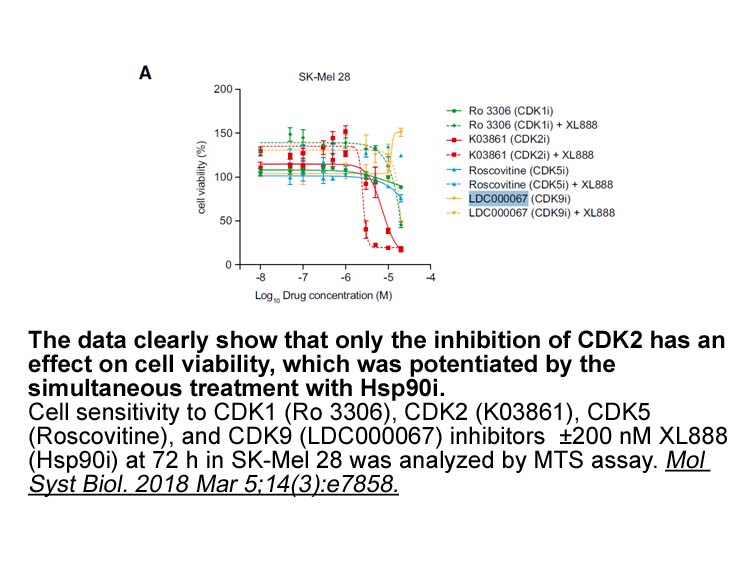 相关生物数据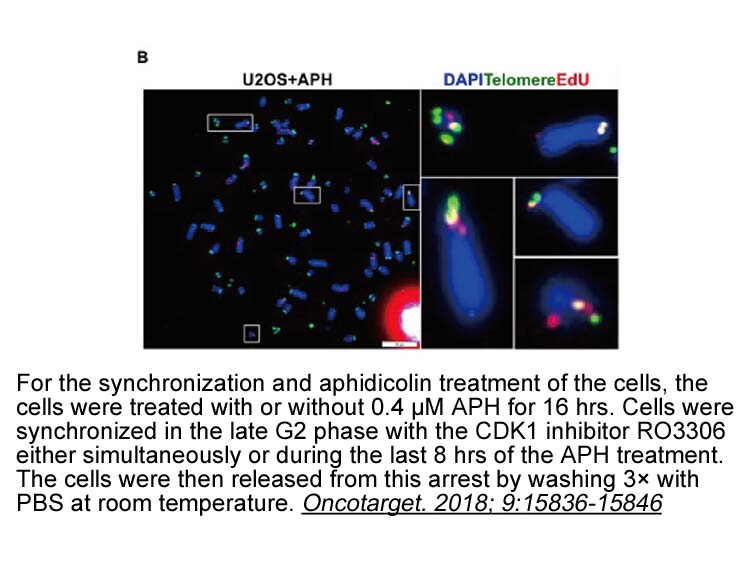 相关生物数据