Background
RG108 is a DNA methyltransferase (DMNT) inhibitor that enhanced reprogramming of OK-transduced MEFs in the presence of BIX. It is a small molecule that effectively blocked DNA methyltransferases in vitro and did not cause covalent enzyme trapping in human cell lines. DNA methylation regulates gene expression in normal and malignant cells. DNA methyltransferase inhibitors are able to reactivate epigenetically silenced genes. RG108 caused demethylation and reactivation of tumor suppressor genes, but it did not affect the methylation of centromeric satellite sequences. These results establish RG108 as a DNA methyltransferase inhibitor with fundamentally novel characteristics that will be particularly useful for the experimental modulation of epigenetic gene regulation.
References
Yan Shi, Caroline Desponts, Jeong Tae Do, Heung Sik Hahm, Hans R. Schöler, Sheng Ding. Induction of Pluripotent Stem Cells from Mouse Embryonic Fibroblasts by Oct4 and Klf4 with Small-Molecule Compounds. Cell Stem Cell. 2008; 3(5): 568 – 574.
Bodo Brueckner, Regine Garcia Boy, Pawel Siedlecki. Epigenetic Reactivation of Tumor Suppressor Genes by a Novel Small-Molecule Inhibitor of Human DNA Methyltransferases. Cancer Research. 2005; 65(14): 6305 – 11.
文献引用
Chemical Properties
| | |
| --- | --- |
| Physical Appearance | A solid |
| Storage | Store at -20°C |
| M.Wt | 334.33 |
| Cas No. | 48208-26-0 |
| Formula | C19H14N2O4 |
| Synonyms | N-Phthalyl-L-tryptophan,RG108 |
| Solubility | ≥16.7mg/mL in DMSO |
| Chemical Name | (2S)-2-(1,3-dioxoisoindol-2-yl)-3-(1H-indol-3-yl)propanoic acid |
| SDF | Download SDF |
| Canonical SMILES | C1=CC=C2C(=C1)C(=O)N(C2=O)C(CC3=CNC4=CC=CC=C43)C(=O)O |
| 运输条件 | 试用装:蓝冰运输。 其他可选规格:常温运输或根据您的要求用蓝冰运输。 |
| 一般建议 | 为了使其更好的溶解,请用37℃加热试管并在超声波水浴中震动片刻。不同厂家不同批次产品溶解度各有差异,仅做参考。若实验所需浓度过大至产品溶解极限,请添加助溶剂助溶或自行调整浓度。 |
试验操作
细胞实验[1]:

细胞系

人类早幼粒细胞白血病HL-60细胞

溶解方法

该化合物在DMSO中的溶解度大于10 mM。若配制更高浓度的溶液,一般步骤如下:请将试管置于37℃加热10分钟和/或将其置于超声波浴中震荡一段时间。原液于-20℃可放置数月。

反应条件

48 h;50 μM

实验结果

使用50 μM的RG108预处理细胞48小时,然后除去抑制剂,接下来用1 μM RA培养4天。使用0.2%的台盼蓝染色,随后用血细胞计数器测定活细胞数目。通过流式细胞术分析PI染色细胞的细胞周期,结果表明,G2/M具有微小变化,S期细胞比例略有降低,比对照中减少20%。

References:

[1] Savickiene J, Treigyte G, Borutinskaite V V, et al. Antileukemic activity of combined epigenetic agents, DNMT inhibitors zebularine and RG108 with HDAC inhibitors, against promyelocytic leukemia HL-60 cells[J]. Cellular & molecular biology letters, 2012, 17(4): 501-525.
生物活性
Description
RG 108是一种小分子DNMT(DNA甲基转移酶) 抑制剂,在M.SssI 试验中的IC50值为600 nM。
靶点
DNMT
IC50
600 nM
质量控制
化学结构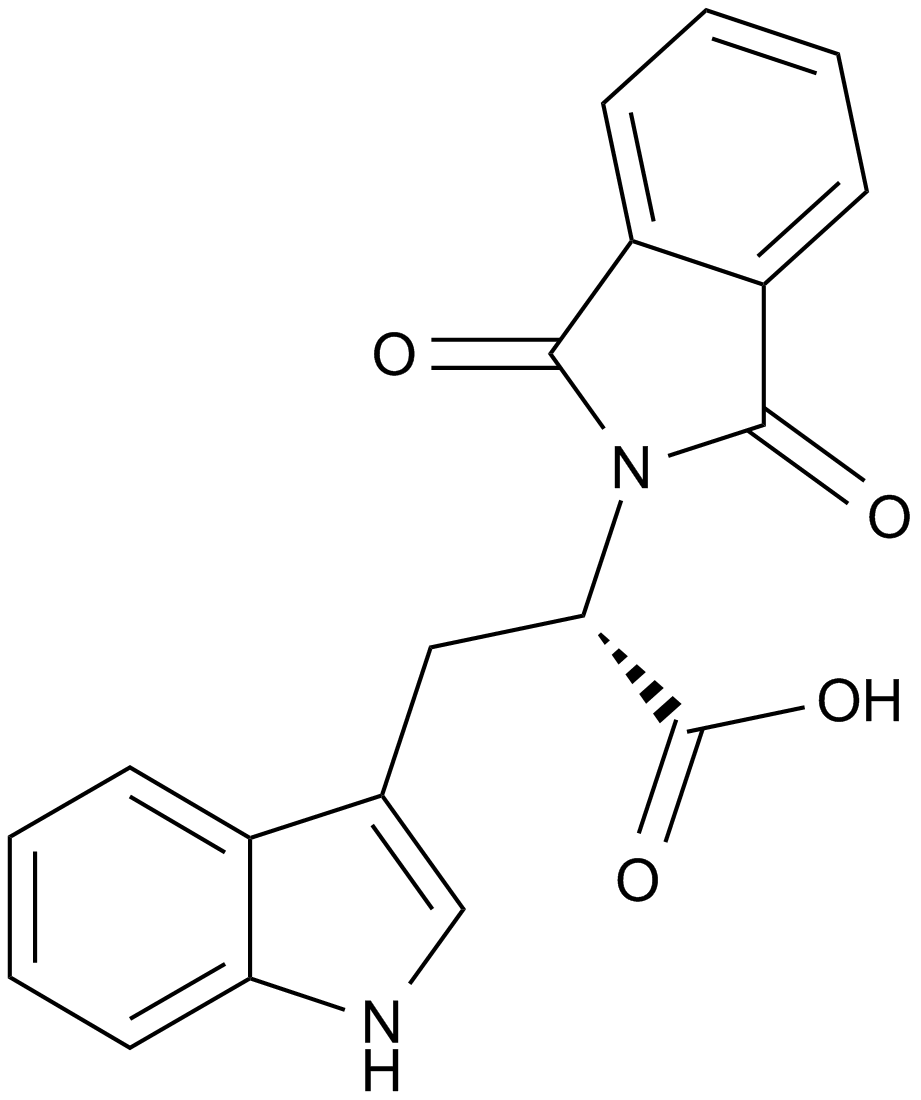 相关生物数据
相关生物数据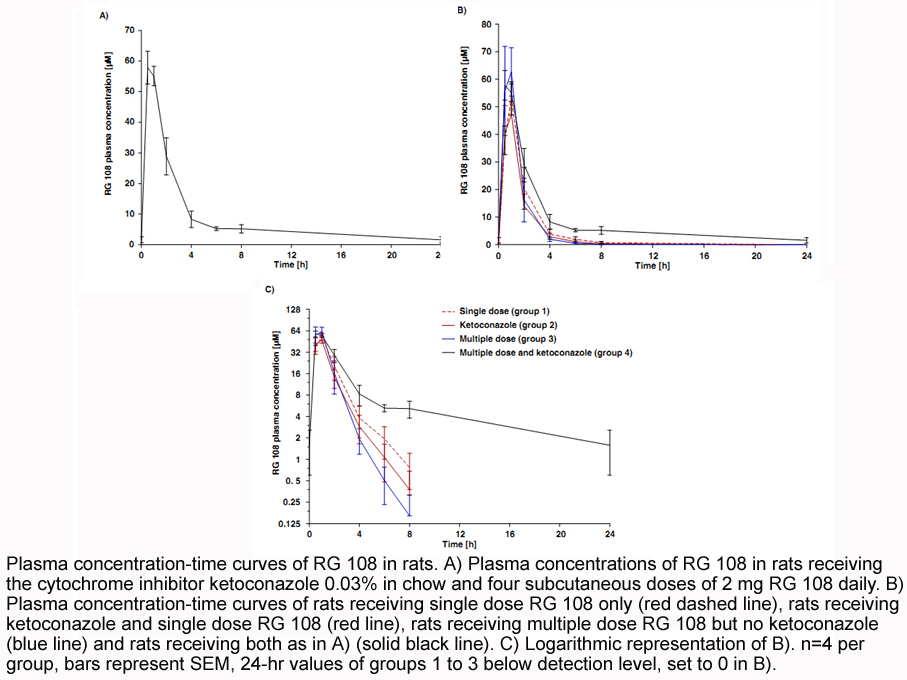 相关生物数据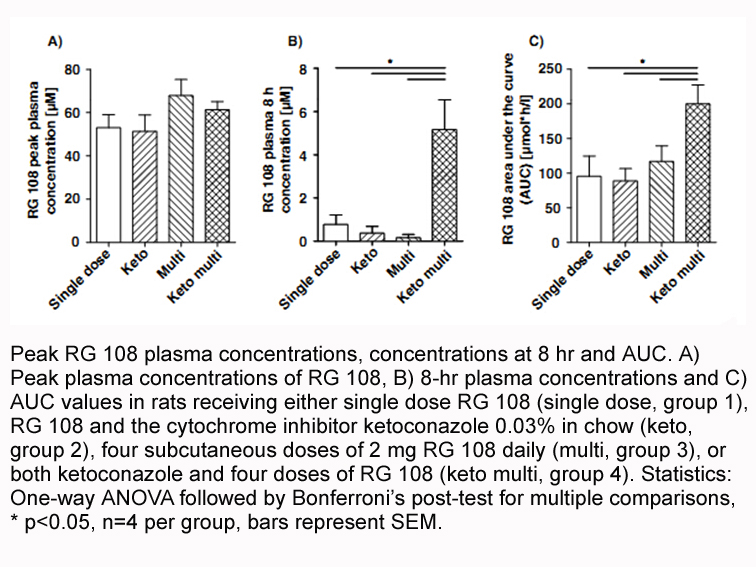 相关生物数据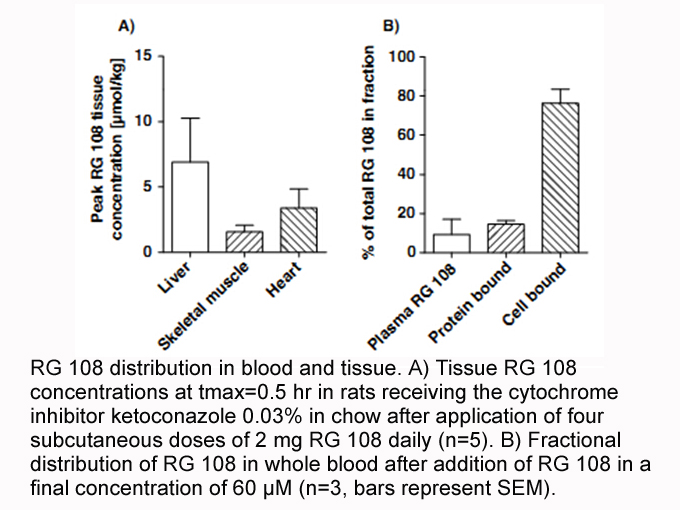 相关生物数据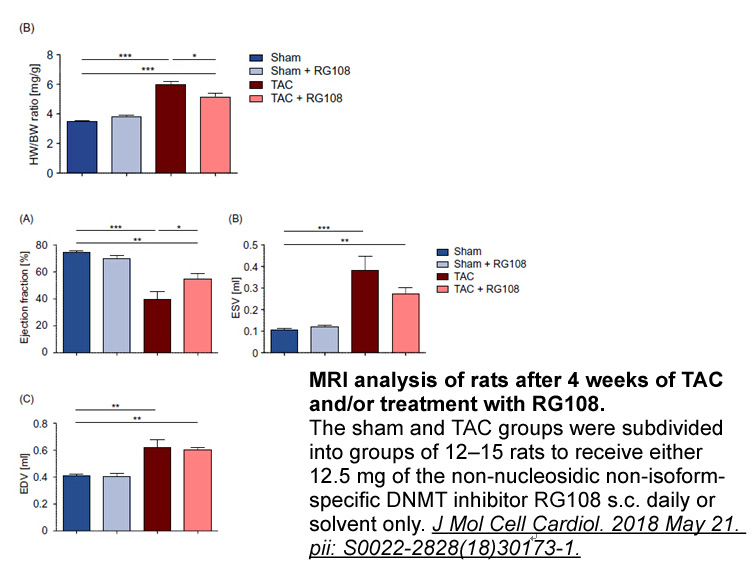 相关生物数据