Background
Ramelteon, a chronohypnotic, is an orally active and highly selective melatonin receptor (MT1, MT2 and MT3) agonist that preferentially binds to MT1 and MT2 receptors leading to potent inhibition of cAMP production in human cells expressing MT1 or MT2 receptors with the half maximal inhibition concentration IC50 values of 21.2 pM/L and 53.4 pM/L respectively [1].
The s-configuration and ether group in the chemical structure of ramelteon confer its high affinity towards MT1 and MT2 receptors with the dissociation constant Ki values of 14 pM and 112 pM respectively in comparison with that of 2650 nM for MT3 receptors [1].
Ramelteon has been found to potently promote sleep without causing any significant adverse effects leading to its application for the treatment of insomnia [1].
References:
[1] Miyamoto M. Pharmacology of ramelteon, a selective MT1/MT2 receptor agonist: a novel therapeutic drug for sleep disorders. CNS Neurosci Ther. 2009 Winter;15(1):32-51. doi: 10.1111/j.1755-5949.2008.00066.x.

文献引用
Chemical Properties
| | |
| --- | --- |
| Physical Appearance | A solid |
| Storage | Store at -20°C |
| M.Wt | 259.34 |
| Cas No. | 196597-26-9 |
| Formula | C16H21NO2 |
| Solubility | ≥12.95mg/mL in DMSO |
| Chemical Name | N-[2-[(8S)-2,6,7,8-tetrahydro-1H-cyclopenta[e][1]benzofuran-8-yl]ethyl]propanamide |
| SDF | Download SDF |
| Canonical SMILES | CCC(=O)NCCC1CCC2=C1C3=C(C=C2)OCC3 |
| 运输条件 | 试用装:蓝冰运输。 其他可选规格:常温运输或根据您的要求用蓝冰运输。 |
| 一般建议 | 为了使其更好的溶解,请用37℃加热试管并在超声波水浴中震动片刻。不同厂家不同批次产品溶解度各有差异,仅做参考。若实验所需浓度过大至产品溶解极限,请添加助溶剂助溶或自行调整浓度。 |
试验操作
激酶实验 [1]:

结合实验

在5%CO2/95%空气条件下,使用含有10%透析的胎牛血清(dFBS)的Eagle's Minimum Essential Medium-α(MEM-α)培养基培养和筛选稳定表达MT1或MT2受体(CHO-hMelR7)的细胞。在含有5mM EDTA的无Ca2+-Mg2+的Hanks平衡盐溶液中汇合收获细胞,并通过离心收集。将细胞在冰冷的50mMTris-HCl缓冲液(pH7.7,25℃)中匀浆,洗涤两次,沉淀,在进行结合测定之前储存在-30℃下。将Ramelteon和40pM 2-[125 I]褪黑激素与解冻的匀浆混合,总体积为1mL,并在25℃下温育150分钟,通过加入3mL冰冷的缓冲液终止反应,随后在Whatman GF/B上真空过滤。将滤器洗涤两次并通过γ-计数器计算放射性。将10mM褪黑激素存在下的结合定义为非特异性结合。

细胞实验 [2]:

细胞系

胰腺INS-1 β细胞

溶解方法

该化合物在DMSO中的溶解度大于10 mM。若配制更高浓度的溶液,一般步骤如下:请将试管置于37℃加热10分钟和/或将其置于超声波浴中震荡一段时间。原液于-20℃可放置数月。

反应条件

2-14 h

实验结果

Ramelteon是MT1/MT2褪黑素受体的有效选择性激动剂。在表达人MT1或MT2受体的CHO细胞中,Ramelteon抑制毛喉素刺激的cAMP生成[2]。在表达MT1或MT2受体的神经元或小鼠小脑颗粒细胞中,Ramelteon能够增加脑源性神经营养因子(BDNF)的含量[3]。

动物实验 [4]:

动物模型

自由移动的猫

剂量

0.001、0.01及0.1 mg/kg;口服

实验结果

悬浮在0.5%(重量/体积)的甲基纤维素溶液中。

注意事项

在猫中,ramelteon具有促进睡眠的作用,并且不会导致学习、记忆或运动功能障碍以及奖励性质[4]。在临床研究中,Ramelteon减少持续性睡眠的潜伏期,在原发性慢性失眠的患者中,Ramelteon增加总睡眠时间和睡眠效率[1]。

动物模型

请测试所有化合物在室内的溶解度,实际溶解度和理论值可能略有不同。这是由实验系统的误差引起的,属于正常现象。

References:

[1]. Kato K, Hirai K, Nishiyama K, et al. Neurochemical properties of ramelteon (TAK-375), a selective MT1/MT2 receptor agonist. Neuropharmacology, 2005, 48(2): 301-310.

[2]. Nishiyama K, Hirai K. The melatonin agonist ramelteon induces duration-dependent clock gene expression through cAMP signaling in pancreatic INS-1 β-cells. PLoS One, 2014, 9(7): e102073.

[3]. Imbesi M, Uz T, Dzitoyeva S, et al. Stimulatory effects of a melatonin receptor agonist, ramelteon, on BDNF in mouse cerebellar granule cells. Neurosci Lett, 2008, 439(1): 34-36.

[4]. Miyamoto M, Nishikawa H, Doken Y, et al. The sleep-promoting action of ramelteon (TAK-375) in freely moving cats. Sleep, 2004, 27(7): 1319-1325.
生物活性
Description
Ramelteon 是MT1/MT2的选择性激动剂,Ki值分别是0.014 nM 和 0.045 nM
靶点
MT1
MT2
IC50
0.014 nM (Ki)
0.045 nM (Ki)
质量控制
化学结构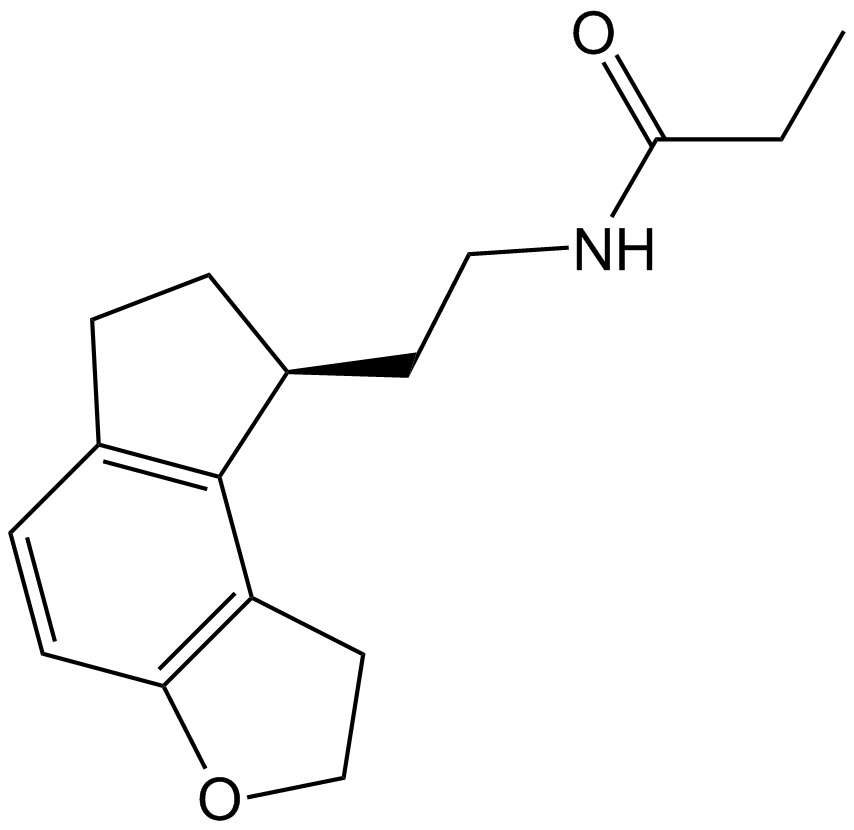 相关生物数据